Inside Simonez Wolf's Football Café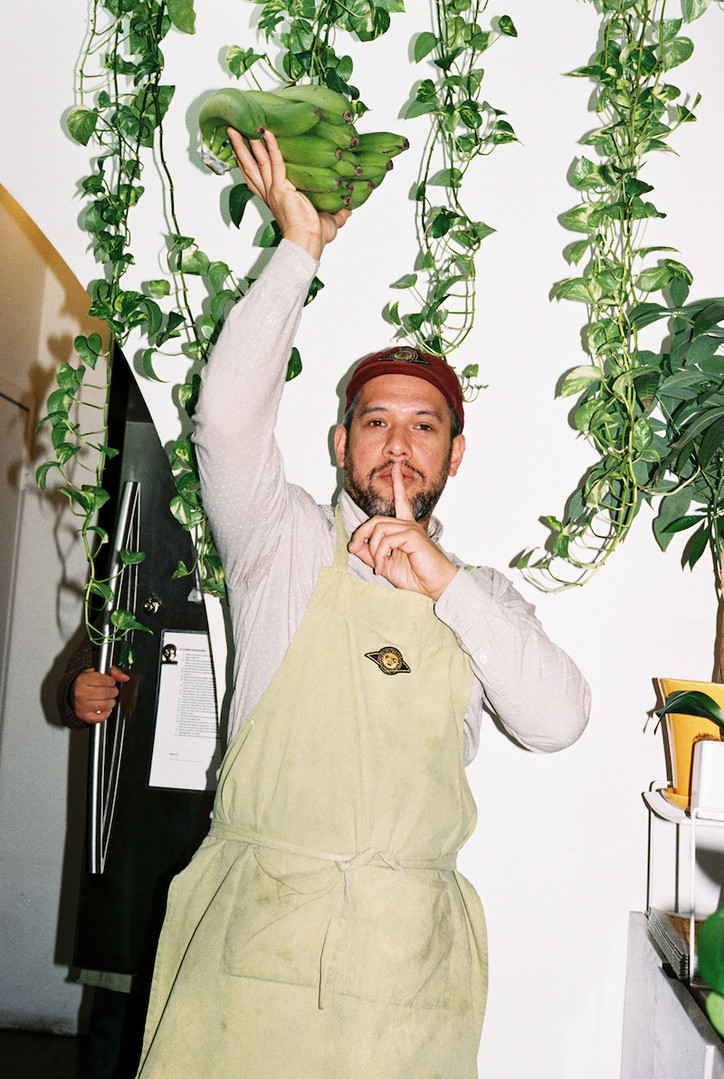 Can you tell me a bit about the concept behind the café?
We opened last September because we've played on the field here for a long time, and we realized that there weren't any healthy options around this neighborhood. Obviously, the café is open right across the field, so it made sense for us to be a hub for soccer culture.
Before we opened, we had the space in 2014, and we created a pop-up around the World Cup in Brazil. We created a fake tourist agency. The theme was '70s Brazil, and the slogan was "Fly Nowhere," don't go to Brazil, watch it here. We created custom jerseys, and gave out 500 of them to friends, family, influencers, people in football culture. After the pop-up, the landlord came to us and said, "hey, would you guys like the space?" And obviously we wanted to keep it. We had to think of a good concept that would last longer than just a pop-up, and that's how Football Café came along.
Does it bug you when people say "soccer" instead of "football?"
No. It's a global sport and football came before soccer, but it's an English word—in England people say "soccer" too. There's a famous tv show called Soccer AM that they have in England. It doesn't bother me because it's just natural. The name "Football Café" comes from the idea of a football club. It's like a team; like the Manchester football team is the Manchester United Football Club, or Man City Football Club. Every team has the "FC," and now you can say "I'm going to the FC," as in Football Café.
And you guys are still making merch, right?
Yeah, we do. The concept of the Football Café is to be part of the culture, and football culture is in tune with merchandising. Fans make custom jerseys. They have their own scarves, pins, flags, etc. It's the only sport that's like that. NBA fans don't create their own fan-based logos—football is very special like that. It does cross over into fashion, like Commes des Garçons did a football scarf. I could go on and on about this, there are so many references.
You were in fashion and nightlife for a long time. What was it like to transition into this kind of business?
It is a big transition. It's kind of the opposite of nightlife—people go out and get drunk and fucked up, and then it's probably good for them to come here in the morning and get a remedy. [Laughs]
What do you personally like to eat after a game?
I drink this drink that's one of our popular favorites. It's called the Banana Kick—it's a banana with almond milk, almond butter, dates, cold brew coffee, and cacao. I mostly do shakes pre- and post-workout.
How do you feel that the café fits in with local, Chinese-owned businesses?
We do have a lot of local customers. People who own businesses around here like the coffee. We're not trying to [compete] with Chinese businesses. It's a healthy option for people in the neighborhood.
Have you lived in the neighborhood a long time? How do you feel about how it's changing?
I've been in the same place for about seven years now, and I've been in Chinatown for almost ten years. It's changing, but I still think it's a slow burn. Chinatown is not gentrified like Williamsburg or the East Village, because the buildings and businesses are still owned by Chinese people. And the new generation is taking over, keeping the businesses going. Two Bridges is changing more than over here. There are so many new galleries!
They popped up overnight!
Chelsea got oversaturated, and here you have more bang for your buck.
Back to the café, could you tell me a bit about the design?
We hired a couple to design it, their firm is called Husband & Wife. They both worked for big architects—Peter Marino, Rafael de Cárdenas. The café was one of their first projects as a new firm. We wanted to create an oasis, and we didn't want to be kitschy. The inspiration came from the villas of Mallorca, homes in the Mediterranean, white stucco. Everything is custom made in the café. The floor was stained green to reflect the field.
And finally, what team do you support?
I support Arsenal! I lived in London for a long time, and that's where I became connected with Football Culture.
Check out Football Café at 100 Forsyth Street in Manhattan.