Sign up for our newsletter
Inspired by Wales Bonner Blue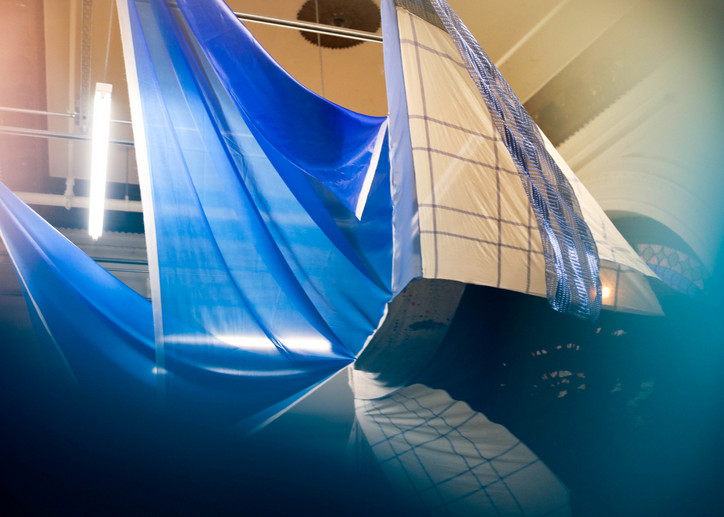 Don't miss the installation at 190 Bowery, New York.
Dog Days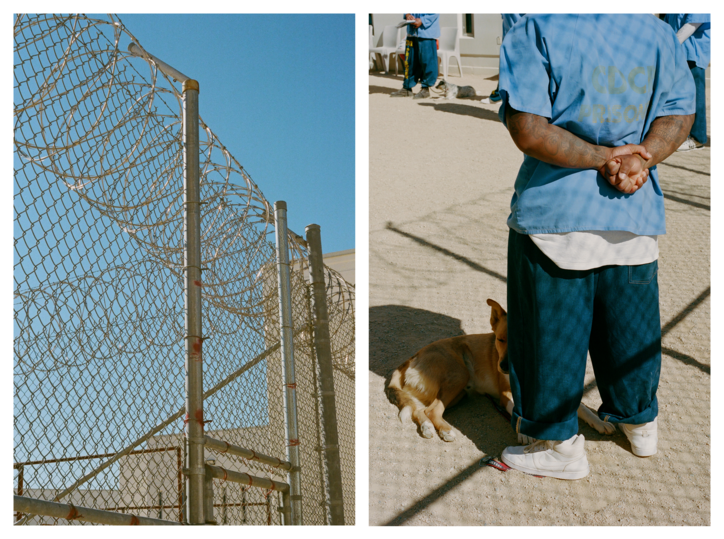 A non-profit organization that rescues, rehabilitates, trains, and re-homes death row dogs from Kern Country's high-kill animal shelters, Marley's Mutts taps into the power of that very bond, utilizing it as a force for positive change and transformation in the lives of individuals undergoing rehabilitation. Since 2009, Skow has worked tirelessly to implement the Pawsitive Change Program throughout the California prison system, pairing shelter dogs with inmates to help these individuals develop skills that can't be taught in a classroom or learned from a book--we're talking major characteristics like compassion, respect, empathy, the list goes on. But the true beauty of this organization lies in its ability to function in two ways, fostering meaningful relationships that help to heal the wounds of two distinctive yet equally-marginalized groups. Marley's Mutts serves as a profound reminder that everyone deserves a second chance. Read our interview with Skow below.
Can you walk me through the inspiration behind Marley's Mutts and how it all got started?
Zach Skow Marley's Mutts was created when I went into liver failure at the beginning of 2008 brought on by years of alcohol and drug abuse. I spent six weeks in the hospital, and when I got admitted to the comprehensive transplant program at Cedars Sinai they basically sent me home with instructions that I needed six months sobriety in order to be transplant eligible. The only thing I was focused on was getting a liver transplant. When I went home I needed to find a way to survive and at the time I had less than 90 days to live without a transplant. Physically I was as sick as you could be, and I had also never been without alcohol or drugs so I was emotionally and spiritually dog shit; my entire life was upside down. I had no direction, no hope, I was mortally ill. When I finally got home I went through withdrawal from the stuff I'd gotten addicted to in the hospital and I was really focused on suicide. My biggest challenge was not taking my own life while I pursued that six months of sobriety. It all kinda came to head one particular evening when I went to the bathroom on myself. You take a lot of weird medicine when your liver is failing, and one makes you lose your bowels. I got up to try and clean myself off in the middle of the night and I walked by the mirror in my bathroom at my dads house. I caught a glimpse of myself and just stood there looking in the mirror, naked. I was shockingly ill with this gigantic 9-months pregnant ascites belly and I was all purple and bruised and I just looked super old, just dead, like a ghost. I started to weep. It's a really terrifying situation to feel like you're going to die and there's absolutely nothing you can do about it. I was at an ultimate low--the lowest low I've ever been--and I looked down at my dogs and they were all looking at me, wagging their tails, delighted like I was the sexiest man alive. It was a real pivotal moment for me because they still saw who I was.
They still recognized the potential within me, they saw my soul and what was still in there even when I wasn't even sure if it still was. I felt so beaten down by life and I was so bad at being myself that I just didn't know if I was worth keeping around, you know? That next day was a real commitment--I felt like if I couldn't do this for myself, I had to at least do it for my dogs and live up to the person they still saw in me. It redoubled my efforts to discover myself again. So we started walkiing in the mountains everyday multiple times a day. I started watching the sunrise in the morning and I started journaling. Pretty quickly, within a few days, I started thinking to myself I'm going to get back into rescue. I had been working with the Humane Society for the previous 4 years, and I decided to reach out and see what I could do in the dog world to keep me occupied. They were happy to have me, and I started adding dogs to my pack very quickly. I threw myself into getting creative around the dogs, writing their adoption posters, taking pictures, exercising them, and walking in the mountains. Before I didn't have a purpose , no drive, no joy--these dogs became my entire focus. Helping to rehabilitate them while I rehabilitated myself. We just kept moving and grooving and people really took to my story. Right around the time I got my six months of sobriety was the time we started Marley's Mutt. Everyone kept motivating me and encouraging me to start a rescue. I had no confidence whatsoever to do so and I didn't think it was possible to turn this into a real tangible movement, but we did. That's when we officially created Marley's Mutts, in May of 2009.
I was at an ultimate low - the lowest low I've ever been - and I looked down at my dogs and they were all looking at me, wagging their tails, delighted like I was the sexiest man alive. It was a real pivotal moment for me because they still saw who I was.
Once the fostering of dogs picked up, how did this then grow into you being inspired to target incarcerated inmates and juvenile girls with the Pawsitive Change program?
It all started with recognizing the development and rehabilitation my dogs were able to prompt within me, it made me think about how we could utilize the human-canine bond for good. In 2011 my mom ended up in a homeless center so we started doing programs at the mission. Our first program started with 12 step programs for homeless woman and men in recovery. Pawsitive Change developed when a guy named Robbie had just gotten out of prison after serving 13 years for a variety of violent offenses. His mom had contacted me sayng she was interested in adopting Shadow, a pitbull I was fostering who had suffered a gunshot wound, for her son. Robbie came out to visit and he was like a feral human, you could tell he had been in prison for 13 years--he didn't make eye contact, he didn't know how to converse. He was super bashful and meek, so his mom was hoping that the dog would bring him out of his shell and be that source of love that he needed and had been deprived of for so many years.
Really what it did for Robbie was fundamentally change his life, it just turned him into a totally different person. He started volunteering with us, speaking about his experience to various audiences, he became very outgoing and started to develop relationships. Honestly without that dog, I don't know where Robbie would be right now. He got a job at Free to Live Animal Sanctuary in Oklahoma and went on to become the director of the organization. We then hired him to work at our ranch. So the initial impetus behind the Pawsitive Change program was watching what the dogs did for Robbie when he got out of the prison. Then we tried for about 4 years to create a program at various prisons but we hit barriers everywhere we went. They didn't want programs because they didn't need programs and they certainly didn't have the money to fund it so they only way it would've been possible is if we paid for all of it, and we weren't able to do that either. We didn't have the money or the infrastructure to support that kind of commitment. Finally California City Correctional Facility reached out to us and said they were interested in a prison program and asked if we could pitch what we were working on. This opportunity got the ball rolling and enabled us to launch our pilot program.
Having had the opportunity to go visit the Cali City program and see for myself how incredibly unique and special it is, what were some of the challenges in getting the program started once you received approval?
The primary challenges were fitting into the daily operational procedures. Every door opening, every door closing, every inmate being accounted for--everything is timed out from rise and shine at 6 AM. The way it's all done is extremely structured and strict, so trying to implement such a comprehensive and immersive dog program in the middle of that while correctional officers are trying to keep track of men who live within such extreme parameters was incredibly difficult. It was mainly a challenge from the standpoint of a prison union because they viewed having a dog program in the pod or on the yard as more work for the correctional officers without proper compensation, which they believed could lead to a union hold out or strike. It was a pain in the ass getting the union to give us the wiggle room to fit the program in.
How quickly after getting the program started in Cali City were you able to implement the program in the other prisons?
Less than a year after we implemented Cali City we were awarded with an innovative program grant that allowed us to expand to Wasco and North Kern. We've since added a second program at North Kern and a program at Corcoran.
I know you touch on the impact Shadow had on Robbie he served 13 years, but is there a specific connection or inspiration behind wanting to help incarcerated inmates and young woman?
100%. I feel like I was always categorized as a throw-away human being. I very much felt like someone who had just been discarded and lost faith. Little did the world know I had a big upside and a lot of potential that had gotten lost in my addiction and alcoholism. The success that I've enjoyed due to my relationship with dogs has lead me to believe that the human-canine bond can truly help these guys to see their own potential, to break down the barriers that exist in prisons, and to help them cultivate who they are as individuals. 
As many as three out of four people remain unemployed a year after being released. How to do you think the program has impacted inmates or helped with the adjustment of returning back to everyday life?
Recidivism is a gigantic problem in the US prison system, between 8 to 10 violent offenders end up back in prison within 3 years. So not only are they not employed, they're back in prison at a cost of $50,000 to $100,000 a year per inmate. We're paying more than I make in a year just to incarcerate a single human being in the state of California, which is astounding to think about. Conversely, there is a couple things that are important: theres about 2.5 million incarcerated Americans, and up until recently we euthanized 2.5 million animals a year so it only makes sense to have those two figures work to cancel one another out. We can do that because the pet services industry is an $80 billion dollar a year industry. To give you some perspective, the music industry is $43 billion a year, so it's almost double the size. The pet industry is in critical need of trainers well-versed in dog physiology that understand canine handling, reactivity, and behavioral modification. and that's exactly what thes guys are getting in prison. By the time they graduate one round of the program, they've racked up hundreds of hours of dog training experience, as well as weekly hands-on experience every with some of the best trainers in America.
I see you keep in touch with the parolees that have graduated from your program. Has the program inspired or motivated some of them to pursue careers in the dog industry once out?
Yes, 9 of the 17 men who have been released are now professionals within the pet industry.
In what ways would you like to see the program grow? What can people looking to help out contribute? 
Because so many animals are still being euthanized every year, my vision is to implement this program into every facility. What this program does for safety on the yard, for inmate-and-correctional-officer interaction, for the families who are able to see their guys on social media, how the program brings down drug dealing and drug usage--there are simply just too many benefits to mention. The program can and should be in every prison, if not on every yard. Most prisons have several yards. There's certainly enough animals to do so, and it would radically reduce costs at a state level in terms of programming for inmates, animal control, and getting these guys on the pipeline for employment. Our biggest objective is to create a training program and facility at our ranch so we can host people who are interested in rescue and give them the tools needed to start their own programs.
You see tough situations and animals in horrific conditions daily, how do you manage to remain optimistic?
I have the fundamental believe that people are inherently good, I just do. It's just a matter of how do we access it, how do we cultivate the goodness in people. How do ER doctors or EMTs deal with seeing mangled corpses everyday? You just get use to that aspect of it. I'm also just highly aware of our overall purpose, and that purpose is to create change and institute paradigm shifts and in order to this sometimes you gotta obliterate it. I'm certainly trying not to get jaded because getting misanthropic is the last thing that would help me be effective.
What's next for you and the program?
We're heading to Washington D.C. this week, where we're meeting with a lot of important people to try and make this program a requirement within the prison system. Next up, we're implementing Pawsitive Change within teenage male foster homes, so be on the look out for that. 
Rest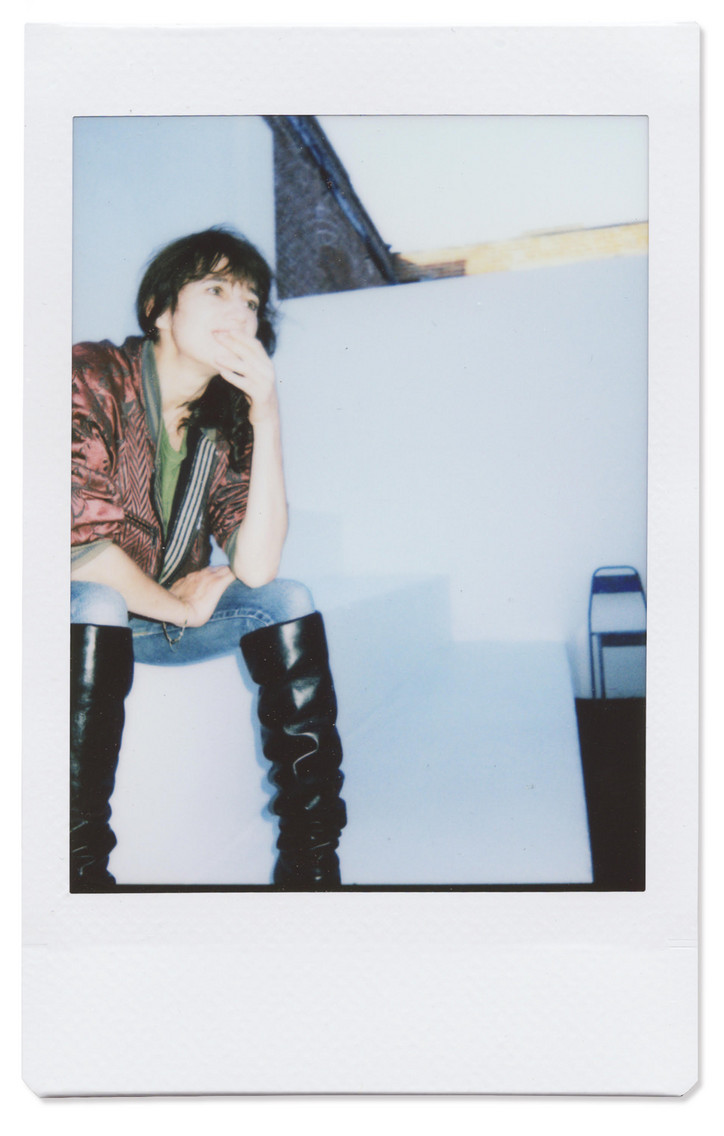 How do you like being in LA?
For a short time it's fun. A lot of fun. I've been here for long periods of time when I wasn't working and it became depressing. I think it's best when you have a project, when you're working on something and busy. I think it's a great place to be. It's quite inspiring. Maybe it's the isolation. But it's sort of — I don't mean to be rude — beautiful in the ugliness. There is a lot of decay, withering around the corners. Yeah, it's quite dark, a lot of sides of it.
Tell me about the book. When did you decide to make it?
Oh, I didn't know that I would release a book. I would have found it pretentious to think about it from the start.
Why pretentious?
Because I'm not a photographer. I'm not an artist. You know? Not a painter. But it was fun, realizing that once the album was done, I had a lot of things that had accompanied me during the making of the album. A lot of it was visiting this cemetery where my sister is in Paris. And in relation to that, it was my new life in New York. The isolation in the cemetery in this very busy city. And a lot of auto portraits during that time. My friend Natalie, who was with me all of the time, she saw me draw, she saw le matériel. She saw the amount of stuff that I had. And she said it would be fun to make a book. So she was the one who persuaded me and who sort of put it together. I wanted it to be very random; there wasn't a story to tell behind the book, apart from what was going on in my head during the making of the album. That's it.
It's the visual representation.
It's like a scrapbook, really, of me trying a bit of everything — photography, drawing, the beginning to the lyrics, which was a real process for me because I hadn't done it in the past. I didn't feel I was confident enough to write them. I think the fact that I was in New York, there was a freedom. So it came together there. It's very obvious now why.
Like an anonymity.
Yeah. And it's a city that I didn't know and that I discovered little by little, but it wasn't an inspiration for the album. I never thought of New York as an inspiration. It was just the fact that I was on my own, discovering and escaping my old life with my children, with Yvan. Everything was new.
You didn't have that baggage.
Heavy baggage. It was a completely new sky, which was very exciting. And also the fact that in New York, or LA, I guess, everybody does everything. It's not that big a deal to write lyrics, or to take a few pictures, or to draw. Everybody is being an artist; having fun with it is not being pretentious. So, I found it very liberating.
Can you explain more about what your time in the cemetery was like?
Initially I avoided the cemetery because my father is there too. And because he died when I was 19, and being who he was, the cemetery was always filled with people, and so it wasn't a place I wanted to go to. And because of the depressing image for me. I preferred to go to his house, which I bought and left everything as it was. That was my cemetery during all those years. When my sister died it was completely different in the sense that I needed to talk about her. I needed to make her a part of my life still, and going to the cemetery was so obvious. I needed a place to visit, to talk. And I found myself like those little old ladies going to visit their époux, their husbands. It was a place that didn't scare me anymore. It's funny because with my father, it was a nightmare.
You were so young as well.
I was very young. I wasn't a kid, but I was in a very depressed time. So he only saw that. And I had so many questions; I had so many things I wanted to share. And it was at a time where I was going to live with him again, because I was so distressed, so it was really the starting point of something that was taken away. So, I had no more legs, and this cemetery was the last place I wanted to go to. But I met Yvan right at that time, so he was so important at that time. I realize, with being together for 28 years, I realize the patience he had those first years. Like eight years of having someone you have to drag along. (Laughs)
I can imagine such an experience would bond people in a way that no other circumstances will. What was it like performing Coachella? You did 10 years beforehand, right?
Yep.
Must be such an interesting experience— with all the other acts and the characters in the audience and everything.
It's very ... when you realize that you're nothing, you have to become very modest. That people next to you are so huge, it's hard to understand what you're doing there, you know? Like, are people really coming to see me? No, not really. They're just passing by. But people were very, very warm, which was just a big surprise. Each time was a big surprise. The first Coachella I did, I was such a beginner. It was my fifth concert. It was so overwhelming.
I can only imagine with so many people … there are like 125,000 tickets sold.
It was exhilarating, really exhilarating, compared to the four other shows I had done before. This, I couldn't relate it to anything else. It was a wonderful first experience. After the first performance, I found it hard knowing that you have two to do. It's not just this one performance. No, you have to go back and be better the second time. I like progress.
What do you mean when you say you have to be better?
To be more at ease, to have fun, and if possible — not sure I could get there — but to not be stressed. People are there to have fun. And I realized that, once I went on the other side of the stage, and had fun looking at other artists. That's the point, really. 
Tell me about yourself. Who are you?
I hope I'm changing, I hope I'm not the same as I was yesterday, and... I have this sort of evolution, in a good way. But I wouldn't be able to define myself, and I wouldn't want to. That's why when people ask, "You're more of an actress or a singer? What do you prefer doing, if you had to let go of one?" That's why I just did photography and drawing; I don't want to have to choose. I don't want to have to explain anything, really. And I thought that writing my own lyrics would finally give me a chance to not have to explain, you know, because everything is there. Everything you want to say is there. But no, people want explanation. (Laughs) I like keeping things a little secret. Today, we have Instagram, and the media. You feel that you have to give everything, and I love the idea that I have secrets.
Today, we have Instagram, and the media. You feel that you have to give everything, and I love the idea that I have secrets.
You just opened your Instagram account. How do you feel about that?
It took me a very long time, because I didn't feel that it was legitimate. I felt that I was completely the opposite of Instagram, the opposite of doing selfies and just in what I wanted.
What changed?
I want to tell people that I'll be in that city, doing a concert, in two weeks. But it's not only to promote my tour because, if not, I would have done it two years ago. I think it's a pity not to take advantage of that kind of media. I don't do it spontaneously at all. I like to think about it as work. I like working, so I like to imagine that it's not my private life, but it's a vision of a bit of who I am—who I want to be, what I like. And why not take advantage of that? Maybe I'll stop in a month (laughs). That's the thing, is to be able to be consistent, because doing a tour, it's easy to be inspired with your own work. When I'm back in my private life, cooking for my children, I'm not sure I want to share my meals.
What were you like as a child?
I wrote a song about that; it's called "Les Crocodiles." I felt so different. I was such a free, free human being. Not to say that I was happy and everything was jolly, but I was so... intègre... whole. I didn't doubt myself. I felt very confident. And then, suddenly, the confidence was sort of pulled off my skin. I became very vulnerable.
When did that happen and why?
I don't know. My parents split when I was nine, but I don't think it affected me in a very dramatic way, because I was able to have my father to myself in a very selfish way. But, I don't really know. I was happy to do films, to be suddenly recognized for myself and not the daughter of my parents. So that was a big step, but maybe it meant looking at myself a lot, at an age where you're not comfortable. I remember doing interviews and that I didn't know what to say. I had nothing to say. And I didn't like the words I chose; I was so picky about everything. Everything was important. So, I think that was maybe a place where my childhood had gone away, I think. So quite early, at 12.
Wow. I can't imagine all the pressure of choosing words for cameras…
Yeah, just also understanding what people wanted to know about at that time. I do remember my sister, Kate, when I used to say, "Ah, my childhood was so, so beautiful, remember those times in Nottingham?" She would say, "But we were so bored. Our parents were never there. We didn't know what to do." She had that dull recollection, and I was all flowery with my beautiful memories.
You've described your childhood as mysterious. What did you mean by that?
Not mysterious. I think it was just very... I used to talk to things. I used to talk to objects. I used to have a person that accompanied me, that I would have a dialogue with. So it was sort of a fantasy world that I really was very, very attached to. I think that made me very confident, and I had no doubts about where I was, who I was, what I wanted. I was very stubborn, very stubborn and very... how do you say, cholérique? Bad-tempered.
I interviewed Connan Mockasin, a few months ago, and he was talking about his time with you, and he said it was just so lovely.
Oh, I love him. It was the first time I was able to tour and have fun. It was wonderful because the musicians were so talented, and I felt really lucky to have such professionals with me. But I felt like a total beginner, and being my age as a beginner was weird. So, it felt as if I was pretending to be the professional I wasn't. So, I didn't really share much with my band because something was off, you know? With Connan, it was great. He made me feel so comfortable with the fact that he didn't know what he was doing, and everything was accidents, and that was part of the fun. And also, sharing the stage with someone made me relax. He also was the first person who made me write. After that tour we did together, he said, "I know you can't write lyrics, and we have to just be in a quiet place. I'll come up with melodies, and you have to come up with words." And I remember, [my daughter] Joe was a baby. She was one. And that's what we did all day in a little cottage I had in Brittany. And it worked! He made melodies, and the words were coming, and I wasn't that embarrassed. It was great because it opened a door, completely. So that's really thanks to him. And then we kept in contact, and he's such a peculiar person. I love his personality!
I know! Have you seen the film, Bostyn and Dobsyn he recently released?
No, I haven't. He's a real performer. He's a real character, performer, very authentic, and... And his band was so close, so close to him and his personality, everything was wonderful together.
Yeah, and it's interesting that he didn't study music in any traditional sense. He kind of just taught himself how to do everything and his mom pushed him to begin his career on his own terms. And you come from a family, obviously, of music. It's interesting for you to feel comfortable with him, where he literally just figured it out on his own.
Yeah, but with my family, there were no rules. Everybody did everything. I'm so thankful to understand that my father proposed things in a very heavy way. Because he did songs and I sang them with him. It was very obvious. There was nothing awkward or embarrassing. And my mother also, she was much more tactful in a sense that she left a note saying, "If you want to go to this casting, they're looking for a girl your age." She didn't even say "You should try," she just was very open. And I went—I can't remember what I had in my mind—but surely, I wanted something. I remember doing the casting, and then being so nervous, and... And then, when there were only two left, and I was still in the game. So exciting! A part of me, even at that very young age, part of me really wanted to be in that realm. But my parents didn't do it in a very professional, you know, "You have to," or "This is how you do things."
What are you doing next? You're making a documentary about your mom?
Yeah, but it's still on hold. I have to understand where I'm going with it. Nothing's done. I just want to get into a new album, that's my goal. I know that I'm very slow, it took me four years for this one, so, hopefully, it will take less than four to get to where I need to go, and where I want to go. But around music, for sure.
And where would you do it, in New York? 
That, I don't know, because Yvan, my partner, is completely fed up with New York. He works in France, so it's hard for him to commute all the time. So we've had a complicated organization till now. I want to stay, but we'll see. I do believe that I need to be inspired by a place. Not write about the place, but to be able to write in good conditions.
I understand that. Maybe London?
I thought that I could, and then I went there, and no I don't think it will work. I was born there, but it's very intimidating for me. It's very intimidating.
'Rest' by Charlotte Gainsbourg, is out now.
With my family there were no rules. Everybody did everything.
Beetlejuice, Beetlejuice, Beetlejuice
I don't think anyone would deny that the original Beetlejuice is a beloved goth masterpiece. I never thought of it as particularly American before, but indeed it is: to turn our collective squeamishness towards death into a cynical fetishization, to add sarcasm to the Great Beyond is, in point of fact, a very American thing to do. These days, American culture is digging through its past and canonizing its masterpieces by revamping them any way it can, whether for the stage, the screen, or a hybrid of the two. The stage version of Beetlejuice is the latest iteration of this trend, joining the hallowed ranks of our shared cultural mythology through its resurrection via Broadway.
Burton purists beware: Broadway took many liberties with the story, the characters, the tone, the music, the dialogue, the concept. Right off the bat the point is made clear that you are not about to relive the thrilling Stygian 80s gem, but something else entirely. Beetlejuice, the character, acts as narrator, speaking directly to the audience with meta facetiousness, even in regard to the "departure from the original source material." The campy faux mourning of Winona's Lydia is transmogrified for the stage into legitimate grieving, for in this version, Lydia, played by a plucky Sophia Anne Caruso, has recently lost her mother, and her family's recent move to the new house is her father's way of moving on from his wife's death as rapidly as possible. This family drama becomes, for better or worse, the anchor of the plot. The recently deceased Maitlands, who are the real stars of the original film version, become a kind of means to an end on the stage—their primary role is as the ghosts that introduce Beetlejuice to Lydia. The music (it is a musical, after all) is surprisingly upbeat, with fewer numbers with tunes that resemble 'The Marionette's Funeral Marc'h than one may have thought were called for. The show-stealer was Delia, Lydia's life coach-cum-step mother played by a hilarious Leslie Kritzer, who's comedic timing was spot on and her character switch to the Argentinian beauty queen in the netherworld brilliant. Adam Dannheisser wasn't half bad as the father, either — I looked forward to the moments when he and Delia were onstage together.
I'm assuming you've seen the movie, of course. The real question with Beetlejuice on Broadway isn't whether it was successful or even good, but whether it's at all possible to take an iconic treasure and revamp it with ample creative liberties and have it stand on its own at all. Stories of this nature, for us modern-day godless American heathens, form our fractured cultural mythology: these are like the tales the Greeks and other ancient societies told around campfires to explain the phenomena of the natural world. The difference is that we use and exchange our stories differently, they contain a specific source and an exact form—Beetlejuice the film never changes, hit play now and it's the exact same movie as it was 20 years ago. Its adaptation to the stage represents what occurs naturally to a myth when it moves by word of mouth: it changes.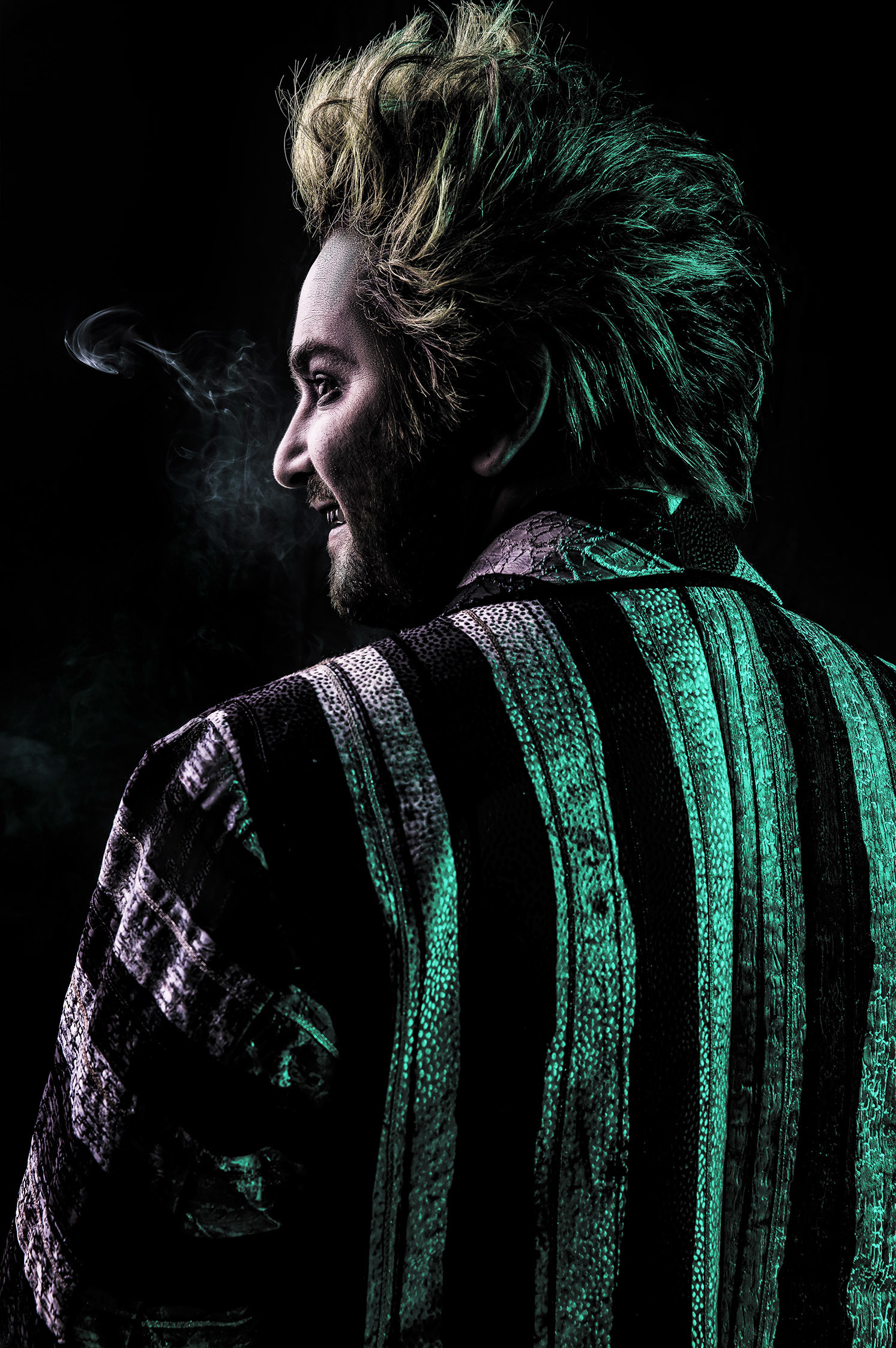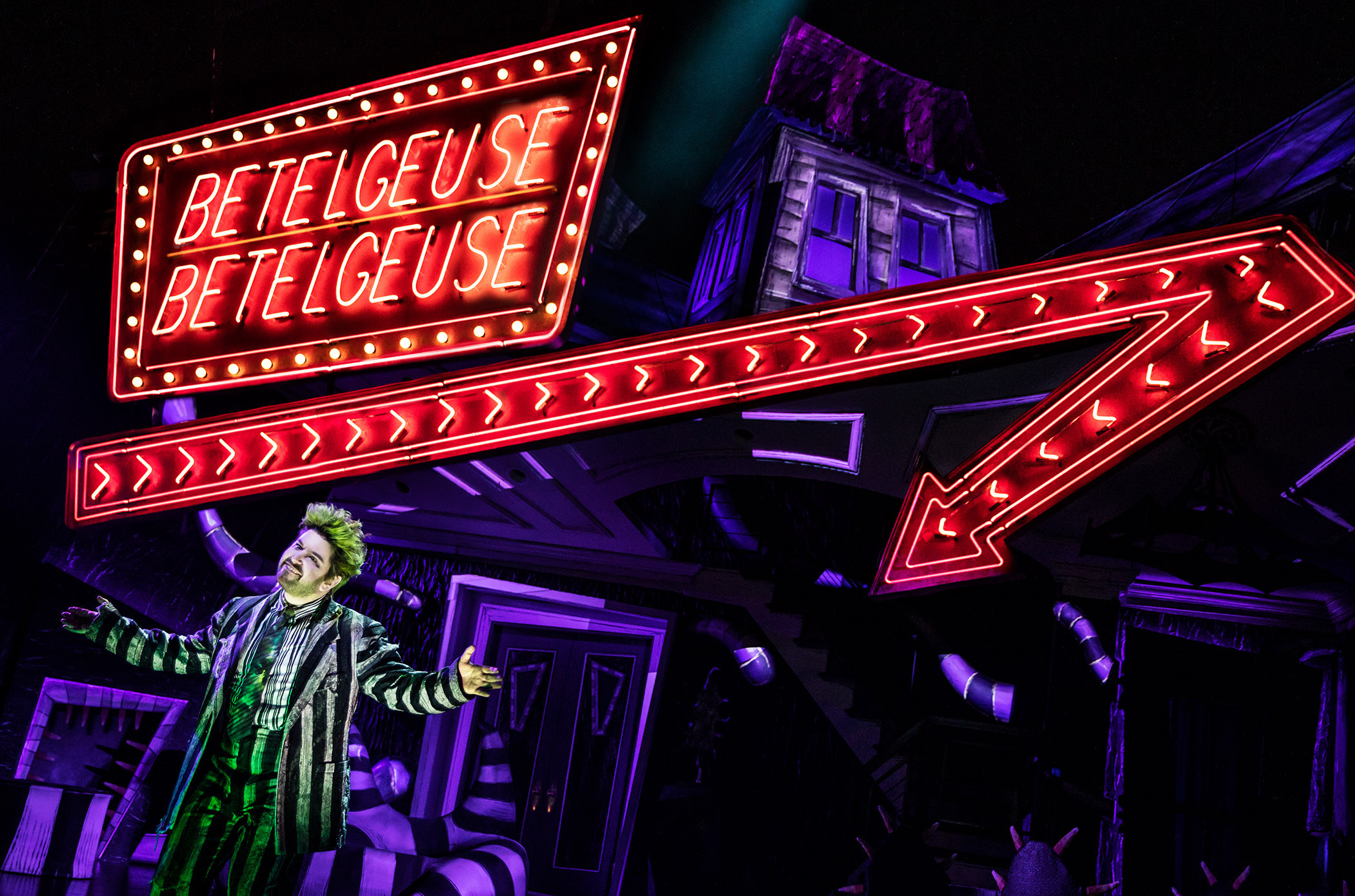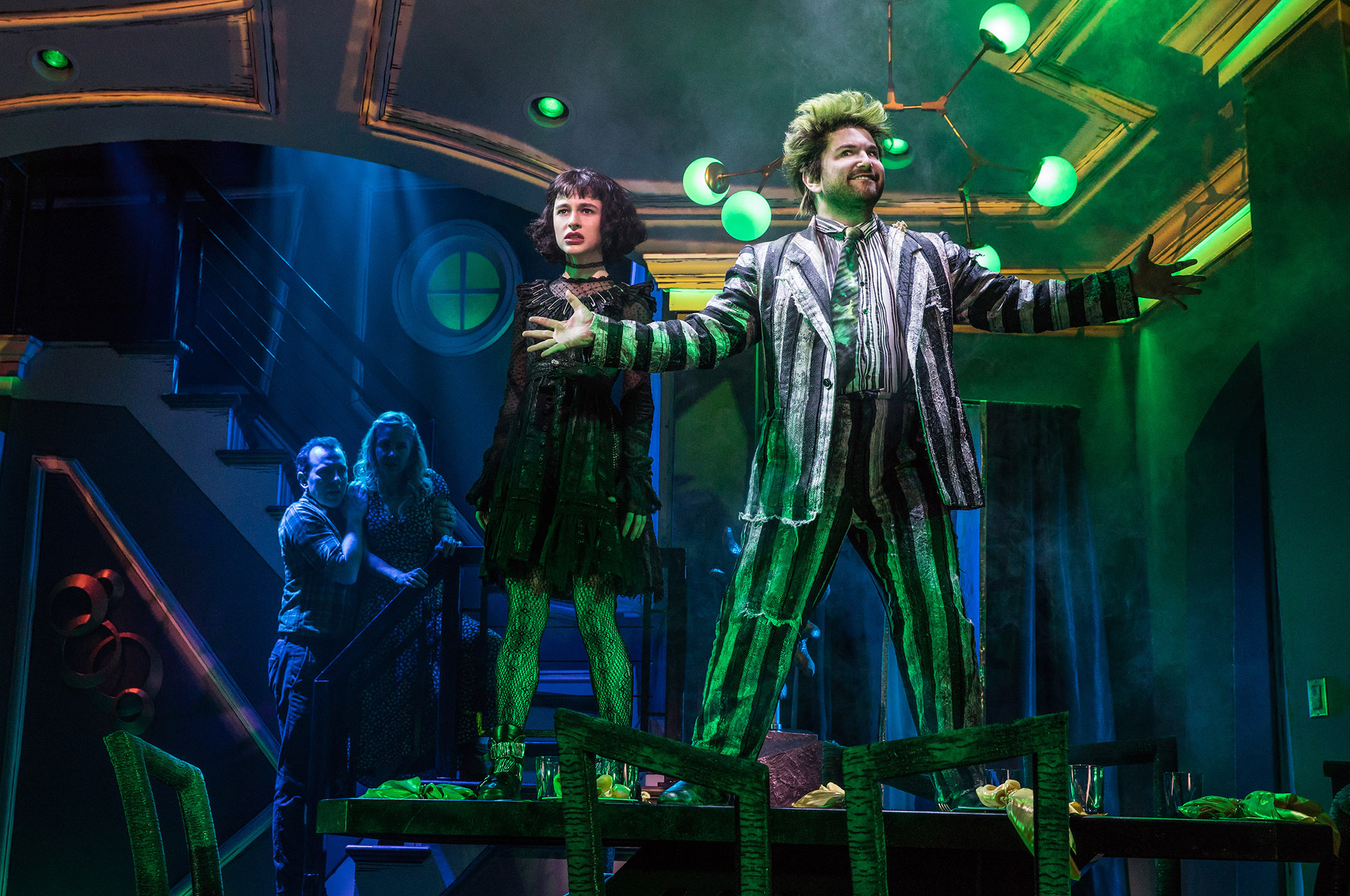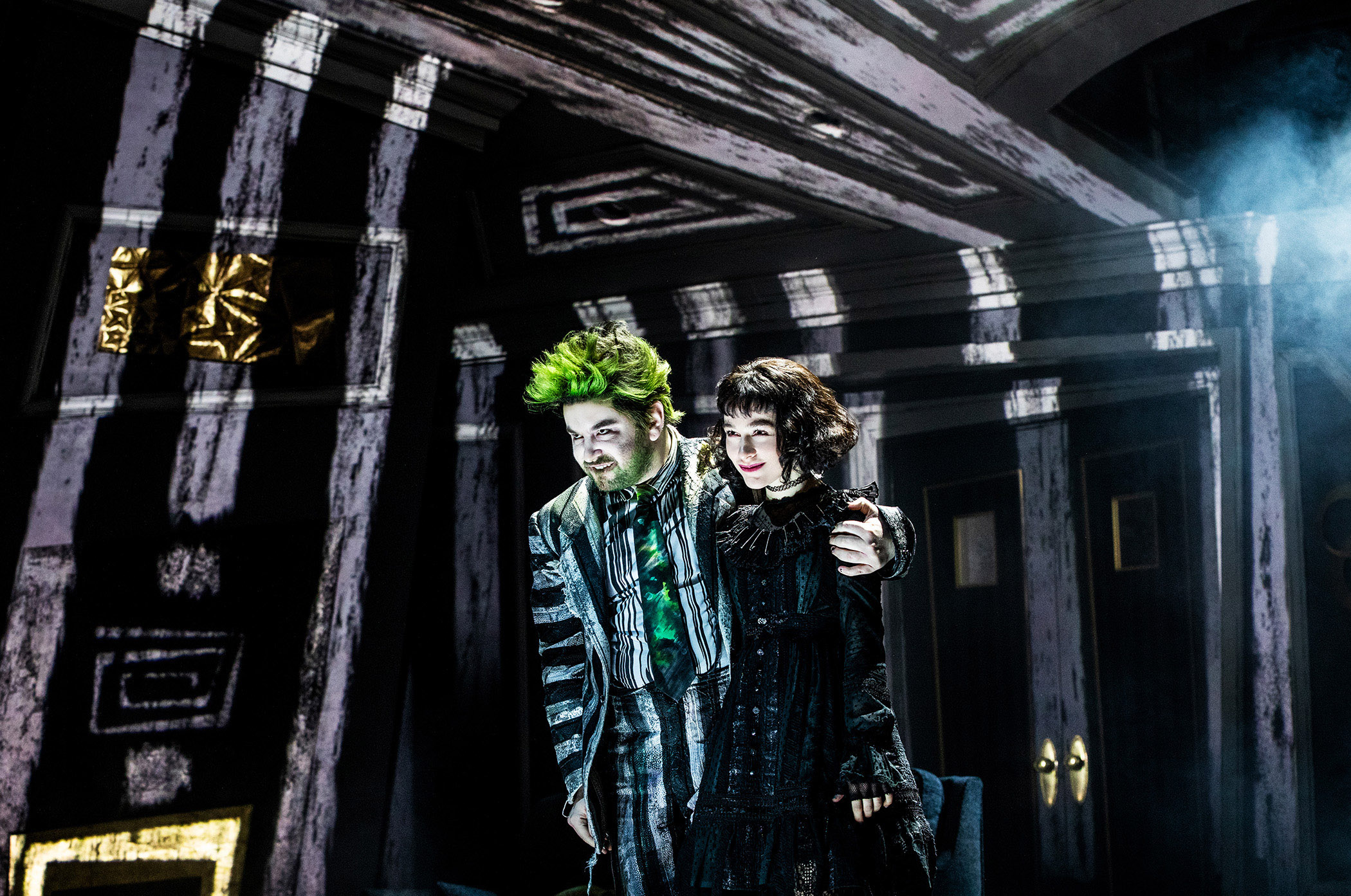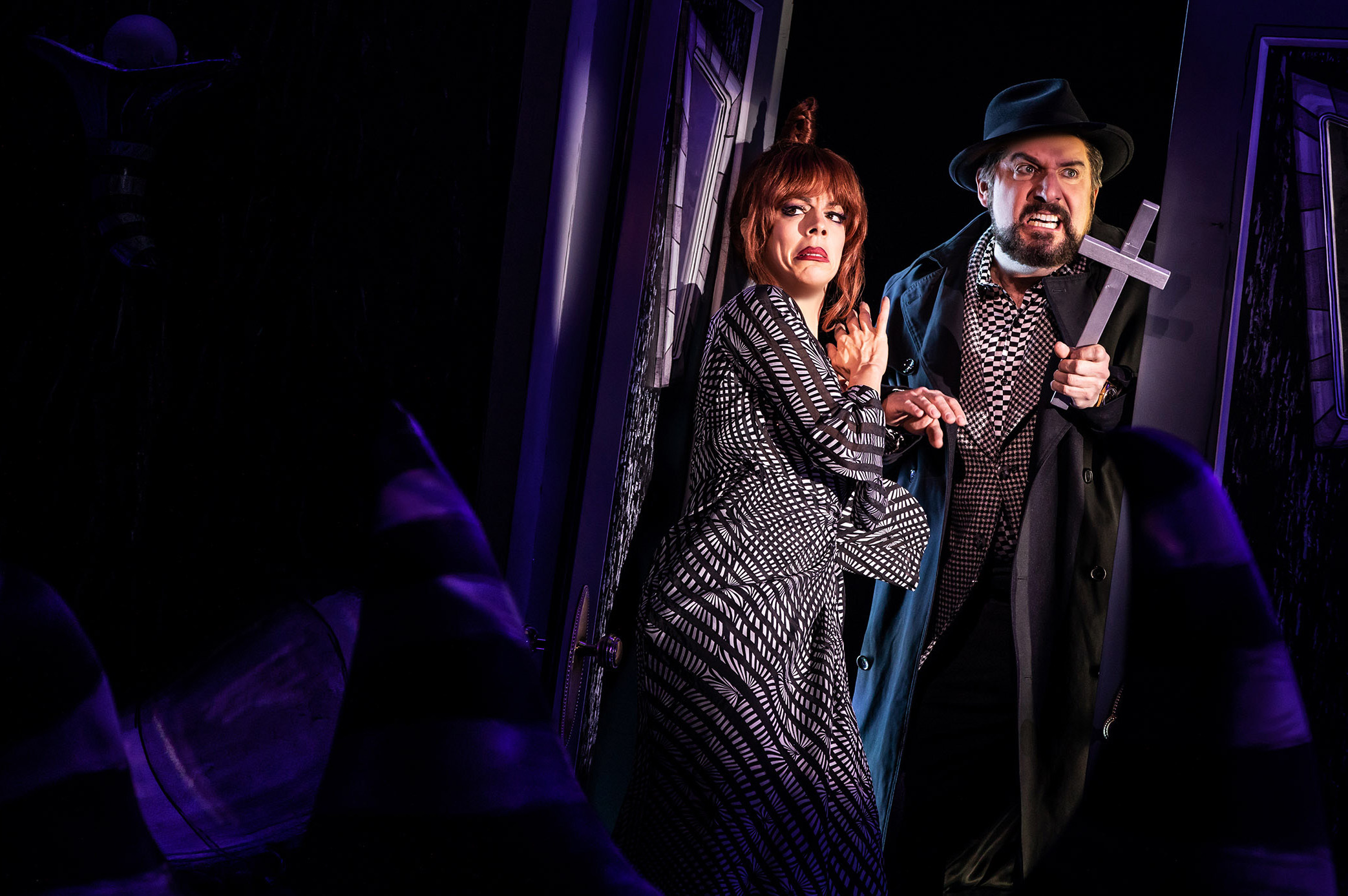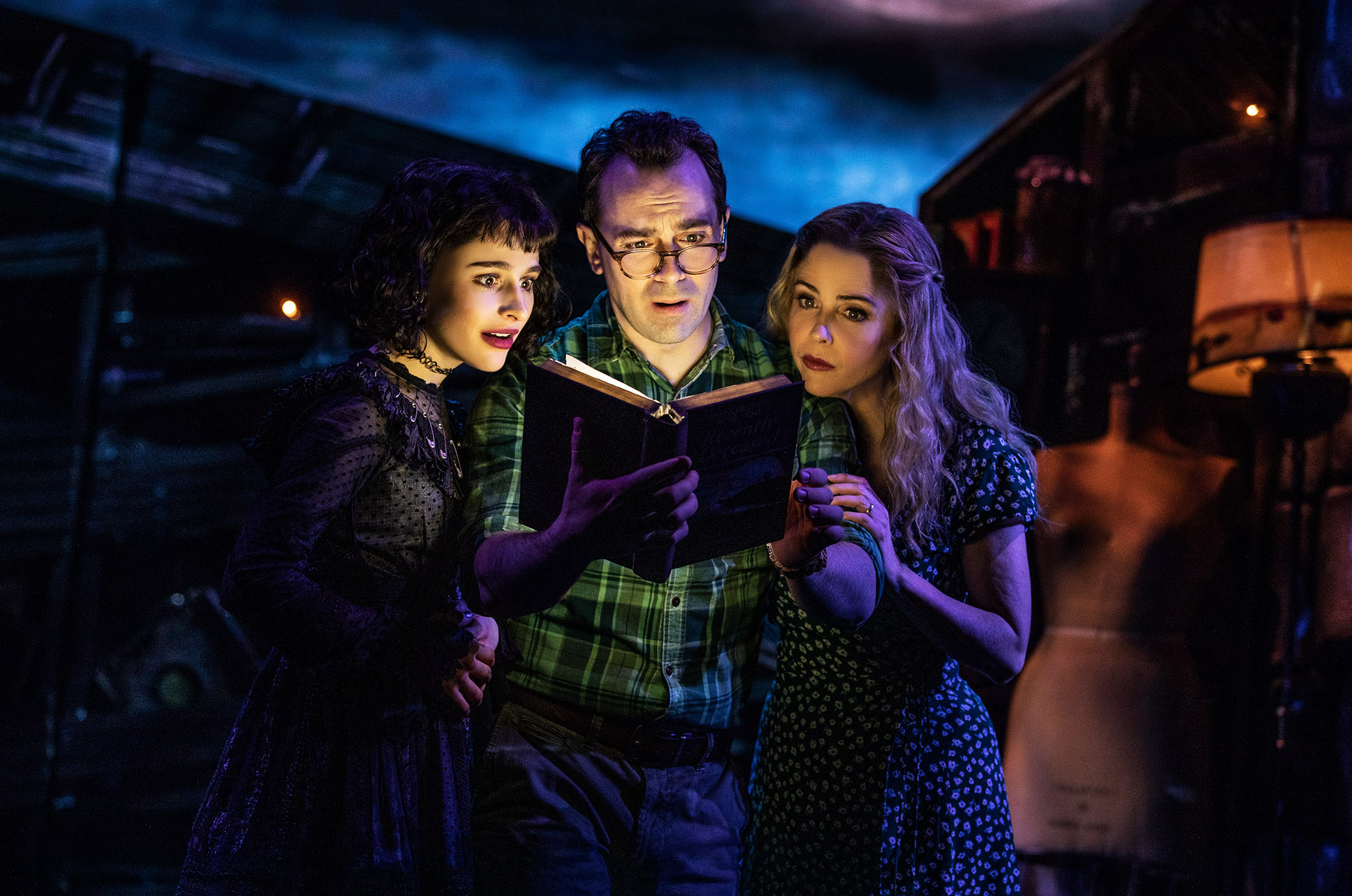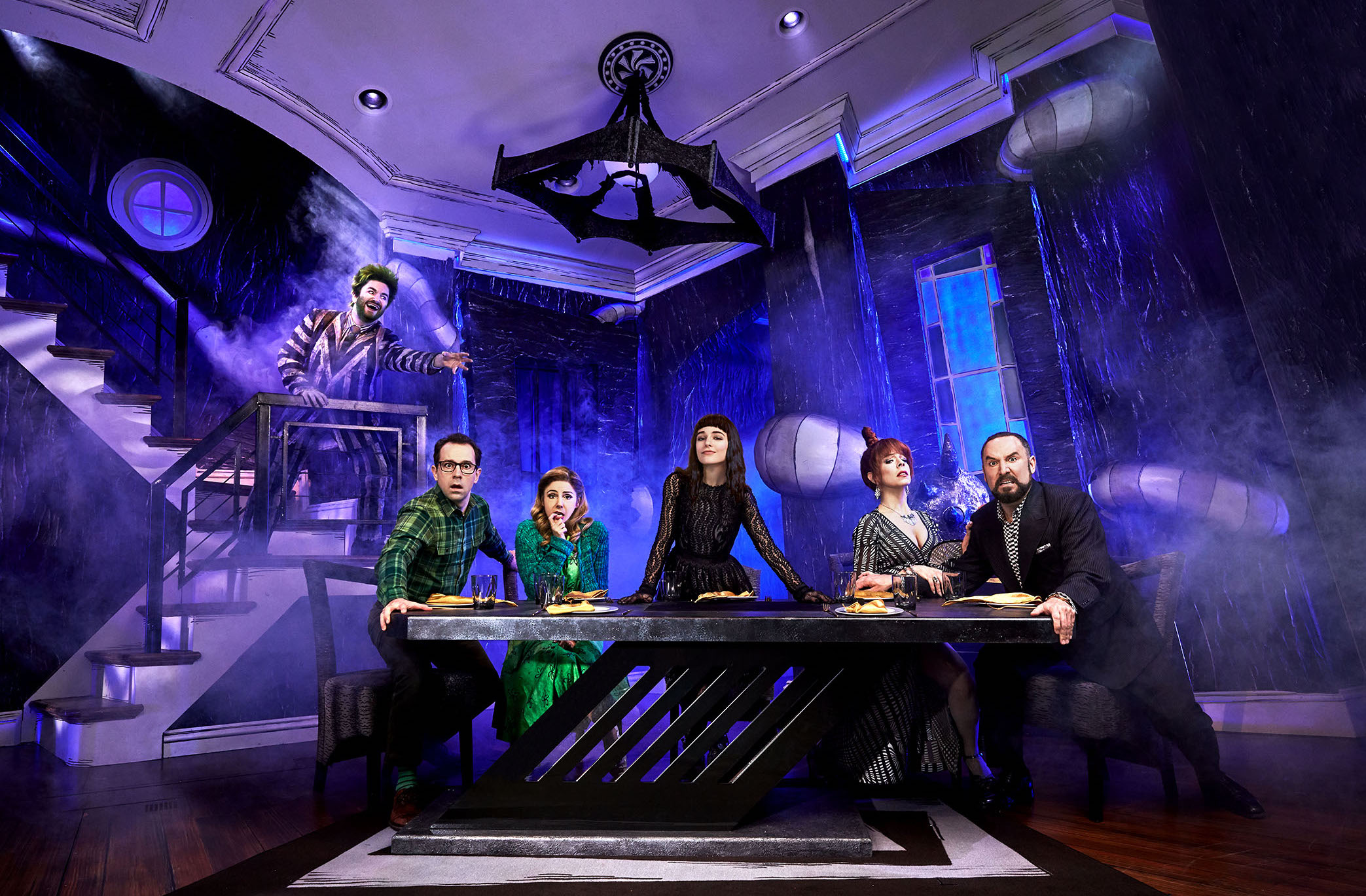 'Beetlejuice' is currently playing at the Winter Garden Theatre in New York City. Slideshow photos by Matthew Murphy. Lead Image: Danny Rutigliano (Maxie Dean), photo by Darren Cox/Spotco.