It's Jovel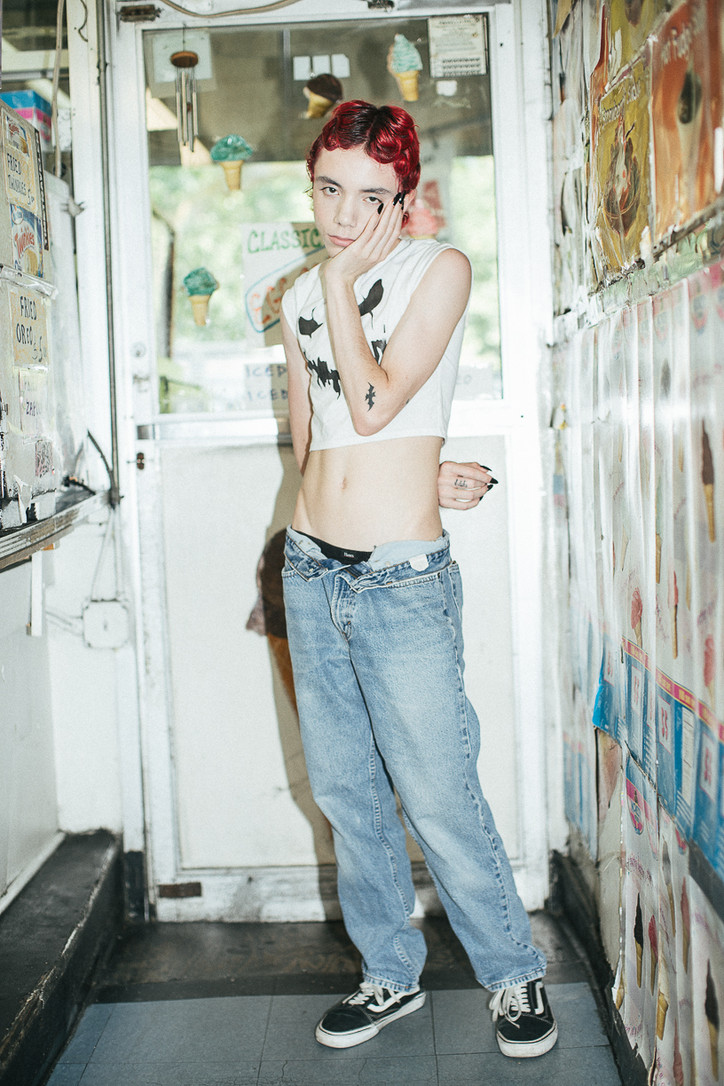 Where are you from and when did you decide to come to NYC?
I'm from a super suburban small town in Massachusetts. I've been in NYC for the past two years.
Why did you decide to move here?
There was just no place for me in Massachusetts. There was really nothing for me to do outside of High School. The town I'm from, you get married, have kids, own a house and your kids inherit that house. It's just a sad boring cycle that I didn't wanna be a part of. 
Which designers have you walked for? 
HBA, V Files, the season Pat McGrath did all the makeup, L_R_S, and a couple more others. 
Does everyone contact you through Instagram?
Yeah, I hate to admit it but instagram plays a huge role. Sometimes email. Sometimes agents send me work too, I don't have an agency right now though. I don't think I want one. 
What about the Katy Perry gig? How did you get that?
I was casted by a friend of mine. Weird experiece.
How so?
It was fun because I was on national TV and got to perform with a pop star. But there was scandal behind it both with Migos and Katy Perry, and in the way some of us were treated. It was a group of dancers, queer and trans artists, drag queens, and other different types of artists. We had rehearsed for so many days— and on the last day the drag queens were asked to be removed. There is still so much homophobia in every industry, and to see it first hand was very sad. It was bittersweet— an amazing experience, but some of us were pushed to the side. It's cool to be queer but to an extent— you want to use us, but only some of us. 
Did you see all the memes about it?
The back of my head is in them. I'm like, that's me on that meme account! It got so much attention, negative and positive. 
What about your brand. How did you start, and why?
I always wanted to make clothes. I started in May of 2017, mostly because I wanted to do something for my community. My brand is partnered with the homeless shelter, Ali Forney Center. They house LGBTQ kids and create safe spaces throughout New York. They've been kicked out of their home for just existing and being different. You're always fighting when you're a queer person. I felt like I wasn't doing enough on my part, and i love clothes. I want to expand, make the perfect 'boy skirt' and men's dresses. 
How do you describe your style?
It's all over the place. It's femninine, spooky, it's a bit freaky. I'm inspired a lot by different things. I'm inspired by women, pretty much. I was raised by a single mother, so I know they're very strong. I wear heels because of that. I present myself to the world in that way.
I know you love going out all glammed up. What's the process? How many times do you change?
I go through a million looks. Between me and my boyfriend, it probably takes us two hours. That's standard… My hair, makeup, 10 outfits, 10 thigh-high boots. I probably start getting ready at 10 and get to the parties at midnight, but I like to show up as late as possible.
Favorite pieces in your closet right now?
My Dior bag, from the 2003 Galliano era. My prized possession.
What would you buy right now, fashion-wise, if you could afford anything?
I would buy 6 inch Marc Jacobs platforms. Definitely the sparkly knee-high big ones; in the weirdest color variation.