Kaep Does It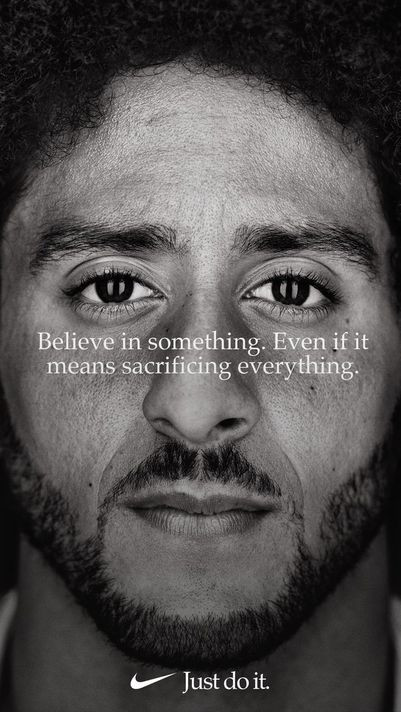 The demonstration, which involved Kaepernick, and later other players', decision to kneel during the NFL's pregame tradition of playing "The Star-Spangled Banner," received international attention—and criticism. But the peaceful protest has still persisted with other active players continuing to kneel during the anthem, or choosing to remain in the locker room until game time.
For his part, Kaepernick has steadfastly stood behind his actions and supports all athletes who choose to use their public platform as a means to bring awareness to systemic injustice.
I imagine it would take a lot of mental gymnastics to view Kaepernick as anything other than brave AF, given American society's recurring habit of violence towards those who make large-scale efforts towards social and systemic reform. Colin Kaepernick is only a few years older than me, yet my own parents were alive when Martin Luther King Jr. was assassinated. With all of this in mind, it makes total sense that Kaep was awarded with Amnesty International's 'Ambassador of Conscience Award' earlier this year—because It takes far more guts to stand up to an established system of inequality than it does to stack your sponsorship checks and remain silent.
Though Kaepernick has been under contract with Nike since 2011, this week's campaign marks his first major endorsement with the label. The use of his image in the ad, which also features a selection of other top-tier athletes, including Serena Williams, Odell Beckham Jr., Lacey Baker, and LeBron James, has already created a polarized response, with many, like co-star LeBron James, celebrating the feature, and others choosing to publicly burn their Nike apparel. The NFL, who counts Nike as one of their corporate sponsors, released their own statement reading, "The social justice issues that Colin and other professional athletes have raised deserve our attention and action."
So, whether you rock the swoosh or not, we at office will continue to back the message of respect and justice for all.
Photo courtesy of Nike