Kedr Livanskiy's Cold War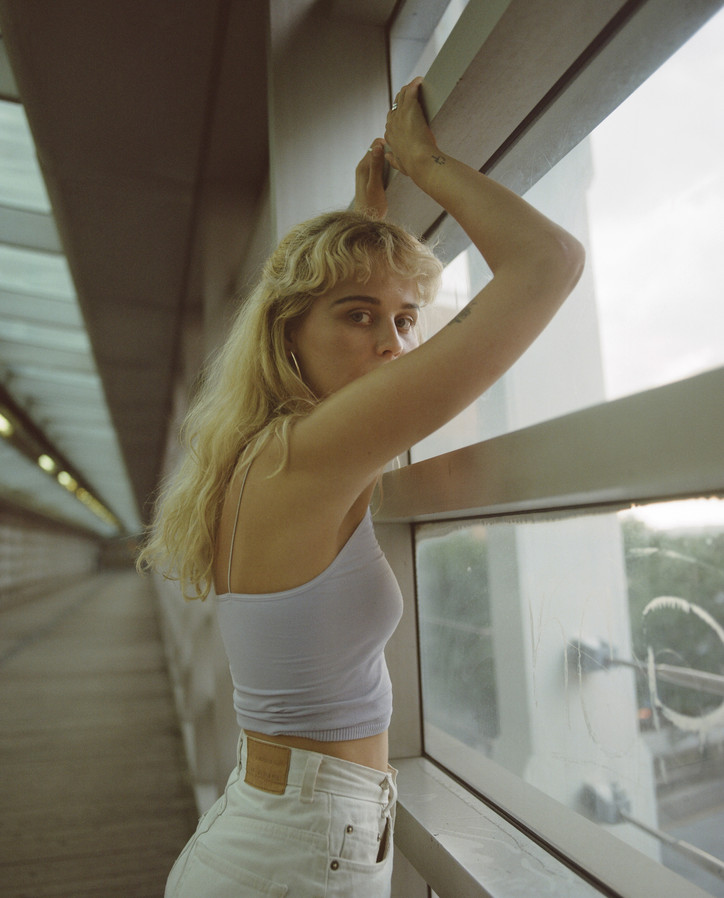 As she gears up to release her new LP—and an as-yet-untitled rap project—the artist told office what it was like growing up in Moscow, and how electronic music has helped her find her voice.
What's an average day like for you?
My favorite part of the day is the morning, when my mind is fresh and clear. As soon as I wake up, I write down my dream so that I can analyze it. Then, I put on an album and make breakfast. Everyday I try to find some new music on YouTube or VK. It's quite easy to get stuck doing that, but even if I find one rare gem, that means the day isn't wasted. In the evening, I sit and spend time on my own projects. I usually get tired of trying to finish old ones and create something new. I'll really get into it, just plunge myself into the vibe, or I'll go to my friend's place and do the same with them, and have a beer.
What are you working on right now?
Right now, I'm mixing my second LP, editing video for it and preparing the cover—just getting everything ready for the upcoming release. I'm also producing a side project with a friend of mine—we're making rap. I'm not sure when it's gonna be available to the public, but the process [has been] quite fascinating.

How did growing up in Russia influence your music?
The influence is quite strong. In a cultural sense, Russia was isolated from the rest of the world for so long because of the Iron Curtain. Because of that, the development of musical genres was delayed—we only started re-claiming that in the '90s [after the fall of the Iron Curtain]. So, Russian music has really started to discover its own language in the last five years. In the 2000s, young musicians were looking up to the West, because we just thought it was better. Our bands were singing in English and just copying popular foreign genres. They had a feeling of inferiority. But we, the new generation, don't feel that way anymore, especially now that we've discovered our own unique voice—one that's separate from everything we've been absorbing over the years.
It's hard to explain, but I think my music captures something that is uniquely Russian. But it balances Russian culture and foreign influence, so that everyone who listens can relate. II think the electronic music is the most universal language—it can pretty much unite people from all over the world.
Do you have a favorite decade?
Different decades are beautiful and attractive from different standpoints. Talking about art and literature, I'm more fascinated by the 1910s through '20s, especially by the revolutionary years. There was a radical demolition in people's minds; just imagine a total change in art language and the way people thought about it—architecture, fine art, design, everything. Incredible people came out of that time.
But musically, 1980s in the USSR, Germany, England and America. And the 1990s of course—there's no way around that. It was just the most vivid in the context of worldwide fashion. We started seeing these really bold runway shows intended to change minds. Fashion became a powerful review of the reality. Nowadays, there are some designers like that, but mostly everything is focused on marketing and there's nothing behind it.
How did you decide to use music as your medium?
It's somehow been that way since childhood. At the age of seven, I was already a fan of the Spice Girls—my room was covered in their posters, and I had a VHS recording of one of their tours that I watched over and over. I don't remember any other kids my age who were into music like I was. I spent a significant part of my childhood with my granny. She would always sing love songs and national songs. This passion carried over to me, of describing things through music, maybe even genetically. When I was 14, I wrote a song on guitar at camp—all my mates were singing it, and it became a local hit. I spent a lot of time studying and trying new things before I actually took music seriously, but I found it in the end. It's what's most organic to my being—it came to me really intuitively. There's no escaping fate.
You studied film in school—do you think that informs your musical process?
Definitely. Film editing taught me to see reality from a completely new perspective—to cut things up, to highlight parts and fragments, and mix them to create a new thing in the end. Before, I could only comprehend an entire image. But studying cinema, I began to understand structure and of how you can work with it, which is particularly important with electronic music.
What's your favorite city to perform?
Kiev, Ukraine.
What's your go-to karaoke or shower song?
Mariah Carey, "Hero."
Coming from a punk background, what initially drew you to electronic music?
I never only listened to punk, but when I was 16 through 19, I was really attracted to its vibe. In punk, there was a push for civil rights for minorities, we cared about animal rights, etc.—that was the radical punk and underground hardcore scene in Moscow. We were able to exist organically in a musical form, so we created our own pop-punk band and toured around Russia. Our performances were crazy, full of explosive energy. At the same time, I got bored quite fast. While playing punk, I was listening to loads of other music, so I felt restricted by the genre. The change, for me, was inevitable.
By the time I was 20, I plunged into the world of electronic music, going to parties and gigs. We would drag our synths around Moscow, jam for hours and drink beer. We had gigs where we performed our own music, and released cassettes. Some Russian musicians you can hear today grew up in music during that time. It turned out to be a real community—John's Kingdom. It was our common love. Electronic is just totally unique in its form—you're free to create in a million different ways and say whatever you want with your sound.
Listen to Kedr Livanskiy here.