Kim Shui's Milkshake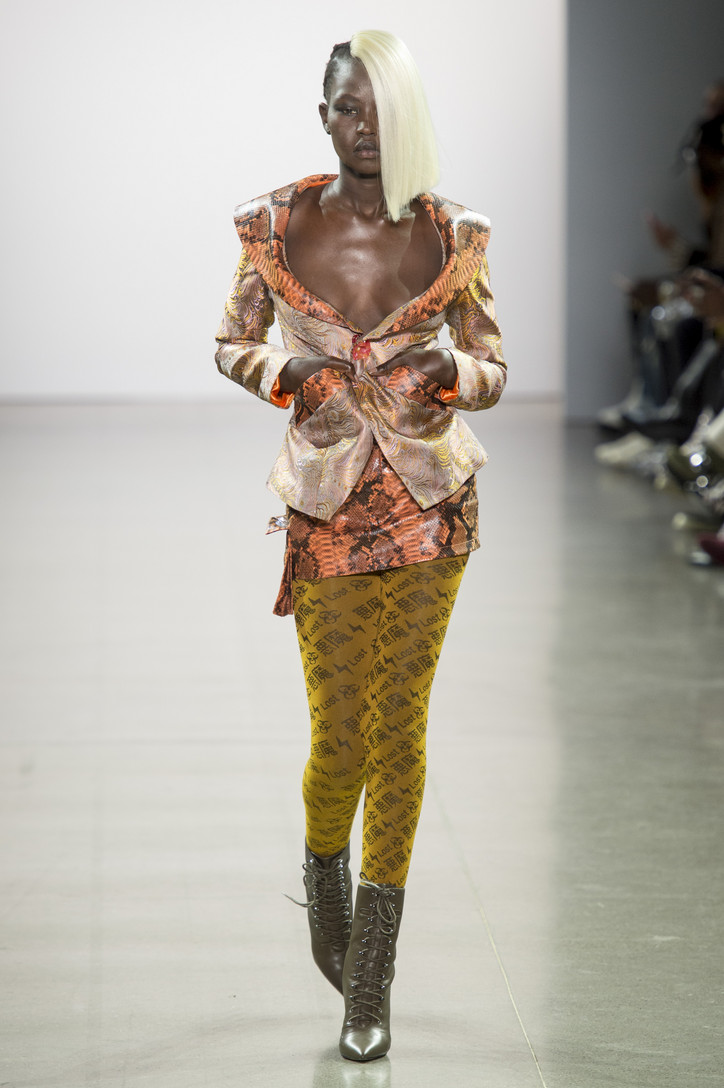 As for the collection itself, playful materials are a Kim Shui staple. She's all about snakeskin, taffeta and tie-dye, and that's exactly what she served up. Her method of collaging unexpected textiles is a reflection of her multicultural identity, with this collection including traditional Chinese silhouettes reimagined by the designer with perfectly placed cutouts in a range of neons and dyes. The collection also included oversized sweaters, elaborate woven textiles and fur trimmed jackets, but our favorite looks were the the neon printed tights reading "lost" in English and "devil" in Chinese.
View photos from the presentation and read our interview with the designer, below.
What was the inspiration behind this collection?
Inspiration-wise, it was a lot about exploring elements from last season that I wanted to develop a little bit more. There's a collage element that's made up from the different parts of my background—growing up in Italy, being Chinese, and having a brand based in New York. So, it was kind of like exploring all those elements and how they come together. Like, if it was a Chinese dress, I would use a fabric like tie-dyed denim to make it something more unexpected, and start adding cutouts to a traditional silhouette.
So, it's kind of like a collage of your identity?
Yes, it's definitely a collage of who I am.
What was the message you were trying to convey with this collection?
Currently I feel the runways, especially with the #MeToo movement, are less about dressing sexy—the prairie dress became the dress of the movement. I wanted to provide an alternative to women, so they could be covered if they want, but they could also show some skin if they want, too. So, the first look, for example, was a blazer, but the fabrics were mixed in a way where there was a lot of contrast and shine, and the neckline is cut extremely low, and the mini skirt was a micro.
It's like taking the power suit to the next level—showing some skin and making it sexy.
Yes! For another look, I wanted to use a pinstripe—I had a white pinstripe and a black pinstripe, and it was kind of like office satire. It's a regular suiting fabric that's usually conservative, so I twisted it and made it into something more sexy—the pants can rouche up, the neck is a deep v, and the sleeves are kimono sleeves. The roucheing gives it options. You can choose to show skin, or not.
One of my favorite elements in this collection was the colorful all-over print tights. What was the meaning behind those?
That was a collaboration with Maison Soksi! We decided they were the perfect match for the show. The tights say "lost" in english, and "devil" in chinese. The colors were also perfect.
You had such a good soundtrack—I loved "Milkshake" and "Perfect." What inspired your song choice?
We had our friend Ace do the music—he's been doing it for the last couple of seasons. First, we made sure we had all female vocals on the tracks. So, it was a combo of standard runway music and music where it's all about girl power.
Did you have any muses this season?
All the women in the show are my muses—diverse women who are bold and not afraid to take risks are kind of women that I want to dress.
Aweng was such an amazing opener.
Yes! She would definitely be one of our muses—her character, her personality—even in our casting, we wanted girls with strong personalities. It's a big part of what we do. It's not just about [having] a beautiful face, but someone with attitude and who's fun. Aweng is great—she has the attitude.
You always have such inclusive casting. How do you feel about representation in the industry right now?
Diversity is talked about a lot, but you still see shows that aren't inclusive. Having a variety of bodies on runways is not as common as it should be—and the same goes for ethnicity and gender. There just aren't enough people doing it.
What about being a designer in the age of Instagram—what are some of the pros and cons?
I actually get asked this question a lot. I think it's amazing—you reach a wider audience instantly, and you get to talk to people directly. People are always saying they find me through Instagram, and I think that's really cool—you are directly communicating with people who are interested in what you have to offer. I do think there is a slight gap, where certain things that sell on my e-comm site are the ones that are bolder, brighter and that have a greater impact on Instagram, in terms of imagery, but some of the more minimal pieces will have more of an impact with buyers in real life.
How does this collection fit into the overall Kim Shui narrative?
The collage element that I explore is always part of the narrative, but I definitely tired to make it bolder, take more risks with color, and try colors that don't go together. It's also about having that all inclusive Kim Shui girl gang. All the girls are very different from each other but they're brought together by the clothing.
Stop by the Kim Shui pop up at ON CANAL this week.