Krocaine Addiction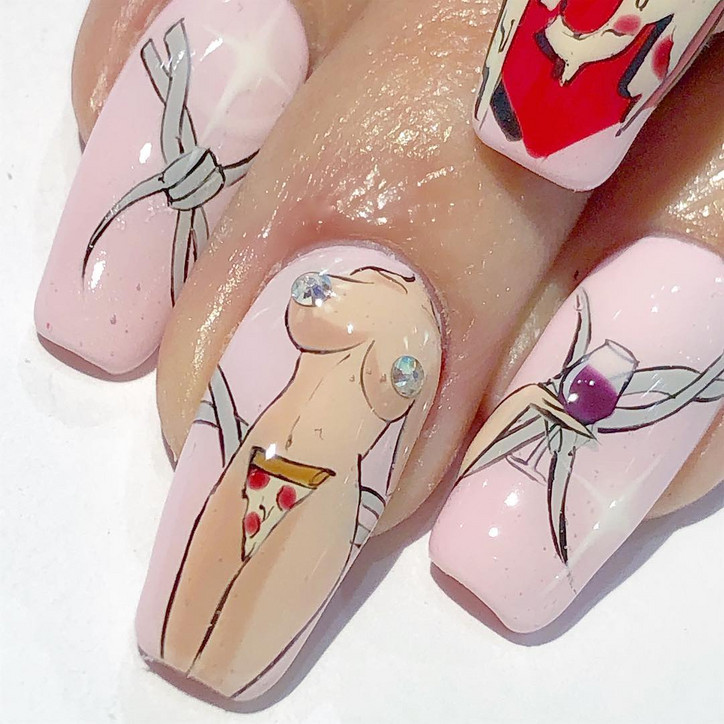 Tell us a little bit about yourself. 
My name is Kro Vargas, and I'm a nail artist from South Florida. 
When did you know you had something special going? 
I would definitely say I knew in high school when I first started doing more detailed nail art. All my friends and classmates were always so excited to see what I had on my nails. People were interested in seeing my art.
When your fans see your work, they often recognize your craftsmanship. How would you describe your design style, and how did you curate it? 
It's actually kind of hard to answer this question sometimes! I think the best way to describe it would be nostalgic to my childhood. My style of art is just a unique way to portray the trends I grew up with through manicures. 
Why nails in lieu of another beauty profession? 
This is just something that I genuinely love and have loved for as long as I can remember—more than makeup, hair, all that. Nails have always been my thing.
Do clients typically come to you with requests, or do they usually give you free reign? 
I mostly have clients that let me do whatever I want. Sometimes, they will give me a theme and let me do what I want with that.
If they do put in a design request, how much notice do they have to give you? 
It varies. If I'm booking a long appointment, I like to know what I'm getting into ahead of time, but sometimes I won't come up with a design until it's time to paint!
How long does it take to do one full set in terms of design? 
For a design only, it can take between one and three hours or sometimes even more, depending on how intricate it is. The designs I normally take the longest on are usually just for fun. 
What's the most challenging nail design you've ever done?
I would say anything realistic, like portraits of animals, faces, etc. And of course, the unforgettable Fiji nails. Those took me 12 hours to do. 
If you could only rock one nail design for the rest of your life, what would your nails look like? 
I think I would like to wear a set of bright orange nails inspired by my first visit to Venice Beach. You can see that set on my Instagram page.
How long is your waiting list? 
Clients have to book about three to four weeks in advance.
Opinion on nail biters? 
Every nail biter can have beautiful long nails whether they believe it or not. Just book with me!