In the Lab with Francelle Daly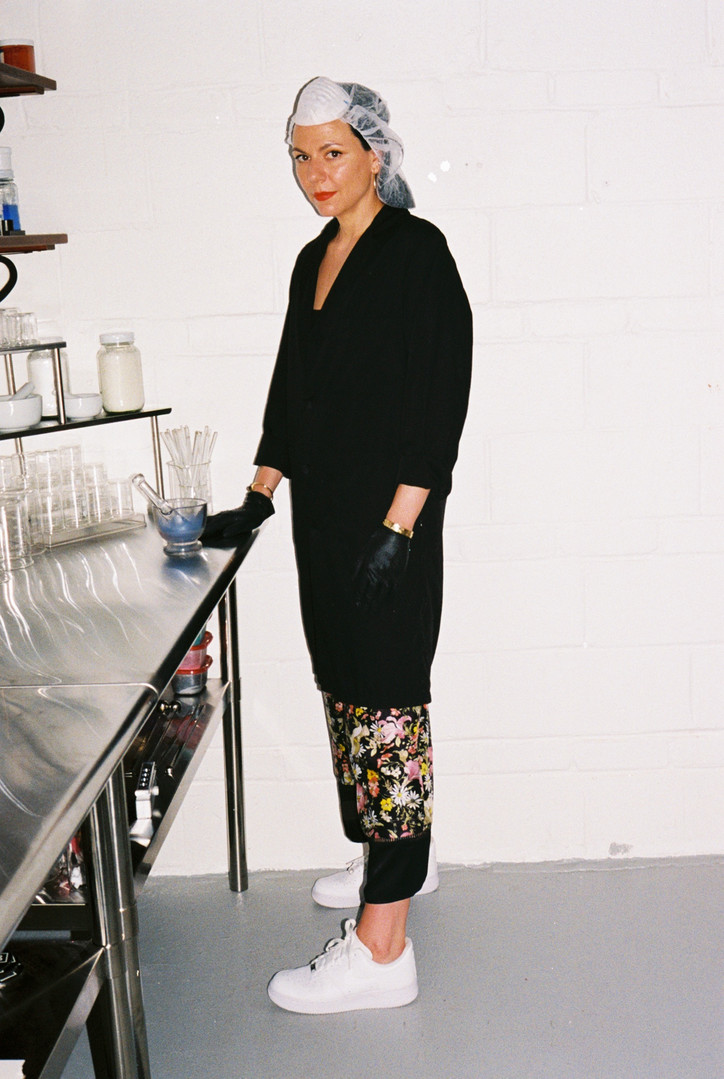 How long has the brand been around?
Four months.
Woah, it's so new! And you do it all yourself?
Yeah. I've been in the business for a really, really long time and I've worked with a lot of brands, I consult for a lot of people, and I just thought I would start this myself. My husband, Jorden Haley, created all the packaging, online presence, the logo. He's an artist, so it's been a lot of fun to be able to do that sort of thing together. And it's been a lot of fun, so I think it gets to the point in your career where you are, and you have so much information you realize that, you know, you could do this yourself. It might be a bit difficult to do in the beginning, but that's how we started.
And most of the process happens right here, too?
Yeah, I make the color. I'm from New Orleans, so all the color names are New Orleans-inspired, like Bourbon. I have Magarette on, which is my husband's mother's middle name. Everything is fairly personal to me. My mother used to make soap, so she had all of this equipment— essential oils, pigments, all over the house. As I started to work on Lovecraft Beauty, I was like, I am able to do this. And it's so much fun.
I guess that's very reflective of the brand's name, too.
As we have grown as a brand, we have worn every single hat. We've packed boxes, we've moved equipment, we've made products. Even getting the product off the boat, because when you create something you want to be able to answer every question about what you've done with the brand.
It seems like you have an emotional connection to everything, too. What was your mom's go-to look?
The reason why I did the micellar water first, my mom has really bad rosacea, and I wanted to create a product that can soothe her skin. And my mom's go-to was always grabbing a lip. Her favorite of mine is a the lip pen Vallette, a hot pink color— a color she never wore. Now she wears it all the time because I made it for her.
What do you think is the biggest myth in the beauty industry?
I think there's a lot of big misconceptions about beauty. Like, older women can't wear shimmer on the eye, or a glitter or a pearl eyeshadow is going to make your eye look older. if you want to have a glittery eyelid, then go for it. There's no rule saying that if you reach a certain age you can't wear a red lipstick anymore. If that's what makes you feel good and being empowered as a woman, that is the most important thing. 
Do you live in near the lab?
My house is four blocks away, and when we bought our house it had New Orleans jazz posters all over it but we needed room for our art. So I have several spaces in the studio, this one and across the hall too, and it's a lot of fun because this location reminds me a lot of New Orleans, a lot of artists and recording studios. When I'm making color it's like, they're pumping music, the constant creative.
What's your favorite place to go eat or go out or anything?
Favorite places to go, there's this place called Nowadays, and the people that did Mister Sunday own the piece of property and they have DJs there, kids, you know people can come have a drink. I love helping people and being involved and you know, the local community. I think it's important.
What you're wearing right now? Is that your go-to look?
This is my aesthetic. This is a tinted moisturizer, a future product to release, that I've been fine-tuning. And this is Magarette, the lip-pen. I love the art of makeup, I think it's really fun, but I think it also, as I'm older and as an artist, there's a lot of makeup artists who don't wear makeup. As you get older, and you know, for me, especially living in the industry that I do and being involved in it for so long, that you take little tips and what works best for you. I don't think there's a mould that women should live by. At the end of the day it's all about having fun and looking good doing it.