The Language of Starchild & The New Romantic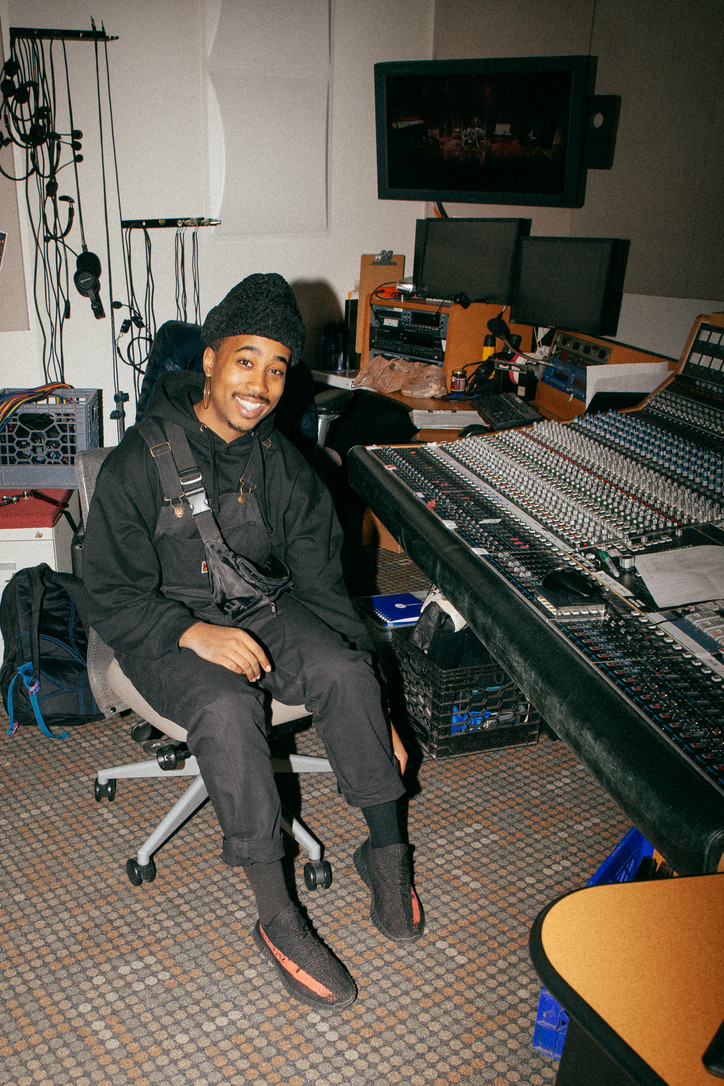 I'm wondering where, or how you got the name "Starchild"? Or, "Starchild and the New Romantic", I guess.
I got starchild from George Clinton songs I listened to when I was younger. That's where I first heard it, when it was first incepted in my mind. So when I decided to try and work at being a recording artist it was one of the first ideas i had for the name.
Thinking about George Clinton in that context— is that someone you feel you are trying to emanate as an artist?
It's not necessarily about wanting to get there, be there— it's more about a feeling, and also setting a bar. I don't get nervous too often when I perform, but when I do it's only because I am conscious of that bar of excellence in performance. And I am always wanting to be in accordance to that.
I feel like that's true of any artist or creative. Or human. If you're thinking about trying to be someone else you're setting yourself up for feeling failure— but it can be beneficial if you're focused on being inspired by the spirit or ethic of someone's success. What about the New Romantic? Where did that come from?
It's less specific… If Starchild is an essence, a lineage, a history, a feeling— the New Romantic is the aesthetic. And not in a degrading way— sometimes it's the band, sometimes it's the sentiment, the sound... 
You do have a pretty focused aesthetic. What's your relationship to the color red? I see a lot of red. I mean, you're wearing all black today but overall you seem pretty set on red.
It's kind of the spirit of this record. And this time. This era. So I always want to be specific about that. When I play songs, or chords, sometimes, they have colors to them, and that's the color of this album. Not that I am synesthetic, though.
What do you do before you go on stage?
I don't know, just breathe maybe?
I bet you've seen some good pre-show exercises though, I know different bands have their own methods of motivating themselves before going on stage.
I did see Beyonce hold a chair pose.
Are you nervous about tonight? It's a big deal— album drop, listening party…
I don't know if I am nervous about the show, I think I've just got nerves for life. I had an audition this morning for a play.
Wow, that's a lot— an audition, album drop, show, and you're touring with so many other musicians. How is that possible?!
I try and focus not on the quantity, I try to focus on the younger part of myself that always wanted to be doing this at this age, and just try and remember that constantly but that kind of takes a lot of energy, and sometimes you just kinda get tired.
My favorite quote is, "remember when you wanted what you currently have."
Exactly, that's really poignant.
How long have you been working on this album?
About three years. I worked on it pretty slow and deliberately.
Are you going on tour?
I'm trying to figure it out. I've never really like set up one before, so I'm kind of green about that. I don't even know how it works, I'm trying to figure that out.
Are you still going to be doing work with other bands?
I don't know we'll see, I'm not too sure. That's kind of the thing, as a session musician and touring musician, work kind of just comes in. I just want to be available to it, stay open to it.
How do you decide to spend your time? Is the goal to get to a point where you're doing your own thing?
The goal has always been to be working consistently and to be able to sustain my life by doing art and the things I'm good at. The more I focus on trying to pin on like what is the "ideal moment" that is success, I'm not focused on the journey, and I'm already losing.