Last Night In Paris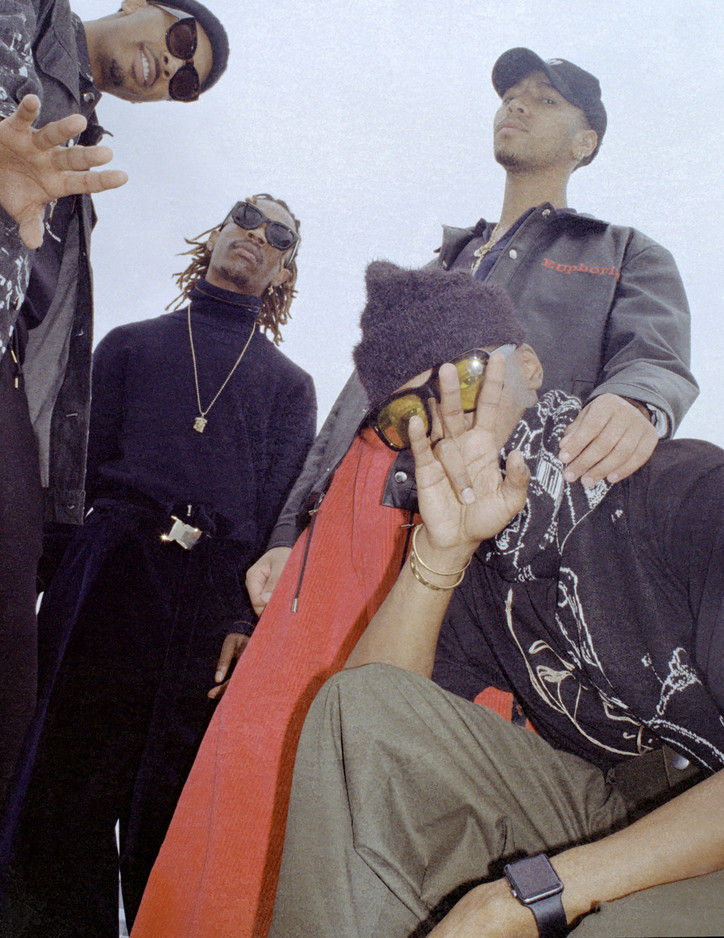 Balancing between inclusivity and exclusivity on social media, the collective are low key about their private lives and high key about the boundary pushing work they produce.
Similarly to their videos and artwork, the collective hand over the keys to their world, allowing to catch a glimpse into their everyday life and creative process without ever giving away too much.
To LNIP, every answer is followed by an exponential amount of questions that keep the audience on tiptoes for days.
On a murky May afternoon, Jordon, one of the founders, and I meet in Soho to discuss the mentality that's brought the group together as well as the concept behind their most ambitious project up to date, a short film titled Equal, only to reconnect with the entire group a few days later for our shoot with HRJ & Wong.
What is Last Night In Paris?
For me, Last Night in Paris is a lifestyle, it's family. It's more than work, it's a mentality. We founded it with Taurean (Roye). Then, we have KC who's a singer. Vonnie, he designs. We're a creative collective- we produce content, roll it out, try to monetise it- all while staying low-key.
What's the LNIP mentality that you refer to?
It's just the execution, you can always go that one step further. Also, the fact that you can learn your craft just by doing it.
You don't have to go to university or come from a specific background. We're just doing and learning everything by ourselves until we feel like we have a strong enough identity to work with other people.
How did you guys connect?
We all come from South London, Catford and Brockley. T (Taurean) and I went to the same nursery, his mum was pretty much my mum, my mum was pretty much his mum. With everyone on the team, it's that kind of special relationship.
How did you recruit the other members?
It went through me and T, initially. We'd see someone we like, we'd start a relationship with them, talk, work. You might not be in the team for three years, you might just be our bro.
With every group of friends comes a set of rules. When you're a new member, you can't just slot right in, you have to make room for yourself.
The core is everybody who's part of it. On a day-to-day, there's four of us; T, Vonnie, KC, and I. We're in no way better than those who're a bit further away, it's just hard to connect with people on that level unless you're with them a lot.
So how do you divide the roles amongst the team?
With everything that we do, we've got to be flexible, we've got to be fluid. I don't care what type of artist you are if you can contribute and it works.
But, there's a structure. T designs all of our artworks and raps, KC sings, I do ad libs and chorus. We might also write together, or just freestyle and send it to our producer (fwdslxsh).
I'm also on the business side of things. Vonnie designs the merch it, comes up with the concepts. Vonnie has the most sauce out of all of us, he's dripping in sauce.
When working in a group, how do you decide when a project is complete? Is the perception something that you've shared from the beginning or did it come with time?
That's our biggest problem. Everybody in the team would blame it on themselves. But, I think what we have to do in those cases is to go away for a bit, work on new material, then come back to it.
So how do you circulate the ideas amongst the team, decide what to work on next?
We're a collective, not a band, because we're a group of individuals under one brand. We all have our own identities and our own vibe; Last Night In Paris is a mixture of all of our stories.
How did you source your producers?
The internet. The best thing that ever happened to life.
MD$ just hit us up on Facebook, and I told him to fly over and stay at my house. So he did. We just chilled, smoked, and played FIFA until we became friends. FIFA is the friendship-maker… and breaker. I'm always Real Madrid.
Who's the best player?
I'm not going to even say that.
Where's your hub these days?
It used to be my house or Vonnie's house. We might meet up in Soho or just turn up for the weekend. We see each other twice a week, three times a week. We're brothers more than anything.
Tell us more about the LNIP signature.
We've got our story. We write a lot of scripts, treatments, dialogues about the life we live as this team, as a group of guys, and we try to put that in our short films. A lot of effort goes into those, a lot more storytelling, a lot more dialogue.
For our visuals, we call them net videos. It's almost like a visual representation of us and our mood at the time.
For Pure, it was almost like an advert for the world that is Last Night In Paris, just little elements and ideas that make for a bigger story. We have this black liquid that runs through the whole story...
Which is?
I don't want to just say it as it's important to the story and each one of us have our own version.
The process of it represents the family mentality, bringing you to something, showing you something that you have to own the right to be part of. Sometimes it could be just pure creativity or a reason to create better videos with this visual idea at the core. It gives us magic! Every little element represents us. 
What about your next film, Equal?
We'll make the audience to dislike us at the start. We want people to not like certain characters, have favourites, and then put them in a situation where you question your affiliation.
Sometimes it's just too easy to pigeonhole someone. We want to break away from that by playing into it.
We do it to other people, it's just human nature. Everybody assumes they know each other, but it's good to keep people, even yourself, guessing.
What came first- the short film or the EP?
The film came first, then we scored it.
Is it a continuation to Pure?
It's not a follow-up, it's another experiment that we eventually want to turn into a feature. Once we've released it, there will be no more black liquid. We're taking it to the end point and you should have all the answers.
We love giving people questions, it gives them things to do, things to find out. Once you've all the answers, you're content and move on. So with every answer, we provide two more questions.
I love playing with the concept of reality, questioning what's real in a subtle way. We've been working on this short film for 8 months. I directed it, T art directed it. KC, he's a born talker and performer, so we gave him a lot of roles to test out. Vonnie is so low key... I don't even know how we got him in the film (laughs).
Wasn't he also playing FIFA in Pure?
I don't even know how we got him to do that! He's the guy but he's so low key. I can't even picture myself telling him to do things.
What's your following like, geographically?
50% U.S., 40 U.K. We've just got more U.K. followers off the back of Been a Minute.
How come you have such a strong US sound?
Inspirations. We were on our computers from an early age, downloading Lil Wayne. We were the ones who weren't getting songs off our friends, we were turning to the internet.
The reason why we have this following, it's because we've been documenting it from early on.
We've obviously lost members along the way, as we've grown to realise who our actual friends are or just stopped sharing the same vision.
In Been a Minute, you mention you went to uni for four days? Is that true?
T and I went to UCA (University for the Creative Arts) for four days. Everybody around us was questioning what we were doing there. We were creating content when we were together, not at uni. It was a waste of time to travel there to do what we could do at home. We just dipped and continued working on ourselves.
Have you ever played shows in the US?
We've always stressed out about the Visa issues. But, we're coming, trust me.
Equal is out now. Special thanks to December and Liam Hodges.