Sign up for our newsletter
UP LATE WITH CLAIRE BARROW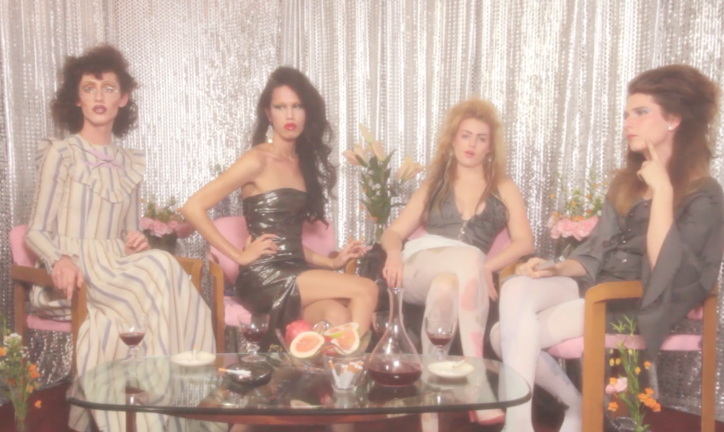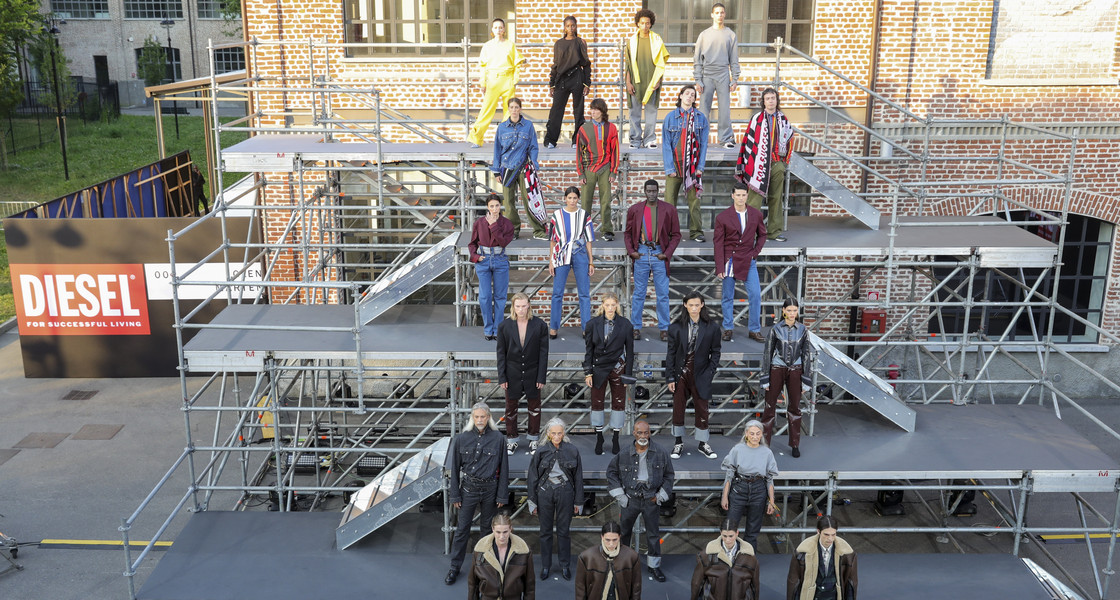 Glenn Martens Goes With The Flaw
Oliver's unforgettable take on a traditional textile of Americana attire that had originally built up the brand, denim, delivered what Oliver does best— having brought us, over and over, outspoken attire infused with activism and anger, with a current aesthetic that is completely unafraid to cross any and all boundaries. 
Having been an absolutely appropriate testiment to the project entire statement— it seemed impossible its second iteration could come close. At long last, the brand has launched the new line— lead by Y/Project's Glenn Martens. And we'll attest— as you will soon, in seeing the images below— Glenn Martens gets it. 
Shifting from one core concept that the brand has built itself upon, that being denim, Martens has chosen to approach another, Diesel's longstanding tagline "Go With The Flaw", a slogan we'll all remember from their famed campaigns featuring a cast who fell wonderfully outside of fashion's old-school aesthetic standards. Martens' collection has taken this further— an appropriate move given the industry having modernized quite a bit* when it comes to countering -isms in casting— and put forth a physical fabrication of flaws. Now, there's no doubt in our minds the third project drop is one to put on the calendar. Check it out below.
"This collection is based on Diesel's slogans, particularly 'Go With The Flaw.' I thought this was quite strong and recognizable," says Martens of his capsule. "You need to embrace the mistake and own it—operate each piece in your own way, to make it work for you. The pieces are inspired by wardrobe basics, but there are conscious pattern manipulations, such as the hemline or waistband of a jacket being seven sizes smaller than the actual garment. The seams are also buttoned, so you have to keep the sides open to fit the garment. In a way, the collection is actually then both size-free and genderless."
Each collection under the Red Tag Project will be distributed and curated by Tomorrow London Ltd., the fashion platform that consults for cutting-edge brands on a unique variety of services. 
The collection will launch November 2018.
Photos courtesy of Diesel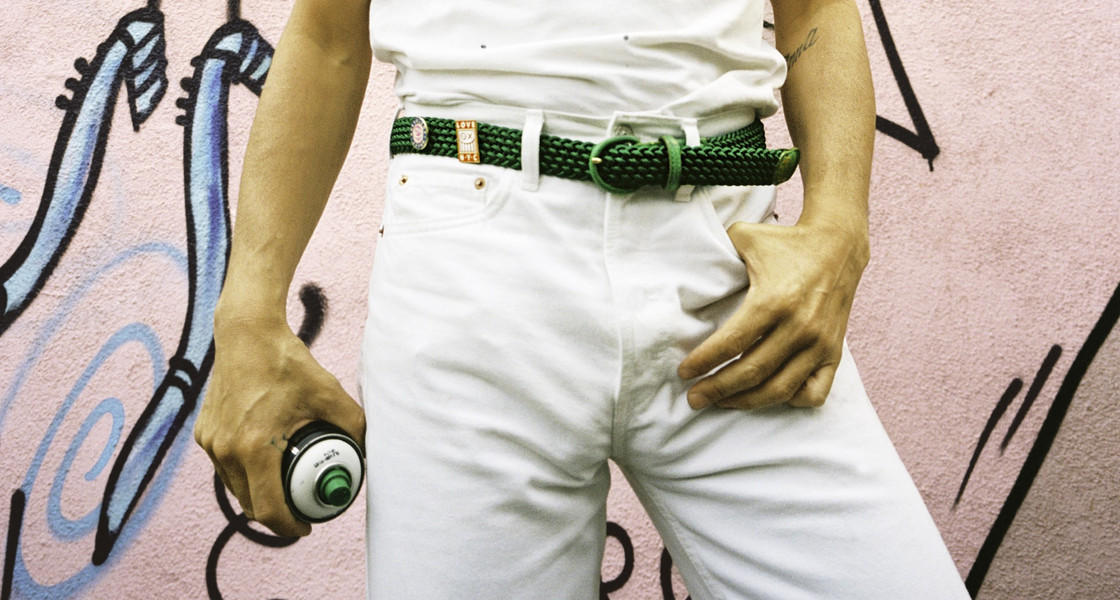 All About André and Beltology
Now, he prepares to unveil his latest collab with Beltology, one that has managed to combine Saraiva's familiar use of vibrant color and his love of cafes— as the unveiling is set to take place at Cafe Gitane in Vinegar Hill— officially opening later this summer. The result of the artist's foray into the world of accessories reveals a collection of colorful belts, wearable for men and women alike. Unsurprisingly, i'ts another absolute win for Saraiva. office got the chance to chat with the artist about this summer's best accessory.
You've done graffiti, fashion design, hotelier and even acting and directing. Within all this, what is the most rewarding thing you've done?
Graffiti. You don't need anyone, not even their permission. The only thing you need is a bit of courage, and you have the satisfaction of the immediate result.
How did you get in touch with Beltology?
They used to come and eat and hang out at my Café Henrie in New York.
Can you tell us about he individual custom pins that come with each belt?
They're inspired by the waiters who collect pins on their vests or the dog collars in the Swiss Alps.
How important has collaboration been in the span of your career?
Collaboration has always been my way of working. Graffiti includes almost every medium, and working with others and doing collective work is essential to my philosophy.
Whats the first thing that comes to mind when hearing these words:
Distasteful
Tasteful
Fashion
Distasteful 
Net Neutrality
George Orwell 
Vandalism
Beautiful crime
Avocado Toast
Invented by Café Gitane
André Saraiva x Beltology is now available at barneys.com and beltology.com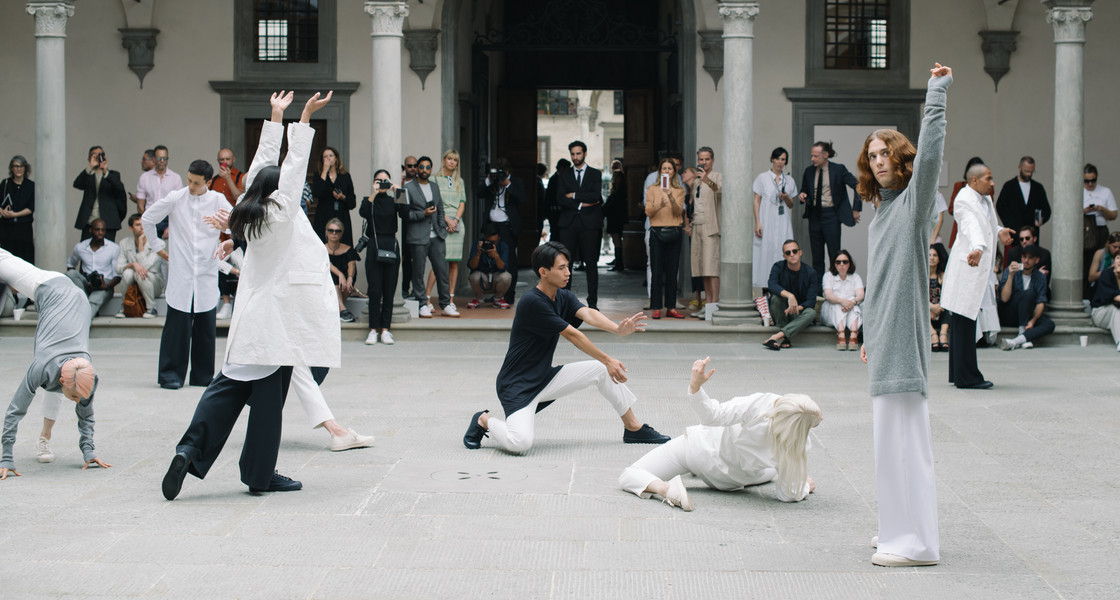 The Everyday Movements
Performed at the Istituto degli Innocenti, an open courtyard with no stage, the audience was seated in the round. The dancers, all part of McGregor's company based in London, served as not only the models of the collection but as the physical representation of Copin's inspiration. Although sold as a menswear line, female dancers looked just as suited as their male counterparts in their slightly structured, understated looks. Whether dancing solo or ensemble, the movement of the clothes themselves became a dancing partner, always reacting to the choreography. For an "essential" garment, reduced from trend or flash, it's in the small details that become the most important. Each action one does when getting dressed was repeated, drawn out, then elevated, drawing attention to the very elements that make the clothes.
If Copin wanted us to think more about the details of not only his clothes, but in all our clothes, he succeeded in bringing a subtle awareness to many things we often overlook. The construction of clothes, the ability of the human body, and how the two can work in tandem. The performance was a reminder to appreciate the smaller aspects in life and one that would not be forgotten soon. We spoke to Copin the following day to learn more about the Soma collection, his collaboration with McGregor, and his new position at COS.
Congratulations again on yesterday. It was beautiful. Can you tell us about how you met Wayne and how that collaboration came about?
It started almost one year ago, around when I started at COS. Karin [Gustafsson] and I discussed a way to make something special around the essential collection for menswear and think of how to push it further. It came very quickly that we wanted to highlight the everyday movement, the things we do everyday without thinking. Like a sleeve adjustment you do, I don't know, maybe 200 times a day without thinking of it. That's also why the collection is named Soma. It means body separated from the mind. We always start with something a little bit particular or conceptual when designing a collection. Normally we don't do a lot of capsule collections, but this time we wanted a special presentation. We found it very interesting to work with an artist, as we always have done, but this time with the idea to find an artist to work on movement. And a choreographer is the best artist to work with for movement. Everything came together like that.
The first artist that came to our minds was Wayne McGregor. And it happened, again, very naturally. He said yes very quickly. He knows COS, he loves COS, he loves that we work with artists. We met him end of January this year, presented him with the ideas and the mood board, and he really jumped into it immediately. We started to work with him that week after that.
Through the choreography you could really tell that he was trying to emphasize that everyday movement and exaggerate it into something beautiful. As an audience member watching, you were really able to think about these small movements not only in the dancing but in the garments as well.
But that was also something that was really important. We wanted it to be very simple since it could look pretty conceptual. What was also very important was to have the audience very close to the clothes. So much so that you could even touch the garment. You can see all the details since they're moving very close to you. When we did the first rehearsal with Wayne at his studio in London, it was really interesting because there was no music at the time. We were trying the first prototype of the collection. We just heard the sounds of the fabrics moving. And Karin, Wayne, and I, thought at exactly the same moment, we need to make the music out of that. So we gave the old collection to Joel Cadbury who made the soundtrack to this performance, and he started to work on the sound of the fabric, the sound of the clothes as you move in them. And the result of that is what you heard yesterday.
You've been in menswear for quite a long time now. How does COS compare to other brands you've designed for?
All the brands I've worked for have been amazing. I was lucky they wanted to work with me. They're all different, but they all have one thing in common, which is the research. There's the research to create the best garment ever, but more than that, it's the research to create something that can last. It's something that is incredibly important to COS. Not only myself, but the buyer, the people involved in the making, are super concerned in the quality. When you work with essentials, the garment needs to last for a long time. You can wear it for one or two years, put it back in your wardrobe forever, and one day find it again and it's like a gift.
What are some basic things every man should own in his wardrobe?
Hm. I will be very disappointing on that. I would love to not have any rules on how people should have to dress. That's a lot of what we are. We give a lot of possibility, in a certain aesthetic of course. But we really want people to dress the way they want. If they want to wear pink and yellow, we love that. We often see our male customers shopping in the womenswear, and the contrary. We don't think of it when we design a collection, it comes very naturally. It's lucky for us that a customer can shop across the different line.
I actually bought a men's coat yesterday at the store. The sales associate told me he shops in the women's line all the time.
It's funny because I've worked for many brands and it's the first time it's really happening. It's not like a legend. Each time I go to the store, or see someone with a COS bag, it could be men's or women's. Margiela was absolutely not the case. It was very separate.
How would you define your personal style?
My personal style depends on the day. Obviously quite understated. It depends. I don't prepare my outfits the day before, I'm not this kind of guy. I wear a lot of COS of course. I wear a lot of vintage pieces, brand or no brand. I really don't care. It's more important to me especially when I'm starting a collection, to think about the fit and the fabric. It could inspire the collection, so I need to have it on me. During the collections, I'm wearing prototypes just to move in it, to see what we can improve.
What do you think makes COS successful?
We are really good. It's based on the very strong DNA of the brand. It's funny because before I started at COS I thought maybe I'll spend one week, to be briefed, and have someone telling me what I can or can't do. But it was the exact opposite. All the people at COS are incredibly open minded. And that's why I think it works. There's a lot of respect on every level for all work. Every person at every level are incredibly passionate about the brand and what we're doing. They are really proud and honored, like I am.
The SOMA collection is available at the Florence COS store and released world wide in September.
 
Watch the full presentation here.