Sign up for our newsletter
UP LATE WITH CLAIRE BARROW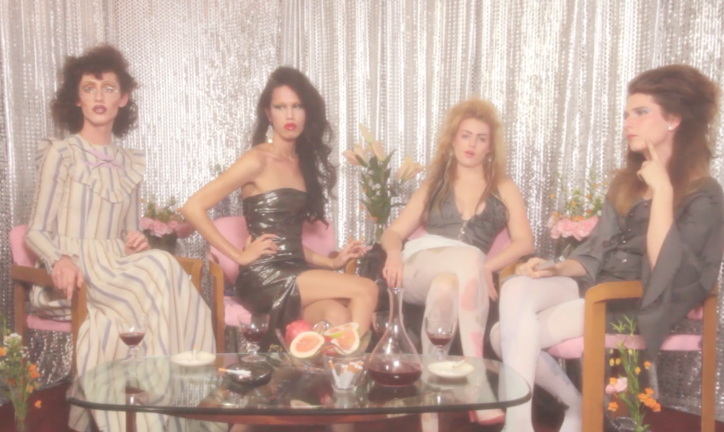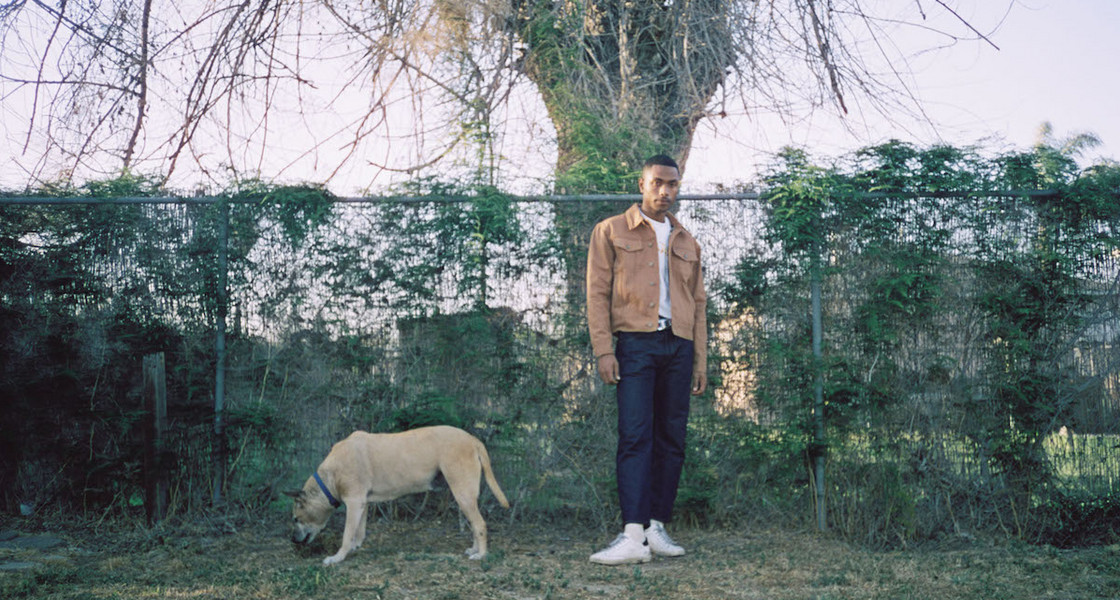 Exclusive: Steve Lacy for BornxRaised
True to form, this collection's garments give a voice to Venice street culture's past— a community dying at the hands of gentrification. There's nothing fake about BornxRaised. More than clothing, the brand is a form of self-expression and active protest made by and for the culture that is all too often bought, borrowed, and stolen from within the fashion world. The designs are bold and illicit, featuring both the classic Old-English font that we've seen in previous drops as well as some new designs, like the matching button up set with repeated black and white graphics that will have you ready to hit Venice Beach.
There's a passion in protecting Spanto's neighborhood that can be felt universally through the clothing that he makes. That isn't to say that it's exclusionary. BornxRaised has an approchable appeal that leaves even those of us who aren't from California rooting for the LA natives. The core community values has carried the brand far beyond the fashion world— and found a fanbase amongst an array of creative mediums. Thus, for this collection, BxR cast musician Steve Lacy to be the face of its campaign. Born and Raised in Los Angeles himself, we have to admit swiftly-rising singer Steve fits the brands socially-minded ethos perfectly.
Resuscitating Deadstock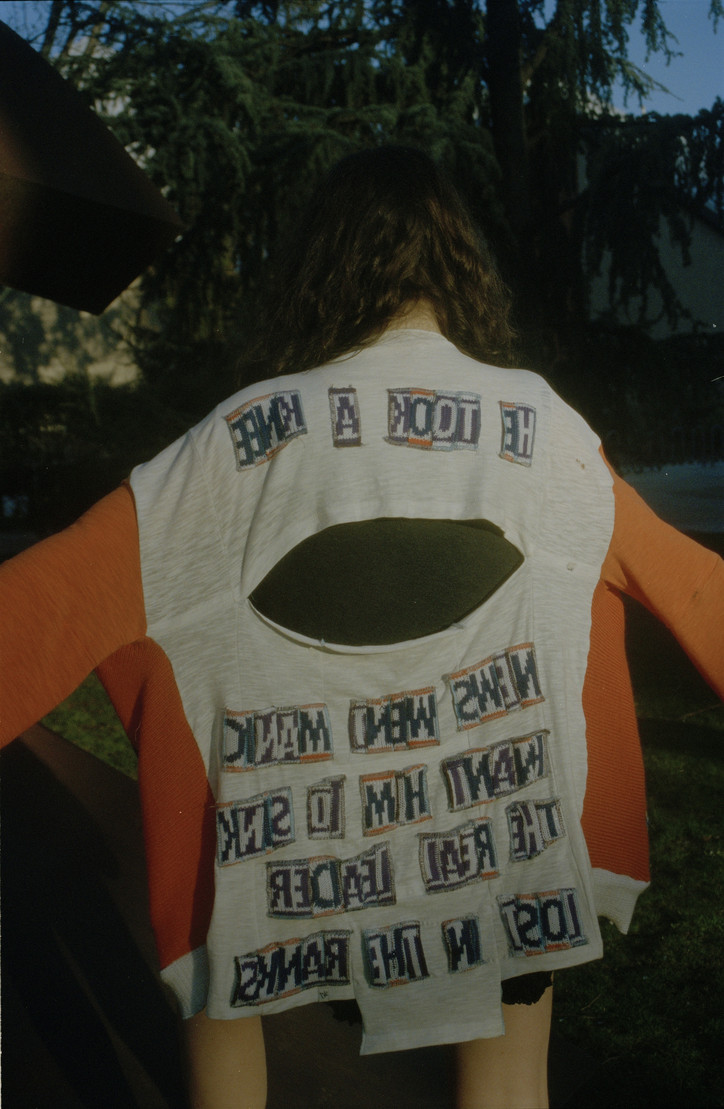 KT, 20
Massachusetts native KT uses design to counter set fashion styles. Her look (literally) reverses the boundaries of a co-ord, stuffing plastic pockets with the knit her piece was made from. A testimony to the standing up "or I guess sitting down" of Colin Kaepernick during the NFL's National Anthem in 2016.
Do you think less resources makes you more creative? By this I mean the challenge of working with dead stock?
Yes, I mean it forces you to be creative. I was the only person who got a bag of only beanies. So everyone was kind of like jealous but I realized, slowly, that because I was limited perchance, that I could explore more than they could. Because I think limits are what push people to break rules. 
What's the inspiration behind this look?
MoMA's Items exhibit. I was really moved by the fact the museum bought Colin Kaepernick's jersey from the 49'ers just for the exhibit, and because '47 represents teams like the 49'ers, I wanted my first look to speak for itself and for Kaepernick. The political turmoil in the sports industry that has risen as athletes speak out about racial equality is super interesting to me, so I saw it as an opportunity to use my freedom of speech through clothing like Kaepernick used his taking a knee during the national anthem in his last season with the 49'ers. 
Xiaowu Zheng, 19
Xiaowu left China to pursue "the gayest degree" he could think of in America. With his middle-finger out at convention, it's deconstruction he enjoys. And this gender fluid "dress coat" is the residue of hoodie fabric that's been stripped, bleached and then reconstructed.
What's the first thing you'll do if you win or the first thing you'll do if you lose tomorrow?
No matter if I win or lose, I'm just going to lay on my bed and order take-out, you know?
Do you design for anyone or anything?
I know we're doing this for a sportswear company but I'm like "mmmm, I'm doing it my way." See, there are lots of colors in the clothes they gave us and I want to make it look very pure and white-ish so I bleached the fabric and I like that very much. I love doing deconstruction work, I love the comparison of the classicism in fashion; high-class and low-class fashion, I like to mix them both and you know, I love seeing people in the street wearing boring patterns and boring clothes. I draw a lot of inspiration from everyday "boring" clothes. 
Hannah Thomas, 21
Hailing from Virginia, Hannah Thomas worked with '47 jerseys to create a look that channeled her colorful instincts and drag queen aestheticism.
Is there a moment, a person, a place, or a time when you first decided to get into fashion design?
It was after I had helped costume an event at my high school and it was one of the costuming moms who was like, "you're going into fashion right?" and it just kind of clicked in that moment and I was like "this could be a career." Before that point I was dead-set on being an engineer and playing viola, which was going to be my life.  But now I'm majoring at Pratt.  
Is your piece designed for a drag queen persona?
I don't see a big difference between drag and high fashion, both are extreme looks. Drag is something I want to start designing for though. I'd love to start designing for queens and I always think about movement in my pieces because drag queens have to perform.
Stefan Maier, 20
German born Stefan designs for his best friends, like KT. Using just jersey material, he drew inspiration from Marcel Duchamp's ready-mades and the concept of bringing dead stock back to life.
What are three personality traits you'd choose to describe your outfit?
Calm, outgoing and relaxed. Do these work? 
Will you be working with deadstock fabric again?
Definitely. You get to work with something that's premade, you're given an object and you make it something else. I think it's a really interesting way of thinking, taking a t-shirt and turning it into something that'll, later on, be a pant. I definitely think it'll be a thing of the future.
Find more information on Pratt Institute and the plethora of inspiring projects being pursued by the students, staff, and surrounding community on their show homepage.
Workwear and World Politics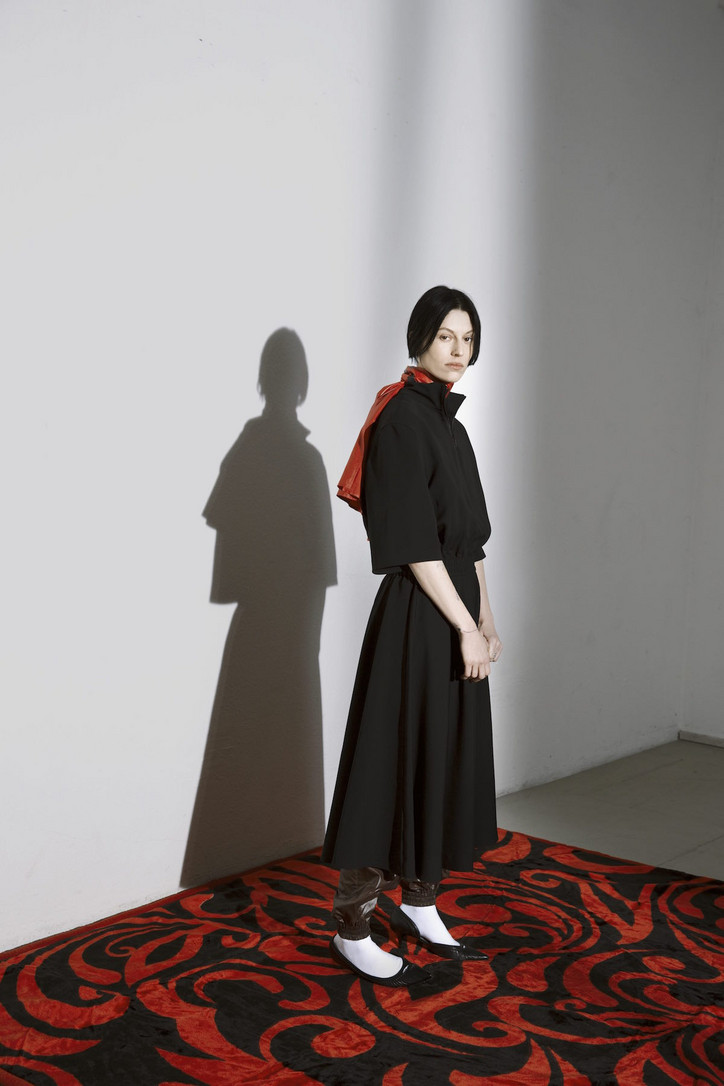 On a good day, (dress up cause the sun is out day) What or who are you wearing?
I would put on my vintage Comme des Garsons dress, Tabi Maison Martin Margela boots. Then some Light make up and my hair in a bun to complete my look.
You were born, raised and educated in Kiev, how much of that shows up in your work?
I spent my student's years in Kiev. During my education nothing interesting happened, because of old education systems and boring professors. However, Kiev as a city helped me to understand all my creative ambitions. In Kiev there is a lot of beautiful monumental architecture, it inspires me every time in a new way. The works of O. Ekster and K. Malevich mostly inspire me. I discovered them during my education in Kiev.
What exactly is happening in Ukraine? And how has your work evolved in tangent with that?
I can say that now Ukraine is in a period "perestroika" which translates to means that it is in the blood of Ukrainian people to adapt to all the problems. I am not an exception, so I work in my usual rhythm trying to concentrate and remain focused on my business rather than let the nation's issues hinder this.
Why work wear in particular – what does the concept labor provoke for you?
Work wear has a simple design, nothing special, but for me the person who wears such clothes becomes mysterious, with a deep interior world. I have a lot of respect for people who work hard. As Tolstoy said "Labor awakens man's creative forces."
Your cuts, use of Cyrillic and traditional soviet work wear colors (black, red and white) all reference something traditionally Ukrainian. What is the importance of retrospection when trying to create something new?
You can create something new and feel the future just by learning to rethink the forgotten or old. Retrospection is very popular today with some of the forgotten things becoming alive via new forces. Being able to see the value in the old makes you confident in the fact that you can create something new.
What's the worst— or most regrettable— thing you've ever produced? Can you tell us a little about some obstacles you've encountered creating such political work?
For me my obstacles come from the reaction of the people who work in the factory. Sometimes it's been the case where they refuse to make a print, because the slogans on my clothes does not correspond with their policies or views.
As you said, protest is all about rethinking what has been outlived. What is next for the fashion industry as far as rethinking goes? What do we need to let go of?
It seems to me that soon it will be a time of unique things, vintage and new haute couture. Rethinking has already begun with the market being overloaded. More and more we see people are walking in black, maybe this is a smooth transition into the uniform.
In an "occasionally" shallow industry, how do you ensure that your political messages don't take a back seat to the outward aesthetics of your design?
During different periods of history (war or peace) fashion never stops, this can also be applied to art, literature and music. Fashion is not political in is pure form, but clothes reflect a human mood either positive or negative depending on events. For now, my use of slogans in my prints and design ensure my message is heard.
Favorite designers at the moment? (Besides yourself of course).
Rei Kawakubo, Karl Lagerfeld as I admire his strong character.