Leila Rahimi's LA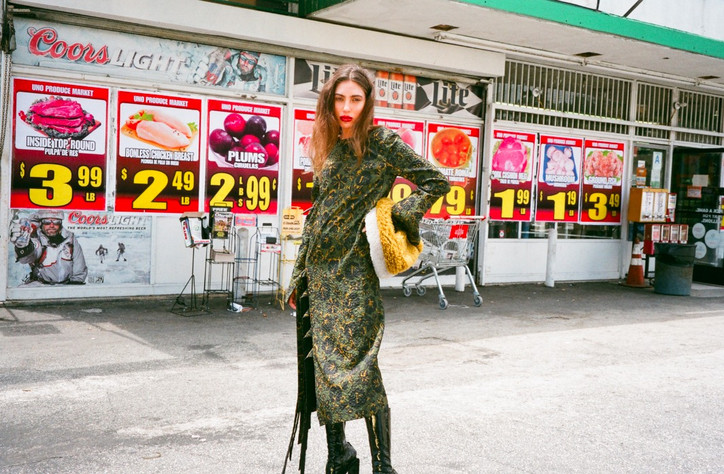 As a confidante to Chanel doyenne Lily-Rose Depp, Rahimi survives the monotonous weather of the West Coast playing dress-up and producing art, both inspired by Ancient Greek mythology and Persian culture. 
Leila talked to office about inspirations from the underworld, her painting, and her life in LA— including tips on surprising date-night spots, nail salons, and adopting overt style.
Main: Kenzo
Right: Top and pants by LRS, earrings by Jiwinaia
Left: Top and jacket dress by Kenzo, Earrings by Jiwinaia, Vintage sunglasses
LA is known to be a slow city. How do you fill your time?
I like to paint in solitude and the pace of the city allows me to get into a good workflow.
Where do you draw inspiration for creating work?
I draw a lot from my childhood and dreams. There's definitely escapism and fantastic elements. I like to make my own world. I'm really into myths, I took Ancient Greek for 4 years and fell in love with the classics. I love the myth of Persephone being kidnapped by Hades forced into becoming the goddess of the Underworld alongside already being the goddess of flowers and springtime. I think that dichotomy is very interesting and beautiful. There's also the bit about Hades feeding her pomegranates the fruit of the underworld... I love fruit as a symbol. It's very Iranian, especially pomegranates. Persian culture especially the folklore is incredibly rich in symbols and poetry. When I was in Iran, we visited a beautiful garden and there is an old tradition that the gardeners are to be versed in poetry and when they give tours only speaking lyrically. I draw a lot from Iranian culture: the flowers, the poetry, the language. My art is driven by memories, each symbol or color has emotional significance.
What is the last thing you worked on?
I worked on a painting of a winged two-legged snake.
Do you feel the need to speak out about recent political events? If so, what are your thoughts? 
Yes I do. I feel the need to have conversations and show up, donate, raise awareness, and most of all, try to educate myself. I sometimes worry about how my generation will make change without knowledge of legislation in dealing with the plague of paradoxes, most of the time I feel paralyzed and devastated. The world is heavy right now. There is so much pain and suffering, it's hard to figure out where to start, what to do, and it's easy to be complacent. I think it's important to get mad and worked up, it's motivating. I think volunteering locally and listening to other with compassion are the best ways to begin. We are all humans and we must protect each other physically, spiritually, emotionally, environmentally. 
Where is LA's best nail salon? 
I get my nails done by my friend Fariha, @nailjob on instagram. She's the best! 
Right: Blue dress by LRS Studio, Gloves by Gaspar Gloves, Earrings by Jiwinaia
Left: Dress and top by Opening Ceremony, Hat and necklace by Gucci, hoops by Jiwinaia
Can you talk about your wardrobe? Where you do draw inspiration for you style of dress from?
I go based on my mood and I think I still go based on things I liked as a little girl, but that I wasn't able to wear yet. A lot of the time, I'm trying to fulfill childhood fantasies. Nothing is off limits — a bridal gown and sneakers, or a ballet outfit from the discount dance store. I like elements of romance, femininity, and sensuality. I LOVE lingerie, to a financially detrimental degree. I feel empowered; like I have a secret —like a superhero outfit under my clothes.
What do you love about LA?
My family, my friends, the weather, the nature, and mary jane.
Where's the best place to take a date in LA?
The Downtown Public Library, an arcade, or just on a walk.
Stylist Assistant, Jeffrey Marcell
Photo Assistant, Ryan Mosse