Little Havana with Pat's Pants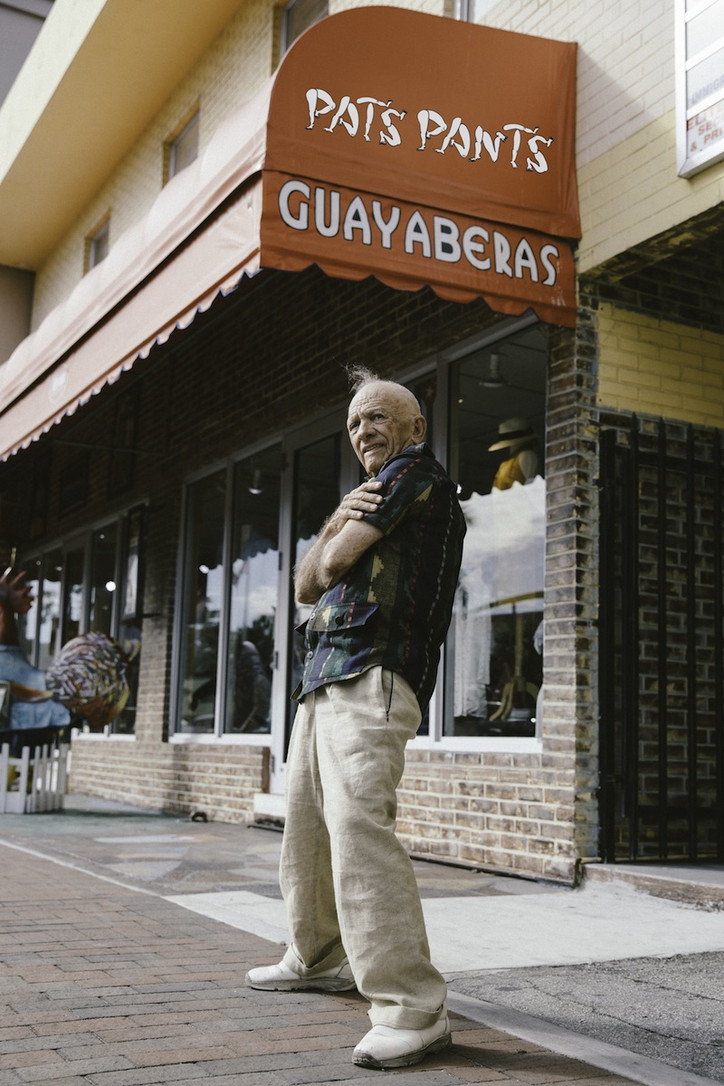 Where did you first get the idea for Pat's Pants?
Since we met we have been creating together, whether it was painting, drawing, shooting photos or videos, or even cooking. I've always altered and dyed my clothes, and Pat would always try and give more life to his clothes as well.
I had a vintage clothing brand back when I lived in Venezuela. When I first moved here that project was still going, so whenever I would go thrifting I'd find cool pants for Pat to wear since he liked that vintage look, and baggy fit. We would alter them, dye them, and make them unique. Suddenly everybody had something to say about his pants, Pat's Pants.
Parting from there we decided to do our own pattern for our pants with all these qualities we were looking for but couldn't find, with comfort and function as priorities, and that's pretty much how everything started. I hand dyed the fabrics in our bathtub, washed them at a local laundromat, and then got them cut and sewn in the garment district at a small factory we work with.
Many of your pieces feature a baggy style with a drawstring - what appeals to you about this design?
The Mercer Pant and the Bleeker Pant, that's the only styles we have had released so far, but it's amazing to us how much it can change depending on the fabric and the people who wear them. What stands out the most about this design is how comfortable they are, how they feel like sweatpants without looking like sweatpants, their baggy fit and, our staple, invisible zippers in the pockets.
I love the recent shoot you did for the line in Miami, can you tell us a bit about the creative direction for it?
It was based of the clothes we had, the button down shirt from the set is our take on the guayaberas which is a classic Cuban linen shirt. Having that in mind and traveling to Miami it just made sense to shoot a Cuban guy in it, like the new classic.
We wanted to do something very authentic that would compliment the clothes and give them character, we were on the hunt for a local guy. In Little Havana, en la Calle 8, is common to find all the old folks playing domino or just hanging out feeling the breeze, "cogiendo sereno" as they say. We had a vision but nothing concrete and it turned out to be right what we had in mind.
Where did you first meet Santiago?
We met him the day before the shoot. We were location scouting with Andrea (the photographer), who lived in Little Havana and knew the area. We found him hustling in Calle 8, he was loudly dressed, with a turquoise button down, shades, white hat, white pants, white shoes and white maracas and had a little cardboard sign on his back "$1 a photo", it was meant to be.
We talked to him about the project and he was down! He said he was a professional model, gave us his business card and hired with for the next day. We got to know him better the day of the shoot, told us he was 82 years old but age is fake. He has lived in Miami since he fleed from Cuba 45 years ago and he used to be an engineer. Amazing energy, he had all the moves. Couldn't have ask for a better model.
Would you ever be interested in expanding beyond just pants?
Yes, we've always thought about that but we wanted to focus on one thing first and Pants seemed like a good fresh start. This year we decided to expand a bit. Besides our classic Mercer Pant we're now releasing another fit, the Hester Pant which is more like a 90's chino pant. And we're also doing the Great Jones Set, a full set of a button down shirt and a short (the one Santiago is modeling). We will continue creating new things always focused on Pants first, but who knows, we might even expand into another brand as well. Skies the limit!
What can we expect from you guys in 2018?
We're allowing ourselves to dedicate 100% of our time on the project which is a scary move but is definitely rewarding & worth it.
Starting a small business in New York nowadays with no investors or any backing is pretty challenging but we believe in this and gladly we have the support of many talented friends and creative people who are down to collaborate. We intent on innovating, improving styles and designs while having fun with it.
For more info on Pat's Pants, head to their site.