Lord Fascinator Presents Dinner, Drinks, Dancing, and Daybreak Vol. 2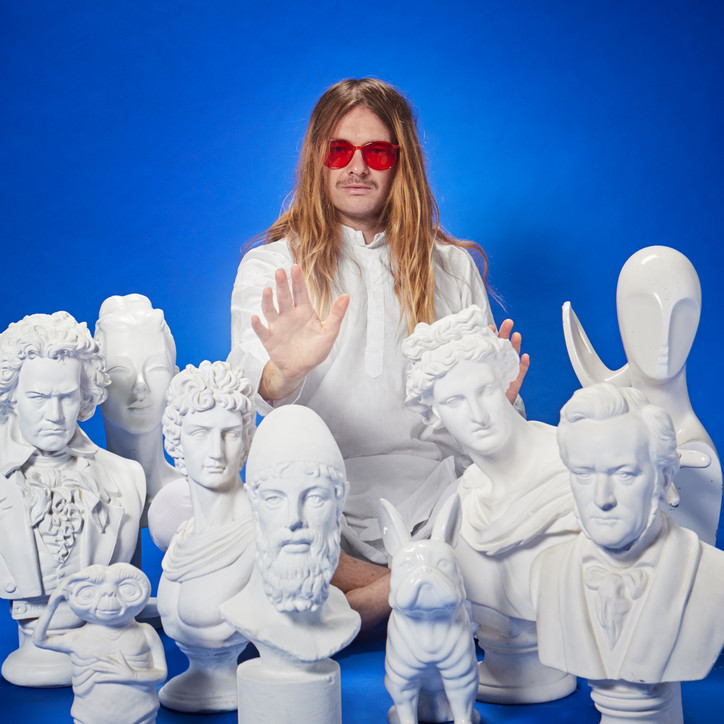 When was Lord Fascinator born?
1000 years ago, in a golden egg, on a mountain in the Himalayas.
Fascinator is the live act, whereas Lord Fascinator is the DJ, is that right? Is there a difference between the two?
Lord Fascinator is more my character and who I am. It's also me when I DJ. It's me in Fascinator, because Fascinator has had at least 100 members over the course of its existence. From violinists, to flautists, to air drummers, to actual drummers, to a guy playing buckets. All kinds of different people. So that's Fascinator, and then I'm Lord Fascinator.
Where does Fascinator come from?
From the deepest, darkest most joyous corners of my mind.
Fascinator has a very distinct aesthetic. Where did that originate?
Well it's just my taste isn't it? I was doing a sound healing with a bunch of tech burners and I closed my eyes and it came to me in a lucid dream.
Is Fascinator political?
Lord Fascinator aligns himself with a British politician called Lord Buckethead - apart from one distinct policy where he wants to abolish all Lords apart from himself. It's kind of in a weird highlander way where I love and appreciate him but there can only be one Lord. So I'd like to align myself to a point where we got to a final battle.
Is Fascinator a sex symbol?
To anyone with good taste I'm sure.
Thanks to your new mixes, people can now get Lord Fascinator in their homes. Why did you decide to make DJ mixes that were accessible online?
Because I play so many different kinds of music it was really confusing people. In New York I play cocktail hour at hotels and then I play raves at 3 in the morning. I play all kinds of stuff - this was just a way to make it more understandable.
Take us through the themes of the four mixes.
Well, there's "dinner"; music for your dinner parties. Or if you're cooking, throw on the dinner mix! It will enhance the flavors, spark interesting conversations around the table. Then there's the "drinks" mix. You're having a couple of Aperol spritz in the backyard, you can put that on. "Dancing" is pretty self-explanatory. I would also use that to prepare for going out to dance, or actual dancing. And then "daybreak" is more of a 6am comedown; the sun's coming up and you're sitting on your roof at 6 in the morning, all wearing funny outfits that you've put on and smoking a joint or whatever. Or maybe when you're getting up and doing yoga in the morning. I DJed a yoga session once and played a lot of that stuff; it's more ambient.
You've produced some truly fascinating videos. How important is the video medium to you as an artist? Why do you have such a particular affinity to it?
I think anyone I've ever known that is interesting creatively can turn that energy to any medium. It's the most fun I have, making videos and music. I love making videos, I love creating little mood boards, on Instagram or whatever. Just finding images. For me, in a good video, every shot could be hung on a wall. Just like Fellini, or Jodorowsky, or even Wes Anderson. I love really good composition and an interesting image.
Fascinator is a collaborator too. Can you talk about some of the friends and artists you have worked with?
The first thing I can think of off the top of my head is at Hollywood Forever Cemetery, whilst supporting Tame Impala. I got onstage with Connan Mockasin, Stella from Warpaint, and Kirin J Callinan, and we all did a cover of Nothing Compares to You. I looked out from the stage, and I was in this amazing setting, with this fucking crazy cemetery with peacocks— in Hollywood, supporting a band I love. It was a really amazing moment. So that was a live collaboration, but a collaboration no less.
Do you think a sense of community is important to you as an artist? Is Lord Fascinator a lone wolf or do you prefer to combine forces with friends?
In a sense. I love this aspect of doing my own thing, but drawing in amazing people for recording or touring. I was recently in Australia and I did this festival tour, and I got my mate Mitchy, who is in a band called No Zu to play percussion. I knew I loved him, so it was easy. Then I got my friend Miles Brown, who I also love. He's about 7 feet tall, and looks like a wizard or a sorcerer. And he plays an instrument that you don't touch called a Theremin. So he came on tour and played with me and it was fucking incredible. I met a Japanese flautist on the street in Byron Bay one day and she played with me that night.
I love that aspect of Fascinator. But this project is specifically meant to be my thing where I call the shots and I bring people in.
Lord Fascinator is stranded on a desert island. What 4 items do you bring?
A margarita slushy machine, a raft building manual, a desalination plant, and a packet of Tim Tams that never runs out.
How do you want people to feel when they watch a Fascinator show?
Like they are on a sexy adventure.
What do you hope that people will get out of a Fascinator show?
Married.
Fascinator makes great music but is also a lot of fun. How do you balance the sincerity of creating music with the playful aesthetic?
There's no evidence to suggest that life is meant to be taken seriously, and music even moreso. At the end of the day if you take yourself too seriously you might as well get a real job.
Special thanks to ACME Studios and Anna Santangelo.