Love, Liene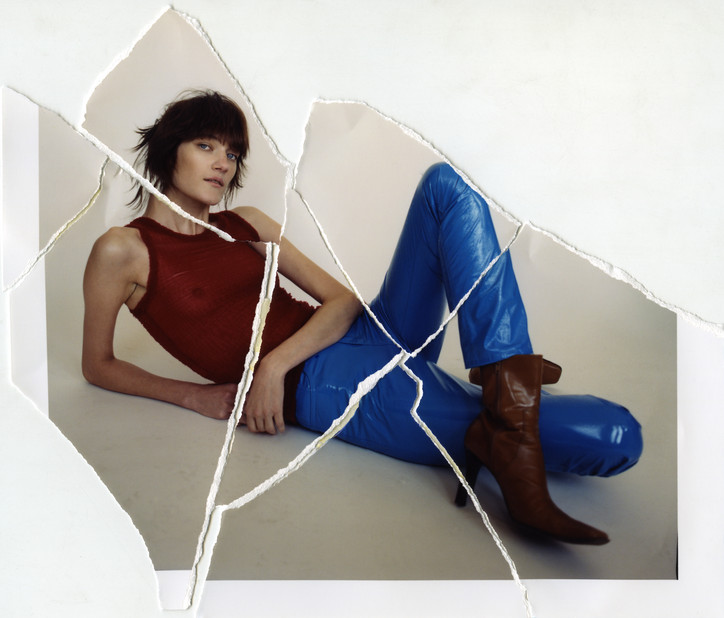 A go-to girl for the likes of Lotta Volkova and Demna Gvasalia, Podina definitely can claim some serious credit when it comes to couture. But, being surrounded by intimidating industry figures, and having manifested the impossible dream of meeting and modeling for Galliano, her personal hero, hasn't hardened her in the least— office sat down with soft-spoken, sensitive, and lovely Liene, to talk about sketchbook scribbles, style, beauty, and bad hair. 
I actually find it kind of difficult to do beauty interviews because everyone has the more or less the same routine. They usually start off by telling me that they drink water.
Oh no...
So, what's the first thing you do when you wake up?
I actually... drink water… [chuckles]
Then I go and wash my face. I have this ritual that I have to keep up.
What was the first beauty product that you bought and loved?
I think it was a metallic blue eyeshadow and black eyeliner. I was really into Placebo so I wanted to recreate that vinyl. I was 14.
Is there a signature style to the makeup culture in Latvia?
Yeah, there is but our makeup culture is kind of subtle. A lot of earthy tones and nothing super over the top.
You said you recently changed your hair as well? Do you like it?
I do, now I have the Beatles bowl cut because I wanted to keep it very rock and roll. But at the same time I wanted to go back to my natural color because the black hair dye was drying up my hair.
Shorts and shoes by Helmut Lang
What was the most regrettable haircut you've ever gotten?
When I was in 7th grade, I ended up getting a boy's haircut instead of the one I really wanted. The hair stylist just cut waay too much in the back.
What do you think is the worst beauty trend right now?
The drawn-on eyebrows, if you can't do it right then it looks so wrong. They just don't look natural, I think that you should just work with makeup so that it compliments you.
Do you wear lipstick?
I use the Saint Laurent Couture Rouge shade number 1 or a Dior red. I love red.
Lipstick is actually my signature thing, but I'm actually really obsessed with perfume as well.
I've been wear the same fragrances. I always wear ones that have rose and oud tree in it.
Do you think scent is attached to memory? For me perfume will bring me back to certain things I remember from my childhood.
It is! I remember being a toddler and being at my auntie's house. She had this bush of wild roses and now all my fragrances somehow always have roses in them.
Do you listen to music while doing your makeup?
Nordic music.
What's your favorite color? And your least favorite one?
Blue being my favorite and orange being my least. Like a bright orange, I like a spice orange but there's something about that other orange that I find unpleasant. Maybe it's because I can't wear it so it makes me slightly unhappy.  I love pastel tones as well but I usually wear all black.
Have you ever had a bad reaction to makeup?
Yes... and it was from a show. They put on some old-school powder from Max Factor and my skin just got a rash. But other than that I can usually endure.
That's really lucky, I feel like it would be really difficult to be a model if you had sensitive skin.
True, I actually don't wear makeup besides my red lipstick or my mascara. As a model I feel like it's important to take care of your skin. 
Shirt by Helmut Lang, Jacket by NOMIA, Jeans by EYTYS, Shoes by Helmut Lang
I love your illustrations, they're so great! I notice that you do a lot them in relation to shows that you're in, do you do that for every one or whenever you're feeling inspired?
All-male model fashion shows really inspire me, so I normally draw boys. When I'm in a show and I see something special, I get inspired as well.
Your illustrations really remind me of a weird mix between Egon Schiele and Francis Bacon. Not in a bad way!
I actually love Bacon so much! When I was studying everyone had to find their own way to sketch nude drawings and get inspiration. I found that those artist and I share the same aesthetic in terms of drawing things that are very boney, almost. I think maybe since being surrounded by models all the time, it's twisted the way I see the world.
It's definitely cool to see the fashion industry in a more artful way, because when I think about it commercially it can make me slightly sad.
Yeah, it's really relaxing as well! Sometimes I'll have a really stressful week and I'll be super frustrated but then I'll create something that calms me down.
Instead of making makeup tutorial videos, maybe you should make makeup illustrations.
That's actually a really good idea. I am going to get to that.