LVMH Prize Finalist - NABIL NAYAL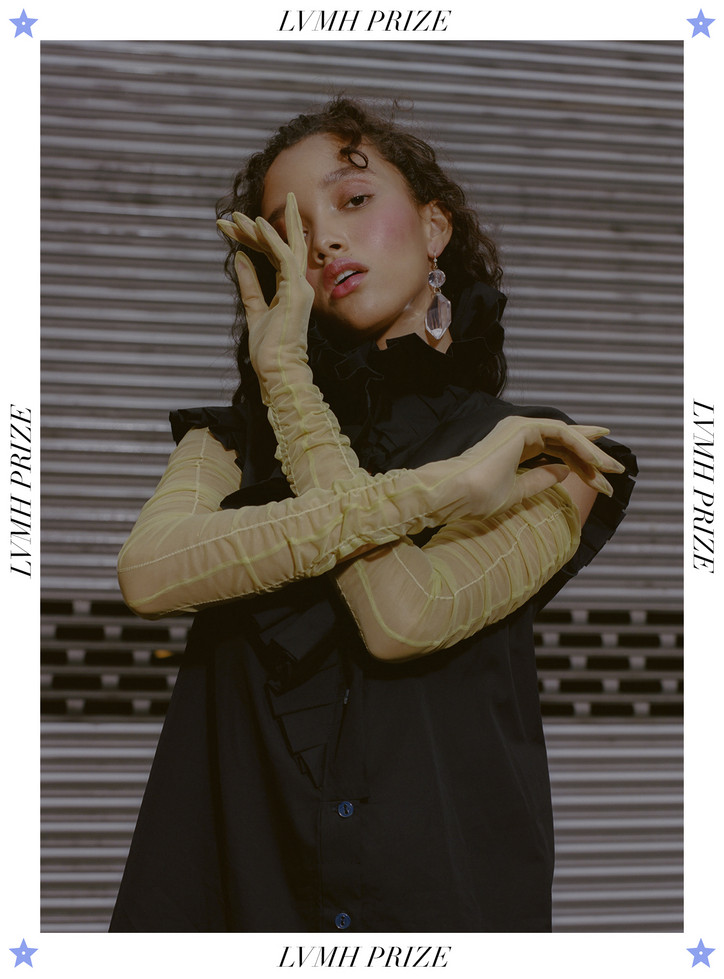 Nabil Nayal, the Syrian-born fashion designer, was born into textiles. Born in Aleppo in 1985, his paternal grandfather had a textile mill on the edge of town, and Nayal remembers fostering an early attention to fabric. During his adolescence, the family relocated to the U.K., partially for greater access to education. Nayal went on to attend Manchester Metropolitan University, won the British Fashion Council MA scholarship which led to a master's at the Royal College of Art, and is now pursuing a Ph.D. from alma mater Manchester Metropolitan, this time in Elizabethan fashion.
His collections are referential of British history, relationships to the Middle East, and combining time-honored traditions with time-collapsing methods (he is known for bonded pleating and 3D printing). Nayal, whose ready-to-wear line is oft-dubbed "Elizabethan sportswear," has been shortlisted for the LVMH Prize previously in 2015. We talk to him about clothes as time travel, and what winning the Prize would mean for his family.
This is your second time in the running for the LVMH Young Fashion Designer Prize, the first being in 2015. You're a finalist this time, how does it feel?
I'm super excited. It feels like a great opportunity to share our progress since first meeting the panel in 2015. So much has happened in a short space of time and we've really built on the feedback which we received last time round.
Your collections often feel like time travel. You coined the term "Elizabethan sportswear" to describe your clothes, citing Queen Elizabeth I as the ultimate NABIL NAYAL muse, yet you also experiment with 3d printing. How do you think of time when creating work?
I don't really see images of the past in terms of the date they were painted/created. In fact, what I see is potential for contemporary interpretations. I think it would be limiting to look at time in a way that would define a look. Some craftsmanship techniques have evolved over time and don't just stop because a particular period of history has ended.
Who are some living people whose style inspires you?
People who are fearless and stay true to themselves.
Your knack for innovation has won over fellow designers. Karl Lagerfeld was taken with your "bonded pleating methods." What do relationships like this mean to you?
It was incredible moment with Karl during the LVMH Prize 2015. Karl is extremely forward thinking and has always openly said that he embraces change and technology, so I think naturally he was fascinated when he saw the bonded pleating technique I had used in my collection. Unlike traditional starched pleating where the pleats fall out over time, the bonded method enables the pleats to hold their shape forever and means the garment can be machine-washable. I love the idea that a technique from hundreds of years ago can be reimagined in a way that facilitates it for a modern lifestyle.
I love the idea that a technique from hundreds of years ago can be reimagined in a way that facilitates it for a modern lifestyle.
What did you learn about balancing design and leadership roles from Christopher Bailey during your time at Burberry?
Christopher Bailey is an impressive person. The Burberry opportunity came about after I was interviewed by Christopher and the late Anna Tyrell for the BFC scholarship award, which enabled me to study at the Royal College of Art. I remember him leaping out of his seat to examine some of my garments being really about the craftsmanship I'd incorporated into my collection. Every single day at Burberry he would visit the various design teams and was very hands on with the whole process. Whenever he walked around he was like a beaming ray of energy and had a real confidence that had a calming effect. He would excite the team by turning garments upside down and encouraging the team to think dynamically. I loved working with him.
What does a typical work day look like for you?
It varies quite a bit. Some days I'm able to dedicate a whole day to delving into museum archives. Other days I have to juggle a multitude of things from emails to supervising the production of our garments. I always try to make a little time everyday for myself to get my thoughts together. I'm lucky that I have a small studio setup in my house, so whenever I get excited about an idea (even at 4am in the morning) I'm able to go there and experiment with ideas.
Your practice is deeply informed by scholarship. How do you balance your studies with running a growing business?
I'm fortunate that my PhD is a practice-based, and I believe that undertaking this research doctorate has enriched my design process, and that the business side of things has directly benefited from that. It has taken me on paths that have lead to new exciting creative outcomes, that I perhaps would not have reached otherwise. Through undertaking this intensive research, I've been able to delve deeper into my design ethos to extract meaningful principles, which informs my creative output. These academic tools will stay with me for life and gives me the opportunity to disseminate my research.
You were born in Aleppo, Syria and first experienced fashion through your family's textile mill there. What would winning the Prize mean for your family and your history?
It brings great joy to my grandmother who still lives in Aleppo to hear and see my progress, as she was the one who first nurtured my curiosity with fashion and taught me how to construct garments. It was through her that my love affair with fashion really began. The family textile shop, which I would play in as a child, still exists, but has now been relocated to the safer part of Aleppo operating from our ground floor apartment. In fact the shop front is actually where my bedroom used to be, which has now evolved into a Souk. My family would of course be very proud.
Read our conversation with fellow LVMH Prize Finalists Molly Goddard, Kozaburo Akasaka, AMBUSH, Jahnkoy, Atlein, Marine Serre, and Cecilie Bahnsen.