LVMH Prize Finalist - Stefan Cooke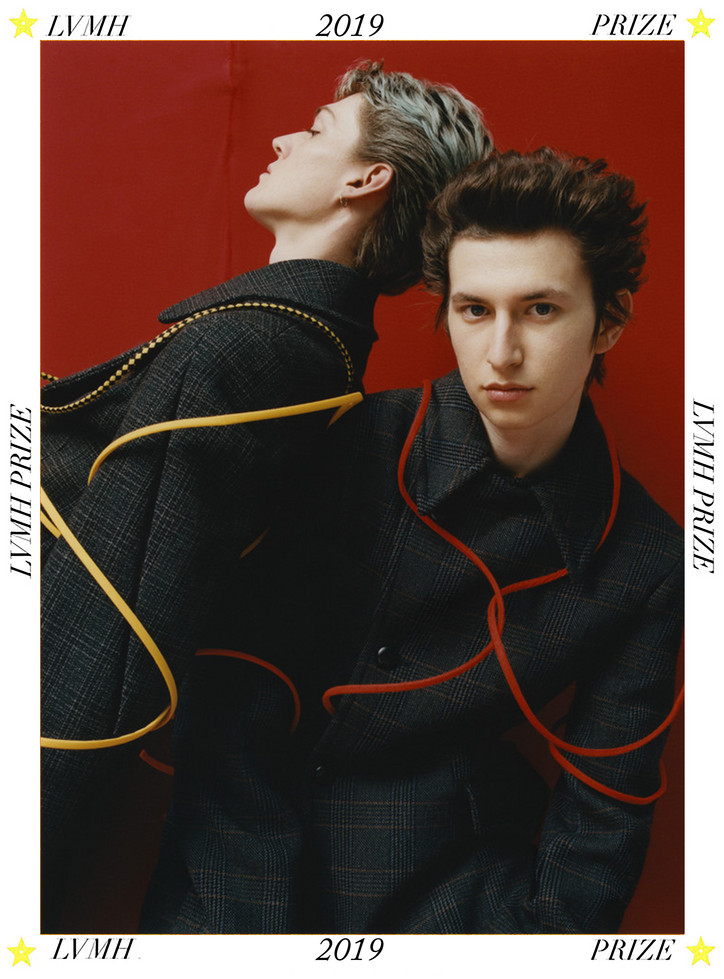 Stefan Cooke is no stranger to the fashion scene. Receiving both the H&M Design Award and the L'Oreal Professional Creative Award within the past few years, the London-based brand, directed by Cooke and his partner Jake Burt, seems to operate with a natural effortlessness.
Their past collections manage to bridge that ever-elusive gap between whimsicality and normcore, playful and nerdy. Burt brings his savvy for the silhouette while Cooke weaves in a tang for textiles, and resulting as a brainchild from the best of both worlds.
Can you tell me a bit about the inspiration behind your FW19 collection?
In the end, we called it "Joan," but only because when Stefan was trying on samples about three days before the show he said he felt like Joan of Arc. Honestly the inspiration came from us trying textile techniques and silhouettes we liked. I guess you could say we just picked up on loads of things we liked and expanded from several points. The leather-strip pieces were inspired from the side of a Chelsea boot we found in a charity shop and the knit came from an illustration on an old book.
How does each element of any final look interact with one another to represent your overall brand?
The hope is that we can explore techniques with textile, cutting and construction but still deliver believable garments.
What is the most valuable piece of advice you have received thus far in your fashion career?
Plan ahead.
Who is your dream person you would like to dress?
Cindy Sherman!
Top 3 designers (dead or alive)?
Dirk Van Saene, Olivier Theyskens, and Martin Margiela.
When you aren't designing you are ...
Walking around London.
The year is 3005 and someone is curating a retrospective of your brand, what would the title of the exhibition be?
"Stefan Cooke, a retrospective".