MØ, Pop Hurricane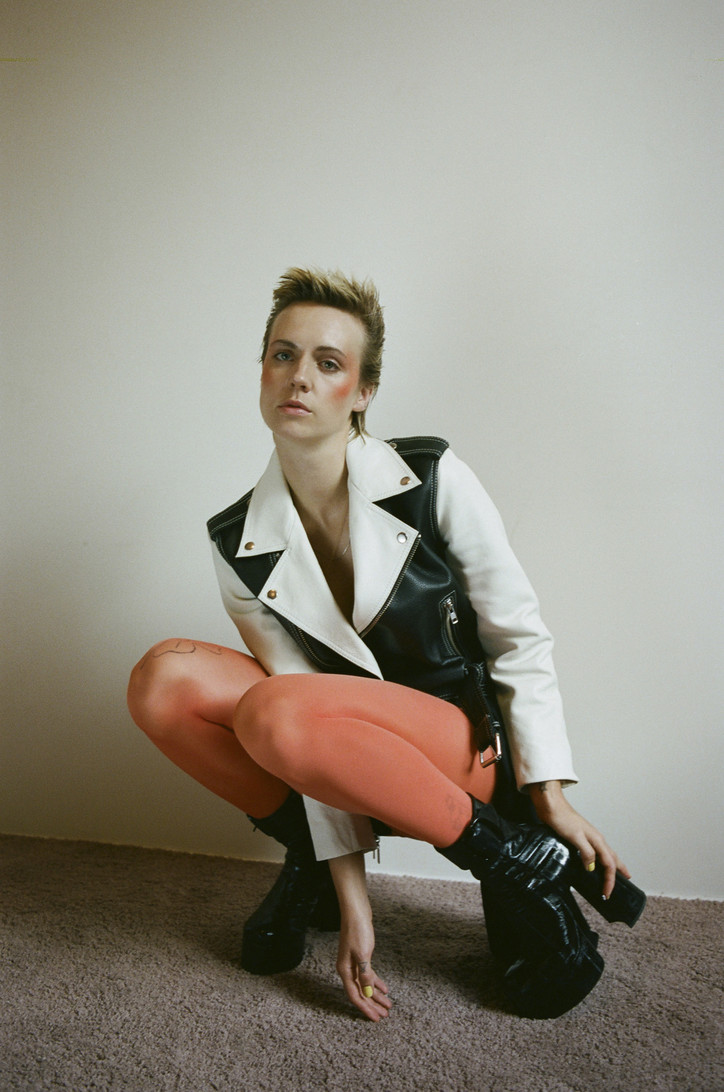 It was a blessing and a curse. Before the craziness, MØ was just a fiery Danish girl making pop music that served as an outlet for her inexhaustibly youthful energy, and that went against the grain. Then she became the grain. Her new album Forever Neverland explores this dilemma.
The album's title (as well as her Instagram handle @momomoyouth) conjures up ideas of endless adolescence, a theme prevalent in all of MØ's work, even in the early years as part of ruthless punk duo Mor. This sort of Michael Jacksonian approach, though, was complicated by her abrupt mainstream success. Suddenly, there were expectations, and with the world at her fingertips, MØ didn't really know what to do. "Success is such a vague word," she tells me. It's true—whereas the general public may have seen her sudden ubiquity as success, MØ didn't feel successful unless she stayed true to herself. 
With the help of producer Stint, Forever Neverland encapsulates a sonic balance between mainstream radio pop/EDM and the raw, gritty nature of MØ's roots. In the midst of all this, it seems that MØ has also found a new balance between eternal youth and adulthood—that to simply be yourself is to fight the looming suspense of getting older. When I ask what she was like in school, she replies: "A very distracted, energetic and noise-producing child." Fortunately for MØ, I don't think that will ever change.
Dress by Adam Selman, tights by Maison Soksi, pendant by Bijules, stylist's own shoes.
You occupy a space not many artists have occupied—being suddenly thrown into intense mainstream popularity and having to navigate that yet still stay true to yourself. What was the hardest part of it all? 

The hardest part was navigating it. There was just so much noise, and so many opinions, and I am unfortunately very bad at multitasking. I need to digest my thoughts one-by-one, so I found it difficult at times—especially back in 2015 and 2016. At the same time, I was also super psyched and pumped up by the whole adventure so I didn't want to just shut the door until I had figured out exactly what I wanted. I wanted action, so I engaged in the action even if I wasn't 100% sure where I was going in the beginning. It was fun but also difficult because I wanted to experiment and "ride the wave,"  but I was also constantly scared of not being true to myself and to my music. Everything is a process though, and I'm glad that I had the chance to experience and learn from this phase in my life. 

Coat and pants by Maryam Nassir Zadeh, stylist's own top and shoes.
What's your favorite lyric or combination of lyrics on this album? Is there one that made you jump out of your seat when you came up with it? 
 
I do really like the lyrics in the last song on the album, "Purple Like The Summer Rain." I like: "This is what I wanted all my life / No one can take it, no / Pour me all the wine and let me picture that I made it, oh!" because that was just really how I was feeling at the time. This thing about "making it"—what does it even mean? Success is such a vague word. I also like this line from the same song: "This is what a universal fairytale is made of / Sugar in my veins, purple like the summer rain." How no single feeling (and nothing in life, really) is one dimensional. There's always a bit of blue to the red.


What do you think makes Danish female pop artists stand out and be so bold? Sometimes I feel like Danish female pop could be its own genre. 

Yeah, I agree with you. We have some great girls. I don't know what it is, though. In my personal opinion, I feel like Danes like to be a little bit different, we like to stand out a bit, but at the same time, we're ambitious and we don't take ourselves too seriously all the time, which I think is a good thing. Knowing what you're worth, but at the same time, having a bit of self-irony. 

Coat and pants by Adam Selman, shoes by Alexander Wang.
If your voice was an animal, what would it be? 

A weasel. Cute, rough and a bit weird.


Describe the role Los Angeles played in the making of this album. Is it really the City of Angels?

It's the city of some angels. Los Angeles and the songwriter/music production community that there is out there introduced me to a whole new world and new way of making music. It is much more collaborative than what I had been used to making No Mythologies To Follow. To begin with, it was scary because I wasn't used to opening up to strangers in a songwriting situation like that, and you really have to open up if you want to write a good song. I was so socially aware all of the time, completely out of my comfort zone and couldn't focus on the song. But I grew with the experience, got more and more comfortable, and found a handful of people that I now write a lot with. So, I'm happy that I pulled through the challenge. 
I still have a lot to learn, though. I also learned that it's great to work with others but it's also, for me at least, important to still write songs completely on my own from time to time. 

Dress by Saint Laurent, shoes by Alexander Wang.
What were you like in school? 

A very distracted, energetic and noise-producing child. Hungry for attention and activities. But also a creative little daydreamer.

 
What's the biggest life lesson you've learned since the release of your last album and Forever Neverland?

That it's important to have faith in your own abilities. I know it might sound banal, but sometimes—in an ocean of opinions, possibilities and stress—you can forget that the reason why you're here is because of you. It's important to listen and evolve, but you also have to nurture and believe in your own creative fire and visions and know when to say "fuck no." Also—work hard and be kind to people. 

 
How did you experiment with new sounds or methods in the studio with this album, if at all? 
 
We did, and my executive producer Stint really helped me find my sound for this album. I'm honestly not super technical when it comes to defining sound. For me, it happens in a very organic and natural way—I know what I like when I hear it, you know? I always love a blend of modern trends, simplicity, something kind of dark, a weird twist and then a blast from the past of some sort. And then I hate if things get too boring or if something repeats itself for too long or if it feels forced. 
 
 
Coat and pants by Adam Selman, shoes by Alexander Wang.
office is all Danish, and so are you. How did Denmark influence your sound growing up? 
 
The music that I have been the most inspired by throughout my life actually wasn't Danish music—it was from the US or UK, except Aqua and Kim Larsen, which I listened to a great deal. But I lived my whole life in Denmark and every important step on the road has obviously influenced me somehow, so my output will be some kind of product of that. I am all Danish as you say. So, even if my music is globally-focused and inspired by global music back then and now, there will still be a big chunk of my Danish upbringing in there somewhere.
 
What does MØ's future look like? 
 
Hopefully bright, and stuffed with music and adventures.
Photo assistant: Caroline Brown; Stylist assistant: Jalil Johnson; Lead photo: Jacket by Ganni, pendant by Bijules, tights by Maison Soksi, shoes by Alexander Wang.
Forever Neverland is out now.