Sign up for our newsletter
Maggie Rogers, "Give A Little"
Test Drive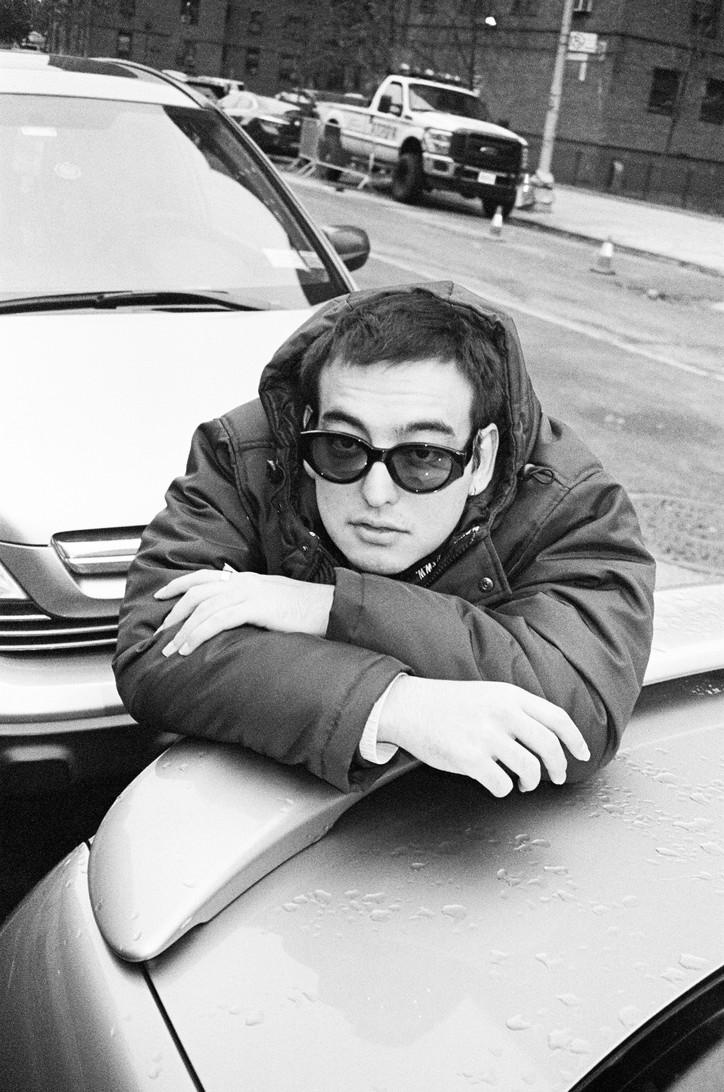 It's fascinating to hear how Joji is acclimating to his new view from the top—signing autographs, touring the world, meeting new fans. But while the Osaka, Japan native just became the first Asia-born artist to earn a No. 1 on Billboard's R&B and Hip-Hop Albums chart, he's no newcomer to broader internet notoriety. Until his recent ascent to the mainstream spotlight, Joji had been best known for various Youtube alt-comedy projects dating back to 2008, most notably the prank-happy anti-vlogger, Filthy Frank.
Fathering an entire subculture of irreverent meme-friendly humor—with some 6 million subscribers to date on the TVFilthyFrank channel and another 2 million on the spinoff TooDamnFilthy—Joji says he always fostered a more serious passion for music, which he began tapping into with a newer comedic persona named Pink Guy. In early 2017, a debut album, Pink Season, with singles like "STFU" and "Nickelodeon Girls," had topped the iTunes charts and cracked the Billboard 100 at #70.
"I had a few different characters," recalls Joji, who announced in December via Twitter that he'd be leaving comedy, citing health issues as one of the main reasons. "Some of it took a musical turn, but for the most part, I was just trying shit out and having fun. There was no master plan or anything. I just wanted to support myself and make some money."
Accidental or not, it's hard to ignore how various threads of Joji's online fame continue to follow him, especially as we're interrupted by a skateboard-wielding teen who stops by the table with a "Dude, are you Filthy Frank?" before asking to take a selfie. It seemed almost planned. Joji nonchalantly poses for the photo and resumes our conversation to explain how his diverse fanbases have merged more seamlessly than might be expected.
"It's an age thing—under the age of fifteen, they all know me as Filthy Frank," Joji clarifies. "It's also a demographic thing. I feel it's like a lot of young white kids, like, I had a feeling about that kid with the remote control skateboard. But most other people will either know just my music, or the entire back story. They'll find the music first, and be like, 'Wow he used to be that guy? That's crazy.'"
The cult virality of Filthy Frank and Pink Guy no doubt played into the success of the 2017 self-produced EP, In Tongues, Joji's first release under his current stage name (derived from the Japanese pronunciation of 'George'). It's been streamed over 300 million times to date and reached #1 on the iTunes R&B chart, although it received mixed reviews from critics. Around the same time, Joji began working with the Asian music label 88rising, collaborating with labelmates Rich Brian and Higher Brothers for the summer jam "Midsummer Madness" in 2018 and releasing Ballads 1 in late October.
Despite his obvious penchant for conceptualizing and developing distinct voices, Joji asserts that his current figure is not a new alter ego, but rather something more in sync with his IRL persona. "The other stuff was completely in-character versus Joji, which is an extension of me," he explains. "I mean, it's not all me. There are artists and rappers who rap about pills and shit, but they don't take them or anything. Or like Frank Ocean wrote a song about Forrest Gump. He could really like Forrest Gump, or he could just be a really good songwriter. Joji is like me with a bit of spice."
True to that ethos, Ballads 1 represents Joji's most sophisticated work—both from production and a thematic standpoint—a full-fledged manifestation of the dream-like, lo-fi trap sound he's been cultivating for years, set against the stylistic backdrop of the power ballad. Featuring notable collaborators like Shlohmo, Clams Casino, and RL Grime, the album hinges on the central motif of "change," a mirror perhaps into the personal shifts in Joji's own life, although he clarifies that the tracks are told from a variety of perspectives that include his own, people he knows, and even those imagined.
"The images are all internal, but a lot of the songs are not about me," says Joji. "I like to keep it open to interpretation, but I'm not too biographical. A lot of the stuff is me watching situations. I'm in LA half the year now, and I see a lot of dark shit. Not that dark, but it's Hollywood, you know? I don't want to be crazy like them."
Joji is like me with a bit of spice.
That darkness, alluded to most directly in the album's most anticipated single "Slow Dancing in the Dark," is prevalent in both live performances and the video for the song, which casts Joji as a mythical satyr wounded and bleeding from arrows as he wanders the streets at night. "You should be with him, I can't compete" he scream-belts in the chorus, before begging his lost lover to not waste his time: "I don't wanna slow dance in the dark." Unrequited love reappears across several tracks including "Can't Get Over You," a danceable sad-boy banger with a fatalistic hook: "Before I die I pray that I could be the one...if I can't have you, no one can."
For all his exaggerated romantic lyricism, Joji is famously private about his family, dating and personal life, leaving it up to the listener to determine whether the lyrics are personal or performative. "I'ma fuck up my life, we gon' party all night, she don't care if I die" he raps in "Yeah Right," wallowing momentarily in despair and self-hatred. In real life, however, Joji says the last time he really drank was last New Year's Eve; these days, he prefers to sleep and wake up early to take care of his health and focus on his music.
"When I get back into the groove, I'm a morning person—I feel like the morning is when my mind is most active," he says. "I always like to make some beats in the morning, not necessarily for myself, but just to practice. I usually give myself 11-7PM in the studio. Sometimes I'll go in around 9 or 10 depending on what mood I'm in."
That kind of discipline might seem surprising for someone who claims to just "live like a teenage boy," and even more so for the mind behind some of the most fucked up online content ever created. But Joji is refreshingly old-school—despite being made of the Internet™, he remains uninterested in the complications that plague the rest of us in the digital age, from Instagram ("It's been like two years since I've really used social media") or other digital distractions ("I've never played any video games or anything").
Beyond bucking the conventions of the millennial condition, Joji is also aware of the significance to his stereo-defying presence within the Asian community. While he says he signed onto 88 Rising purely for the creative freedom the label afforded him, he also loved the company's mission to shed light on and give voice to Asian creatives—and by extension, consumers.
"It was always a bit murky for me—growing up in Japan, I was just a white boy," he remembers. "People weren't taking it seriously. But then I came here, and they were like, 'Asian!' and I'm like, 'What the fuck am I?' But if Asian people look at me now and see me doing something that makes them feel some kind of way, that makes me super happy."
Sitting on the cusp of music stardom, Joji says he still relies on the close-knit friends who've stuck with him from his time in school, crediting them for keeping his ego in check. "I never say anything in the group chat, but when we hit the Billboard thing, I thought it was like big enough," he grins. "So I was like, 'Hey guys,' and they said, 'Anyways,' and continued the conversation. They'll rag on me and roast me for what I'm wearing in my videos. So, a lot of the stuff that I do is to make them laugh too, sometimes."
It's been ten years since a then 15-year-old George Miller launched his campaign to viral fame,  and he may be a big-boy rising star now, but it's nice to know that Joji's capacity to make us simultaneously laugh and cringe exists somewhere under the heartache and insecurity of his emotional trap ballads.
"People know it's not just music that I'm doing," Joji says. "They're just waiting for me to do something next. It could be anything. I'm just here to have some fun while I'm at it."


'Ballads 1' is out now.
The Future Is Sexy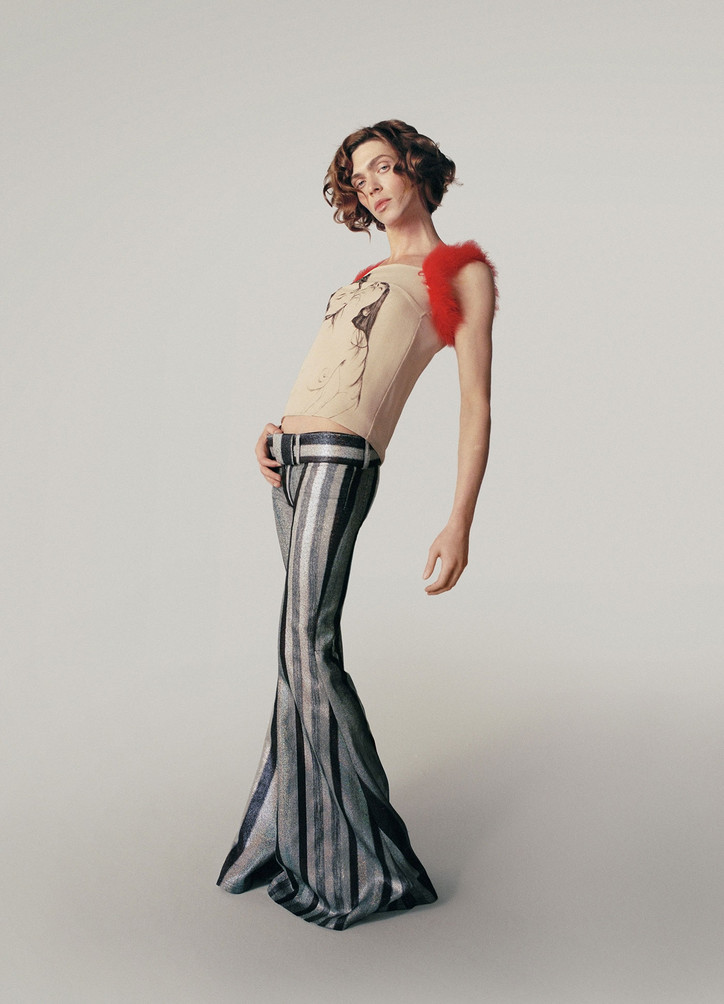 As a visual, I tell the pop producer, 'octopus brains' reminds me of the album's title—Oil of Every Pearl's Un-Insides—and I ask her to unpack the name a bit more. Suddenly, she goes from describing her work as a multifaceted referential project to something more off-the-cuff. "I was just stoned and thought it sounded cool," she says. "Then I told it to other people and they were like, 'That's annoying and really pretentious sounding,' and I thought, everyone hates it. I'll use it." SOPHIE knows how to push our buttons.
But sometimes, she tells me, her point gets lost in translation. Having emerged alongside London-based label PC Music, whose roster of artists and producers have become known for their progressive play on pop tropes against glossy, futuristic, often dense instrumentals, SOPHIE soon spearheaded a fresh pop sound of her own, unlike anything music listeners and critics had ever heard before. Whether the "PC" in PC music stood for "pop culture," "politically correct," or referenced the personal computer was unclear, and wasn't the only vague aspect of the producer's aura.
Her early music, like 2013's "Hard" and the 2014 hit "Lemonade", felt more like plastic toys—bent and sculpted versions of mainstream pop's most pleasurable elements— than songs. Back then she never fully revealed her face in public, remaining only partly illuminated by the dim stage lights that reached behind the DJ booth during live shows. Her first compilation of singles, entitled PRODUCT, was sold in "silicon bubble cases" and coincided with the launch of a naughty-looking black rubbery device, like some sort of gift set from a high-end sex shop. In 2015, "Lemonade" was used in a nationwide McDonald's commercial pushing the restaurant's new iterations of the beverage—"Get together with the refreshing real lemonades from McCafé, made with no artificial flavors." It all seemed too perfect.
In response to the high-profile sync, a headline in The Guardian wondered aloud: "SOPHIE's Lemonade ad for McDonald's: flagrant consumerism or the future of pop?" Other articles, in Vice and elsewhere, went so far as to propose the potential abandonment of PC Music and its associated acts, arguing that the whole movement, SOPHIE's corporate partnership included, could be an elaborate ruse, intended only to instigate, and might not be worth fans' time. Post-internet and mystery-fueled, SOPHIE and the PC Music collective— the producer is not actually in PC Music, merely a friend whose work runs parallel—ruffled feathers by making people question what was real, and what was advertising. But the artist is no contrarian, she assures me—she's simply putting out work that expresses her truth, without much heed for how many critics can relate.
Musically and philosophically, SOPHIE's brand of pop is strikingly similar, in that she's pushing it into the mind- boggling, ultra-saccharine, once-distant future that NSYNC advertised. She never set out to make a pretentious art-school statement, only to utilize the genre's universality to inject her twisted musical creations into the public consciousness and see what sticks. "Basically, the most fun I can have is being with a synthesizer with my brother, smoke some weed and literally just go deep into sound." She seems to light up when describing the wonderment of sonic exploration.
"We'll just sit there designing little music instruments, essentially. And we'll just listen. We'll just use our ears and be like, whoa, that's making me feel something new. What happens if we do this now? Or, let's try to make this more clicky. It's like if you're with your best friend, and there's a bunch of clay there in the middle. And you're like, oh, imagine if we twist it a bit here, imagine if we put this edge on it, imagine if we colored it this color. It's not related to the real world, you know? You're just using your ears, and the sounds are directly speaking to your emotions."
The past isn't sexy, the future is sexy.
On Oil of Every Pearl's Un-Insides she shares this intimate, corporeal experience with us, navigating surreal, often hard-hitting soundscapes like some sort of industrial imp. Contrasting frenetic bass lines with a schoolgirlish vocal, SOPHIE dips her toes in waters not often touched by her contemporaries on "Faceshopping", an ear-blast of a song that questions identity in the Instagram age. "Immaterial" is the high-frequency anthem that meets somewhere between Blues Clues sing-along and a Red Bull-fueled underground UK voguing house. An obvious nod to Madonna's "Material Girl", the track is an album highlight that bounces around with a pointed pep in its step, calling listeners to chant along: "I can be anything I want / Anyhow, anywhere, any place, anyone that I want!" On "Is It Cold In The Water?", SOPHIE overwhelms you with a grand synth buildup that never quite drops—but the exaggerated sounds make you feel that perhaps they represent those deep, swirling thoughts in SOPHIE's brain, ones that gain traction with each new idea and that finally come to the forefront when she's behind the studio deck.
I ask her how she first got into music production. "Basically, something unfortunate and traumatic happened to me when I was young," she remembers, candidly yet cautiously. "Then my dad played me a rave tape and I was like, that's what I wanna do. I filtered a lot of my energy into music to process stuff, and to have a place where I could be alone with my thoughts—whether that's anger, disappointment..." In listening to her body of work, this energy can be felt, but sometimes hard to pinpoint—does it come from a happy place? Sad? Hopeful?
"Confused," she tells me. "The main feeling for me is just being overwhelmed at the ridiculousness and complexity of the world we live in and how difficult it is to comprehend. The amount of knowledge available to us, and the fact that we don't know what the fuck we're doing here as beings... That's confusing. We're all walking around like everything is amazing and normal. So that was the main feeling." For SOPHIE, making music is more than just a day job. It's necessity, a personal commitment to exalt her feelings through sound and to move pop intrepidly into the future.
This devotion is reflected in her fanbase. In a private Facebook group called PC Music Shitposting, fans subject SOPHIE and other similar musical wunderkinder to the meme treatment to satiate the collective anticipation between releases. They compare her music to pots and pans clinking and clanking and gush over news like they've discovered hidden treasure. SOPHIE's fans make this new musical movement feel exciting and cult-like, and at her DJ set the night after our shoot in Brooklyn, the audience seemed thirsty to surrender their eardrums to their queen's turntable surprises. At one point, the speakers shook so furiously that you couldn't help but find solace within the chaos, her commanding bass pushing you to the limits of what is natural versus manufactured. The crowd was a collective of forward-thinking young people, many of them queer, eager to hop on the spaceship SOPHIE and launch to the moon.  
Although she's wary to clock her own impact, it's no doubt that SOPHIE is one of the most influential pop trailblazers in recent memory. The proof is in the pudding—she splits her time half-and-half between making her own music and producing for other artists, and with a roster including Madonna, Vince Staples, Charli XCX, and MØ—and, she reveals, soon to include Lady Gaga—there's plenty of proof. She plans to release three more albums this year, she says, a feat that seems difficult especially considering the nature of record labels in today's day-and-age. What if the label doesn't let her? "If it's not possible for any reason, then I'll just leak them." It's not like SOPHIE hasn't broken boundaries before.  
When I first heard "Lemonade" in high school, I felt the same sensation as when I was a kid being exposed to the pop wonder of NSYNC. It was a new wave of sound for me, a sort of hyperkinetic ASMR that took a couple listens to fully appreciate. SOPHIE's music helps make sense of the world's overwhelming complexity, streamlining a contagious "poptimism" for its listeners with a sort of bubblegum, childlike playfulness. Curious, I ask her what she was like as a student in primary school. Eager to learn? Class clown? Perfectionist? "The past isn't sexy, the future is sexy," she tells me. "That's all I have to say about that."
office Issue 09 is out now. Buy it here.
Photo assistant: Danny Lim; Fashion assistant: Shay Gallagher; Production interns: Derek Koffi-Ziter & Grace Lee.
Loudmouth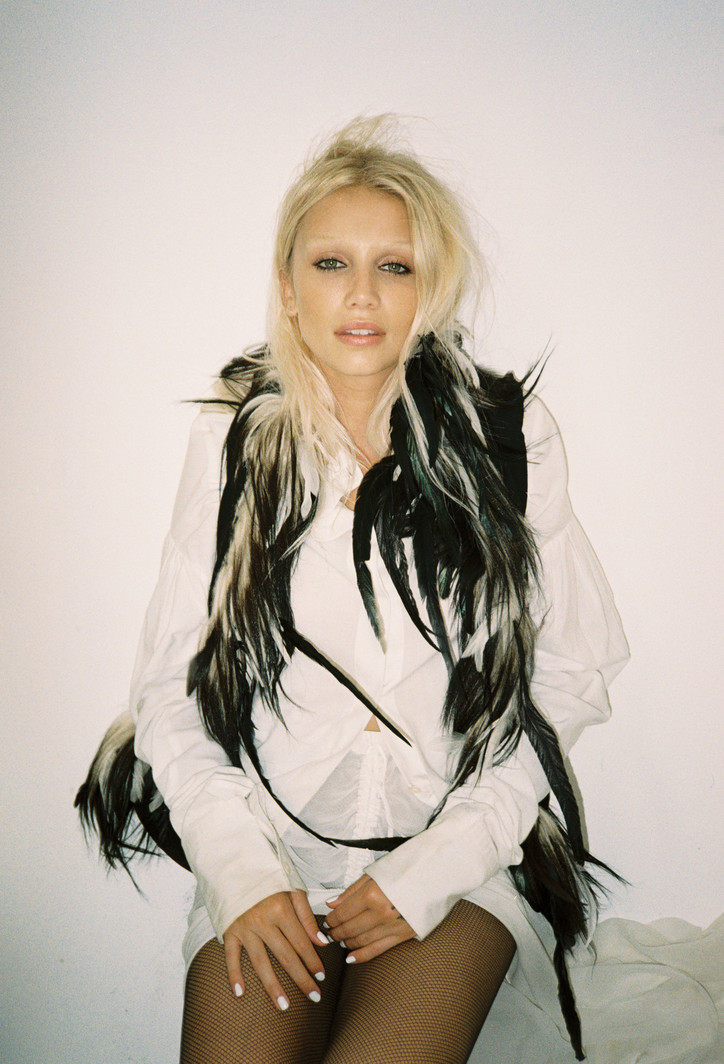 Having started out her career as a model and actress, Cailin quickly made the transition to music with sultry pop and R&B. Early on, the singer realized she preferred a group dynamic, forming RUSSO with drummer Hayley Brownell, bassist Sean Ritchie and Tyler McCarthy on guitar. The pop punk quartet dropped their first EP, House With A Pool, last summer, followed by videos for tracks like "Lonely," "Loudmouth" and "Joyride," released just last month.
As the band continues working on their new record, Cailin took a break from the studio to call office and tell us about her life.
Your dad is a punk rock musician—has it always been your plan to become a part of that world?
No, not at all. When I first started doing music, I wanted to do hip hop, R&B and soul. I never wanted to do rock music, but life always has a way of taking you back to your roots, I guess.
Was he happy when you wanted to pursue being an artist? Or was he pissed?
He was really supportive. I was always really paranoid that he wasn't going to be excited for me because we have a bunch of musicians in the family, and we are very aware of the lifestyle, but he has always been one of my biggest fans. It started in high school when he recorded me in a studio that we have in the house—that was my first ever experience doing something like that.
You formed your band RUSSO this year. What was it like going from being a solo artist to being part of a band?
I think it was quite interesting in the sense that I didn't really know how to prepare for having other people involved so intensely, because before that, it was just me. But the band just worked out so nicely that it wasn't difficult to get my head around working together.
What is the best thing about being in a band?
 
It's the responsibility and the experiences you share—it's a journey.
How would you describe the band's sound?
I guess it's more punk rock, but I the undertone is still very pop. It's a punk-pop situation—like No Doubt and Pop Girls, but without being Carly Rae Jepsen.
Who are your influences?
I like to think of myself as eclectic, but my biggest inspirations are Gwen Stefani, Karen O from the Yeah Yeah Yeahs, Amy Winehouse and Lauryn Hill—really just women artists who do their own thing.
You have almost half a million followers on Instagram. How has that influenced your lifestyle and career? Do you ever feel pressured to satisfy your followers?
Absolutely—there's pressure whether you're on Instagram or not. Some days it's chill, and some days it's just really intense. But it's a big part of my life—it's a big part of all of our lives. I try to see it as an advantage, but also sometimes, I'm really unsatisfied with what I'm doing and what I am working with, because I see these other people who also have hundreds of thousands of followers are posting more. It's so easy to compare because it's always in your face. So, I try to take it as comfortably as I can without getting too sucked in. But it's hard with this millennial generation—the internet can be your best friend, especially as an artist. So, it's about taking advantage of the situation and trying to navigate it as well as you can. But it's hard work.
As an artist, you work across three huge industries. How do you think your different talents inform one another?
It all kind of helps each other, depending on what kind of artist you are. If you're an artist who's introvert and just want to be an amazing songwriter and play the piano, I don't think acting or modeling are going to fit that lifestyle. But for someone like me, who is quite outspoken—I want to be talked about and I want to be in your face—it's nice to have outlets and whatever to be happy and be able to respect your self in more than one form.
Do you think the things that you've learned from being in the modeling world have made you stronger when navigating the music industry?
Yes, but in a way that I didn't expect. You think because you're good in front of a ton of crew and cameras that being on stage would be totally okay. But it's not. It's different—it's not like you are picturing it printed and that's it. No one has to see your actual face. But this is you and it's you for 30 minutes, completely vulnerable and unable to hide. So, yes, they do compliment each other in a lot of ways, especially when it comes to confidence; but when it comes to the reality of playing shows, it's a completely different ball game.
Looking back, do you think your career would have taken a different turn if you hadn't been in Justin Bieber's music videos?
I was modelling before that but it was definitely the biggest turn in my life, which really put me in another category, especially with social media just then booming. Also, for Justin Bieber, it was right before he really took over the dance scene, so it definitely impacted my career and people began to give a fuck about my name. I'm just blessed and so happy that I was able to take advantage of it.
What's your favorite thing to do when you are alone?
Masturbate—just kidding! I don't know, I'm quite an antsy person, so I really like to run and walk, and I try to write a lot, just stream of consciousness, so I'd probably say that. But really, I just like to stay busy—cleaning, doing whatever. And I like to exercise when I'm alone.   
What's the weirdest thing someone has DMed you?
I have gotten a lot of weird shit. The weirdest thing someone has asked me or sent me? Fuck, I don't know—I've gotten a lot of weird shit recently. But off the top of my head, a dude wrote: 'I would walk 10 miles on broken glass to lick your foot.'
Where do you see yourself in 20 years?
Do you want the honest answer or the modest answer? Honestly, in my dreams I hope to be at the Grammys and the Oscars. I'm trying to really do everything I can so that in 20 years I'll have a nice house and will have hopefully have started some kind of foundation that's helping people. Or, I'll be an eccentric lady with crazy glasses that does a lot of pottery.
If you weren't a singer, actress or model, what would you be doing?
I really want to be an illustrator for Pixar or DreamWorks.
If you could choose a Disney character that characterizes you the best, who would you be?
Do I go classic me or do I go modern me? What story would I fit into? Maybe someone from The Jungle Book, but I also want to be cute. I want to be Baloo, but I want to be cuter than a thick bear. No, wait—I would be Nemo, or maybe Dory because Dory has the comedic relief and I could talk to wales. Yeah. I would definitely pick Dory or Anastasia, because Anastasia lives on the road but she's really a princess.
What's your advice to young girls who want to get into music?
From what I've learned the past couple of years in the music industry, it's that it depends a lot on resistance and balance—to stay in a flow, and having that little bit of confidence. You don't have to go to the moon, but having that little bit of knowledge that you can do it, that you can go the long way and persistently work to push—that's the key. And that's something you have to do from the beginning. A lot of people say that they want it so badly, but you really don't want it enough, unless you fucking do it.
'House With A Pool' is out now.