Manon Macasaet Lives in a World of her Own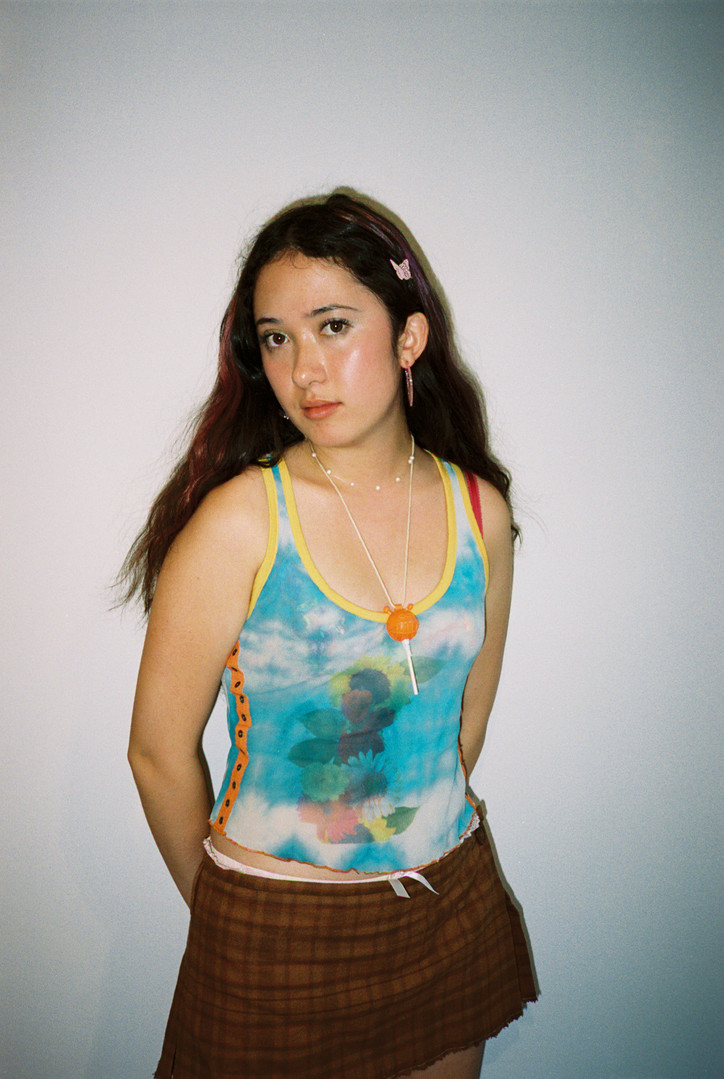 What inspired this book?
Manon—Well, Sabrina and Alex are my two best friends. I always think of them as such characters and in each section of the book, they take on a new persona. It encapsulates our good times. While I was making it, Milah actually noticed something I hadn't. The book goes in between real events in my life like Sabrina's 18th birthday and going to the beach then switches to this kind of dream world that we live in half of the time.
Milah—Yeah, exactly. The crossing between the real world and the dream world came together in relationship with the dollhouse where it feels like everything exists in this dream world.
So is this your physical representation of your personal dream world?
Manon—Absolutely. We actually made mini versions of my friends and myself. I had full control to make every room kind of funky in a space where all of my friends are present.
Can you tell me a bit about this event?
Milah—Well it all started when Manon and I were in Japan together in this past April. We would hang out with a lot of Tokyo-based X-Girl friends, so it felt like the perfect brand to ask to partner with us to help with the event. They have a really similar vibe and aesthetic to what we're doing and it all fell into place really easily. Manon conceptualized the dollhouse show when we were in Japan together so from the beginning, I knew Dizzy Magazine would publish her work. We wanted to help her put on the show and then when we got back from Japan because Manon has been working on her book for a really long time.
Manon—I've been making it for over two years.
Milah—But not in a way that you ever thought to publish it, right?
Manon—Milah really sparked the idea. The first time she came to my house we started talking logistics because I just had the idea in my head. I definitely didn't think it would be done this summer. I wanted to include every idea I had, but she recognized that my idea was already concise and she thought I had enough work for a finished product.
Milah—She would have gone for the next 10 years making a 500 paged book because she's just always thinking. The book could have been a lot longer, but I felt like the story she was telling was actually already contained.
Manon—It's perfect timing actually because Sabrina and Alex are leaving soon. The whole book is dedicated to them through a letter I wrote in the back. And Milah is right, I would have kept going for years, but I'm really happy to have a finished product right now.
How do you define 'teendom'?
Manon—For now, it kind of feels like a playground. I choose to work a lot, but it all feels very free and lighthearted.
Milah—I think one of the greatest aspects about being a teenager is not thinking too much about the future. What's so nice about this book is that it gave Manon a chance to look back to a physical document of being a teenager. Whereas when you're living in it, you aren't thinking too much about remembering all of these little moments.
Manon—Being a teen moves really fast. It has all whizzed by. Looking back, I thought I was just taking pictures and now it means something more because I realize that they are attached to memories.
Can you explain the mix of real and fantasy and where you draw the line between the two?
Manon—I don't know if there's much of a line drawn for me. When I took these photos, I knew exactly what I wanted to turn them into. Creation is always on my mind.
Milah—Manon is always thinking in magazine, comics and fantasies.
Can you speak about the limbo between 'teendom' and adulthood?
Manon—Well, I'm a gemini and my friends always say I act half of the time like a baby and the other like an adult. I guess I can't really answer the question. I feel like I'm in a constant state of limbo. This project made me feel a lot more confident about myself though. I feel like I believe in myself more now than ever before.