Marie Tomanova's America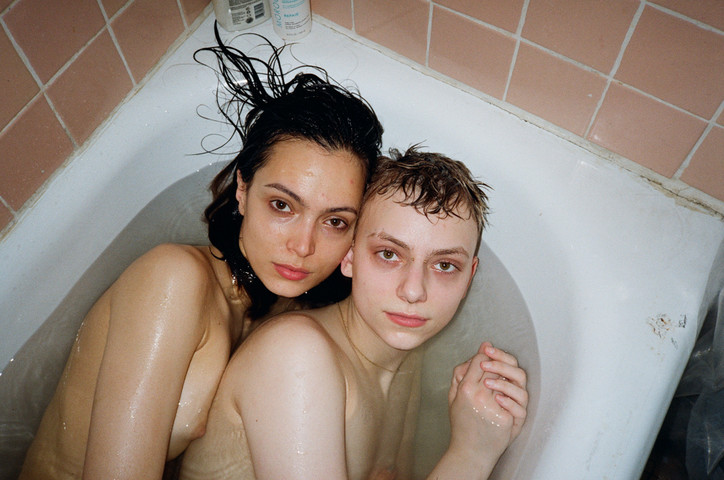 After moving to the U.S. in 2011, she searched for a sense of belonging by photographing strangers she met on the streets. The images, like the people in them, don't have much in common — they're shot in different locations, over the course of many years and rarely include the same subject. But there is one thing they all share: Tomanova shot them, and in doing so, captured the intoxicating energy of today's youth in New York City. This is Tomanova's America. It's diverse, it's gritty and at times, angry, but with a palpable sense of hope for the future. 
A few days before the opening of Young American, we caught up with the artist to discuss her work. 
Tell me about Young American. 
I've been shooting these portraits for a couple of years now. I guess it all started when I moved to New York City. My second week here, I saw Francesca Woodman's show, which was basically the start of my photography career, because she really inspired me to take pictures. I started with self-portraits, but on the side, I was shooting all of these beautiful, young people I was meeting in the city. I realized I had a ton of these intimate portraits where I really managed to connect with the person, so I decided to put them into a show. It's called "Young American" because all of these people represent what it means to me, to be a young American. As an immigrant who came to the United States, I was just really naive about what America was actually like. Once I came here, I realized it was totally different than I had imagined and it took me awhile to really carve out my own space here. But that's the greatest thing about New York — everybody will eventually find their own people here. Taking these photos was really the way that I found mine. I'd spend a few hours with someone, shooting them, asking what their dreams were, and why they came to New York, just letting them tell me their stories.
Because of all of that, the photos themselves are incredibly intimate. They're all close-up portraits and in a way, I think they show that we're all the same. We're all just humans who have dreams. 
I know you have a background in painting. Does that affect how you approach your work? 
The biggest struggle I had in the beginning was just timing. I used to paint one piece for a month, then move onto the next one. But with photography, I would take 500 pictures in an hour and be like, 'Oh my god. How do I choose just one?' I really struggled with editing down my work. The first couple of years were rough because I really didn't have a process. 
What do you think it is about photography that allows you to express yourself in a way painting didn't allow?
It's just the fact that I can shoot anybody I meet and really capture them in their own way. Like, I'll meet people at openings, or on the subway, or I'll see somebody I want to shoot on Instagram, and what photography does is allow me to actually create a real connection with them, and capture that in the photo.
I know most of your previous work has been self-portraiture. How did the process of shooting these images — of other people — compare to capturing yourself? 
My self-portraits have been a lot about realizing who I am and that I am here, in the United States, and coming to terms with that. It was really a journey of discovery when it came to my identity and displacement. It was tough, sitting on a plane one day, leaving the Czech Republic and never going back. Then I went from a small town in North Carolina where nobody knew me to New York City. It was like starting over completely, where no one could judge me. Being from a small town, everybody sees you a certain way because they've known you forever. So, how people see you kind of becomes who you are. But here, I could be whoever I wanted, which was really freeing, but also really confusing, because I had moments where I thought I had lost myself, and didn't know who I was or where I belonged. Taking self-portraits really helped me to see myself in the landscape and justify that I do belong here, that I can be wherever I want. With these portraits, I'm showing my vision of America and my experience in the United States through images of all these people I've met that reflect who I am. In a lot of ways, though, thy almost feels like self-portraits, because through them is my idea of America, the America I like and the America in which I feel I belong. That's very important to me — to actually feel like I have a place here. So, looking at these people and their portraits I feel like, 'Yes, I can relate to this. This is my America.' 
Most of your self-portraits are in the nude. These photos don't showcase nudity. Was that a conscious decision? 
Honestly, it started because I was working as an au pair when I was in North Carolina, and I would take photos in the morning, or whenever I had time. So, I didn't want to waste any trying to think of what to wear. 
I really loved the performance aspect of shooting myself. I'd put down a tripod and find places to take photos. Nature here in the United States is so different than what I was used to at home, and it really amazed me — the smell of the soil, the texture of the moss. You experience it and feel it on your body. So, I really enjoyed walking around and climbing trees, seeing and touching all of these things I'd never seen before. But it also brought me back to my childhood growing up in the countryside, spending time on the vineyard or in a field. Even though I was in the United States, I was finding myself through these memories of my youth, and this sort of familiarity in the unknown. There was no room for fashion. It was about the body, and how the body fits, and literally creating space for myself by squeezing between tree branches or a patch of mass. My body became a representation for how I fit into this world, and the relationship between them. 
Youth has always been such a fascinating topic for artists. I mean, we have the obvious example of Larry Clark, who has made a career out of documenting youth culture, but so many artists, from musicians to painters, have been inspired by kids. What is it for you that's so captivating about them? 
There's a certain energy and honesty, and almost a naivety, in the way young people think, and dream. They have such strong beliefs and a real dedication to want to change things. I think that's incredibly powerful. When you're young, you're not afraid, you're not so cynical yet. You're ready to change the world. It's not like they're going to some 9-to-5 job that they hate, with three kids, just desperate to survive. They still have their whole lives ahead of them, and so much potential. 
Right now the whole concept of what is means to be an American is being hotly debated. You have Trump literally stopping people from coming into the country. What has been your experience as an immigrant in the current climate? 
I know I've struggled a lot with feeling like I belong, and I think it's so important to make sure everyone feels included. But with Trump right now, he's making everyone feel the opposite, and it's really terrifying. I asked my friend what he thinks the biggest shock will be for me when I go back to the Czech Republic because I haven't been home in seven years, and his answer really resonated with me. He said, 'I think you will have the hardest time with the lack of diversity' because 90 percent of Czech people are white. So, before I moved to the U.S., I was never challenged with race questions, and I didn't understand it for a very long time. That's again why youth culture is so important — so they can deliver the opposite of what Trump is saying. 
What does it mean for you to be 'American' then? 
I spent my first year in the U.S. in North Carolina, and I just had no idea what I was getting into. I mean, I thought everything there was so big and fast and crazy, then I moved to New York and was like, 'Okay, this is fast.' But what I found here that was so important was all these young kids who actually have a voice, and they actually use those voices on social media. All of the important issues we've been talking about, like gun control and the #MeToo movement — they bring them up, and they keep bringing them up, until things actually start to change. They are the real America. Not Trump's America, or corporate America, but the youth that's here, and very real, and has a voice.
Young American is on display at the Czech Center New York from June 28-August 10.