Mayday at the Moxy Hotel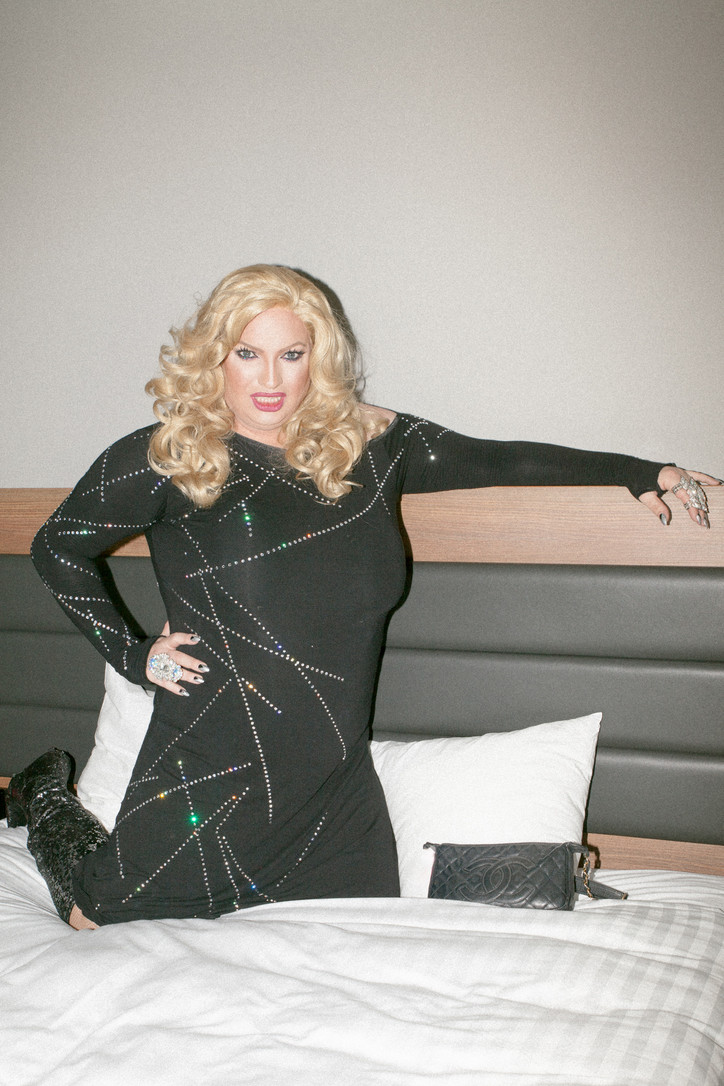 Mayday started performing Dolly Parton at the age of 7. It was when her mom came home with one of Dolly's records when she realized women have a power that she craved to embody. "She was like the epitome of female," Mayday explains, "like big hair, big tits, small waist, (which I don't have) high heels, lots of makeup, and long nails. I thought, 'Ah! I want to be her!'" However, Mayday feels that today's nights will never be like they once were with the asshole celebrity mentality moving into the everyday person due to social media. "I just like to have fun, be nice to people and have a good time instead of being like, 'Yes I'm a star! Work it, Queen!', because at the end, we're all human, and I think that's like a big thing. You know a lot of people with attitude issues and attention problems issues. Like 'Why?' be normal have fun. It's a crazy world. And I know in nightlife because I notice a lot I'm booked to be a drag queen at a party, so I have to be fun and a clown. And that's what I do. If you pay the price, I give you what you want. I know it's like a shallow world which is fine. It's life. But I really just can't stand being booked for a party and only being asked to take everyone's Instagram photos that I'm not even in!"
So, do you enjoy doing drag today?
I do. Because it's a part of me. It's not a mask I put on like, 'Oh now I'm a different person.'
"...I'm the same person. I just like to be real, and you know down to Earth. I know that people will treat you a certain way because want things from you and you're in the public eye. But also, treat me as a person. It's crazy that nowadays people think of themselves more than they think of others. Maybe I'm getting older, and I'm sure you hear that a lot. But nothing is important as having fun, and that you don't take life too serious. We're here for a short while on this planet, just enjoy and be nice and have a good time."
Now when Mayday performs, she prefers the surrounding towns.
"All the smaller cities around the big cities who aren't used to drag queens, they appreciate it more. Or if it's just outside of Amsterdam because here they're used to me, they know that I can't dance. I do a lot of stuff in Paris, London, Manchester because the drag queens here we are like the fishy queens, the girly queens and a lot of these cities have a lot of the really clown-esque looking girls. Like 'Oh, that's a man in a dress.' I'll come to those places, and they'll see me perform, and they have no idea what's going on, or what to expect. I like that. I love Paris because I love the glamour, and those clubs are full of rich people, and they're kind of bored. They're always looking for the next rush to get high on. And you have transsexuals looking gorgeous, and they have like tits looking gorgeous, and at the end of the show they pull down their panties and a huge dick comes out. All those men are like [gasps] 'I'm in shock!' You know that's the best thing. I don't do that though I like to keep it glamourous."
Still being a nightlife queen, Mayday has her places to go out in her home city. After the party at the Moxy Amsterdam Houthavens, Mayday had several options of where to go.
Her first major gig would be in 1997 at the MTV awards. MTV came to Holland and asked her to seek out an attractive crew from all different walks of life. "I brought out crazy nightlife creatures, club kids and drag queens to be in front of the stage, so when the film shoots, they have nice looking people. Because you know how it is, you have people, but they're all boring. So, I got the whole bunch out, and everyone was there —the Spice Girls, Backstreet boys, LL Cool J, Bon Jovi, and Bjork. All of those major artists came, and I was like hanging out with them backstage after the show. It was so mind-blowing because I don't care really about celebrities — some are assholes, some are nice. I mean, they're still just people and have a great job and a fantastic life." It was there that she really felt the glamorous life she had lusted after.
Dressing up seems to be second nature to her, she recalls a time from her youth that many of us can relate to, "you put on a cowboy hat and played cowboy or Indian, or you know Native American —let's be politically correct." It was there she discovered how to be the center of attention and find an escape from the world. She just had to grow into a new identity. Then, on a "crazy night" from her school days everyone was trying something new. Mayday decided to perform "Like A Virgin" by Madonna in a wedding dress, of course. Everyone's shock fueled her. It solidified her path to to the world of Drag. She'll be the first to admit since then, not all the attention received has been positive, but attention is attention, and that's her source of energy.
After that, Mayday went out to discover where else she could feel this same type of way. "There was a lot of Queens back in the day that did drag, but just in the gay scene. Host the bingo night or like do a lip sync here or there, and I thought I would see how far I could get by being a drag queen." But quite quickly the press took notice of her. People would be reporting on if or if not she was wearing making and who she really was underneath it all. "She is a he, and this is how she looks like without makeup," she recalls the headlines. Over time, her image transformed into simply who she is today as Mayday. "I'm more seen here in my home county Holland as a personality."
"Last year a new club called Mad Fox opened. It's like this tiny little underground, its underneath in the basement of a hotel. It's right in the middle of the center, near Dam Square. When you come in, you don't even see an opening. There's just like two guys standing on the street. You have to go down the stairs, then underneath the building, and then you're still not in the club. You go through another door, and then you end up being in the club. It's really like exclusive and crazy and fun, which is what I like.
Another, we have is a club called Church. It's like a gay place, but it's where everybody goes. It's like freaks, nightlife creatures, drag queens. Straight, gay, female, male and no one looking at each other like 'what are you doing?' or 'what are you wearing?'. So, I like that and that's a great place to go – "Church".
We have a club called Shelter which is underneath the Adam Tower, Amsterdam's landmark. You know Paris has the Eiffel Tower, The Big Ben, Wheel in London, but we never had something in Amsterdam and now we have the Adam Tower. You can swing off the rooftop its crazy. But underneath nobody knows there's a secret club, like a big club — a techno place. So, those three places are the ones to go."