Meet Auto Body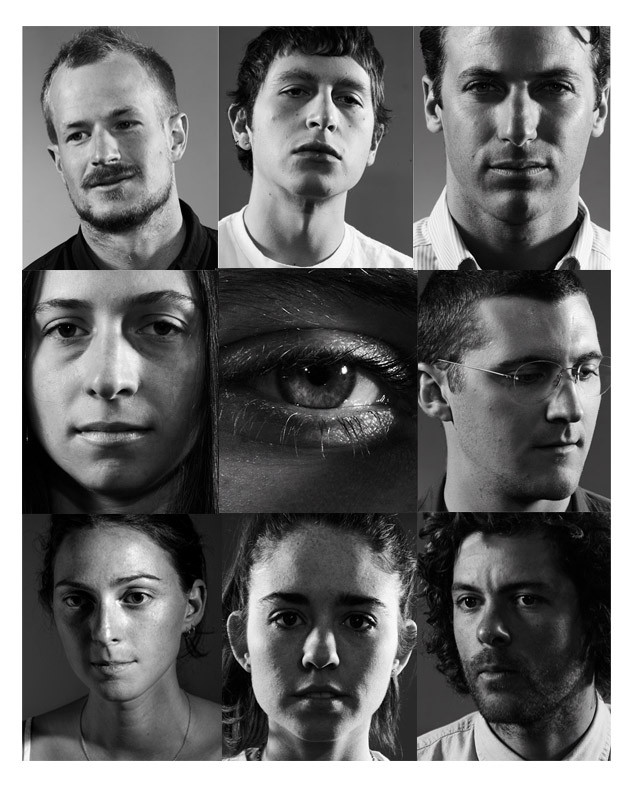 Founded by Tyler Healy, Johnny Knapp, Aria McManus, Claire Read, Georgia Read, Will Rose, Quinn Sherman, and Charlie Stravinsky, Auto Body is a conglomeration of eight creative minds all existing independently in their own realms, yet opening up and achieving greatness when working as a team. But rather than having "tricks up their sleeve," Auto Body's genius comes from the mere spontenaity of it all, each endeavor serving as a little reminder that having the freedom to explore and expand those sparks of creativity in your mind is what makes life exciting.
office sat down with Johnny Knapp from Auto Body to talk about where this innovative spirit comes from, their clothing line, and what it takes to be a member of Auto Body. 
Looking at the Auto Body website and Instagram, I can see how it could be hard for people to understand exactly what it is. Could you explain?
We got the name because we renovated an old auto body shop that was in Bellport, which is home base for us and where the majority of us are from. We literally took the name from the spot, and in terms of signage, we found the sign in the discard trash and it had the font that we use for the logo on it, too. It's just a direct connection to that space. So yeah, it started as a gallery for two years, and it has moved on since we lost the space into a curatorial group that does these "satellite" shows all over the place.
What affordances did the Long Island location give Auto Body at first?
We're very active in the NYC scene, so we see what a young gallery consists of. I mean, sometimes people display stuff in an elevator shaftway or a small room somewhere because that's what they have in their means. Out on the island, our spot was the equivalent to what a Chelsea gallery would be size-wise. It was huge, open. We renovated it by taking out two ceilings and making the walls white, so we were afforded this huge space. It kind of makes you more of a destination and adds character to the environment that you exist in. It differentiates you in that way.
I'm sure rent was a good aspect, too.
Yeah. We were on a reduced rent, too, because we did work to the space. Then when someone came along and offered to pay more, that's when we lost it.
It looks like you guys have so much going on. What are some upcoming projects you're really excited about?
Well, we're coming up with our Summer 17, and that's going to start on Memorial Day. We have some really good tentative projects which we're working on getting permits for, because now we pretty much just do off-site stuff. Losing the space was a sort of blessing because it pushed us as curators into a realm of doing these more off-site art shows, which I'm sure we would've gotten to eventually—but immediately getting there happened really quickly and very effortlessly. Having that space was good because people knew where to find us, and we had this central hub. But since then, the shows have been so interesting. For us, it's like problem solving. Each of us grew up in towns, so we know all of these little intricacies in them. It could be this grass field that goes down to the bay that we feel is under-utilized and want to bring attention to, so we'll just do a sculpture and show there, one-and-done. That was a lot of the case for last year—building dioramas with bamboo on a farm, and stuff like that. A friend of ours has a charter boat, so we did a water color show on it, sold tickets, and kind of did this "booze cruise" on the bay with a band. That was really neat, and we're going to continue some of that but change things for the summer.
Two big ones coming up are the Bellport Historical Society in August and the Parrish Museum at Water Mill in Southampton, New York. We're doing a show with them in August that is going to be off-site, which is very much in our language, and it's going to consist of roadside billboards we came up with that are going to stretch from Bellport to the East End.
At least from my perspective, the process seems more glamorous than it actually is. Is it difficult sometimes?
I mean, it's very interesting. I feel like there's a real unique element about us—just how we were friends first and are now working together, all eight of us. It all comes down to managing being in different places in the world and in life, yet coming together and staying on the same page with one another to build shows. When we're together, we work so well. We get all of our different ideas vetted out during the preliminary stages. Once we're actually in the space, we'll put a piece on the wall and just let it kind of hang for a bit, and then maybe put another one somewhere else. Or if someone feels something, they'll just pick up a piece and put it on the wall. It's not like there's this intense layout. When it comes to curating, people are always impressed at how we work together like that.
Where does the clothing line fall in all of this? Did it just feel like the next step?
It just comes down to how you utilize eight people to the max. We have people who studied product design, architecture, and certain fine arts stuff. I have a communications and marketing background, so it's not like I'm classically art-trained. And it was an interest of ours to further the branding, so what better way to do it than through products that reflect our lifestyles and interests? If we have the skillsets, then why not do it? But we're very sensitive as to where the different aspects of Auto Body are positioned. You have products, but are you this clothing company, art group, or what?
That's where the t-shirts came in. The "shop" tee came first, and that one was super basic and had our address on the back and a tag on the front. Then we moved onto a long sleeve tee from there that had "Auto Body" on it. Not everyone in NYC is going to know about Auto Body, but we can bring those shirts into the city and give them to our friends, and then you start seeing them around town. Another cool thing for products is that when we work with people, we like to give them a shoutout or tie them into our network because community is such a big thing for us. We'll do these "friends and family" products and put logos of everybody we've worked with in the past couple months (or would like to work with in the future) on them as these sort of aspirational wishes. We've done a backgammon set, beach bags, floating keychains... It's just further ways of branding, basically.
What are your standards in terms of choosing what you want to showcase? I know you can't showcase everything.
That's another interesting process. We'll have people we've seen around or would like to show in the future on our backburner. And then when a show comes up, especially now that we're using environmental spaces and stuff like that, we'll think, "What artist fits this context?" And then we'll find the space and kind of piece it together then, or maybe we'll have a cluster of artists we want to have, and the show won't happen with them until a few months or after a couple other shows because they haven't been the right fit so far. But once the time is right, we'll use them. We have a huge network of people in the community, so it's whatever fits best for the show pretty much.
For the most part, people have genuinely been down to be a part of us. We're not really competition for anyone in the city. There is no, "Oh, I've shown at this gallery, so I can't show at this one because they're right down the block." We're out on Long Island, so we're in this zone where we get that freedom to work with people who maybe have a certain exclusivity complex.
What does it take to be a member of Auto Body?
I think it's just drawing from your environment. It's funny. We had to fill out bios for the Parrish show, and every single one of us wrote the word "nature" in the bio. So you can see that we're all on the same page. Even though we were all in our own worlds writing them, everyone tied into that somehow, which I thought was very telling of who we are and why we are all together in that way.
What are the next steps for Auto Body? How are you going to take this to the next level?

I would say the next step for us is doing another summer of satellite shows. Getting a future space, whether we make it on our own or not, and building it as this sort of institution would also be the next step. We always reference the Dia Art Foundation and these destinations of art where they have these amazing exhibitions and shows. I think we'd really like to further our presence in Bellport and make it a legitimate, incredible entity.
Auto Body's upcoming Memorial Day exhibition will be a sculpture by Evan Robarts on the property of the Post - Morrow Foundation in Brookhaven, NY on May 27.
Make sure to keep up with Auto Body on their Instagram and official website.