Meet Nanna.B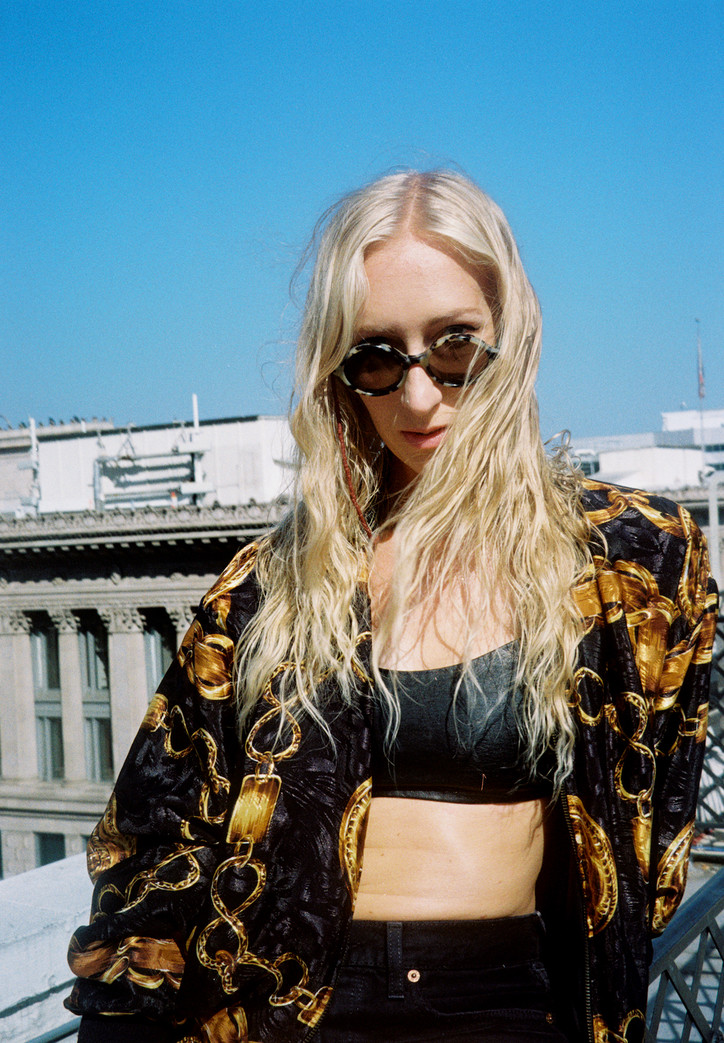 How did you first get into music? What was your journey from Denmark to LA like?
I don't come from a musical background. My parents are teachers. My dad paints. They somehow put me in a school that specialised in music, especially African music. It was a really unique school for Denmark. We were only 14 in my year and I loved it! That's where I began singing, dancing, listening to lots of funk.
Have you always branded yourself as a solo act?
At school, we always had to play in an ensemble. I remember playing a lot of music from Tanzania and Nigeria. We studied Yoruba, learnt the rhythm and dance. As I was dancing, I began to view music as a spiritual thing. It allows me to forget about time.
And have you drawn new parallels between music and spirituality since?
When I was growing up, my parents weren't married. I was never fed any of the conventional beliefs. Especially in the past four or five years, I have started to pay more attention to it. Looking back, I have always had that connection to spirituality, those moments of connecting to the earthly. But I do not subscribe to any one religion, it remains a private matter for me. Music is one of my rituals.
And do you feel like there is a pressure to produce something tangible from these sessions? Or do you view it as a purely cathartic exercise?
For me, art comes first. Creating by myself if different from working with others. I try to stay in tune with what feels right.
I have had a certain anxiety about how to present my projects, how to brand them, how to get them heard. At this point, it more about going with the flow and surrendering to the timing. I enjoy the process a lot as that is when I get to experiment. Being at home, recording, making harmonies, that is what I enjoy the most! Stepping into that magical place where everything is allowed because there are no rules.
Before I moved to LA, I went to an art school in Denmark and studied visual arts. In my third year, I traveled to South America with my boyfriend. We walked through the jungle for five days and slept in hammocks. The whole process of strippng away your fear was crazy to me. Our guide kept trying to convince me that there wasn't anything to be afraid of unless I provoked it. It's a lesson I took with me.
With multiple concurrent projects on your plate, are you in the studio pretty much every day?
I have got a studio set-up at home. If I'm not at the studio, I'm writing at home. It's important for me to have my foundation in order so that I can create.
And that extends to the team that you work with. How has the security of working with a set group of people changed the way you approach music?
It's very recent, everything seems to have just fallen into place. Also, the past four years of being back-and-forth between LA and Denmark has enabled me to build a strong network of friends whom I can ask for opinion.
How did you connect with Iman Omari? 
The studio I worked at with Shafiq was the same studio that Josef Leimberg was using (who has worked with Kendrick Lamar, Madlib, and Thundercat). At that time, he was housing Iman in the other room. I would always hear his music. I overheard the beat for Apocalyptic Love. He offered me to sing on it. So I did.
People here have a very different approach to creating. Back home, somebody would send you a beat and you'd take your time to write to it and perfect it. When I was working with Iman or Shafiq, they would put on a beat and just tell me to sing in order to see whether we were on the same frequency. You meet people, write, record, finish it all in a day. You have to trust your gut and the melodies you hear.
Having attended art school, how controlling do you get over your visuals?
It's such an important part. I had to learn how to give up some control, trust someone else's eye. It's still a struggle for me but I try to give people their space to create. With the last music video (Golden), I just wanted it to talk about relationships, how if you're the only one pulling strings it just doesn't work. Before Hodgy came on, it was meant to be about being a female in the music industry. About people constantly wanting sex from you when you think you're actually hoping to work with them. It's so draining and I'm really tired of it. For that reason, I prefer to work with people I already know. I've learned to be cautious. If the session is really late at night, I'll only go in if there are people that I trust. Don't just look at me and then invite me to a session. Listen to my music.
What's the story behind your personal label, LouBudgetChild Music?
When I made my first album and sent it to labels in Denmark and Europe, they'd only like parts of it. I viewed it as a finished piece of art. All or nothing. Eventually, I decided to start a label and release it myself. I thought that I should never have to compromise my art. Throughout the making of that project, I was really broke and had to apply for grants. I was joking around about being good at living on little budget. I called it Lou Budget Child and now it's distributed by Empire. I have my own publishing company under it as well. I'm still learning to give up control and let it come naturally.