Sign up for our newsletter
Melting Point Halloween
Just Jo Rosenthal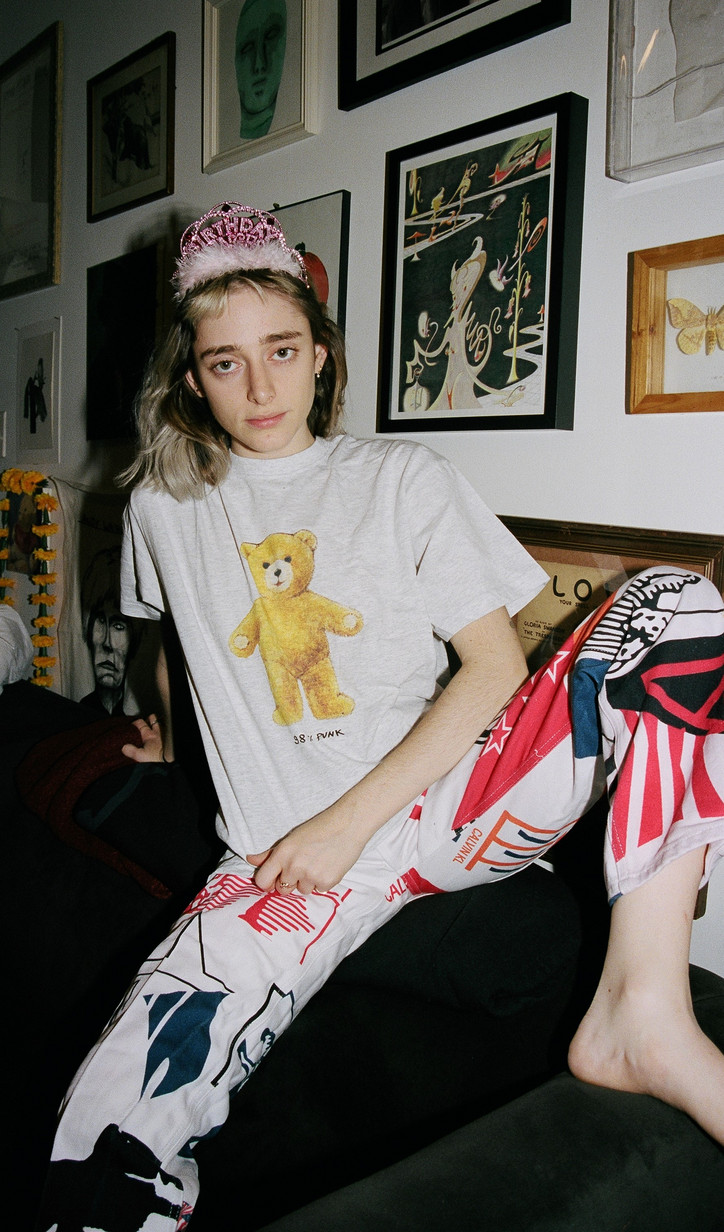 As we sat with Jo inside the coffee shop, we decided to pick her brain about everything—from love and Truman Capote, to masturbation with a pickle. Read our interview, below.
Tell me about yourself.
My name is Jo Rosenthal and I'm originally from Miami, Florida. I moved to New york six years ago, to study art, art history and writing at The New School. I just stayed after working on art and fashion—and I'm having fun.
What do you think is the most unsettling film?
All movies are unsettling! But the worst movie I've ever seen, which I feel like is also very unsettling, is Suicide Squad. I mean, I could say a movie like Eraserhead, which isn't necessarily scary, but it is very disturbing. But a movie that just made me think like, 'Oh my god, this makes me sick' was Suicide Squad. Everything, from the plot to the actors, who had absolutely no chemistry with one another—it just didn't sit well with me.
I read the comics, so I was super pumped for the movie, but it was such a letdown. They always do that—they take the most compelling storylines and turn them into shit films.
I know. There's this genre of movies—I think it's called Troma—and it's just these really fucked up, niche '80s movies that are just super gory, and everybody's naked, having sex and screaming. I remember watching it and thinking it was so fucked up. There's this one part in one of the films where this girl is fingering herself with a pickle—it's crazy.
No! Why would someone do that?
I know! I felt bad for the pickle. And she's gonna get a bad yeast infection—she's not going to be okay after that.
So, you don't like gore?
I like scary movies when something is actually scary, but everybody lives in the end. I just don't like when people are cutting each other's arms off with all the blood spurting out. That's not for me.
What do you think about the phrase 'The pen is mightier than the sword.' Is it true?
I think so. I mean, you could totally cut someone's head off with a sword, but there have been times when I've written about people and it cuts way deeper. One of the bravest stories I've ever written was about the abusive relationship that I was in for two years. The person ended up getting cancer and blaming me for it. It's a fucked up story, and I wrote about how it really scarred me, and how I had to rebuild myself from there. I was so emotional all the time—I couldn't handle doing anything except for writing about it, and it was such a relief to be able to share my experience with the world. I didn't realize how many people go through similar situations.
It got published and he saw it. Of course, he called me after and cursed me out, but it was my story, my perspective, and I really needed to say something about it. He treated me so poorly, and I needed to express it in a way I knew how, and I didn't think that anything would come of it. But I ended up getting so much support, which was something I really didn't have at the time. For me, writing it all down just felt really good. I think people should always write about things that take a toll on their emotions, or changed their life in some way—it's so much better to let it all out. When you share your story, you realize that so many other people have gone through similar experiences. You build a community and you're able to heal in a healthier way than if you were just to keep it all inside.
And you write poetry, as well?
Yeah, the most popular book that I've written is one where I painted portraits of everyone I've ever kissed—it's an ongoing project until I kiss someone for the rest of my life or die. I painted everyone from memory and then I wrote a little poem about each of them. It was interesting for me to do because I felt like I was accessing places in my mind that I hadn't touched in a long time. The portraits create such a bonding experience because they always manage to spark a conversation. At a book fair this past year, this girl came over to me and said, 'Oh my god, I kissed that guy too!' Someone else came up to me and was like, 'How could you put me in there!' But everybody goes in there—for me, it's a good memory.
I did realize going through it that in the beginning, all of the people looked like the same person, but now, everyone is an individual and different. I also feel like my painting style has changed, and because I draw each face from memory, some of them are fuzzier than others. It's interesting because some people I remember perfectly, and when I draw others, they don't look like the person I remember kissing, but they still go in the book. There are also certain people who I have recently kissed who I am excited to put in there.
That's cool—then the book becomes like a document of your evolving sexualilty and relationships.
I started it when I was nineteen and obviously I'm still working on it, but I try to reprint it every year. I haven't gone a year without kissing somebody—maybe I should make 2019 that year. But that would be really difficult for me because I love to kiss everybody—it's like the coolest thing you can do. To everyone reading this: let's kiss!
What book describes your personal style?
I'm thinking 50 Shades of Grey—just kidding! Harry Potter? I don't know, I could say my favorite book, but I don't think that would describe how I dress. I do read a lot of Truman Capote short stories, and he does a really great job. My favorite ones were written in the '60s, but he also wrote Breakfast at Tiffany's, which a lot of people don't know. I mean, from In Cold Blood to that? It's crazy. But his stuff is all about portraiture, which I love—like how do you capture someone in writing in a way that makes you feel like you're with them, but you don't know exactly what they look like or who they are, or if they're even real.
I think about that a lot with my own artwork. I go out and create or write something, and I constantly think about his writing and how I wished I was him, or that we lived in the same time period—or that maybe I'm him reincarnated, which sounds really narcissistic. But his writing style is how I want to live my life: very intimate and personal, that you can share with everybody because you're not closed off, and you immediately care about every person on the street and what's best for them.  
What's the most interesting piece of advice that you've ever received or that has resonated with you the most?
I heard this great piece of—well, I don't know if you could call it advice—but I was at a dinner party last night and I'm not sure if she was talking to me or about me to me, but this woman said that her therapist told her this crazy thing about the three types of people that you meet in your life. Basically, it's that you can categorize people by three types of chairs: the baby chair, which is a person who is childish and can't do things on their own and have to have people help them; the adolescent chair, which is a person who can do some things for themselves but they still need help from others; and the adult chair, which is a person who's self-sufficient and doesn't need the help from anyone. I've been thinking about that a lot—like, which stage of my life am I in? I feel like I'm in between adolescent and adult, but I'm trying to lean more towards adulthood—I'm at a stage of my life where I'm just trying to grow up.
What character, dead or alive, do you think you are most like?
My brother likes to tell people that I'm Tony Soprano reincarnated, because he's really, really tough on the outside, but on the inside, he has a heart of gold.
How close are you and your brother in age?
Really close—we're almost three years apart. He's older, but we're super close. He's one of the best people I know, and he lives in New York, too, so we have a lot of the same friends. He's one of the reasons why I feel like I have good taste in music even though, now, his music taste has changed a lot. He really paved the way for why I'm 'cool' now.
What's your go-to karaoke song?
Last time I sang karaoke I had just gone through a break-up so I sang Fiona Apple, and everybody was like, 'Boo! Get off the stage! You are to depressed!' But whenever I go to karaoke with my close friend Will, we always sings ABBA—we always like to sing duets. I like "Dancing Queen"—that's really fun. But, you know, every time you do karaoke you end up really drunk, so you don't necessarily remember your favorite one.
What about your own sexual identity do you find the most confusing?
Everything. I've always struggled with my identity, especially my sexual identity. I have a hard time enjoying sex and a hard time understanding my sexuality because I feel like that's something that people don't respect in each other. People can so easily treat each other really badly, especially when it comes to sex, because of the fact that people can so easily have sex but not care for each other whatsoever. So, that always makes me very confused, as if I'm doing something wrong with my body, or if it's the people I choose to surround myself with. I never know how to interpret a situation like that—it always makes me wonder if there's something wrong with me, or if I'm just confused about who I am, or if there is something wrong with the way somebody else treated me because they are confused about who they are. I really think that if people cared more about the identities of other people, and cared more about caring about other people's bodies, then people would have a lot easier time figuring out who they are as people and identifying who they are.
The lack of care our society has for  each other makes people feel confused and put into a box, but they don't really have a place, and I wish there was something I could do to change that. We have to try to understand each other better. Now, especially in New York where we are surrounded by young people, we do not give a shit about one another, which is really, really hard to process—it makes it really difficult to pursue things. Being an emotional person is a profoundly special quality, not something that makes you weak. Since so many people are not in tune with their emotions, possessing that quality actually makes you really strong. We have the luxury of feeling every single thing that we do—a luxury that most people aren't afforded—so, why would we want to live a life where we could feel everything and not express it? This is the only life we have—we should live it to the fullest.
I write a lot about this idea and talk a lot about it in my work, because it's something that needs to change. If we start caring more about each other, or at least become more introspective with how we're feeling and how others feel, then we can really be more empathetic of other people's experiences. What makes people so confused about their sexuality is not feeling validated in their sexual identities. As much as you can feel confident in yourself, if somebody makes you feel bad, or makes you feel that there is something 'wrong' with you, you're just going to feel confused, and so disturbed.
 
Or you bottle it up and it eats at you, just waiting for you to explode. I've just recently started to understand that it's okay to feel upset about something and to let it out, as long as you confront what the source of that feeling is—there are healthy ways to express your emotions.
That's a reason why dating and making friends is so hard—because people don't want other people knowing that they feel certain things, when in reality feeling those emotions is the most beautiful thing we have in life. Every time I've been really hurt, or every time I've been really upset or mad at the world, I realize that it's just somebody else's hurt, and I don't have to feel the same pain as they do. I can feel what I'm feeling and move on from it, and become a bigger person instead of harboring resentment for someone or something else. It's their problem that they can't express their emotions—not mine. Everyone should do that.
New Year, Same Us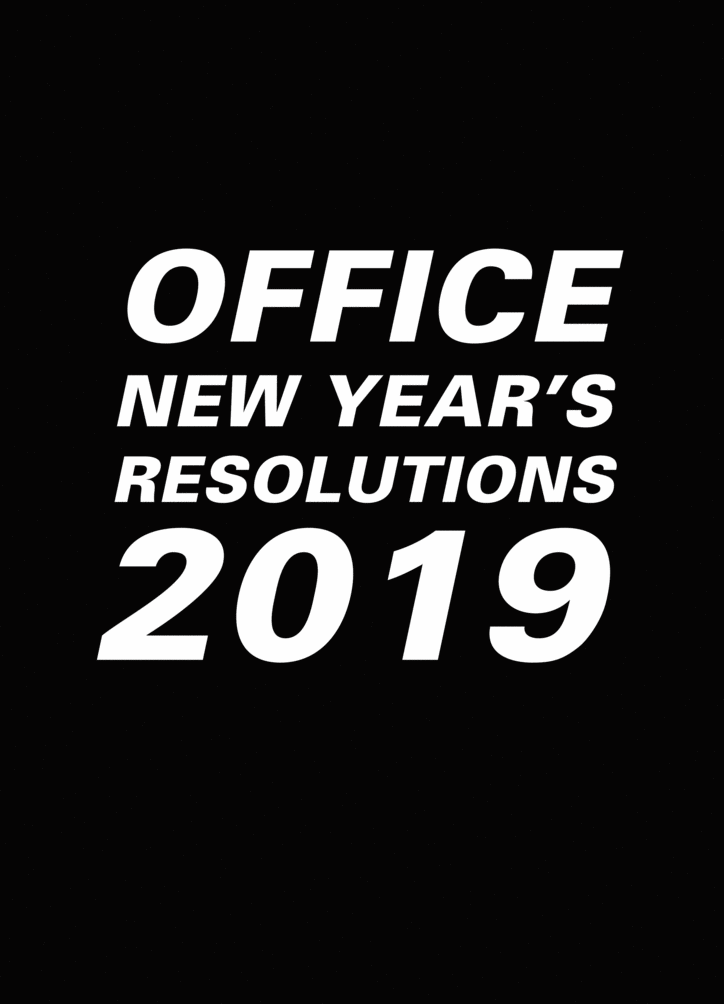 That's why, as 2018 came to a close, we reached out to some of our favorite friends, artists and office collaborators to hear what resolutions they had for themselves in 2019. For some, this year will be about sex; for others, success; and others, still, for dripping harder (#BigShugga2020).
The one thing all of the resolutions did have in common, though, was a desire to practice more self-love—and that's something we can always get behind.
So, forget the idea of a standard resolution; and don't worry about breaking it either, because if there's one thing we learned this year it's to always do you—New Year's included. If 2018 was about recovering from the shitshow before it, then 2019 is about reaching our goals and starting a riot.
Read some of your favorite artists, singers and people, in general, share their resolutions, below.
Brooke Candy
LA-based rapper, director and queer feminist icon Brooke Candy had a big year. In 2018, she collaborated with Charli XCX, Cupcakke and Pablo Vittar on the Pop 2 banger "I Got It," released three new songs and self-directed music videos ("WAR," "My Sex" and "Oomph"), partnered with PornHub on her directorial porn debut, I Love You, and teamed up with photographer (and office favorite) Sandy Kim on a killer editorial for office Issue 09.
"My New Year's resolution is to exist in bliss... oh, and have as much sex as humanly possible."
Ian Isiah
In November, Ian Isiah aka Big Shugga released his long-awaited new album, Shugga Sextape Vol 1., and it's dope AF. The all-time office favorite has been an outspoken voice in New York City's LGBTQ community with his unapologetically honest approach when it comes to gender, love and sex. He's also had an unmistakeable impact on the fashion industry, serving as muse for Hood By Air founder and Helmut Lang designer Shayne Oliver, and frequent performer at presentations by Telfar (like this year's S/S '19 presentation in the pouring rain).
"DRIP HARDER."
Okay Kaya
As a model, Kaya Wilkins has walked the runways for everyone from Balenciaga and J.W. Anderson, to Marc Jacobs and Calvin Klein. But as Okay Kaya, the musical moniker under which she got her start as the hynotizing voice on King Krule's "Slush Puppy," the singer delivers spellbinding tracks that are equally saccharine and subversive. In 2018, the singer released her latest record, Both, a study in duality and both the power and pain in being a woman.
"My resolution is to get buff from pole dancing."
Hot Mess
Luka Sabbat is an actor, artist, model and actual social media influencer; Noah Dillon is a photographer and creative director—both couldn't be further away from being a hot mess. But together in 2018, the duo officially started Hot Mess, the creative outlet they use to publish their collaborative work, like the series of billboards they created over the summer that placed mock ads for brands like Balenciaga and Chevy across the U.S. Along with the ads, Sabbat and Dillon teamed up on shoots for Off-White, American Apparel and an exclusive feature for office which was shot while Hot Mess was in Japan.
"[To] work on a new creative medium we've never worked on before, and get a girlfriend." - Luka
"To get what I deserve and to move with a sense of urgency." - Noah
Didi Rojas
Diana "Didi" Rojas is a New York City-based artist known for her ceramic recreations of trendy fashion items, like the pink Balenciaga croc platforms she created for the cover of office Issue 08. In 2018, she put her touch on basically all of the year's hottest looks, from Gucci sneakers and rhinestone-covered sunglasses, to the Vetements flame platform boots.
"This year I plan on starting my days earlier, and I want to use the word 'literally' less than I did in 2018. I'm also looking to host more studio visits and work on collaborative projects with friends and artists I admire."
Christiaan Houtenbos
Hairstylist Christiaan Houtenbos is a living legend. The office Issue 08 artist is responsible for some of the world's most iconic cuts, including Grace Jones' famous flat top and Debbie Harry's signature shag. In 2018, he continued to give some of the most enviable hair cuts—though, not for free, like he used to do in Central Park.
"I resolve to stop counting my money and instead start counting my blessings."
Lexie Smith
Lexie Smith is an artist, baker and all all around cool girl who uses bread as a tool to explore culture and connect global narratives. That's why we featured her in office Issue 09. She's also currently working on her ongoing project to create the "bread web"—a Wikipedia-style site about, well, bread.
"[I've] been resisting resolutions like the plague, but if i had to name a few: [to] stop naming things; quit compartments; [and] don't let ego impede productivity—whatever my definition of productivity might be on any given day."
Aweng Chuol
Over the last year, South Sudanese model Aweng Chuol has worked for everyone from Namilia to Junya Watanabe, walking in their denim-dusted S/S '19 presentation, to Rihanna, at the NYFW debut for Savage x Fenty. In between, she also found time to pose for an editorial in office Issue 08, and let us into her own office for Issue 09, while also running Shine Light orphanage, the non-profit she started to help orphans and refugees in South Sudan and Kenya when she was just 17.
"My new years resolution is to bridge the gap between myself and my opportunities."
Here's to 2019.
office 2018: Emily Ratajkowski Gets Radical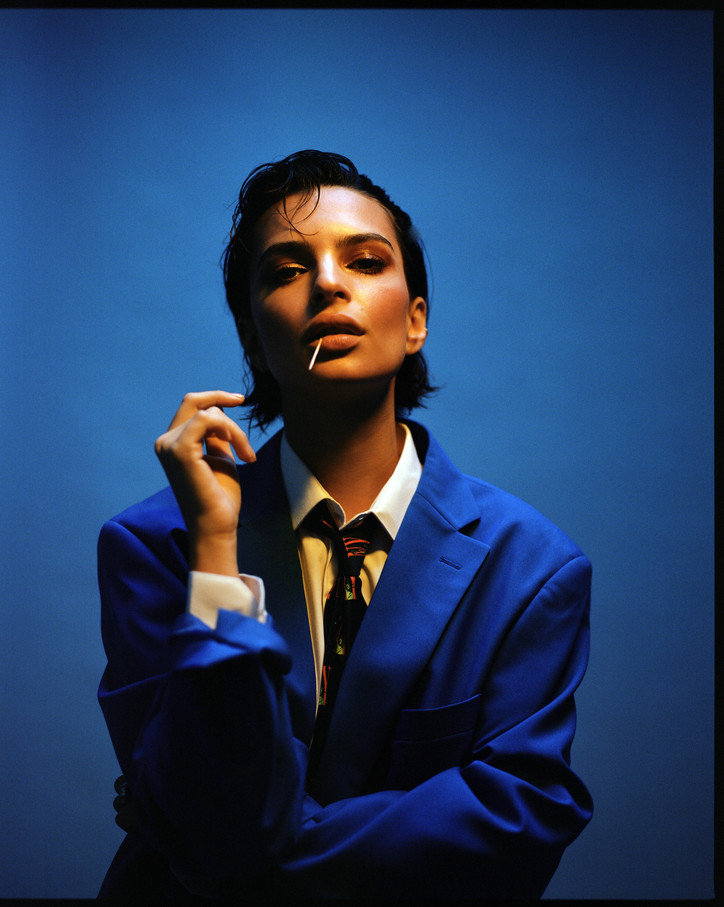 As an outspoken political voice for our generation, Ratajkowski doesn't believe in subtle acts of defiance. She wants to work outside the system to quickly burn it down. And we're more than ready to join her.
With a new movie out later this month, office sat down with the model to talk about everything from feminism to that famous arrest photo. Read our interview, below.
You have a new movie, Welcome Home, coming out next week. Do you want to tell me about it?
Yeah! It's really my first lead role—it's a thriller with Aaron Paul from Breaking Bad. It's about the idea of privacy and voyeurism in general, and it's something I'm really proud of. I actually haven't seen the movie in a minute, but at the very least, I know I feel good about my performance. That's a really nice feeling, especially since you can't control the rest of the film. The only thing you can hope for is that you like your performance in the end result.
Since this was your first real leading role, were you at all nervous?
Not really. I mean, I started acting before I was ever interested in modeling. Growing up, I was a total theater nerd—I just lived and breathed acting—and then like someone told my parents, 'She should try modeling. It's a good way to get her foot in the door.' Of course, my mom was like, 'Fuck no,' but I eventually went to LA and got signed to an agency. Modeling just happened to take off first.
So, being a model was never your real goal.
No, it was never the goal. I come from a creative family, and I was going to UCLA for visual arts before I dropped out to do this. So, I guess the creative fulfillment that comes with acting takes away the pressure of the actual job, because, for me, it's so enjoyable.
You said you think a lot about voyeurism. In some ways, its part of your own experience because so many people look at so many aspects of your life. I mean, you have Instagram and other social media, which allows you to curate what you want to let people in on—
I look at it a lot like a blog, you know? I'm not posting in real time, I'm not posting what I'm doing for dinner. Honestly, I don't even like to post people that I'm close to, because why would I expose them to that? It just doesn't seem fair. It's one thing for it to be my job, but it's another for them to be sucked into that crazy world of judgement. But that being said, I've really never had an issue with that—I mean, of course, there's a lot of privacy you give up and I'm okay with that. Sometimes, it does feel like a little too much, but the important thing is that it gives me the opportunity to control how I let people in, and how much. I think of other models and actresses, even ten years ago, who only had journalists and paparazzi to tell the world who they are—they didn't have a way to dictate their own narrative; they had no power in their own image. So, even though there's a lot of shit that comes with social media, I'm pretty grateful to have it.
Stylist's own suit.
That's a really interesting point. Especially someone like you, who is a model and actress—most of the time, the way you're being presented to the world is through the eyes of another person, be it director, or photographer. So, social media allows you the chance to share yourself—whether it be through a bikini selfie or whatever—away from the male gaze.
Absolutely. To me, selfies are like, this weird little self-portrait where you're gazing at yourself, which I think is really empowering. Obviously, I don't think every selfie I post is a work of art, or some kind of political statement, but if you want me to get into it I will, because I do think there is something positive there. I mean, I get why everyone is like, 'Oh this generation is full of narcissists,' but listen, narcissism exists at every age and in every decade. Yes, now we have more tools than previous generations, and we're all taking way more pictures, but does that make us any more self-obsessed? No. People have always been self-obsessed—that's just human nature.
Right, and especially as women, where our bodies are constantly being objectified, politicized, subjugated, and we're always being told how to walk, how to talk, how to stand… And you're a model, so that takes those things to an even further extreme. So, taking control of how you're presented, wearing whatever you want, posing however you want—I'm sure that can be incredibly powerful.
Totally. As a model, you're literally a mannequin. And I'm not a typical model. I know people are always like, 'What do you mean?' but I'm 5'7", I'm four inches shorter than every girl on set, I have big boobs—I always saw that I was different and was constantly being told to change, or be a certain way, and I just felt like, 'Fuck that.' So, with Instagram, it really gave me this opportunity to almost make like, a magazine, about myself, and that made me happy—not because I was self-obsessed, but because it was a way of controlling my own image when the rest of the time, it was controlled by everyone else.
Because of those things, Instagram has become such a platform for women and through that, for feminism. But I think it's also opened up a space for women to criticize each other—like, if you take too many selfies you're 'doing feminism wrong.'
Exactly! And that's just so wild and insane to me, because the whole idea of feminism is liberation and doing whatever the fuck you want. Which is so wild cause the whole idea of feminism is liberation and doing whatever the fuck you want. It happened with second wave feminism, when there was a complete shift over porn, and it's essentially an extension of that same argument. Like, can you be a prostitute, or a sex worker, or take a bunch of selfies, and also a feminist? My answer is absolutely.
You can be a housewife and believe in equality, just like you can be super religious and still believe in a woman's right to choose. My message is that simple. So, when women start policing what makes someone a feminist? That's when I think we've really lost the plot. Isn't that what we're supposed to be fighting against?
There's really just no right and wrong to me—especially for young women. The rest of culture is always telling us what we should and shouldn't do—not only what we should look like, but what we should do with our lives—and instead of having women support women and whatever their choices are, they're putting each other down and giving them something else to worry about. We're all ingrained with these crazy misogynistic patriarchal tendencies, but if a woman still feels empowered, despite the negative influences in her life, we should never reject her. It's like, yeah, I'm wearing a thong, and maybe that dates back to some fucked up anti-woman shit from the past, but now, I like wearing one and it makes me feel good. So, cool. We should celebrate that.
Do you remember when you first discovered feminism?
I was really young. My mom was an academic and she was always talking about feminism. But it didn't really occur to me what it meant to be a woman until I was 15, which was way after I hit puberty and all the traditional physical signs of womanhood had occurred.
Stylist's own suit, shirt & tie.
You were 15 when you realized what it meant to be a woman—what does that mean?
My instinct at 13, despite having all this amazing rhetoric around feminism, was to still feel guilty and ashamed about myself and my body. It didn't have to do with being female—it was about me, personally, and thinking that the world's reaction towards me had nothing to do with sexism or culture. So, it took a minute for it to click where I was like, 'Oh shit. That's what mom was talking about, and this is an example of it.' It felt incredibly liberating to realize that these reactions I was getting weren't because I was weird, or something  was wrong with me, but that there's something wrong with our culture.
Do you feel like your feminism has almost been tokenized? Everything written about you in the press always refers to you as a 'feminist model.'
It's funny because it's just always who I've been. Any of my high school boyfriends would tell you that. Before it was every cool, before I was ever modeling, before it was part of my professional life, feminism was something I believed in. So, when I broke out in this music video, which was directed and shot by women, all of the sudden people were asking, 'Oh what do you think about it?' and I was like, 'Actually, I have a lot of things to say.' But then no one actually wanted to hear it. Men were saying things like, 'We're not here to talk to you about your feminist ideas—we're here to talk about you getting naked,' and women were telling me, 'You don't have a license to talk about that.' Of course, I wasn't so surprised by the men's reaction—but I was really surprised by the women. It's really only been in the last five years that it's been a complete change in attitude where everyone wants to talk to me about feminism and is not surprised by it, even if they think that my perspective is controversial.
But why? What about your perspective is controversial?
I really don't know. I've had people say to me, 'How do you expect people to take you seriously?' That's the line I get a lot. Like, 'If you want to be a serious actress, you need to stop dressing like you do.' It's something I've been dealing with forever. So now, I'm just over it. I'm just going to keep doing me.
I get it.
 
There's a crazy amount of compensating that we do as women for almost everything. In the past, whenever I met boyfriend's families—and their moms in particular—I would always dress a certain way and be so scared to offend them. It's like, why am I even thinking about this? What's going to offend them? It's just my body. If I don't want to wear a giant t-shirt because I don't think it's flattering on me, then I shouldn't have to. And it's not just our bodies. I know every woman can relate to this. No matter what it is, there's always that moment in your life where you realize, 'Oh shit. People really don't want to hear me talk,' and actually think they're being nice by telling me to quiet down. It took me a really long time to learn that it was okay to keep talking, to dress how I wanted. I mean, I'm 27 years old and I'm still learning—I still find myself apologizing or blaming myself rather than this larger cultural problem.
Stylis't own suit (left); stylist's own shirt & tie (right).
Does that ever get discouraging, though?
Yeah. I mean, absolutely. There's moments where I think, 'Thi is really not working and I'm really tired of this.' But then there are the other moments where you feel like you're finally doing it right and people get it. It's just a constant battle we can never stop fighting. You take hits, but you keep moving forward, no matter what.
Do you feel pressure when certain things happen to speak publicly about them? Like with the Kavanaugh hearings—I know you were really vocal and went to D.C. and protested. But when certain things happen do you feel almost like you have to say or do something, because people expect you to? Or like you have to be political?
That's really one of the problems with social media in the political age. So many people are posting stuff because they feel like they have to, when they don't even know the specifics of the matter. People read a headline and think, 'Oh shit, three people posted about that thing,' so now I have to. I'm really, really anti that. And I know people get mad when I say things like this, but I really believe that's the problem with the left. There's a lot of surface level political correctness and being aware, but not actually talking about large ideas and tangible change. That really bothers me.
So, yes, do I have moments where I'm like, 'Is this something I should jump on?' Of course. But then I think, 'Wait, what is the idea behind this? What are we talking about? What's the change we're looking for and how we can make it happen? Or is this just a hot tagline that makes people feel like I'm an activist?' In the end, I just can't do it, even if it's going to make people leave angry comments on my page, because it feels so inauthentic. That's why I don't really do a ton of charity stuff, other than Planned Parenthood. Trust me, I care about the environment and a ton of other things. But in my mind, the way we actually create change is by dedicating our voices, and our time, and our passion, to one important thing at a time—instead of giving just a little bit to everything.
That's why people who post stuff like 'Call your senator!' bother me. I mean, of course, it's important to call your senator with some things, but am I really supposed to talk to this white male and hope that that phone call is enough to change his mind? That's not how things were done in the '60s. That's not revolution. Yeah, sometimes you can call your fucking senator, but you can also vote him out. That's like, with the Kavanaugh hearings, a bunch of right wing assholes were commenting all over the internet like, 'Oh she found another photo-op.' At first, I found it so offensive because it's against everything I stand for. But then, I sat back and thought, 'Well maybe that's okay,' because a lot of people ended up actually seeing that photo, and what else am I supposed to do on a visual platform? I put a statement underneath and said very clearly how I felt, and in my mind, I think that's probably better than calling your senator.
We have to be able to have real conversations about these things, and without policing everyone's language. We have to be able to speak constructively, and there have to be a lot of different voices. That's why I continue to ride for my perspective on feminism, even though I don't think it's that wild, other people do, and that's because I'm like, 'Good. Fuck you all. We need to have a conversation about what this is—especially for young women.'
We've talked a lot about your perspective on feminism, but what actually is it? How do you do feminism?
I mean, it's literally the power to choose. Whatever you want to wear, however you want to present yourself, whatever your profession wants to be—you should not be judged on how you use your body, or don't use your body, as a woman. It should be completely separate.
I have all of these women who comment on my bikini photos saying, 'But you're playing into some male ideal!' I'm just like, 'Well, I don't give a shit what men think.' First of all, this is what my god given body is, and second, sorry, it's fun, in the same way that any sex positive, body positive thing should be. Yeah, I have a bunch of guys who say that they're jerking off to me, but that's not my problem. If I was going to build my life based off of how men respond to me, that would be awful. But also, I understand the first step of how it appeals to men, and this ideal of beauty, and the over-sexualization of women, but what if that's just what I look like—and if I'm having fun with it.
Like you said, you're really specific about what you decide to talk about politically. So, what made it so important for you to protest Kavanaugh?
I was sure he was going to get confirmed either way, whether I showed up or not, but that wasn't the point. I think in the era of #MeToo, it's incredibly important to stand up and support other women, and show people that even if we can't change things right away, we can keep showing up, keep being loud, and eventually, we'll change everything.
Alexander Wang suit & heels (left); stylist's own suit & shirt (right).
Do you think that in a post #MeToo environment fashion has changed? What about your day-to-day interactions on social media?
No. I mean, in certain ways, yes. I was talking to another magazine the other day and they were like, 'Isn't it great that the new BMI and age limits at fashion shows have changed?' But still, all of the biggest up and coming models are under 18 and do not have a healthy BMI. Just because people have said they're going to be more diverse, or more careful, or whatever, doesn't mean they're actually implementing those changes. Honestly, I was really sad leaving Paris Fashion Week this season. The thing I've always loved about fashion is expressing myself and empowering myself, and choosing how I'm gonna be that day—that's what makes fashion so cool. But being there, and seeing that so many of the clothes are not made for real women… I don't know. I love fashion and I see it as art, and I appreciate it in that way—but it's also like, where are the women? In all of the industries I'm involved in—Hollywood, fashion, whatever—they're very aware of #MeToo, but I still don't see women being brought into leadership positions. I'm not talking about just being hired—I'm talking about having actual power.
People forget—women haven't even had the vote for a hundred years. And I get it, we've come up as millennials and we've seen this amazing growth—we live in a very different world than my mom grew up in. But that said, I think it's really important to remember what a short amount of time this has happened in—this female revolution—and that we're still very much in the middle of a battleground. That's why it's so important to show up, and get arrested, and get people's attention.
Do you think that right now, that's especially important?
Yes and no. It's always important. But it does feel more important now because look who's in power. When you go to D.C.—and I recommend everyone does—you realize that this is not a government for the people. It's really important to be disenfranchised by the government and to be really angry instead of just gutted by that fact, and to find ways to change it. And instead of calling your senator or actively participating in our system, let's talk about how we can change it completely. I know that sounds really insane to some, but people need to remember how our country was founded. They were a bunch of crazy rebels. After Trump was elected, I was the first person to feel like, 'I should give up. What else can I do?' I was so uncomfortable with the word activist, I was so uncomfortable with what it means to be political. But now I'm like, 'Fuck it. Let's burn this shit down. Let's go for it.'
We were talking about the Kavanaugh hearings, and how everyone on the internet was saying you used it as a photo-op. But really, everything I read about that day was about the fact that you weren't wearing a bra. It was crazy.
It was 90 degrees that day. I was so uncomfortably warm in jeans, everyone was in the hot sun feeling so hot—even that tank top even felt like I was wearing a lot. People were yelling at me to put on a bra, and I couldn't understand it, because if that's the only thing you see in this whole picture, then we have some issues we need to deal with beyond Kavanaugh being confirmed. Like, why is this the conversation that people are having? You can find a lot of really cool pictures of women in the '60s wearing all kinds of shit—bra, no bra—but who cares? They're women. They're saying something. Listen to them.
But does all the attention on the way you look make you feel like people aren't listening?
It just makes me feel discouraged sometimes, and I start to feel like, 'What's the point?' I get so sick of this fucking intense ridicule and people missing the point. So many people said, 'Oh my god, you intentionally got arrested?' But didn't you never take a history class? Political action is intentionally getting arrested. It's not for a photo-op—it's an act of resistance.
Stylist's own suit, JJ Hat Center hat (left); Alexander Wang suit (right).
What pushes you to keep doing it, then?
It feels right; it feels honest; it feels true to myself, as cheesy and cliché as that sounds. There's a lot of things in my life that I don't necessarily feel like are honest to who I am, and it's actually a pleasure to engage in something that does, and feels more important than just my life or my career.
In your work, because you have to play different roles, do you feel like you do things that aren't true to who you are?
I mean, the truth is, as an actor, you're not the director, you're not the editor—you're not putting it together. You're a piece in the puzzle. As women, I find in general, that that happens a lot—you're the mannequin in someone else's vision. That's what I like about social media, and about having my own company.
I recently interviewed another actress, and we talked a lot about the same stuff. I asked her if she was angry, because she really sounded like she is. But you don't. How is that possible?
I mean, I am angry—I think that anger is healthy. If you're not more than a little angry, you should be. No matter who you are in this country.
Unless you're a rich, white guy.
No, even then—a culture of sexism, racism, classism—that impacts everybody, even white males, and makes them all kinds of fucked up. So, I think everyone should be angry. That's what I say about feminism in general, too—it's bad for men, it's bad for women, it's bad for queer people. It's bad for everybody. That's why we have to keep working to change things. We have to ask ourselves, 'How do we proceed? What can I do to make the world different?' And hoonestly, even if that, for me, just means changing one girl's mind, and having her feel just a little bit more okay with herself, that's more than enough more for me. So, I think that hope, and inspiration, is what pushes me through anger and makes me want to never stop fighting.
As 2018 comes to a close, office is counting down some of our favorite stories from the year. Keep your eye out for more highlights—like our Issue 08 cover story with Princess Nokia—this week.