Mexico City Art Week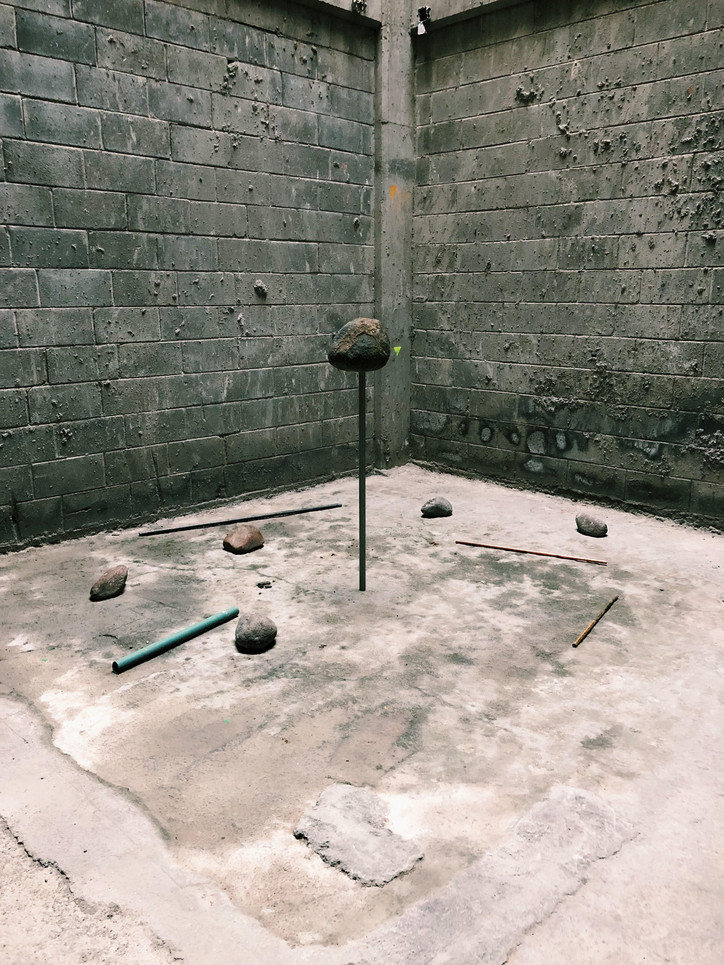 Tezontle & Bruno Albizati
Zona Maco — Peana Projects, Monterrey / New York City & Casa Lu
'Pajaro,' 2019 and 'Intervalo y Materia.'
Mexico City-based Tezontle, founded by architects Carlos H. Matos and Lucas Cantu, is neither an art practice nor an architecture firm, rather blurring the lines between the two and creating something new entirely. The studio itself is a place for collaboration and experimentation, often hosting parties, exhibitions, screenings, and other happenings. Looking back to Mexico City's pre-Hispanic heritage and the abstraction of the Mexican modernists of the mid-20th century, the duo curates found objects with self-made ones. Based on a pre-Hispanic children's toy, Pajaro (bird) is comprised of cast lead on a concrete base delicately balanced via a revolving metal hinge so that the sculpture rotates at the whim of the passerby.
Casa Lu, located south of the city in the picturesque town of Tlalpan, is a residency program geared primarily towards young international artists. Parisian artist-in-residence Bruno Alibzati's solo show, Intervalo y Materia, is worth the trek alone. Influenced by the way mineral surfaces are eroded through time, his work uses materials such as paper, cardboard, charcoal, graphite, and pigment to explore the possibility of creation through the partial use of deletion. The densely textured surfaces are illusory and transfixing.
Julian Charrière & Marie Lund
Material — DITTRICH & SCHLECHTRIEM & Material — joségarcía, Mexico City, MX
'Love-In,' 2018 and 'Grip,' 2018.
Julian Charrière is a conceptual artist whose work is informed by his expeditions to remote, geologically endangered parts of the world. In 2017, Charrière hiked to the base of Tambora, Indonesia, passing through vast expanses of non-native oil palm plantations along the way. Not surprisingly, the palm oil industry has had catastrophic results including deforestation, infiltration of pesticides, and the extinction of indigenous wildlife. Inspired by his journey through Indonesia, the sculpture Love-In is a handmade "lava lamp"— a 1960s icon of counterculture and the peace movement— fueled by viscous palm oil.
Danish artist Marie Lund's undulating copper sculptures are made in collaboration with local artisans from Santa Clara del Cobre, Michoacán, a town ethnically dominated by the Purépecha people who have been working with copper since the pre-Hispanic era. Lund's practice is often concerned with materials and their response to certain forces, such as the transmission of heat through copper. Her signature pieces, including the Grip series, are hung in unexpected margins, such as corners or door frames, and appear to be almost peeling themselves away from their surface, resulting in a palpable tension.
George Rouy and Jesse Pollock & Pavillion of Stairs
Material — Hannah Barry Gallery, London, UK & Guadalajara 90210
'Sour Orange #1-7, 2019'.
This series of seven handmade pots were created by painter George Rouy and sculptor Jesse Pollock during a residency in Merida, Mexico. The vessels are formed in sheet steel, then welded and mixed with charred sour oranges fallen from one of three sour orange trees in the courtyard of their Merida home. The result are pots of hauntingly beautiful form and texture, with surfaces at times glossy and others punctuated with childish drawings of grinning faces.
A building under construction becomes a venue for a collective exhibition thanks to the experimental nomadic gallery space Guadalajara 90210. Spread over three floors of a raw construction site, the exhibition comprises of work from over 100 artists across disciplines, including architecture, contemporary art, and industrial design. The outcome is a surrealist sculpture park where one can't always be certain what is installation and what is simply some exposed electrical wiring. Scramble to the rooftop via a rickety fire escape and be rewarded with a replica of Barragan's Torres de Satélite and views of the surrounding colonia Santa María La Ribera.
See dates for the next Mexico City Art Week here and here.
Lead photo: Pavillion of Stairs.