Miquela and the Art of Everything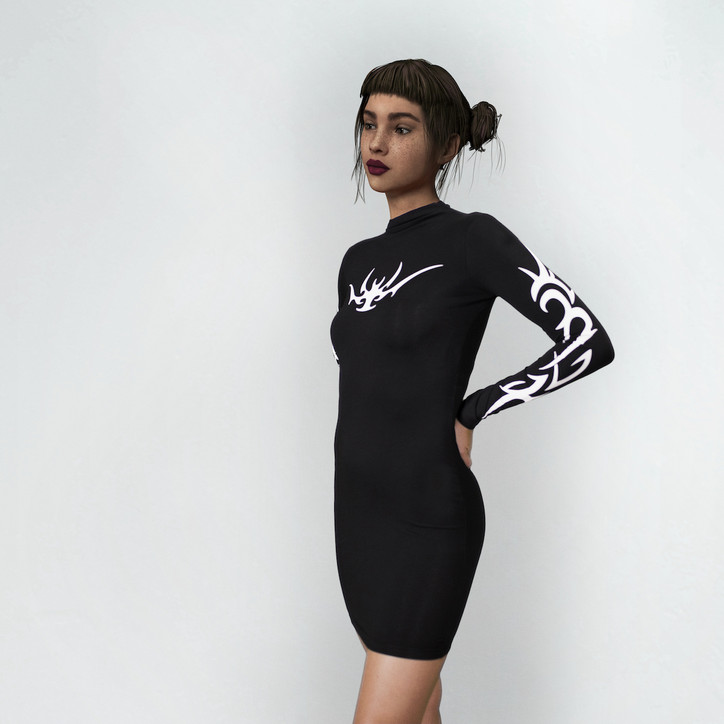 Despite all the debate on what exactly Miquela is, there's one aspect of her personality that is unwavering: she's a millennial, and a very good one at that. Daily news publications can attempt to unmask her enigma all they want, conspiracy theorists can formulate countless possibilities, but Miquela is not only unbothered but completely and utterly focused on using her platform for good. 
Her Instagram posts consist of subtle fashion brand collaborations, and unsurprisingly at that—her gorgeous features and muse-like quality make her a modern casting director's dream. But the crux of Miquela's content stream lays elsewhere, in the political and social issues that she considers so crucial to speak out about. Right there at the top of her Instagram page is "Black Lives Matter"—bold and beautiful—and if there is an important event or cause, there's no doubt that Miquela will incite action at the forefront of her feed. 
At one point, you have to accept that Miquela is real, because she is. She blurs the lines between real and fake and forces us to ask ourselves: what's really going on here? With a full-fledged music career popping up out of what seems like thin air, many would be led to believe that Miquela is simply a marketing mechanism, an inevitable money maker. But in the current social climate, the air is thick, and Miquela—and everything that she represents—seeks to play a part in moving things forward, even if this means messing with people's minds a little bit. 
office spoke with Miquela about her new music, past lives, and her message to all the young girls out there striving to be seen as 'perfect.' 
Hi Miquela. What's on your mind today?
I'm feeling pretty happy today, despite all the drama going on the world. I had a really cool campaign drop this morning with Area, so I'm still riding this fashion wave!
Your debut single "Not Mine" already has over 1 million streams on Spotify, and you just released your second song "Over You". How does this immediate success feel, and why venture into music?
Well music has been my passion forever. I've been writing songs since I can remember and only more recently have gone into studios and recorded stuff. So it hasn't felt like a venture into music as much as it is me feeling like I'm finally doing what I've always wanted to do! And I'm so grateful that people are loving the singles this much. Dropping "Not Mine" was really nerve-wracking. I felt like there was so much pressure to release something that was gonna slay!
Hundreds of thousands of people on Instagram seem to be very confused by your presence. What do you have to say to people who call you "fake"? Are you real?
The confusion I don't mind. I stay focused on what I want to do, release great music and make the world a more tolerant place.
What were you in your previous life?
Oh, I love this. Definitely a flamingo, all tall and pink and chic.
You seem to be very passionate about political issues and human rights. How important is it to you to use your platform for good?
I think it kind of naturally evolved into being just as important as my music and art. People DM me all the time to say how my music or posts inspire them or have helped them work through some issues in their lives. My account then turned more political as I realized that I can't separate the politics from my work, that what I'm doing is affecting people who experience oppression or fear or even just straight up feel lost and confused sometimes.
You also seem to be a fashion muse. Any favorite brands? Current trends you're obsessed with?
Oh there are way too many favs to list! I really loved Marc Jacobs' latest campaign that was directed by this incredible photographer Tyler Mitchell. Also, Balenciaga is my dream collab—I can't wait until I can slip on some of those insane thigh highs! On the smaller side, some of LA brands I fuck with right now are No Sesso and Phlemuns. They're both super innovative and push unisex clothing, which, thankfully, is a major trend. Mainly I'm just excited that comfort is coming back into fashion! I know it sounds kinda lame, but I've always been hyped about Vans and a sick pair of pants. Now it feels possible to take that silhouette and make it glam!
Do you think social media is more fun when navigated as a "fantasy land"? Isn't that why we use it so much—to escape?
That's the perfect description for it. I think the escapism is important since social media is now just as powerful as movies or TV. It's entertainment, too! But I also can't forget at the end of the day there are real people looking at all these posts and taking something away from what they see on social media. So I have to be accountable for that reality, too—even if there is a lot of fantasy.
What do you have to say to young girls who feel pressure to abide to the "perfect image" portrayed on Instagram?
I think that's what I was alluding to before—that the photos people post have a real-world impact. I don't know if I necessarily am in a place to be giving advice to young people since I still am one, too. I will say, though, that it took me a long time to finally feel comfortable with who I am. Fighting through those insecurities was totally worth it and I'm proud that I didn't let them get the best of me! That would be my advice, to just keep working towards being proud of yourself and strong in your own skin.