Miwa Susuda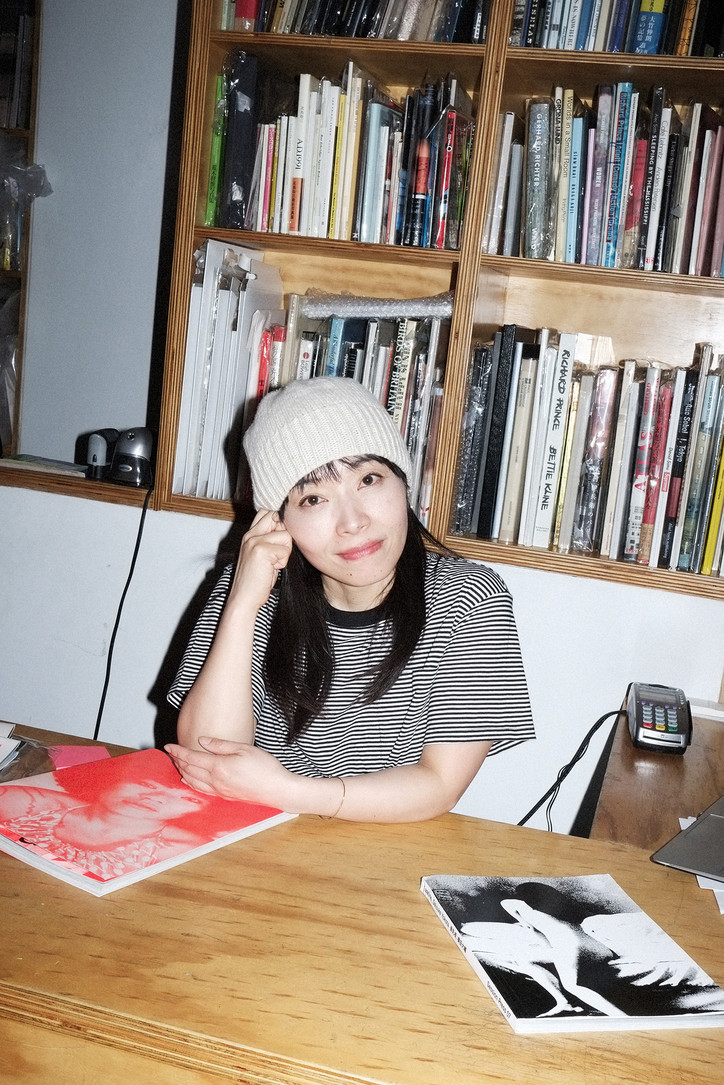 How long have you been in New York?
I moved here to do curatorial art studies at FIT twenty years ago. After graduating, I worked at Christie's, the Japanese Society and Brooklyn Museum, but in order to get a Green Card, I ended up taking a job at a lawyer's office. But I couldn't stop thinking about why I had come to NY in the first place—to pursue a career in the art world.
So you quit your job at the lawyer's office?
No, not a first. I started working at a gallery in Chelsea only on weekends, and after a few months I saw that a position was open at Dashwood and joined part-time in early 2006.The bookstore opened in September 2005, so I've been there almost since the beginning.
Besides Dashwood, you also run your own publishing company?
I founded Session Press in 2012 and have nine books so far. The latest one, Red Flower, The Women of Okinawa by Mao Ishikawa, consists of photographs documenting the women Mao met while working in military bars back in the 1970's. Mao's work is rare and I highly respect her as an artist.
Is there a common theme in the books you choose to publish?
I like any work that stands out for its uniqueness and honesty. I enjoy challenges— it makes me feel alive and awakened. I appreciate negativity and difficulty in life since we wouldn't be positive and comfortable without [that]. I don't get along with people who are too smart and logical. It's okay to be stupid, wrong and miserable. It's ok not to be perfect all the time.
The images are beautiful, and I love the layouts. Who designs your books?
I try to change the design and format of each book I make. I work with a bunch of different graphic designers: Studio Lin, Geoff Han, a few others. It's important for me to work with people who have more advanced skills than me, and whose tastes are striking.
How do you decide what photographers to collaborate with?
Working at Dashwood for over 10 years has introduced me to so many great artists and photographers. David has been a fantastic teacher, and I really admire his taste. He doesn't care about what other people say. With the Internet, we are exposed and have access to so many images, and it's very easy to just follow what major fashion magazines say is cool. But David doesn't mindlessly follow trends like that. He just uses his instincts. It sounds easy, but this is a skill that only real visionaries possess.
Of all the books you've published so far what are your favorites?
I really love Taratine by Daisuke Yokota. When I finished it, I felt like, "Okay, I can die tomorrow." That's how happy I was. Bible by Momo Okabe also means a lot to me. Her work is not about being perfect or beautiful. I don't try to intentionally provoke people, but it has to leave an impression. I want to take risks. I don't want to publish something that's just okay.
I'm very proud of publishing Athens Love by Ren Hang. Ren passed away earlier this year. I miss him very much and think about him every day.
What other releases do you have planned for 2017?
My next book project is with Nobuyoshi Araki in collaboration with Dashwood, and we are working with Geoff for design. I met Araki for the first time last summer in Tokyo. He invited me to his favorite bar in Shinjuku and bought me a mojito. It turned out that we grew up in the same district in Tokyo called Asakusa. We immediately bonded over this and within a few minutes, Araki said, "You can do my book".
What is the Araki book about?
It is a set of two books based on two Araki movies. Not that many people know about his movie career, but he did some amazing very experimental movies. Blue Period and Last Summer were released in 2005, based on his live performances in the 1980's involving his photographs set to music. Araki used two slide projectors to create a sequence of overlapping images that faded into each other. The Arakinema performances were staged art institutions around the world until the mid-2000's. The book will consist of 142 original scans from the movies. I hope everybody will love our book!
Are you doing a signing at Dashwood?
Unfortunately Araki is too ill to travel, but we are planning to show the films at the release and we are currently talking about collaborating with other companies and art institutions—hopefully we can introduce his book some later this fall.
Keep an eye on all of Miwa's endeavors here.