Sign up for our newsletter
Moonwalk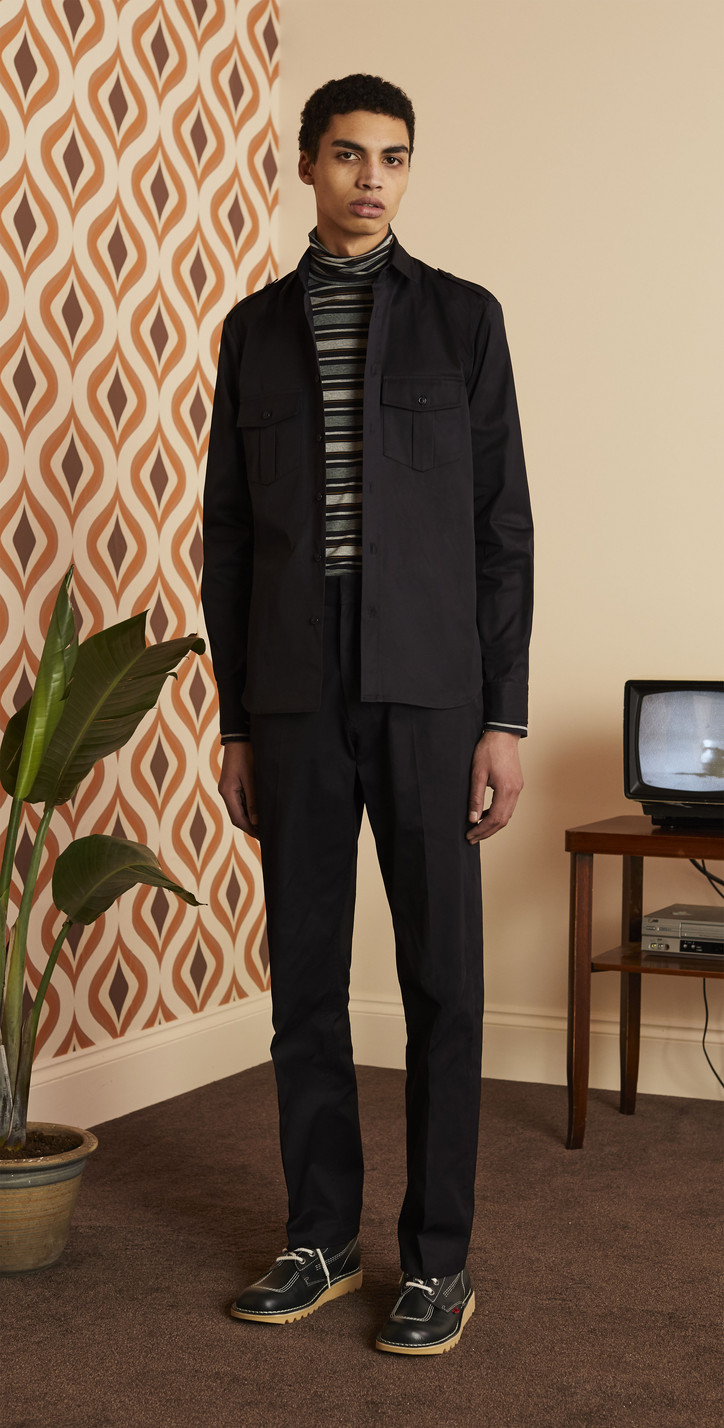 Peep our favorite looks from the collection, below.
Photos courtesy of the brand.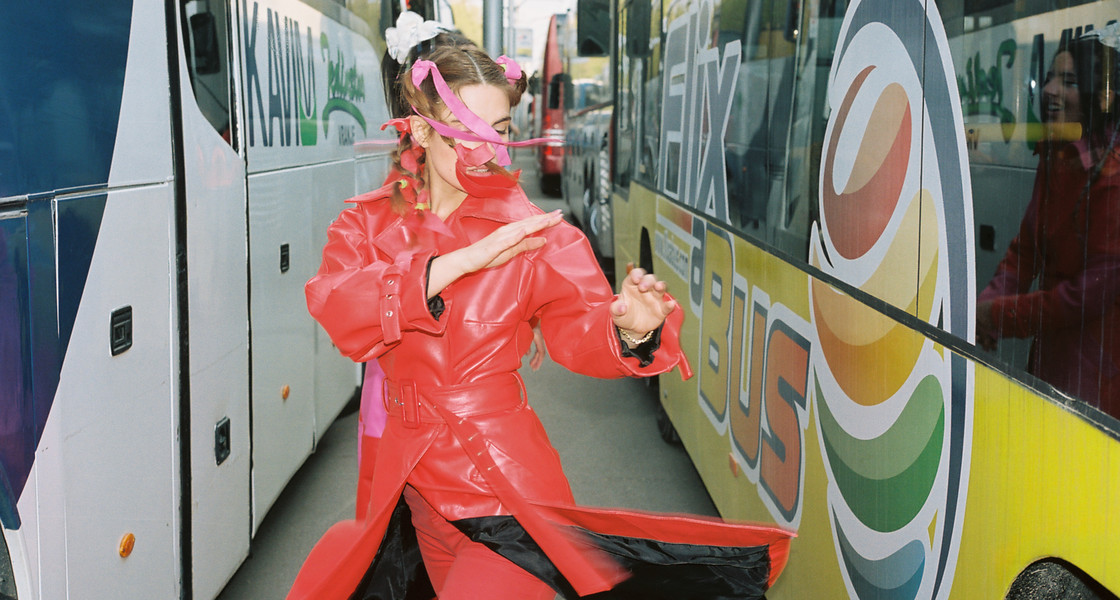 K.O.
How does this editorial channel the spirit and flavoring of Serbia?
Katerina Soskic It's easygoing, fun, and spontaneous. It was also chaotic, intense, and unpredictable.
Ana Kras The shoot is just us having fun on a very normal, average, weekday. That sums up Serbian spirit very much—you don't have a lot, you don't want a lot, but you have that very moment and it's up to you to have fun within it. It's very spontaneous how life happens there, it's my favorite. Time doesn't matter, mot much matters, actually—it's all about interpersonal relationships and good times.
Jovana Markovic The understanding that comes from people with a shared history and backrgound, and the level of mutual understanding that comes with that. 
Sanda Simona We were quite lucky to capture an interesting moment that was going on in Belgrade that day because there were some pro-government demonstrations going on. There were many people that came with buses from many different places in Serbia to support the Serbian president and his politics, and they all parked in the same boulevard. Of course, I am deeply against what he is doing for Serbia at the moment, but the line of buses was a good scenography for our photoshoot, so we used the moment.
What makes fashion such a potent medium for capturing cultural identity?
JV For me, personally, I view my designs as an exrension of personality, a means of expressing mood, creative spirit, and overall expression. I believe fashion is a visualization of a cultural expression as well as a means of connection between people⁠—pIt marks an identity that helps us recognize each other in our cultural context. 
AK The fashion industry—so wasteful, so exploitative, not questioning, uninteresting, repetitive, obsessive, manipulative, so powerful. The vast majority of people feel very insecure and are very concerned about their appearance, and fashion makes big bucks off of this vulnerability. It's a bottomless pit, as no one actually ever feels better buying clothes—the fashion industry is definitively capturing the cultural identity of the world and it's big identity flaws. On the other hand, fashion, what people wear, is interesting, inspiring, free, and beautiful. It's definitely shows cultural identity of particualr place or time and it's flavor. But fashion is a potent medium because people care about it and follow it religiously, and because poeple are so influenced by it, I guess like a religion of a kind. 
KS On a large scale, fashion is a huge industry that draws inspiration from any unexploited so-called "exotic" areas and turns it into products. On a small, intimate scale, dressing up and everything around it, I see as a multi-layered channel of communication. The endless amount of combinations of information and misinformation that we provide about ourselves through our style I find to be super exciting. I very much appreciate designers who create out of his or her awareness of these two aspects and operate responsibly within the zone in between. As a photographer I often see fashion as some sort of a very intimate shelter inhabited by the individuals that I photograph. In this way, even fashion photography turns into a portrait, and I enjoy that.
Describe the characters you play within the spread.
SS Well, I was obsessed with gaming as a kid and I would spend days and hours playing video games, so my female heroes were combat girls like Chan Li from Street Fighter, Katana from Mortal Kombat, Rebecca from Double Dragon—I always joke that most of my childhood I spent as Rebecca. 
AK My character was a BJ girl—BJ stands for Brace Jerkovic, my hood in Belgrade—who got her Nike stolen off her feet many times coming home from school in the mid 90's. She loves motorbikes, burek, basketball, girls, and boys.
What was the concept and creative philosophy behind the shoot?
SS For me, the idea was to roleplay as your favorite heroin, to go out the streets of Belgrade and just have fun. It was about celebrating the badass female gaming characters who have changed the conventions and dynamic of the world of gaming today—I call them virtual feminists. We're all over 30 as well, so the shoot was also about demonstrating that you can still have fun in the same way you did when you were a kid.
KS Sanda was into nineties video games and Ana had this obsession with motorbikes. The palette and fabrics of Jovana's garments made these two themes come together easily. 
What does it mean to be able to create with friends who share your heritage? What riole does this kinship and shared heritage play within the shoot?
AK There is just this way about our friendship that I've never found anywhere else in the world. It's very natural, very close-feeling, very instant—there are no walls in between. There's this deep, familiar feeling because we share all of these particular references, as we all grew up in a very specific moment of this country's history. Katarina is one of my oldest and closest friends—we basically don't have to talk, we just know. Living far away and using a language that I learned to speak as an adult is a daily compromise as well as an acceptance of the fact that no one will ever really know the real me, with all the subtitles that can't be translated to English. With my Serbian friends, I feel 100% myself in the most natural, easy-going way. There's an ease, a transparency and fun that I cannot get anywhere else, like as if nothing ever gets lost in translation. 
KS It gives the flow, we laugh so much. It means a lot to be able to read gestures and thoughts without saying anything. Most of us live elsewhere, and these moments where no translation processes are involved are so rare, so pure, so beautiful.
We're Going To Grimsby. We're Gunna Get Married.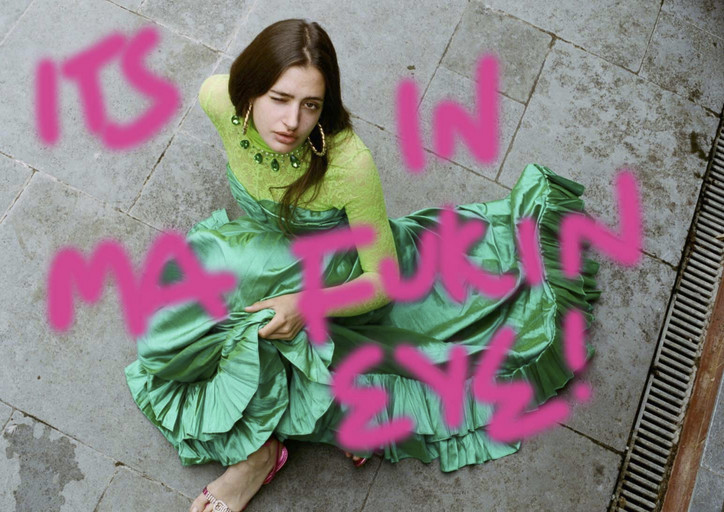 Now, two years after her first editorial, "I Blew All My Wages On A £500 Burbury Handbag," Jones has lived everywhere from Manhattan to Manchester, but now resides in London. She describes herself as one of the few who have "gotten out" of the dour, mirthless place that is Grimsby, England.
However, despite the severity of Jones' hometown, there is a part of her that still yearns for the uncomplicated life that Grimsby offers—the simplicity of letting go of the constant struggle of a career in art and fashion and moving home to get married and start a family. This is a choice Jones admits she grapples with often, and this latest editorial pays tribute to that desire.
The culmination of these inspirations results in a coarse glamour in Jones' work. The model is dressed in chiffon and lace of vivid greens and pinks, marrying lavish fabrics with chunky, 'tacky' jewelry. The photographs are defaced with comical neon graffiti phrases Jones had overheard—phrases that depict the rough culture of the town itself. As a result, we get a picture of the crass bride Jones herself often lusts after—the one who gets hitched in Grimsby, who owns and colors the streets of the bleak town in which she struts.
Color Code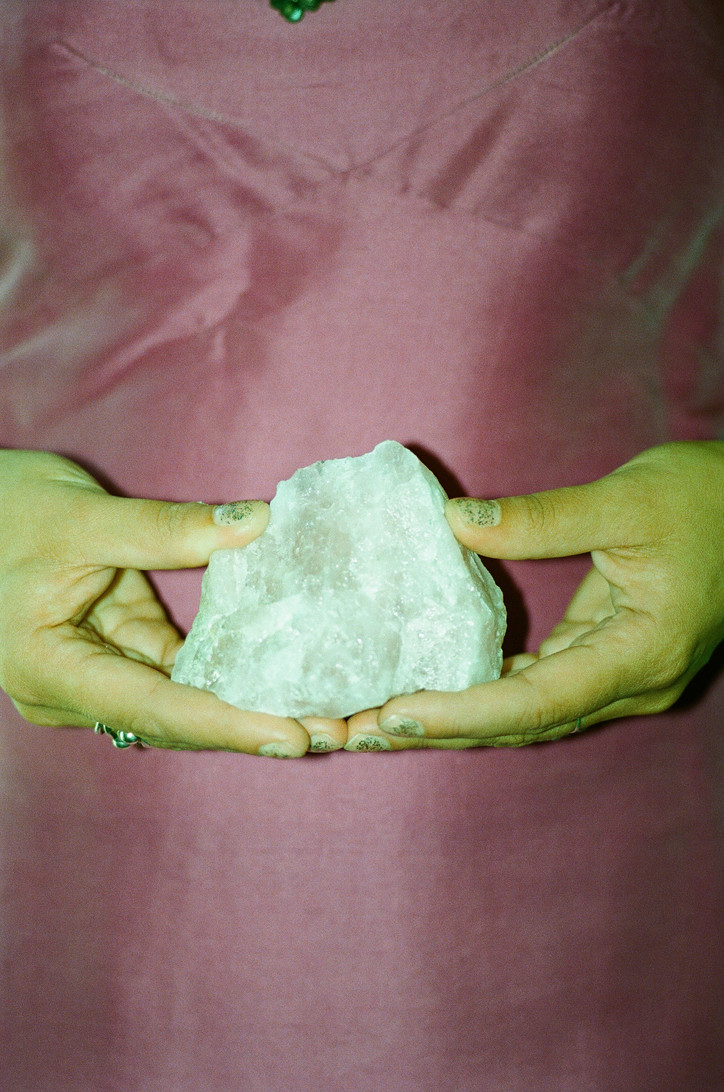 Merrick's earliest super-visual experiences come in the form of tinted luminescent orbs, seen during road trips in the family car at the age of four. The daughter of an intuitive mother and a father who was a preacher in the church, Merrick saw hues throughout her childhood in the veins and anatomy of her eyes. Later on in early adulthood, Merrick suffered from halo migraines where she would see discs of color radiating from people and objects.
The fact that women have a distinct advantage over men concerning the discernment of color differentials has been well documented by scientists, with one popular theory stemming from the traditional gender duties of male hunters vs. female gatherers. Some people, mostly women, are even considered tetrachromats—a condition describing anyone with "superhuman" color discernment who are born with a fourth receptor in the eye (the normal number of receptors is three). Merrick thinks she might fall into that category: "I believe I have more receptors than most, and that's why I'm able to sense and see the way I do."
Sensory perception, as one might assume, is integral when it comes to aura reading. "There are two massive theories we understand about color: either color exudes energy and we experience it and see it, or color absorbs everything except the color we see," Merrick explained, "which is generally the more popular theory. Color comes from so many natural things we have in this world, like bugs—there's energy still coming from that."
Above: Susanna Merrick gives the author a reading and closet cleansing.
Visual advantages aside, intuitives and people with extra-sensory gifts are prone to excruciating migraines. Part of the reason for that, Merrick thinks, is due to information overload. But she doesn't limit the explanations of her intuitive senses to just visual advantages. You'll find a lot of information on the web about women's intuition and whether it is or isn't, but Merrick strongly believes in the tie between her intuitive abilities and moon cycle.
Merrick explains: "During the follicular phase, testosterone is high and estrogen is low—you have good ideas and energy and creativity but your intuition is at its lowest, and you're out of sync with emotions. Ovulation is when you're more balanced and in tune with your body, and then your egg drops—and shit hits the fan; that's when you get PMS. But for me, that's when I'm most intuitive!"
Whether you experience a menstrual cycle or not, colors affect all of us all the time. Merrick uses her extra-visual and sensory abilities to guide clients in their own personal color and energy journey. "I use the gifts I have to tune into someone's energy and explain it through color—color is just a tool. For instance, green can mean stress but if the energy is different it could mean something else." The differences between shades of color can mean multitudes, and an intuitive reading gives much more insight than a photo from Magic Jewelry. "Aura photographs give you a very specific shade and I don't see that. I see those different shades."
Merrick advises her clients on when to wear color, why to wear color, and how to reflect their own personal energy through style. Her readings tap into what's happening internally with the client so it can be reflected on the outside. One service she offers, the "Closet Cleanse", serves as much more than a simple wardrobe clean—a service I experienced first hand when Merrick visited my Brooklyn apartment for coffee, cherries, and some light philosophical discussion on religion and perception.
With little reference as to what to expect other than styling shows on TLC I used to watch as a teenager, Merrick walked me through her standard color and style consultation process. Take your basic closet cleanse, for example; a stylist will pull out items in ones closet and assess from there. "I was really trying to connect with clients," Merrick reminisces of her old closet cleansing sessions, "but I found that those who were out of line with their energy because of a divorce or breakup or something major would have this issue with themselves and as a result hated everything in their closets—and I can't fix that." In stark contrast, clients going through exciting life changes, or those who were otherwise aligned and happy, were much more fun and experimental. Now Merrick encourages people to get a reading first.
My reading session consisted of an explanatory review of two previous aura photos—each taken a year apart—plus an energy and color card reading. Both of my aura photos are radically different: the oldest is a starkly aggressive bright red (taken at the beginning of the work day on-site at a previous job, a high-stress production based position) while the newer photo is a rainbow portrait with yellows, reds, and turquoise blending together in a counterclockwise swirl. "This is more along the lines of what I see," Merrick explained.
It's true that our dynamic aura—the energy being put out in the moment—is constantly changing based on a number of factors such as stress, partners, and other influences. However, we all have a static or intrinsic aura, which for the most part stays the same. Merrick's insight concluded that my intrinsic aura was yellow, but becoming increasingly turquoise. Merrick explained that this shift demonstrates a transition to a different life phase; that while I was a purer yellow aura as a child (yellow is often associated with creativity and intelligence and, she noted, many writers have yellow auras), my energy was shifting more to a turquoise blue as an adult—a color indicating communication and education.
Above: Susanna Merrick explaining her reading; the author in one of Merrick's completed looks.
After the initial reading, Merrick drew four energy cards for me. The purpose of this energy card drawing is to map the flow of energy in different aspects of our lives, and to explore what type of fluctuations are being experienced. Then, Merrick gives counsel on how to navigate those changes. My cards, predictably, were incredibly transitional (I recently quit my job, I have basically no routine, am constantly bouncing around 7 half-baked business ideas, and am feeling generally stuck in most decision-making affairs). The reading was helpful as it reflected what I already knew was happening in my life, all while giving me the agency to look at those things with the help of a translator through an objective lens.
Once the readings were complete, we moved on to the styling portion of the consultation. While one might be inclined to think that the "closet cleanse" portion of Merrick's service would be the star of the show, I found it to be more of the necessary send-off, a translation of the insight she had just given during our reading. Merrick took command of my closet as she pieced together two main looks based on our discussion of my energy and needs: the first, a powerful "creative-in-charge" look, pairing a favorite chartreuse button up with black wide-legged pants, while the second encapsulated a sexier, daring and incredibly bright pink blazer and purple dress combo that she spiced up with my grey straw beach hat and a tribal necklace. I would have never put those outfits together myself, but the confidence Merrick instilled in me with the combinations left me feeling powerful, energized and incredibly stylish.
The fundamental goal for Aura Wear is for people to understand the science and the spirituality of intuitive services, tapping into how they operate and why, and how to manifest positivity. Merrick admits that, however, oftentimes people just don't seem to understand what she does. "I don't believe intuitive is a fad that's passing. There are intuitive hairstylists, tattoos, doctors. I think it's a new platform for holistic care. People think it's so outside the box, and as someone with innate magenta energy I'm like, 'No it's not, this is normal!'"
As with any service that requires trust and any type of faith whatsoever, not everyone is a believer. Often at events and gatherings Merrick finds herself explaining ad nauseam exactly how and why she is able to perceive and translate auras. "I always have to tell people that I'm not a magic 8 ball. People always think what I do is a magic trick. It's not that way—it's about the here and now."