Myles Hendrik <3 LA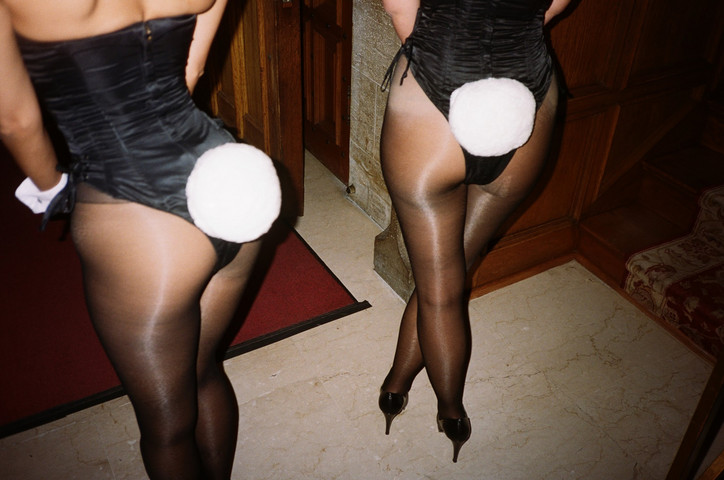 Under the smog-diffused sunlight, it's a city perpetually ready for its unglamorous close-up, with accidental storefront pop art and 80's era signage everywhere you look. Always equipped with a pocket-size camera, Myles Hendrik captures the washed-out beauty of the place he currently calls home in dreamy photographs of parties and landscapes. 
A DJ and producer who has worked with the likes of Kendrick Lamar and The Kills, Hendrik landed in LA 14 years ago after spending time in New Zealand, Australia, Asia and Europe. He began shooting as a kid, when his father gifted him an Olympus 35mm in an attempt to pull him away from his noisy drum set. It kind of worked, because he fell in love with photography as an artistic outlet, but he didn't completely abandon music. Now, he says, his processes in both art forms influence one another: "In songs I see images, worlds, and in my photography I see music, stories," he tells me.
His recent exhibit at the Maxfield Gallery, "Dreams of L.A." is a sweet tribute to the strangest city on the West Coast. Curated by Holly Purcell (of FF-1051 Gallery), the collection shows love for the surreality that's just life in Los Angeles. While it's long been a city caught in cold deadpan compositions, Hendrik frames his images with a quiet warmth. The show, he says, "is essentially my love letter to Los Angeles. I'm telling her that I see the beauty in all her angles even when buried eight layers deep or fifty feet into the sky, held by hopeful palms, squeaky fluorescent signs... I see it, I search for it. All her invisible stories, her invisible prairies."
Here's everything else Myles Hendrik has to say about LA. 
What's your favorite neighborhood to shoot in?
Los Angeles is such a beautiful heaving beast a millions layers deep, and even though I've lived here for a minute I feel I've barely scratched the surface, so I don't really have a favorite neighborhood I like to shoot in. All of my photos come from spontaneous moments that are just presented as if the photo chooses me and not the other way around. Yes there's framing and composition, but it's as if I have no choice but to take the photo. 
Best memory that you've captured in "Dreams of L.A."? 
All of the pieces have special memories, thoughts attached, how I see myself in this city… But I guess if I had to tell one story: "Rare Relief" is a photo I took at the end of party I DJ'd with Mike Will Made It and Ty Dolla $ign. We played a fashion party in an old motel on Hollywood Boulevard and I took the photo in the greenroom we shared. I snapped it after everyone had pretty much left. The magnums of champagne, the half-eaten In-And-Out burger, the weed container encapsulated so much to me, a real Los Angeles moment on multiple levels. It couldn't have been staged better, so it demanded to be taken. 
You've traveled and lived all over the world. What's special about the sights and scenes here? 
Los Angeles is such a misrepresented and wildly misunderstood city, so often distilled and trivialized into the postcard version, the miniature Hollywood Sign fridge magnet. And we just forget what she really feels like, what she means to us all in her wonderful myriad of ways. The real moments are drowned out by the fabricated, the more easy to digest surface ones that help sell the sneakers. So I think when you finally see something honest and sincere that speaks to the stories, the hope, the hounding pull of romance, it's like a lightbulb going off in your head. But it's a lightbulb you've always had, you've just forgotten to turn it on a little while. So intuitively and through my love of this city I'm trying to carve out all the angles that have always been there, the ones simply passed over. 
Why do you stick with a small camera? 
It definitely allows access that the large formats aren't afforded. Whether that be shooting inside a tiny diner in the valley and not being quizzed (or denied) on why you're taking a picture of the bar stool, or the waitress's notepad, or capturing a real moment with friends that would've been missed with something more threatening in size. The camera never interrupts the conversation, the story, and more importantly it never becomes the the story.