New York Art Book Fair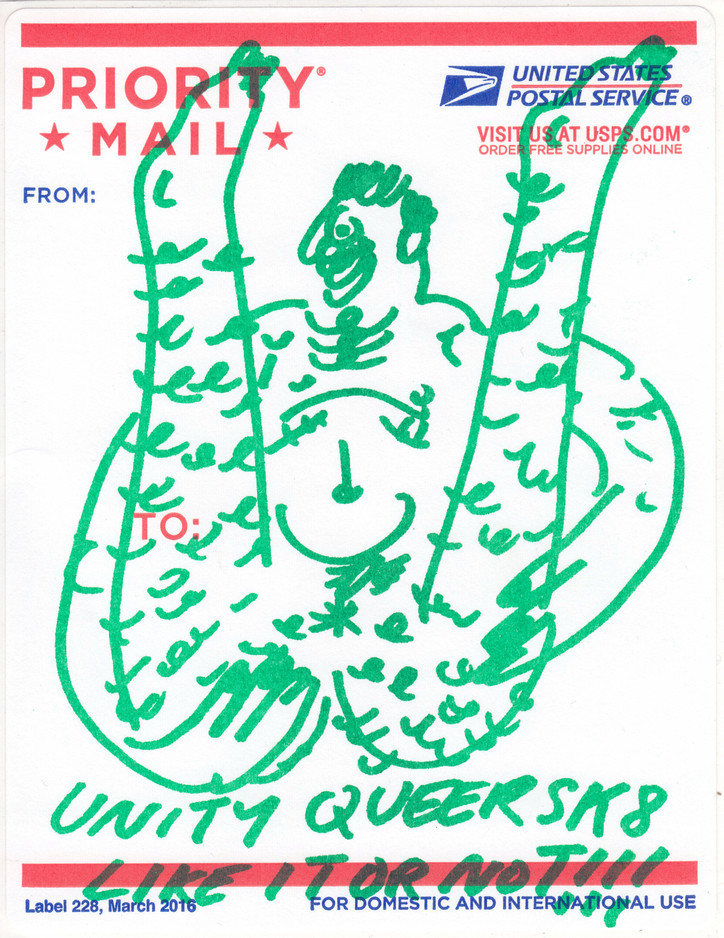 Peep some of our favorites, and be sure to come by the office Newsstand for more goods and goodies.
UNITY
The queer skateboard collective hosted a table of t-shirts, boards and Riso-printed zines including Chomp, The Anonymous Sex Journal and Fag School. Expressing UNITY's mission statement, table host Noor summed up what we love most about the fair as a whole: it's a event that's "cool, genuine and for the people." 
Jo Rosenthal & Friends
NYC-based artist Jo Rosenthal curated a table with work from her talented group of friends, including Rachel Wark, whose palm-sized puppy sculptures made of organite had us feeling balanced AF amongst all the creative chaos. And of course, shoutout Jo for the dope toucan drawing from her series of illustrations.
MATTE
Artist Matthew Leifheit shows the latest issue of his self-published magazine MATTE, with the theme Best Students 2018 Anthology featuring work by students from top photography programs at Yale, Parsons, Pratt and SVA.
Coloured Publishing
This LA-based group is pressing a lot of the buttons that need to be pressed in our current socio-political climate with titles including No N-Word, I Don't Wanna Sound Racist, But…, and enamel pins with the words 'FUCK I.C.E.' in big bold letters. Buy one for the whole family!
Manufactoriel
We've been fans of this Africa-based collective for quite some time, through their almost decade-long presence on Tumblr. Their table at this year's fair offered a variety of art prints and zines, including Life Scenes, a visual essay portraying daily moments in Cameroon through a popular urban language called 'Camfranglais.'
8-Ball Community
The deep-rooted zine and radio collective took us to the classroom at PS1 with their large-scale History Of Zines installation in the museum's basement coupled with their table featuring standout titles including Femme In Public, Prison Survival and False Solutions to Climate Change. We happily purchased one of their logo'd hand fans to stay cool in hallways.
Water With Water
It's impossible not to be drawn in by the printed graphic design work from Doha, Qatar-based collective Water With Water. Led by students, the table showed screen-printed hoodies and stickers alongside zines with experimental artwork based around Gulf culture. Get the one that glows in the dark!
Sun
The bi-coastal publishers had us clearing out closet space for hand-designed t-shirts by artist Anthony Tafuro and shelf space for Don't Piss Down My Leg And Tell Me It's Raining by Corey Presha.
Dashwood Books
Our favorite subterranean Bond Street shop filled their table with visual goodies including office Issue 09 contributor Nick Sethi's latest book KHICHDI (KITCHARI) and Isabella Burley's SISTERS by Jim Britt, 1976 which tells the story of the titular photographer's 1976 portrait of his daughters which would go on to become a pioneering ad for Comme des Garçons in 1988.
3 Dot Zine
Making inspired use of an entire room inside the museum, 3 Dot Zine founder Devin N Morris shows his publication alongside a curated selection of work including SUMMA TIME by Khari Johnson Hicks and the Free Black Women's Library - a mobile collection of over 1,000 books written by Black women.
View more photos from the NYABF below.
The New York Art Book Fair is open now, until September 23.