Nice to Magritte You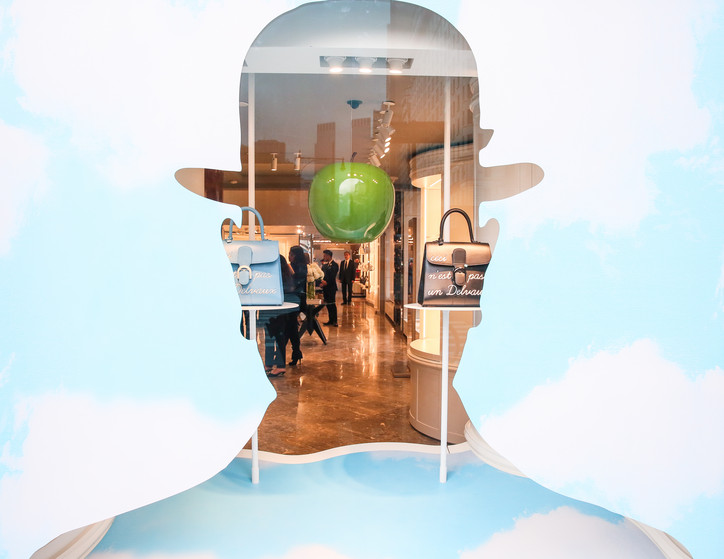 I had never before heard of Delvaux, but like any small luxury fashion house, it was appreciated for decades by the few and the proud. Their accessories are simple and sweet; the brand's stylistic sensibility seems informed by an impulse similar to Magritte's approach to painting: quiet, cheeky, personal, and elegant. These are not merely bags with images borrowed from the legendary surrealist master, but gateways to the dream world that Magritte built through his work—little vessels intended for a picnic among the clouds, or a sojourn to an enchanted faraway city.
I met with Jean-Marc Loubier, Chairman and CEO of Delvaux and their enthusiastic spokesperson. In a way, he resembled Magritte the man, minus the bowler hat: a fastidiously dressed Belgian whose sober features are offset by a wily twinkle in the eye. The Artistic Director, Christina Zeller, was fabulously-garbed in a black gown that ballooned around her, and which she appeared to feel quite natural in. She pointed out an imbedded joke in the use of Magritte's apple portrait, which was that it was an ironic poke at the Apple store just next door. These kinds of folded-in bits of unexpected fun are part and parcel to the brand, and both Loubier and Zeller spoke with a light sense of aesthetic satisfaction in regards to these playful elements, a little chuckle always on the tip of their tongues.
In collaboration with the Magritte Foundation, the store will be displaying five of Magritte's drawings—works in progress that are displayed in a small jewelbox of a room tucked away on the second floor. Magritte enthusiasts take note: the works will only be on display until this Friday.
I spoke to Jean-Marc Lubier, Chairman and CEO of Delvaux, about this fabulous little exhibit, the collection, and Delvaux's first location in New York.
So tell me about Delvaux.
I bought the company in 2011. It's a Belgian company, and it's very interesting, because in the world of luxury which is now very well-established, in fact we have something special to say. We are the eldest one in terms of leather goods, founded in 1829, we are from Belgium which is very rare—we are not French, we are not Italian—we have been in activity, always, since inception, and we did invent the leather handbag. We made the first pattern in the world in 1908—so we are an inventor. We manufacture our bags, we have three factories, one in Belgium, two in France, and a very small network of shops, 43, and all the shops I do differently, I never repeat a shop, it's very different, and I love an iconic location. This one is a very good example, in New York we are on 5th Avenue and the corner of 59th, and it's more than a shop, it's a landmark in the city, any New Yorker knows it, you come to New York and you see it, so you see to me the location is very important—and when you are here, you belong to the city, and the city comes to you. It's very pleasant even just to sit here. This location, we are only the second tenant for 70 years.
Who was the tenant before?
La Vielle Russie, it was an antiques and jewelry store. So we built with our own story here. It's mixing our story, our background, with New York. For example, the chandelier comes from a Flemish church in Belgium, the carpet on the staircase is the Belgian flag—black, yellow, red.
So you're really interested in the location.
Yes, and also mixing, so people have something to discover. That's very important. That brings us to the collection, the partnership with the Magritte foundation—it's about Magritte, but it's about Delvaux. How to play, to entertain, with that, knowing that one is a painter, an artist, and the other one, we are industrialists, which is very specific. Many people do collaborations, but in fact they stick things together, we don't want to do that, we want to integrate. We can do that because we're applying that to our core activity, the kind of bag we do. Magritte is from Belgium, which is one more reason, and it's surrealistic, so there's the idea of surprise—what you see is not what it is, you're playing with the eye, with the appearance. Being very visual there are elements that could be gimmicky or interesting, and we play with these elements in a fun way. Let me show you. (Shows me a wallet) We have a cloud, (removes inner section) then you have a bird. It's playful.
It's almost childlike.
It's playful, it's pleasant, you play with it with yourself.
I love the 'Ceci n'est pas un Delvaux', that's so iconic.
That's from Magritte, actually.
Above: 'The treachery of images' 1925, and 'The tomb of the wrestlers' 1960, both by René Magritte.
Of course.
So here we have the men's travel bag, and the way we've applied it is you have the key hole, so you open the door and you travel. So we don't just take the imagery of Magritte, we give a sense of storytelling, we don't just stick an image on a bag. There is consistency, and you don't have to say it's Magritte, you discover things along the way. So on the lining of the travel bag, you have the famous motif of Magritte on the inside.
So the nods to Magritte are actually really subtle.
Exactly. And playful. It's light.
I love the bowler hat.
And given that this location, I think, is exceptional, we can present with credibility masterpieces from Magritte. You have 'Ceci n'est pas une pipe,' 'This is not a pipe,' because it is a drawing. He plays with that several times.
'This continues to not be a pipe.'
Most of the pieces we present are works in progress—so that's a choice we made, because the project we have with the Magritte Foundation is also a work in progress. So it's easy to present paintings, etc., you can go to a museum. Here, we needed to give an angle, a point of view, and our point of view is proximity but also we're developing, so that's why this choice of masterpieces. One plays with the idea of Botticelli, this one actually belonged to Rauschenberg, the very famous American artist. So there are always several steps to get to what we do and the way we do things.
There's so many layers.
That's what we like. That's why I don't think we do the usual sticking things together. We try to go a little further.
It's almost like you were trying to think like Magritte.
We were trying to enter his world, and also to make a bridge. Voilà.
Is this one of the man a reference to something as well?
That was a sketch from a Renoir. In Greek mythology the woman comes from the man's leg, so he plays with that, the women here comes from the piece—it's funny. So in the catalogue you can see the final pieces, you can see the evolution. But we wanted to show works in progress because it allows the imagination to go down a different path. At Delvaux, we are not a museum, so I think it's important to stay to what we belong, so we're just helping people to imagine. So they look at the Magritte, they look at what we do, and they can take a little piece of the dream.
Above: 'The ready-made bouqet' 1956, and 'The cut-glass bath' 1946, both by René Magritte.
It's like fashion with a sense of humor.
We hope so. But our fashion never goes out of fashion—because what do we do? We do classics. In Belgium, you have a family where the great-grandmother, the grandmother, the mother, the daughter, the granddaughter, they have the same bag. So that's also very interesting. We are classic—but classic is not being boring, not being conservative, it's just always belonging to the time because you move.
But also not belonging to the time as well.
You are moving all the time, you are not stuck.
Do you think Magritte is like that?
I think so because there are many different ways of reading Magritte. It's very simple when you see a cloud, but then you have the key, it's the layering. So 'Ceci n'est pas une pipe'—that keeps not being a pipe. So you read different things—it's very obvious but then you can enter an endless story.
Was Magritte really big into clouds?
He takes that, because it's a moving dream, the cloud. Or the flower, you see the flower but the story is not about the flower. It's always this contradiction, but it's a human one, it's light I think.
Were keyholes important to Magritte as well?
Yes, the key and the keyhole, we used that on the travel bag, because in French we say, 'Prends le clai des champs,' which is take the key to go away. It's a romantic idea of traveling. Like going away nicely, for the weekend. It's not disappearing, 'les champs' is the countryside.
So you imagine this bag going to the countryside?
Exactly. Or to Central Park in front of us, it's a lightness. It's a reality and a dream at the same time.
Do you feel like the location had an effect on the collection?
No, but the location allows us to present it. We could have a store on Madison Avenue, but no, it's too commercial. Here it's much more, it's something strong, whatever is inside.
It's interesting to have Magritte pictures in a commercial space.
Because we are beyond a commercial space. It is an institution, this location. It's not about the site, but about the substance. You go to other fashion stores, they're locations aren't necessarily special, this location is special. It's one of a kind.