A Night Out with Snoop's Son, Cordell Broadus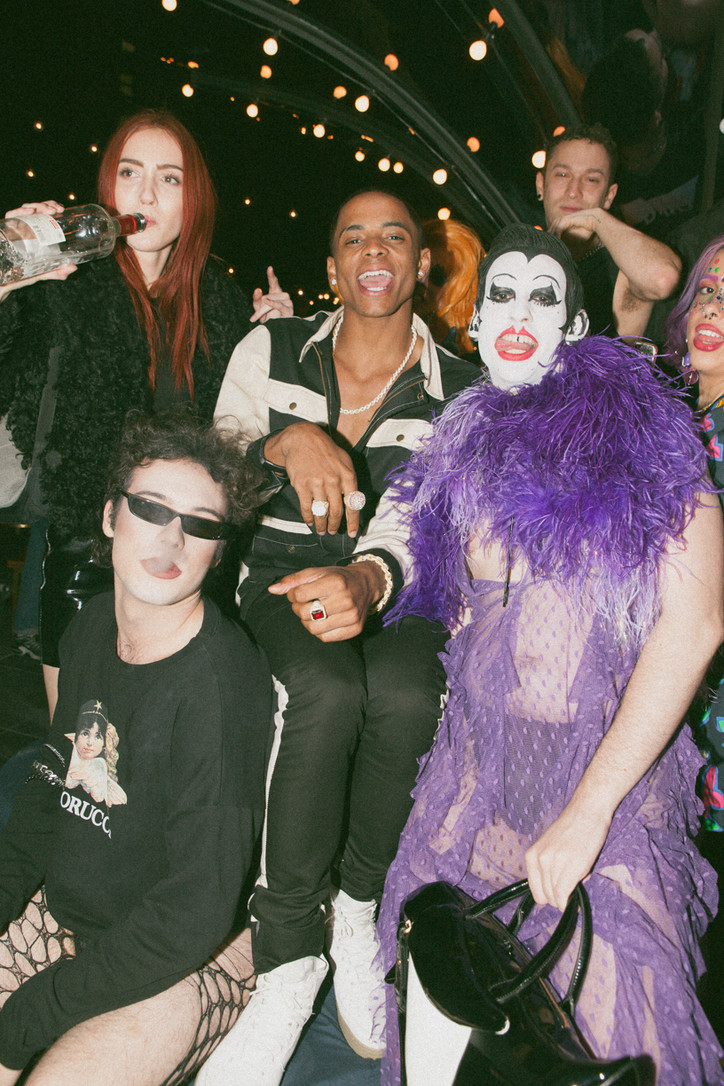 What are you working on at the moment?
Right now it's been really busy. I've done several campaigns these past weeks. We just shot with MCM and Kenneth Cole and then I did the Kangol campaign, it involved my family, my roots and we shot that in Long Beach...and when I get back [to LA] I'm developing and shooting a short for Kangol. And I'm working on a concept for a reality show as well but we'll talk about that later.
I'm sure you get asked this ALL the time, but what was it like growing up with your dad?
I think it was like any other father and son relationship. At the same time it was different because I had to share him with the world. I didn't really understand what that meant until 13 or 14. Whenever he wasn't working, he was with his family, taking us to parks or the movies — like I remember seeing The Pursuit of Happyness with him. The relationship between the father and son in that film gave me a better understanding of my relationship with my father. That's how I found my passion for film.
His show with Martha Stewart is so great - does he have a favorite dish to cook for you?
My father loves cooking chicken wings and french fries. [laughs] Nah, honestly his favorite dish to make is eggs, bacon, and waffles. He makes that anytime of the day particularly at Night.
Do you want to pursue your own path musically? Or do you want to break away and go in a completely different direction?
I love listening to music, but at the moment I'm focused on studying film at UCLA and trying to learn as much as I can about the fashion and film industries on the creative side.
What's a piece of advice your dad has given you that's invaluable?
Stop trying to involve everyone, involve yourself because it's really hard trying to please everyone. I always try to please everybody, so I've been trying to focus on my happiness and his advice has been serving me well.
You've played football at UCLA and designed your own clothing line for Joyrich x MADE. What's next for you?
GETTING MY DEGREE!!! Studying filmmaking and producing content for fashion brands – people are offering me amazing opportunities and the freedom to choose is dope, ya dig? For example, for the Kangol project, I'm creating, producing and directing a short film for them.
What are your favorite spots in LA?
Westwood. That's my favorite city, it's centered in the heart of UCLA. There's just a vibe there being around all those different cultures because UCLA is diverse it makes me feel good to see everyone together just having fun and living life. 
Who is on the come up for you that you think is going to kill it in music or fashion? 
Musically, my cousin Big We$, he's a dope rapper coming up in the game. On film side, I like this filmmaker named Dontell Antonio, he's 22 years old out of Atlanta. His film is called "The Hopeless Journey" it's about a teen African-American girl getting caught up in sex trafficking – she was put there by her mother to support a drug addiction. It's based on a true story. It was sad to see, but it was also inspirational as a project because you don't commonly see young African American men pushing through film from behind the camera. I came across him on Instagram on my timeline and saw how hard he promoted his film. I love his hustle. When I go to Atlanta next week we're meeting up and I'm looking forward to picking his brain. 
What's the most exciting thing about fashion to you?
That the young kids right now are taking over. I'm all about the new generation – I like seeing young kids go get it – all I've been seeing is people my age and that's very motivational. It makes me want to work just as hard as them or with them. 
Who has been a mentor to you? And what have they taught you?
A$AP Rocky in a sense he really opened my mind to what's possible, when I went to his house in LA a couple months ago – he was showing me all the interior design and furniture which he designed himself. I realized that you can create your own environment. He showed me the importance of embracing things that aren't traditionally thought of as being masculine particularly plants and flowers, he has a lot of flowers. 
Can you tell us about your workout routine? 
Yeah, I go in the gym and I go hard or I go home. Simple as that. 
What fashion advice have you given your dad? 
Actually, this is fashion advice to anyone reading, just feel comfortable in the clothes that you choose and wear it confidently because once you feel good everybody else is going to see it. 
You're currently pursuing a film degree at UCLA. What's your dream movie to make? 
My dream movie to make is a film about my grandfather's life. He's been through the fight for civil rights, the Vietnam war in the 70s, then came back to Long Beach in the 90s and help create Snoop Dogg. He got himself a phone when I was in the 8th grade and ever since then he's called me twice a week. He has never missed a week. He's been a great example for my family and for young men to grow up and be present in their family's life – that's dope to me. Even though he lives in Atlanta, he flew out to every graduation, every Christmas. I want to pay him back by listening to all his wise words of encouragement over the years from those phone calls. Creating a film and involving his life story would be a dream.