Mizele, Fashion Famille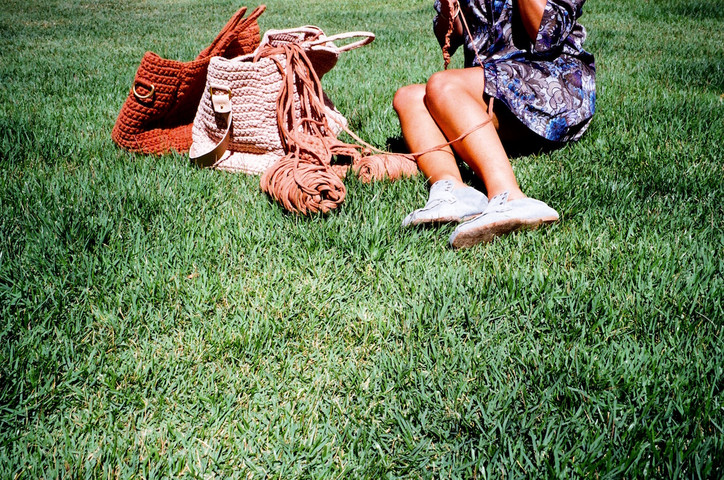 Grégory, the younger Mizele and ESMOD Paris graduate, wooed Obadia with an innate talent for design, and clear, creative consciousness. His ascent thrust him into the circle of French fashion's vanguard and taught him the ins and outs of the industry, honing his talents for high-end craftsmanship and presentation. In admiration of his older sister Laëtitia's hobby crochet handbags, Grégory was convinced that such a demand for a luxury handmade product existed.
Driven by inspiration, the pair quit their respective day jobs to create the Mizele brand, their lifelong sibling dream to work together. The resulting line embodies the legacy of their Tunisian family heritage and history in the world of textiles. The expertly handcrafted bags exude the sophistication of French luxury with a keen attention to visual identity, superb product and captivating campaign. Each Mizele bag is crafted to perfection with over 20 hours of handmade production. With a sold-out first Série 1 and Série 2 collection that has caught the eyes of French fashion's muses, the siblings are betting on hard work and talent in growing their dream to extend their maternal family's fashion legacy and honor their late father by carrying on the Mizele family name.
office sat down with Grégory and Laëtitia to discover their beautiful story of sibling support, their respective fashion careers, inspiring family heritage and expansion plans for the Mizele brand.
You describe Mizele as a "heritage-inspired" brand, can you tell me more about your family's heritage and how it influenced the story of Mizele?
Laëtitia—Our maternal grandparents immigrated to France from Tunisia in the 1950s with not a penny to their name. I have always found their story both sad and fascinating. They rebuilt their lives from nothing at the age of 40, with their only asset being the mastery of clothing design, knitting and crochet. They began selling outfits in the markets of Paris, sewn at the kitchen table, before opening a textile shop in the Sentier and establishing one of the first denim brands in Paris in the 1970s.
Grégory—I have been immersed in the world of fashion since I was young. My entire maternal family is in the textile industry and their work has inspired me a great deal. My mother would always tell me about our family's history. It was natural that I chose to study fashion after my baccalaureate and immediately enter the field. I followed the fashion path and I am very happy to be living that dream now.
Grégory, your quick rise from intern to Head Designer at Harmony Paris is quite inspiring. How did your fashion experience prepare you to create your own brand?
G—My experience at Harmony was amazing. I never thought I'd be given that chance so early on in my career. It proves that when you work hard, it pays off. Having been given so much responsibility and tasks at such a young age, I developed a sense of professional maturity. I do not think anyone ever feels ready enough to begin their own venture. When you have a such a strong vision in mind you have to follow it. Its not easy, but you have to believe in your idea and above all be surrounded by strong support. Even though there is much more I have to learn, I think Harmony mostly allowed me to understand that in life, we learn the best when we do things alone.
What got you into crocheting your handbags?
L—My grandmother was a great source of inspiration in my life. She taught my mother how to knit and crochet and I always saw her knitting clothes for every birth of her grandchildren and great grandchildren. It was so simple for her! In Tunisia, my grandmother was a great embroiderer, she had a passion for items made by hand. She even knit sweaters during the war for American soldiers in Tunisia. She transmitted this passion to me and I took it as an inheritance. I found crocheting to be a creative outlet and a way for me to forget some drama in my life and look towards the future.
Laëtitia, you studied law and had a successful career in business. What prompted you to give that up to follow your dream of working in fashion?
L—Life has its journeys. I am married and a mother of three children. A few years ago I left the company I had worked at for over 10 years and also left France because I needed change in my life. It is true that it is not easy to leave your family and life behind, but there are moments in life where we have to move forward. I took this new project as an adventure. Gregory and I are very close, my departure from France was not easy. So it was this bag that allowed us to stay as connected as if we were in France. This bag represents a lot of things for me. The brand carries our family name, it gathers memories, an inheritance and especially a story that is just beginning...
When did you realize that this was an idea that could be built into a brand?
L—I did not believe it, it was only a hobby for me and nothing more! It was my brother who from the beginning believed there was an idea. He said to me "You'll see, this bag will go very far." My entourage, my family, my friends have pushed me enormously. A simple hobby can become your everyday work!
G—Laëtitia and I are more than brother and sister, we are a pair. Working with her was always one of my aspirations. She has always pushed me to follow my dreams and when I saw how passionate she was and devoted to making these bags, I thought this time it was up to me to turn her hobby into a dream. I always felt that one day we would create a fashion house together, but I would never have thought it would start with a crochet bag!
Who is the Mizele woman and who have been your greatest style influences in life?
L—The Mizele woman has charisma! She is a woman who has a natural class and elegance. One with a unique charm and who is stylish without realizing it. She is a true Parisian woman.
G—The Mizele woman for me, is Laëtitia. She has been the muse that pushed me to launch the brand. She is an extraordinary woman who is strong, modern and above all, has a big heart.
Mizele is an innately French label. In your opinion, what defines French design?
G—Fashion is everywhere, but Paris remains Paris ...In all areas of design, fashion, art, and gastronomy, Paris keeps its secret that makes it all so wonderful and unique. There is a reason that the world speaks so often of the Parisian style …
What I like most is this very nonchalant side that comes easy in French design. The idea of effortlessness that hides the hours of work that went into it. A simple construction made interesting by materials, textures and overlays.
L—It is the finesse, the elegance and especially a lot of CHIC.
What is it like to work with your sibling professionally and influence each other creatively?
G—It's just really cool…We can always discuss our work and influences. I will send her a Whatsapp message at 2 AM when an idea comes to mind, and you cannot do that with everyone! I do not think that I could have started a business without a solid shoulder to lean on like my sister. Our personalities and talents compliment each other and that is what makes the strength of a successful duo.
L—The funny thing is when we send screenshots and ideas to each other and its the same! It's not every day that siblings get along so well professionally, but our shared passion has helped bring us closer and given us the drive to support each other both in business and life.
Where do you see the Mizele brand in five years?
G—Wow! I hope a great deal is in store for the future. I will say its my dream to open a superb shop in Saint Germain des Prés where we can share our brand with the world…and why not also hope to show during Fashion Week! For now, I just want to see smiling women with a Mizele bag on their arm.
L—This is a question that I do not like to ask myself, I like to live from day to day. But I am sure that in five years my brother and I will always remain united, and that is the most important thing!