Nothing Can Stop Patricia Voulgaris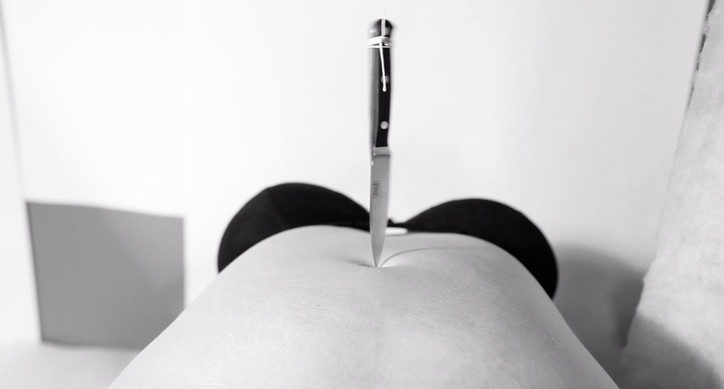 The artist's own soft flesh peekaboos through wood, paper, and other mundane hardware materials, its inherent delicacy and purity amongst the manufactured and the linear creates a brilliant physical cubism recalling Picasso, Duchamp, Mondrian— the flatness and reduction of the great abstractionists intermingled with the very real body of the photographer.
Self-portraiture? Sculpture? Body positive statement? Voularis plays the makers' Magic Eye game, defying definition: squint your eyes and a medium may reveal itself.
How did you become interested in photography as a medium?
I became interested in photography when I took a photography class in high school. My teachers were very supportive and encouraged me to pursue photography after graduation. I applied to the School of Visual Arts and was accepted. I have been photographing for a long time!
Do you see photography holding more power in an age of technology? And Is it a good or bad power?
I think photography is a powerful medium. It's what you do with technology, that creates an impact. There are a lot of photographers that are creating work that focuses on exploring technology.
Do you feel like you approach the body with a positive or negative point of view in your work?
Neither. The body is just a form to me. I never create a photograph with a certain intention in mind. It is what it is. It's up to the viewer to decide. 
How do you define sculpture? 
There are limitations to photography and sculpture has become another tool for me to communicate my ideas clearly. I find more control in sculpture. It's easier to manipulate objects and create a certain form.
Do you think that there is one determining factor in considering art "utilitarian"? 
I an interested in art that is beautiful and functional. Similar to how designers create clothing for everyday people. My photographs are functional objects, or appear to be so. 
Do you consider yourself an activist artist?
I hope my photographs can liberate people. I don't consider myself to be an activist, I just react and create. 
Where do you want to go next with your work?
You'll just have to wait and see...
Nothing Can Stop opens at Rubber Factory February 3rd, and will be on view through March 7th, 2018.