Nurse, Grandmother, Designer: Delores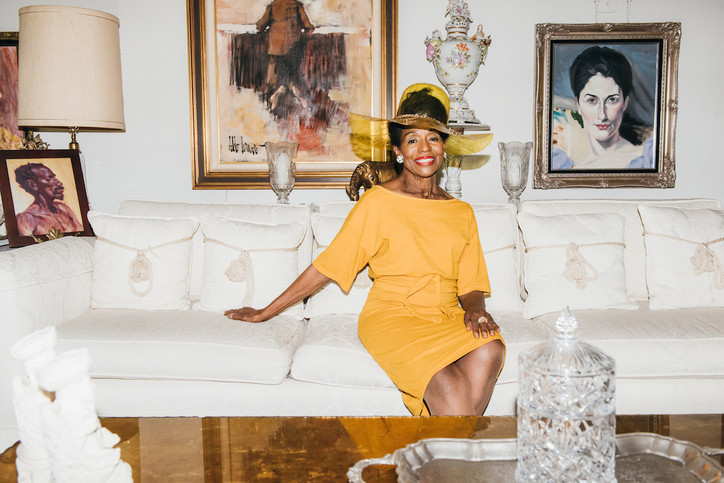 office people of Issue 06 included the EVERYBODY.WORLD founders Iris Alonzo and Carolina Crespo who's efforts take art to activists, and activism to artists. Delores has created a collection of versitile clothing with recyclable jersey— and has set aside 10% of the profit for her granddaughters' education. Honor student, heroine. Best hat model in history.
She seems impossible to take on. Unfortunately, although we won't ever look as awesome in a hat as her— there is still something to contribute. We discussed this with Delores.
How long have you been designing clothes?
I am not a professional designer, I'm actually a retired nurse and educator. It began with inspiration from my talented mother "Ardenia" and a gift subscription of Seventeen Magazine. Since my teenage years, I have been using clothing to augment, reflect and extend my feelings or mood, or to make a statement. I always have great fun with it.
Do you get fashion inspiration from the other fields you have worked in?
Yes... 
Modeling, in stores, runways and exclusively for manufacturers.
Teaching, multicultural experiences. Spokesperson for the Music Center of Los Angeles County.
How has your style developed throughout the years?
My style has become more traditional and refined in the silhouettes and accessories that I choose.
Who did you design the wrap top and pencil skirt for?
It is for all who wants as I desire… Affordable value, 20+ ways to wear it. Attractive on young and mature figures. Easy care. Travels well. Style it for casual, sporty, cocktail, resort. Truly can be worn for all occasions. Environmentally aware materials, 100% recycled cotton.
Who is your fashion icon?
Yves Saint Laurent.
Has your life in Alabama inspired your aesthetic at all?
Yes, "practically all". From my parents who taught us that "Having to be the best" was an asset for success. My father, Paul, taught me to help everyone, share and make friends regardless of color but to be "generous to a fault." ...
My mother, Ardenia... Ardenia's theory was to "never do for or treat others different than she would for her own family" We lived on a dirt road in Birmingham, Alabama, in a "shotgun" house renovated with a "picture window". One Christmas, we had a huge Christmas tree with all blue lights. Many people came to view the black family with the beautiful blue lighted Christmas tree, year after year. 
Tuskegee University not only provided an excellent education but exposure to all of the arts and many noted trailblazers.
I know you have spoken on the importance of your spouse, has your marriage made its way into your designs? 
Ben, my talented husband made only two requests of me before our marriage. Don't get fat. Look good all the time. Of course he was joking, but he does appreciate that I like to get dressed up. Ben has good taste and always helps with style and color and in fact, I have welcomed and requested his continued "opinion" for the past 60 years.