office 2018: It's Destiny... Princess Nokia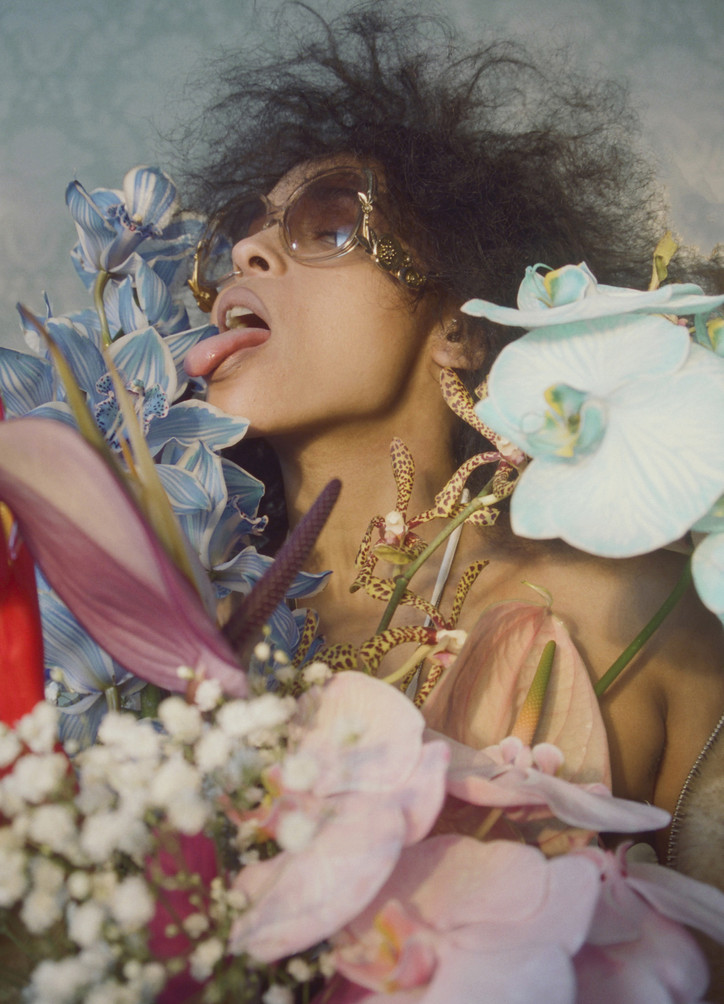 Destiny was born in New York on June 14, 1992, and came up against high hurdles at an early age. By nine, death had taken both her mother and grandmother. As a teenager, under turbulent and at times abusive conditions, she ran away to live with her grandmother and father. "One of the best decisions I have ever made."
Destiny describes her father as "a loving, non-judgmental feminist." When she and I first met in 2010, she wasn't hanging out with a group of teens, she was kickin' it with her pops. Seventeen years old with a swoop bang channeling Aaliyah, light pink Chloé shades (you know, the ones with the rhinestone heart in the corner), matching plaid bikini and mini skirt, pacifier necklace, tiny anime backpack filled with comics and tarot cards, bumpin' grimy New York rap in her headphones. An original.
"When I was a young girl I always wanted to be the underground, I always wanted to do music and I always wanted to be in the art world and all that cool stuff." I have been observing her growth for years, watching that vision come to fruition, and here we are, sitting on set in a multimillion dollar mansion off 54th Street, filled with racks of designer clothes and shoes, a team of professionals getting her camera-ready, and a photographer ready to shoot the dreamlike scene with Destiny as the protagonist. All because she put in the work. This was her doing and I could not be more adrenalized to be there with her for it. "There's something to be said about the imprint and the narrative of brown women that create friendships within these art worlds and music scenes and cities and networks of people and youth and subculture." 
She's come a long way, but to be honest the music has always been inside of her. Before her best-known album, 1992 Deluxe, she released the song Destiny under the pseudonym Wavy Spice, and went on to release more singles via YouTube and SoundCloud, bootstrapping her career and organically growing her fan base. Soon she started to tour, and was featured on tracks with NYC rap group Ratking. By the time she took on the moniker Princess Nokia she was seasoned, and ready to be heard by the world.
In 2016, she released 1992, a nine-track mixtape, which was later bolstered with eight additional tracks and re-released as an official album on Rough Trade Records. On the track "Receipts" she raps with pride about her diligence, her prolificness: No. You hope that I fail, but I won't cause I can't, It's Return of the Mack and I'm lit to the max, And I really count stacks. This a tour back to back, And I got a catalogue, it's iconic as fuck, Three albums in three years. Damn. I'm good as fuck, It's 2017 and you out of luck, This is Princess Nokia. I don't give no fucks.
"1992 came from a new chapter in my life where I felt free of the pain I was feeling and the bullshit I was internalizing. If I kept my pen on the page, my life would get better. I'd find the clarity I was looking for. Very early when I was writing it, I felt it. God told me, 'This is gonna be your baby.' I cut my bullshit out. I put my foot down as a woman. I put my foot down about a lot of things in life. About being lazy, how I spent my time. I was focused on writing, exceptionally."
God was right. 1992 Deluxe took Destiny international, brought her financial success, and presented noteworthy opportunities, including working on a NOH8 Campaign for the Super Bowl withTimbaland. Most importantly, it made her proud.
"Metaphorically this album has taken me to God. Music is the biggest joy for me sometimes. I've been taken to some places in my mind,spiritually. I've done Yoruba offerings in the Red Sea in Dubai and I've been in the biggest brown, queer, safe spaces in The Bay, Los Angeles, Texas."
Now, coming off a number of significant successes, she's contemplative, and ambitious as ever. "I'm excited for life. Life is limitless. I got a taste for life. I got a taste for the finer things in life. And I got a taste for always making sure I make myself proud. That boss-lady archetype is all I've ever wanted to amount to. I think all I've ever cared about is my job. You can't have everything in life. I always valued being a woman of good, outstanding accomplishments. And I'm just one of those nerdy career women. Me with a broken heart is not a big deal for me. Me with a fucked-up career is a very big deal for me. Everything is an experience in life. If you can understand the joy and take the joy and not dwell on the "it's ending" then you can enjoy life in not feeling attached."
As she speaks, with clarity and honesty, I can see her mind going back in time. Back to the moment she broke out on her own, declaring who she was, and who she was bound to be. Years later, she is still that girl, her boundless confidence eclipsing her insecurities. Taking everything into account—her resilience andtenacity, her swagger and her talent—it almost feels like she's been headed towards stardom since the beginning, chasing a dream she knew was within reach. Living up to her name.
As 2018 comes to a close, office is counting down some of our favorite stories from the year. Keep your eye out for more highlights—like our Issue 08 story with Vaquera—this week.
Buy office Issue 08 here.