An Office Easter by Nadia Lee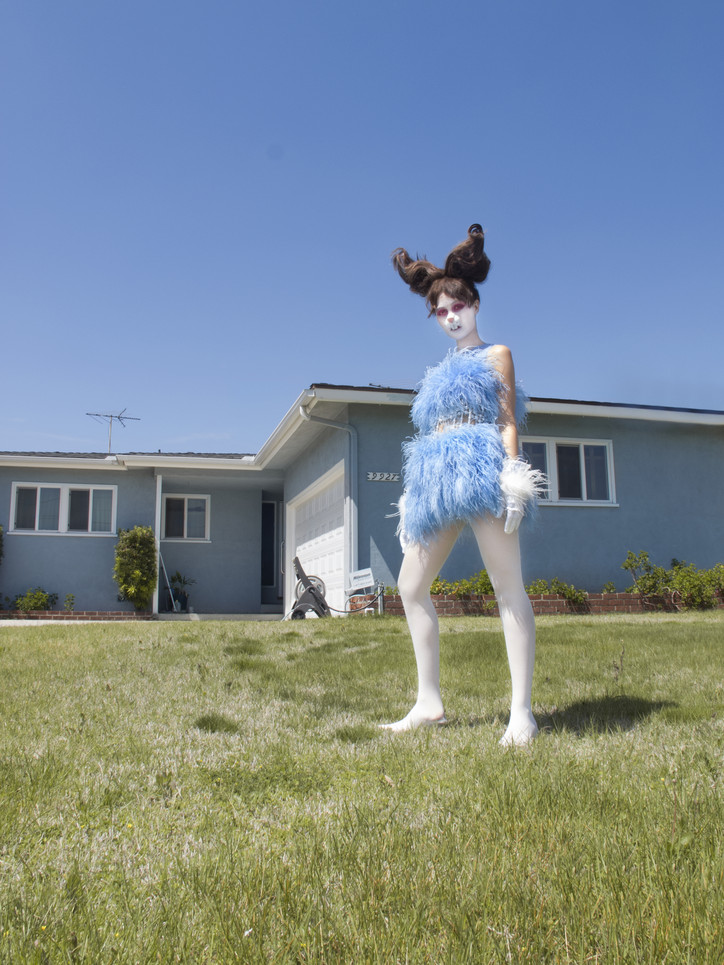 Gloves by Lael Osness, Dress by Adam Selman, Tights stylist's own
Why do you think this holiday inspired you?
There's something that amuses me about the death of Jesus being overshadowed by rabbits and eggs. 
What is your relationship to the Easter Bunny? Did you believe in it (him/her? them?) as a child? PS sorry if i just ruined it for you.
I believed in absolutely everything until quite an uncomfortable age. 
Do you feel like your self-image is reflected in your self-portraits?
Yes of course.
Gloves by Lael Osness, Dress by Christopher Kane, Tights artist's own, Coat by Calvin Klein, Tights stylist's own
How do you define your practice? 
Something your mother might not like. 
How do you feel your work collides with music?
Its an absolute necessity for moving image, I recently used this incredible Charlie Feathers track called 'Cockroach' for the GCDS film with Pamela Anderson. We ended up paying way too much money to use it, however, once I had my heart set on it nothing else would do, so we had to get it.
You recently directed a music video for Kali Uchis and Tyler the Creator's new single 'After The Storm' and you also directed the video for the song 'Gilligan' by DRAM featuring ASAP Rocky and Juicy J, how did you catch the attention of music artists?
I wish I could say that I stood outside their hotel windows and threw pebbles at them until they noticed me. But with Kali, I worked with her a while back on a photoshoot, we wanted to work together again but timing was never on our side. After the Storm felt special, the idea for the video came almost instantly after hearing the track. As for DRAM, Rocky and Juicy, that collaboration was kind of left field; but I wanted to make a hip hop video because it was probably the last thing that was expected of me. Plus I thought it was important and about time that someone executed a 'booty shake' video from the perspective of a female. …I feel with any artist it's about developing trust. My storyboards are usually pretty intricate to help them visualize exactly how I'm seeing the finished result. This in turn, develops trust between us.
In the Gilligan video you literally served ass on a platter and in After The Storm you planted Tyler's face in a bed of grass— how do you come up with the concept for a music video?
Sometimes I look at them and wonder that myself. But I have a folder of notes that I write in whenever an idea comes to me, I love 'people watching' and Los Angeles is the best place to spot an interesting character.
Which music artists inspire you?
A lot of artists that inspire me are dead, and I feel like I'm going to miss someone out if I list the alive ones so I'm not going to list them.
Dress by Christopher Kane, Earrings by Jane D'arensbourg, Gloves and Tights artist's own, Coat by Dries Van Notten, Dress by Tibi, Boots by Dries Van Notten
OK, so, if you could direct a video for any artist living or dead who would it be?
Peewee Herman. 
A lot of your work highlights and exaggerates unconventional beauty. Do you feel that your work helps redefine socially constructed beauty standards?
I'm capturing what interests me, and perhaps that doesn't fit into 'socially constructed beauty standards'; however, this isn't something I'm doing to make a point. I'm just not as interested in things that are considered typically pretty or beautiful.
A lot of your characters are very… campy. How do you incorporate humor into your work?
I feel I'm a camp gay man trapped inside my own body, partly due to the cinema and general art that I'm inspired by. Again, not a conscious effort on the humor front, but personally, I feel humor is the only way to get through times of adversity, and it is much easier to make any sort of sardonic statement through your art rather than spelling it out.
Are the characters you create for yourself derived from part of your own psyche, or more akin to a scripted role you're playing?
I feel they are all a part of me, I also feel that when someone plays a character in a movie they cannot fully remove themselves from the role. In fact I don't feel that anyone can fully extricate themselves from any situation.
What is next for you and what are you working on now?
I'm trying to complete a photo book that I began almost two years ago and I've promised myself that I'll get it done by the end of the year. So I'm trying to stay focused on that project, amongst some new stuff that I can't wait to share.
Jacket by Sies Marjan, Gloves and Boots artist's own, Bodysuit by Lael Osness
What would your rapper name be?
I've heard that your rapper name is lil' then something that you carry around all time time. So I guess Lil' Tampon.
What's your favorite snack?
Babybel or croissant. Or both. 
What is the first thing you do when you wake up?
Pee.
What are you doing for this Easter?
Spending it with my two most dramatic friends.