Office x SXSW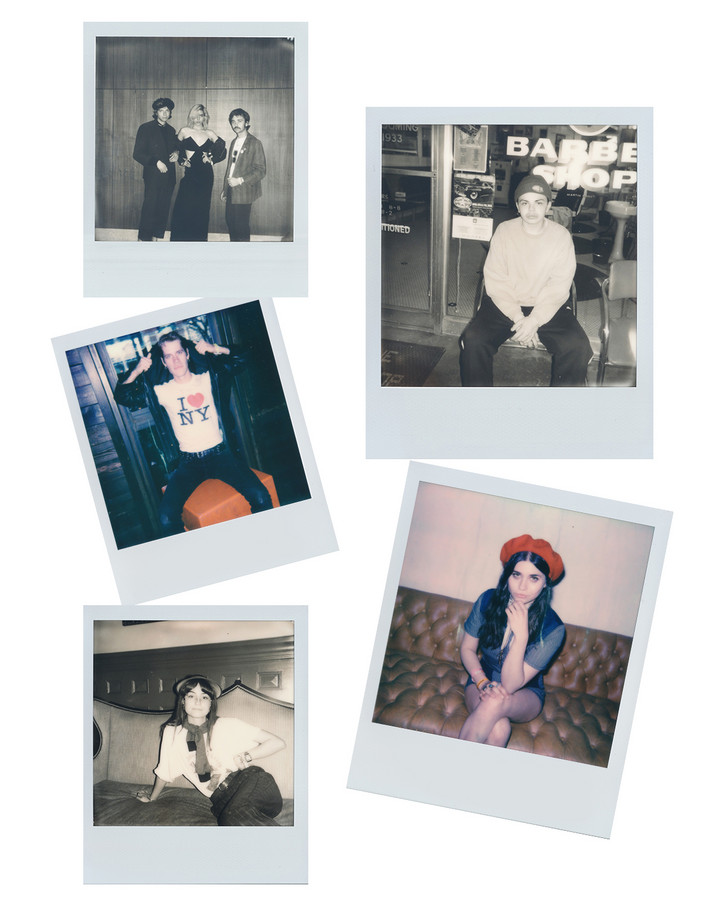 Keep reading to explore an eclectic group of artists, their backgrounds, and what inspired their musical genius—all shot on classic Polaroid film. 
Was there a specific person who inspired your music?
Aaron: There were a lot of bands that I definitely fanned out on growing up. I think the first ones that made me want to be in a band were The Strokes, Arcade Fire, and Neutral Milk Hotel. Those were the three that make me feel like I wanted to be in a band so bad—as embarrassing as it might seem.
What is your best memory tied to music?
The people I've gotten to meet through it—I met Dev of Blood Orange through music—he's a beautiful person, and a beautiful friendship came from that. There's so many people I've been lucky to meet…I think those are my best memories surrounding music at least.
Do you remember your first performance?
I remember the first time I ever sang publicly…we booked a show at Starbucks in the drinking / eating area, and I sang a cover of a Neutral Milk Hotel song, and it was amazing and crazy. It was just like the first time I had done that and I felt super charged up. I had been playing in bands for a little bit at that point, but had never used my voice.
What values have you held since childhood?
I've always felt free to express myself even if it's out of the norm.
When did you realize you wanted to be a musician?
It might sound stupid, but I used to like to sing in the shower, and when I first got really into music, not just listening, but appreciating it, I would sing in the shower, and I would just be like 'bruh, this is going to be me.' I remember performing at my 5th grade graduation, but I probably didn't start writing genuinely until middle school... I used to want to be a flight attendant.
What is your best memory tied to music?
Tour…I just went on tour with Julia Jacklin, and it was two weeks in the UK, and two weeks in the US and Canada, and it was the time of my life. It was my best music experience. I really enjoyed the people…it wasn't spontaneous, but it was like they let me—this girl they don't know at all—be on their tour bus, and tour with them for a month, and it was awesome. I still talk to them everyday, and it's been like 5 months [since the tour]. I think it's special.
What was the first physical piece of music you remember owning?
Julia: The first CD I loved, cherished, and held was 'XO' [by Elliot Smith].
Jacob: I remember driving with my dad to Jones Beach in Long Island, and we went to a CD store, Tower Records. [My dad] got Boston's Greatest Hits, and I remember driving down to Jones Beach on the Meadowbrook Parkway listening to Boston, and it felt perfect.
Nick: When I was six or seven years old, my parents bought me a CD player walkman, and then we went to a garage sale and they bought me a stack of CDs, and it was Pink Floyd's Greatest Hits, Get Yer Ya-Ya's Out, Cheap Trick, and The Ramone's Greatest Hits. The Ramones is what really stuck with me. Every other album I just liked one song, and I loved every single song on The Ramones' record.
Describe your first promo photo.
It was a week after we played our first show in August 2013. It was in our manager, Crista's apartment loft…'the infamous loft.' Our friend Eddie was a liquid light show artist, which means he had an overhead projector and a plate with oil in it, with yellow and blue dye. His little sister and our manager took photos…it was fun, and they are still online.
Are there any geographical locations that have influenced your musical style?
Probably New York. We are all from New York. We all have a connection to New York, and you can hear it in the music. There is a certain neurosis throughout all of our music.
Who was your first musical love?
Definitely Elvis. I had this magnetic paper doll where you could dress him up in his different crazy outfits… I've always dated musicians, and I think it probably started with Elvis.
Did you have any solo efforts or a group band as a kid?
As a kid, I was really into musical theatre, which is really embarrassing and dorky to admit, but it's the truth. So before I got into doing rock n' roll stuff, I was in a lot of plays and musicals. That was kind of my thing—well actually I did want to be in a band, and I auditioned to be in a really cool girl band, and it ended up breaking up, and that was my first idea of "Oh, this could be really cool—maybe I should get into this rock n' roll thing."
What is your best tour story?
We got rear-ended in Brazil one time, and Brazil is really big, and we were halfway across the country, and we needed to take a flight to Sãn Paulo to get back to the states, and because of this accident, we couldn't open the truck, so all of our rental gear was stuck in the back of the car in Brazil. They have random holidays there, and everything was closed in the middle of the week, and no one could open the car for us. We had to make a decision about if we should miss the flight, and then miss our flight back to the states, or leave the stuff there, or do we try to get the stuff out? Eventually we were able to pop the trunk open with some sort of crowbar and then take a bus 6 hours across Brazil to make it to our flight back to the states.
At what age, did you start playing music?
My mom made me join the band in 7th grade, and my friend would always come over to my house because he lived in my neighborhood. We got GarageBand on my mom's computer and just started messing around.
Is there a particular tape, CD, or record that you've listened to so much it broke?
I've never listened to one that broke, but one that I have listened to a lot and sampled a lot is Anita Baker's Rapture. I've made at least 15 beats from a few of her songs.
Is there a song or album that takes you back to your childhood?
Probably 'Tha Carter III' by Lil Wayne because I always used to listen to that with my cousin.
Special thanks to Polaroid Originals. Check out the brand new OneStep 2 camera available now.