Open Borders, Broken Walls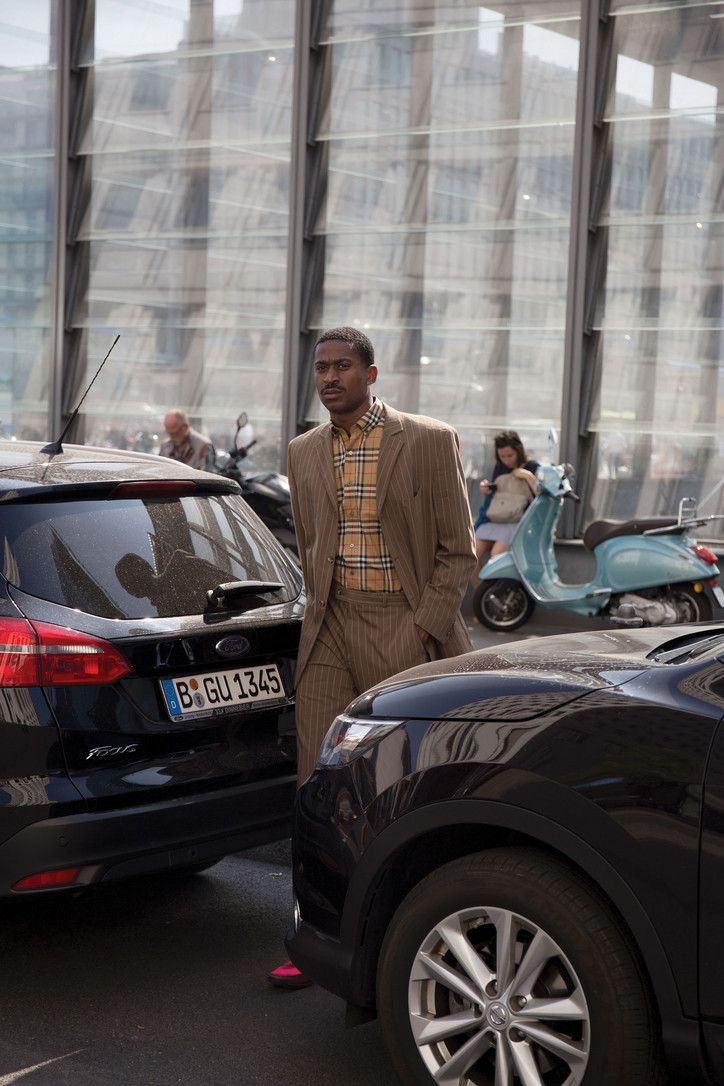 The second chapter, 'Walls,' which we're dropping exclusively below, grapples with the theme of borders in an entirely different way. Comprised of two parts, the first shot by photographer J Ari King, and the second by Henrik Alm, this section explores variations of borders that occur both naturally and artificially within a given landscape. Inserting 3D sketches of the historical Greek columns, icebergs, plots of land, and concrete walls, as well as images of model Josh Johnson in front of German landmarks like the Berlin Wall, the photographers demonstrate that though we are surrounded by examples of division and separation, these examples should not inform how we regard one another.
"With the book, we want to propose, instead of otherness, we want togetherness, coming a bit closer to one another and just seeing things in a different way," the publishers explained.
BORDERS serves as a beautiful reminder that there should be none. We should all take a page from this book.

office caught up with Walker and Haal to discuss BORDERS. Read our interview, and view images from 'Walls,' below.
Tell me about Borders.
Nicole & Anders: The book itself consist of 4 chapters: 'Proxima B / Temporary Planets,' 'Walls,' 'Post a story of the protest, later delete it,' and 'What We All Do.'
In 'Proxima B / Temporary Planets,' Alex de Brabant presents parts of HAAL S/S '19, as well as the HAAL Duplex Lens depicting Earth versus Proxima B, the planet predicted by Stephen Hawking as our second home to be—our second chance after the ultimate fuck up. With 'Walls'—borders are carved into the idea of the landscape of our planet. In this chapter, we have images by photographer J Ari King from different places around the globe, along with inserted 3-D sketches of the domesticated fence, the historical greek columns, the concrete wall, the ever sinking iceberg; photographer Henrik Alm also shot performer Josh Johnson by the remains of the Berlin Wall, as a good reminder that we don't want history to repeat itself. In Chapter 3, photographer Chris Maggio's photos portray the reality of everyday human life in America, and in "What We All Do," Valter Törsleff documents his close friend Sasha Melnychuk and their trip on the French Riviera. We all sleep, fuck, eat, drink water, cry, smell, and take a shit.
What was the impetus for curating the book?
Nicole: I have been upset for years—upset about Trump becoming president, about right wing and Nazi parties growing bigger all over Europe. So, I felt that I had to do something that speaks for the opposite of all that, opening minds and eyes for peace—a book that questions the ideas of borders, which also define today's media landscape, but to do it in a rather poetic way. I approached my friend Anders Haal, and we decided to make it happen together. The goal: making a book that questioned the separations between humans, the idea of we versus them, and showing absolutely zero tolerance for racism.
What do you hope to achieve with it?
Anders: With the book, we want to propose, instead of otherness, we want togetherness, coming a bit closer to one another and just seeing things in a different way. Also, seeing that we, as creators within the fashion and art community, have the power to raise our voices louder, to fight hate and racism in every possible way.
Why do you think now is such an important time for a project like this?
Nicole: There is a lack of belonging in today's society—the world and the universe feel bigger than ever with all the information we're constantly being fed, and scientists finding new planets in the galaxy every day. Now is the time to be closer and to break down our own personal borders. There is no them—only us.
Chapter 2.1 'Walls:' Photos by J Ari King, 3-D Modeling by Malcolm Carter, Art Direction by Nicole Walker & HAAL.
Chapter 2.2. 'Walls: Power Dressing:' Photos by Henrik Alm, Casting & Styling by Nicole Walker, Art Direction by Nicole Walker & HAAL, Styling Assistant: Freia Fee Wolter, Model: Josh Johnson wearing Balenciaga, Burberry, Calvin Klein, Dick International, Dressman XL, Martine Rose, Starbucks & XXL. Shot on location in Berlin.
All photos courtesy of Nicole Walker & Anders Haal; book supported by Swedish Fashion Council.
'Borders' is out now.