Sign up for our newsletter
Outside LFW Men's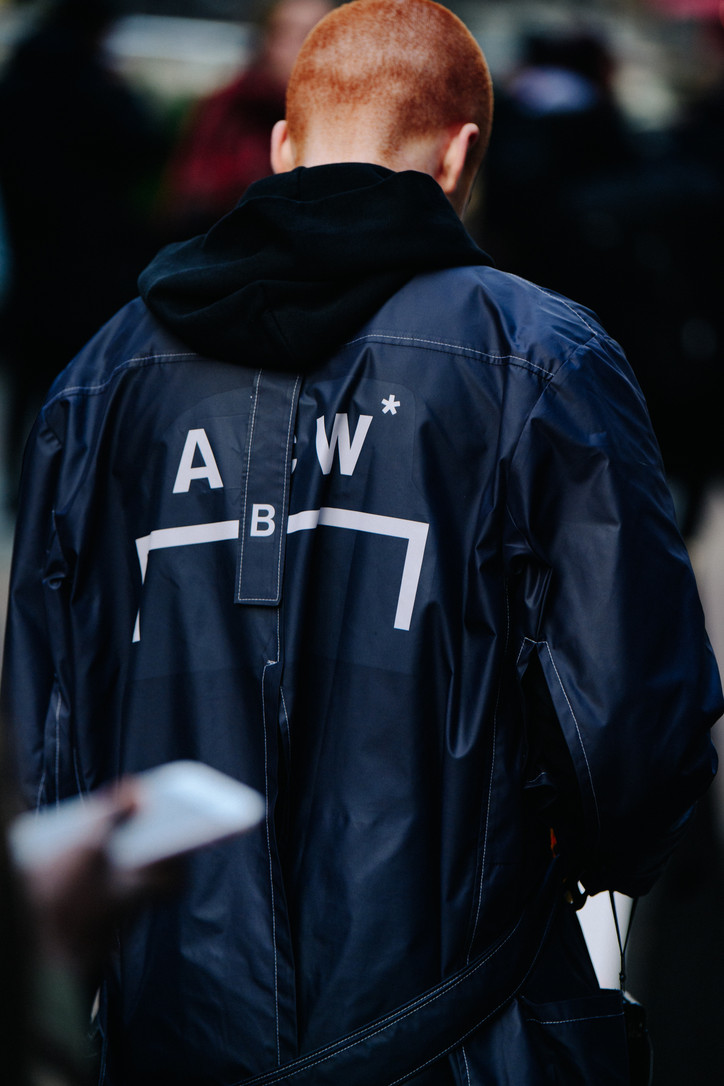 View some of our street style highlights, below.
Collina Strada S/S '20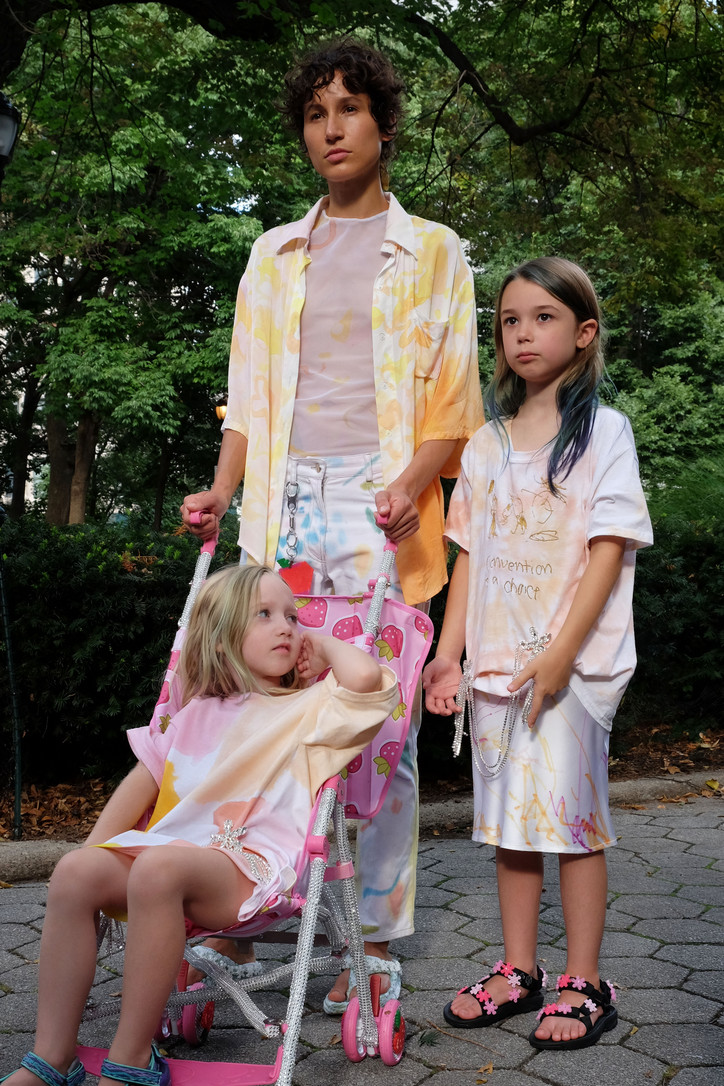 Families wheeled strollers in matching, marker-stained white dresses. Individual models wheeled steel market baskets streaming trails of upcycled fabric. Taymour's friends unpeeled oranges and chomped down on apples as they walked past in hot pink satin sets. Flower children sauntered to the sound of Zsela and Tei Shi wearing Allie Smith makeup and clothes styled by Charlie Engman, whose own mother modeled springy loose tie-dyes.
Each piece screamed life and sustainability. In a word, spring. Sarongs swished past, as did yards and yards of green swirls and yellow florals. Think rayon, chiffon, mesh, sequins, and Perler bead-studded bikini bottoms.
But it wasn't all fun and games. Each outfit was consciously created with sustainability in mind, and a model ran past wearing almost nothing but the slogan WASTE NOT WANT NOT signed in sharpie across her body. Like the rest of Thank You Very Much for Helping Me, it was a cheerful display of kookiness meant to startle viewers into a slower view of the world. Check out more from the show below.
Kim Shui S/S '20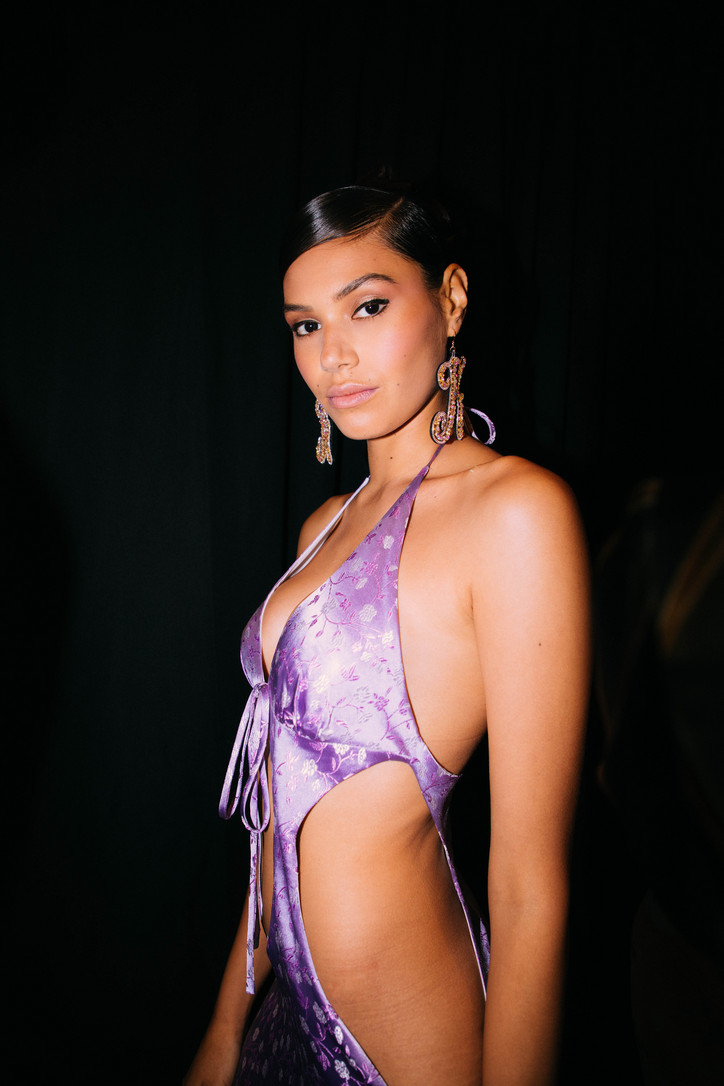 These are just some of the eclectic references in Shui's namesake design house; besides her trademark cargo pants, snake print, and corset. Cobalt glaze slithers on white porcelain screened onto a silk qipao, adorned with white lace-trimmed hosiery—in the background is a remix of Nicki Minaj. By the time, the model passes you, revealing an entirely bare backside, except for the cross lacing corset motif, an impression has been burnished into your mind. This is a woman who designs for women.
As the music pulsates through the show, and the silks alternate between sensual, and demure, you start to understand why it is you are here. The Kim Shui girl is not faint of heart, nor is she interested in dressing for the desires of the other. With a diverse cast of different body types, skin tones, and heights, Shui designs for women who enjoy dressing themselves, and take pride in being a woman.
Backstage after the show, the interviews never ceased; and everybody wants to hug their favorite it girl. Ever since Kylie Jenner broke the internet by matching with baby Stormi in KS F/W '19, Shui's meteoric rise has been marked in stone. From winning the VFiles Runway to making Forbes' 30 under 30 two years in a row, the CFDA partner unveiled a special collaboration with Fitbit on the S/S '20 catwalk.
And if that's not enough, sprint over to the corner of Spring, and Wooster, right now. Kim's head is projected onto the side of the Doc Martens store, staring into the souls of all passerby. It's part of a promo campaign for E! Front Five docu-series on NYFW. We are now living in the era of Kim Shui. Check out more backstage photos from the show below.
Maryam Nassir Zadeh S/S '20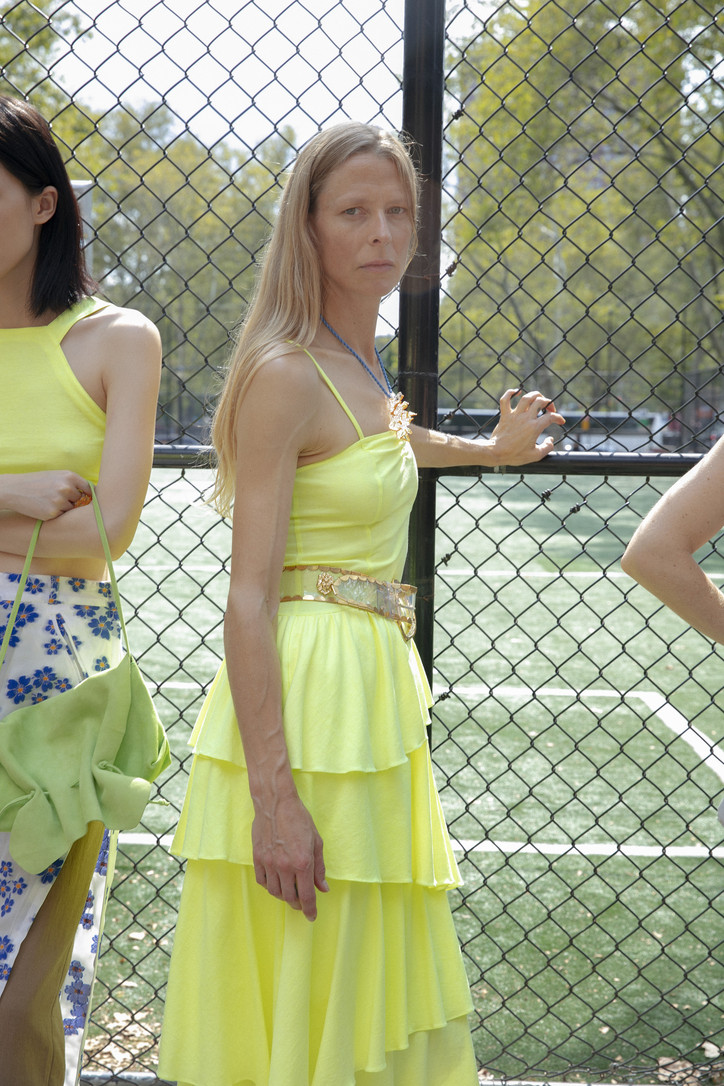 But MNZ was there to shock the audience, moving swiftly from elegant ensembles to an ankle-length layered skirt under a camo tank top not too far from one that I remember fashionably pairing with gauchos and chunky flip flops in childhood. From there, the collection was an effort in versatility, complete with pearlescent pink shorts, green check pants, and a cobalt blue dress.
Each piece felt impeccable, if almost slightly disjointed from the rest. MNZ tied the collection together with tiered ruffles, bra tops, and midriff, midriff, midriff. Favorite accessories reappeared—slanted knee-high boots, shoestring necklaces, and a double loop belt in cream, khaki, and metallic purple, whatever was needed to suit the moment, as versatile as MNZ herself. See the show below.