Paint It Grey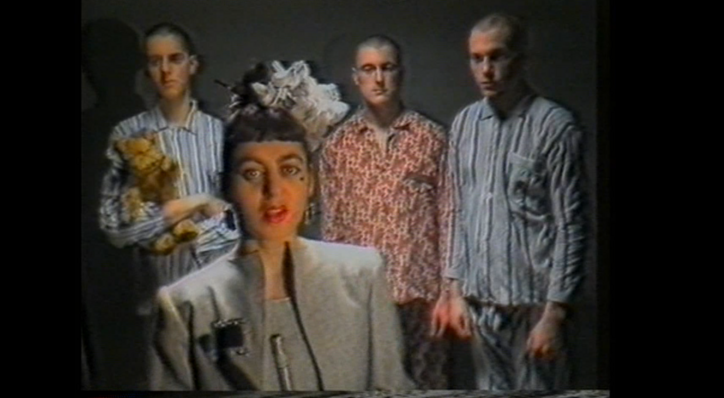 Now, with their film and video library being archived by Cultural Traffic on YouTube, office highlights some key works.
EXILE
An early entry, and perhaps the most outwardly odd, of the films listed here, Exile (1984) is a short, riddled with paradoxical images and sounds. In a haunting and somewhat maddening satire of the British elite, the GO is throwing a tea party. In proper GO fashion however, this particular party is special, because it's set against the brutalist backdrop of the Beckton Gasworks and includes a soundtrack of queasy pulsating drums, jumpin' Jackflash saxophones and a chorus of reverbed men's voices yipping, hollering, meowing like cats and quite literally yelling at you to, "Take it easy on the beach." 
"ATTACK ON CORK STREET"
As mentioned, the GO was known for great displays of protest through performance art, and an arguable apex of their early anti-establishment period is captured in the short film "Attack on Cork Street" (1985), which documents when, in 1985, the GO "livened up" some of London's most famous art galleries by dousing their facades in massive splatters of grey paint. The short is a crystallization of everything the GO was achieving at the time; combining film, image, voice and music as a vessel for razor sharp displays of rebellion and anarchy. 
SHOWREEL 
On the flip side of the coin, and at the opposite end of their career, is the catalogue of the GO's commercial music video and album design work. The GO, whose name was made by mastering the art of telling the establishment to fuck off, was tapped to work on videos in the late 80s for high-profile clients like De La Soul (the GO shot and designed the iconic 6 Feet High and Risin' cover), Grace Jones, and even 80s Jagger—all of which is on display in their showreel (1988-1991). 
CORRIDOR 
While the GO gained popularity for collaborating with massive names in the music world, the collective did not become totally consumed by those more commercial opportunities. Corridor (1989) proves that the GO was still creating compelling, simply constructed, yet challenging films well into the late 80s. Corridor is one such example. Taking place in a (you guessed it!), members of the GO meander, lean against walls and are seen "endlessly waiting." Perhaps a comment on the increasing speed of consumerism and media consumption, perhaps a joke at the viewer's expense or perhaps simply a way to use some leftover film, whatever it may be, it is unsettling and effective in its agonizing simplicity. 
So, dive in. The entire archive is worth viewing and each piece further proves how far ahead of their time the GO was. Through a combination of combining video art and anti-establishment sentiment into a cultural machine, slyly winking from within the lines of said establishment, the GO proved the enduring power of film and video as both a marketing tool and an instrument for artistic expression.