To Paint is to Love Again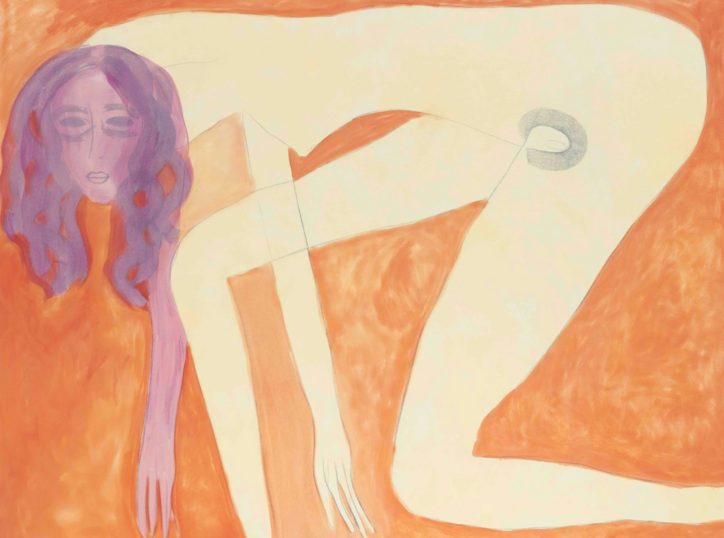 I did the show very quickly, Nino gave me the okay in mid-November or something, which was in the middle of the magazine. So I didn't have a lot of time but I have to say that this thing as very professional. Though, it has been a long time since I did any curating.
I was a curator in the '90s, and maybe 2005 or 2007 was the last show I did. 2007, I think, was a show in a big institution in Paris. I used to curate a lot of shows. In the '90s, I curated a show almost every month. I love curating, and there was a time in the '90s when curating was really interesting to me. It was a way to say something with art, and art was changing in the '90s. I was really into making a statement on what could be art today, in the time of commercialization of art. Art had really commercialized in the '80s, and then in the '90s there was a movement going back to the more interesting, non-commercial avant-garde.
Left - Ex, 2019, Amanda Wall
Right - Brad Phillips, October 13, Age 44, 2018, Brad Phillips
But then it became super commercial once again in the 2000s and I got tired of it and didn't want to curate anything anymore. And not curating, for me, is also a statement. I am not interested in galleries, I am not interested in museums. They became a payment system, very commercial and very predictable. So I did not want to curate any shows anymore. My connection to art was entirely connected to my magazine. In the nineties, it had gone hand-in-hand— curating shows and creating a magazine, to me, was a very similar activity.
But then the situation changed again. Now, because of social media, you have access to a lot of artists without the need to go to a gallery. You don't need the art world to promote and make art public. So in this new situation, the artists still need to sell their work, but do not need the art system to express and show their work. To me, Instagram is an open gallery. Over the last eight years, I have ended up following a lot of artists and especially painters that I have never met. I have no idea who they are, but do not need to know who they are, how old they are, whether they have a gallery or not. This is a new situation for me, and to the art world, where the artist and their art can be disconnected from the art system again, by way of social media.
Left - Two Worlds Colliding, 2017, Alphachanneling
Right - Double GTO, 2019, Joe Andoe
I thought this could be the starting point for a show, based on painting, but on painters that I have never met, and don't know anything about, but I like it because I have been following what they do on Instagram. That was the idea, and I didn't stick totally to the idea because I wanted to also show some friends and artists that I knew before social media— some aren't even on social media. Urs Fischer is not on social media, and I am not sure if Paul McCarthy is on social media…
They offer a point of view on what it is like to paint today. Instagram was just the starting point. Selecting people I don't know because I truly don't have time to go do studio visits anymore. My life is a nightmare I'm just doing my magazine, which is constant and permanent work. But this show is about even more than painting today, too, it is about what painting means to me today. I came from a generation where art curators and critics in the late eighties were against painting, which was a very controversial move against the avant-garde of the seventies.
Left - Sleepless Night, 2019, Luca Giavagnoli
Right - South of France, 2019, Alison Elizabeth Taylor
So my generation in the nineties, we were attacking what was called the "trans-avant-garde" at the time. All of these artists like Julian Schnabel were reacting to the idea that painting had become really conservative. I was more into the graffiti scene, and the movement in the nineties called, "Bad painting", and the artists who really used painting as to make a point. This was my connection to painting in the late eighties and nineties, which was problematic. I was not against painting, I was fighting for painting that was fit in with the idea of Bad painting, using painting as a weapon. I was part of the group of people who loved the Boxing collaboration between Jean-Michele Basquiat and Warhol. Everyone said, "this is the end of Warhol, he's trying to be too trendy and Basquiat he is trying to be recognized under Warhol's label". But I loved it, it was totally punk rock to me.
The punk rock approach to painting today is to see it as a free, spontaneous medium outside of the art system. So that is the idea, and painting means a lot to me because it is also connected to a deeper way of picturing everyday life. Picturing movement, emotion, love. Life. I deal with so much photography, because of my magazine, but I consider painting as a different category of photography. It is actually an anti-picture—a form of resistance to the permanent flux of photos that we have to see every day. And not only on social media but everywhere. Painting is an opposition to this constant communication consumption, it is a way to slow down. We are consuming imagery, but with painting, we have a chance to interact. It is a one-on-one relationship with the painting in front of you, and mentally with the painter. It is quiet and intimate, and very connected to love. A delicate moment. And this is what I wanted to express. Painting can change our life, and how we communicate with each other.
Left - Birth of the Universe, 2014, Judith Bernstein
Right - The Outdoor Type, 2003, Mike Kuchar
For the installation of the show, I did a sort of different layout. I wanted everything to be on the same line, like Instagram. Every painting is on the same level— those from famous artists, as well as unknown artists. The eye-level layout is a political statement, as much as it is trying to tell a story. Just like a magazine layout, each piece is purposely installed very close to each other and has elements that relate. I also used the floor, because generally the floor is not used in painting shows. It gave me a bigger format and was inspired by an installation by Yayoi Kusama. I liked the idea that you see the back of the painting too, you're immersed, almost inside of the painting. I was afraid to have so many different artists, but in the end, I loved the diversity and the lack of over-intellectualization. These are cool artists telling the story of their everyday lives, painting their girlfriend, picturing their mental state… Day to day emotion.
Check out To Paint is to Love Again while it is still up, at Nino Meier Gallery.