Paint Me in Colors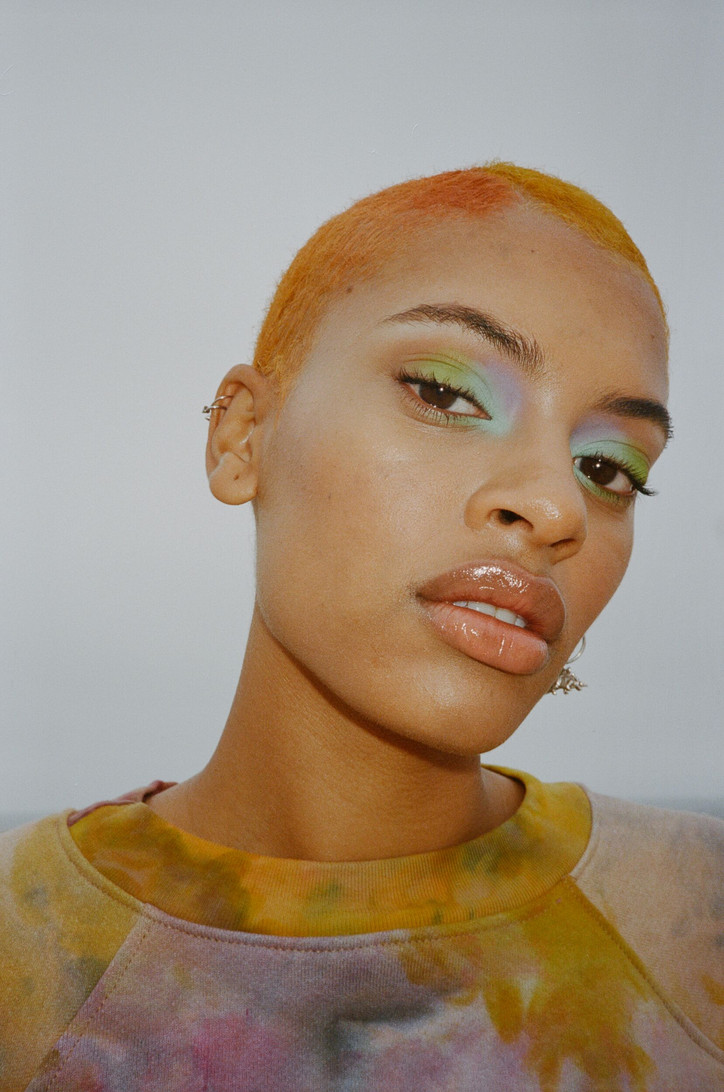 For this office beauty exclusive, we hit the beach, struck a couple of poses and, of course, asked a few questions. Check out the full editorial and video below.
Tell me one thing that most people might not know about you.
I'm left handed, no one ever notices and they always say "I didn't know that" when I tell them. So I figure here's my chance to put it on the record.
Do you believe makeup has the power to alter one's mood?
Definitely, colors are therapy. I don't usually go for the full beat look, I just love washes of color. Red if I wanna feel fierce, baby blue if I want to feel peaceful, green is I want to feel calm, yellow to feel happy. Besides color, looking like an elevated or new version of yourself is always exciting.
What's one music video you would use to describe your life right now?
I don't know about describing my life, but Sevdelza's "Shamaran" makes me feel like crying. It's epic in a way I wish my life was.
Guiltiest pleasure?
I'm pretty straight laced. Gonna have to say coffee. It's terrible for my voice so I really should not be drinking it. (But I just can't stay away!)
How has your idea of beauty changed throughout your life?
When I was a pre-teen I thought makeup was this gateway to beauty. I wasn't allowed to wear makeup so it was the allure of something I couldn't have mostly and comparing myself to others. I used to sneak my moms makeup in my bag, wrong shade and everything and try and do my makeup in the bathroom at school. I'm sure I looked horrendous but I felt like I had this powerful social mask of maturity on. As I entered into my teens, I became less and less enamored with makeup and didn't really wear it 'till I got to college. I became more in tune with beauty as it radiates from within, I still am that way. At the end of the day beauty is in your confidence of expression whether that's through fashion, or makeup or any other form of expression or non-presentation. I believe beauty is a completely internal experience.
Fill in the blank: I feel most beautiful when I ____.
Sleep naked.
LA > NY?
Nah, both offer completely different things. The more I bop between the two, the more I realize they are Yin and Yang.
Who or what is your biggest beauty inspiration?
FKA twigs and Kelsey Lu always have me gawking with their looks. Their hair, makeup, and outfit are always on point in a casual avant-garde way. I live for it.
What are you reading right now?
I've been reading poetry books because they're perfect for only having small bits of time to read. I've been reading Magical Negro by Morgan Parker, and For Colored Girls Who Have Considered Suicide / When the Rainbow is Enuf: a chromeopoem by Ntozake Shange.
Bare-faced or all done-up?
Bare-faced. I have to switch my habits to walk around all done up. No rubbing my eyes, no eating, and can't take random naps on my side. So, nah, bare-faced first, always.
Biggest pet peeve?
When people see me only as a commodity or as "dating material", but don't see or acknowledge my artistry and mind. It happens less now because I can sniff it out pretty quick and I carry myself in that energy of "not to be fucked with", but there was a time when it happened frequently. It's hella disrespectful.
Fill in the blank: If I could only own one beauty product for the rest of my life it would be ____.
Concealer, or maybe blue mascara…
In your opinion where does "beauty" begin and end?
Beauty begins with acceptance and ends with defiance.
What's the craziest makeup trend you've ever tried and pulled off?
The super glossy lid. I didn't understand it was just an editorial thing and not a very practical "long wear" look, I globed so much on for this gallery opening I was going to and on the bus there the gloss started running into my eyes which hurt like hell so I just like patted it down to my cheekbones and lips and made it a super dewy moment.
If your makeup style was related to that of a famous painter, who would it be?
Kandinsky, I like a mostly bare base and graphic pops of color and a geometric line.