The Perfect Fit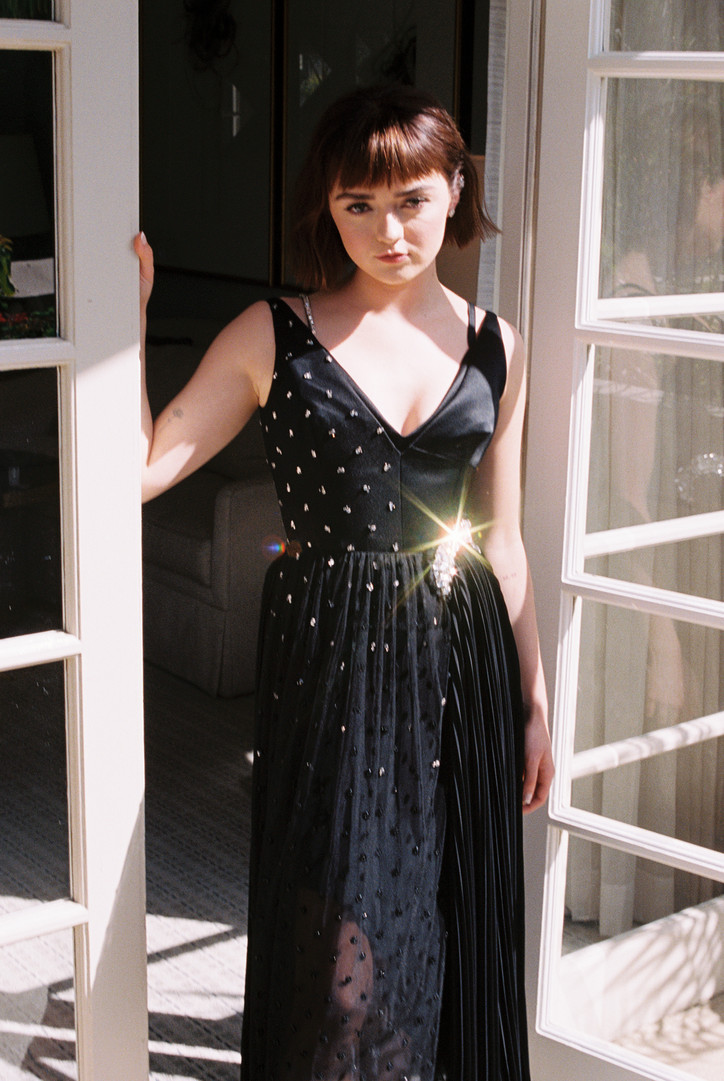 Initially imagined by Reuben Selby, the dress focuses on form, function, and flattery as it hugs Williams' five-foot figure. The intention of the dress, however, couldn't have been further from cosmetic. Selby notes that the garment's goal was, "to be effortless, but empowering at the same time."
There's no doubt that this dress has a mind of its own; and if it does, what might it say, you ask? Williams thinks something along the lines of, "keep snapping, bitch, I'm the nicest dress here—just look at my goddamn crystals," and honestly, we couldn't agree more.
First off, congratulations on your nomination, Maisie! Tell me a bit about how your relationship with Jonathan began.
Maisie Williams - We had already gotten to know Jonathan quite well from attending his shows and other various events⁠—one evening, at a meal we were all attending, the dress came up in conversation, and he offered to make it for us. Reuben must've drawn up around 30 sketches, so we picked our favorite ones and took them to JW Anderson. It just so happened that Jonathan preferred our favorite sketch too. Jonathan took Reuben's drawing and added the defining details of the dress. We had a lot of fun, and most importantly, I feel amazing in it.
Designing a dress for the Emmys is definitely unique—what inspired you to create a custom look for the occasion?
MW - I've always wanted the perfect custom red carpet dress—something that I feel really confident and comfortable in. I asked Reuben if he would design something with me in mind: my height, my shape, my likes and insecurities. Being five-feet tall, it is almost impossible to wear something straight off the hanger. Nothing ever fits perfectly, and it just doesn't feel right. When there are hundreds of cameras flashing in your face, you have to feel comfortable. Otherwise, you spend the whole night narrowly avoiding a panic attack. After making what I think is *the perfect dress*, I just don't know how I'll ever wear anything that isn't custom-made for my short ass ever again!
How did the design process begin?
Reuben Selby - The design process started with discussions between Maisie and I about how she wanted to feel. It was clear to me the most important thing was comfort—not just comfort in the way that we wanted the dress to fit like a glove. I'm referring to the comfort that comes with being confident in your own skin. The dress had to be effortless, but empowering at the same time. I wanted the finer details to be a statement of Maisie's character and uniqueness rather than trying to be a point of flattery. Every detail was crafted with Maisie's personality, likes and interests in mind. I wanted it to feel light, light in a way that would make it seem like nothing was there. My aim was to create something that removed the anxiety that comes from wearing a dress that isn't quite right by making it so beautiful and stunning that it takes away the need to feel any consciousness.
What was the most difficult element to agree upon?
The decision-making process was pretty seamless. We all had a particular vision in mind, so there wasn't anything that we clashed on.
Which aspects of the look are classical "Maisie", and which are classical "JW Anderson"?
The circular crystal detail is an element which can be seen in JW's most recent collection. The "Maisie" aspects would be the asymmetry and the mismatch of textures.
Favorite detail of the overall look?
MW - I love the mix of sheer and opaque. It makes the dress feel so effortless. Also, love the polka dot, it keeps it young.
RS - The aggregate. For me, it's about the balance of the details.
What makes this dress different than any other you've ever worn?
MW - I think the varied length is different from anything else I've worn. The dress still feels evening without being floor-length, which is really important for a shorter frame.
If this dress had a mind of its own, what would it say?
MW - My dress would say, "Keep snapping, bitch. I'm the nicest dress here⁠—just look at my goddamn crystals."