PHLEMUNS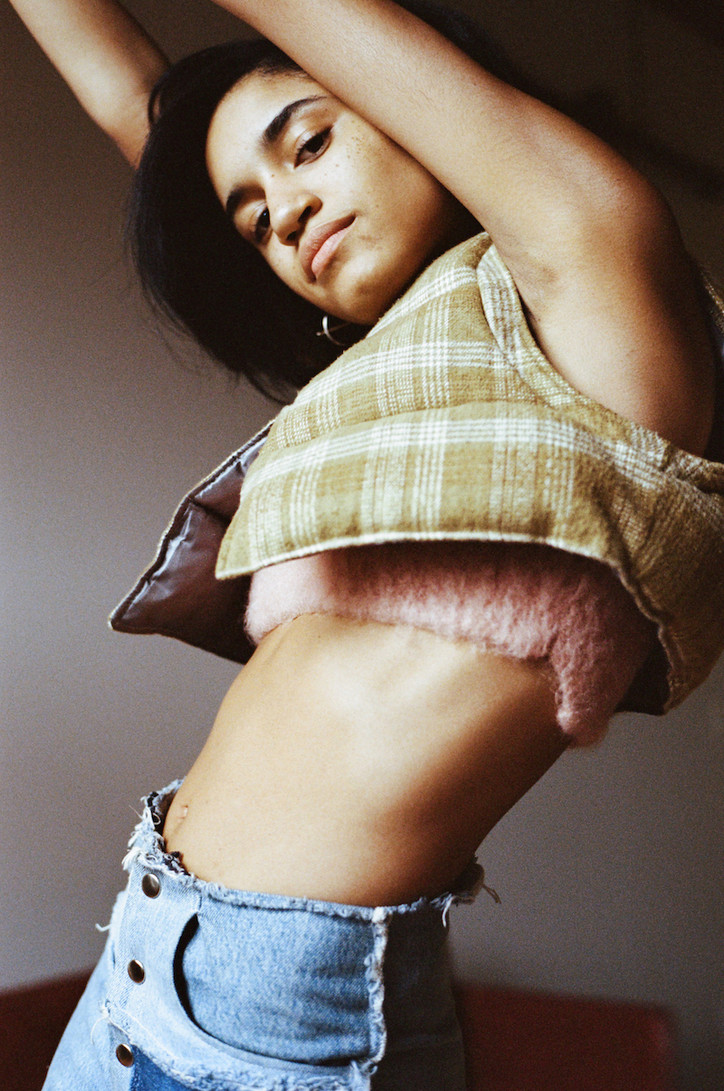 PHLEMUNS began back in 2014 as a brand focused on reconstructing denim and creating a sustainable approach to fashion. "A few years ago, I used to never wear denim, it was my least favorite thing to wear," James explained over the phone. "I wanted to figure out a different approach to denim, in a way that fits more of my style or in a way that I would like to wear it because I was in a time where I was constantly wearing slacks or something a bit more 'dressed up'. I wanted to have more of a middle ground. I shop a lot at Goodwill and I would just see all the racks of denim and was like 'why don't I just play around with it and see what I can come up with?'"
Clearly, it's worked out. So we spoke to the designer about working with Solange, 2000s style, and what it's like to work as a young, Black designer.
What would you say is the biggest difference in how you approach design now versus how you approached it when you first start out?
When I first started, it was out of me practicing my sewing skills, my techniques and more of just finding my way. I think it was through my trial and error process of figuring out how to work with garments and denim, I have this idea of who I am as a designer as opposed to who I thought I was as a designer. So it's definitely less of a question thing. Before it was more "where is this going to go," as opposed to "this is where it's going."
What are some of your biggest influences when it comes to your style?
My parents have always had a big influence on my personal style. My mom was a thrifter growing up, so I always found it fascinating that she would find these amazing things at the thrift store, and that really rubbed off on me, which in turn rubbed off on the way I design.
I kind of say I am my target market because I initially designed clothing for myself. Andre 3000 and Kelis have always been big style influencers for me. They're always people who I have in mind—more particularly their style back in the '90s and 2000s. I really just work off of what's in my head. I don't know if it's weird to say but I don't reference much other things. I think I take in everything I see as like a constant, but I don't really go looking for things or looking for references.
Who would you say your customer is?
It's definitely someone who wants to make a statement without being over the top. I kind of shy away from very attention grabbing things. I hate when all eyes are on me.
But you love dancing, don't you?
 [Laughs] I do! But I think that's a whole other person that comes out. That's the only time when I'm like "okay, I don't mind that everyone's looking at me."
I like things that are impactful without being over the top or showy. And a person who likes to have a middle ground between casual wear and elegant, dressed up clothing.  I definitely think that's why my partnership and growth with Solange has been very sustainable because she's always been that kind of person. She's always had this middle ground of being casual but also being elegant and fancy or dressed up in a sense. And that's very much the type of person that I look to dress.
Think less and act more. Don't second-guess yourself, don't question anything.
How did you end up connecting with Solange?
I initially met her when I worked at Opening Ceremony, and I helped her when she came in. She's really good friends with a lot of the people up on the corporate level for Opening Ceremony, and she reached out to one of the guys and was looking for someone to style a shoot for one of the artists on Saint Heron in L.A., so that's kind of where it sparked. Through that she found out about my clothing line and fell in love. [When] I put my spring collection out, the photos were floating around on Instagram, and I guess there was one dress that she kept coming across, and that sort of sparked our collaboration because that's when she was getting everything ready for Saint Heron shop. And the Saint Heron team reached out to me and asked if I would be interested in doing custom pieces. Now it's just kind of grown into a cool relationship.
Do you still make everything by hand?
Yeah, it's just me by myself sewing in my living room.
What are some of the biggest challenges you've faced since you first started designing clothing?
The biggest challenge is just being so small and not having support from a team. There's no one really working for me and all the money's coming out of my pocket. It's great that I have a demand but keeping up with the demand is really taxing and it wears on me a lot. 
Do you find it difficult to navigate the industry as a young Black designer?
It hasn't really happened much recently, but something that got to me for so long is when people would say I have an "urban fashion line." I don't think there's anything wrong with being urban or anything that comes along with it, but I feel like people only say that because they saw my face and saw that I was Black. And it's like, I don't have an "urban" line at all!  I feel like some of my influences have come from urban culture, but I don't think that that's what you would call it.
I feel like I've been really grinding for a few years now and I've done pretty noticeable things, and I feel like I haven't gotten the attention that I deserve in the timing that it's happened. And then there are other people that I see who are doing these things left and right and no hate to their success or anything, but it's like, I have been doing this and no one's really noticing. But I'm patient and my time will come on it's own. I do think there's a difference when people see that I'm Black and there's something that comes along with that that's different than other people's experiences.
What advice do you have for people out there who want to start their own line?
Think less and act more. Don't second-guess yourself, don't question anything. Do as much as you can even if no one's paying attention. And do it for yourself and your own self-enjoyment. When you do it for yourself, when other people appreciate it, everything comes as icing on the cake. Especially for the fashion industry, it's not just a fun, creative thing. It's a lot of stress and a lot of work and it takes a lot of time and patience. You have to be strong or mentally stable, stay true to who you are. I feel like that's what brought a lot of people's attention to me: the fact that I do what I want and I don't second-guess myself.
Describe PHLEMUNS as a song.
"Millionaire" by Kelis and Andre 3000.
See more from PHLEMUNS here.