"Pissing Match" at Postmasters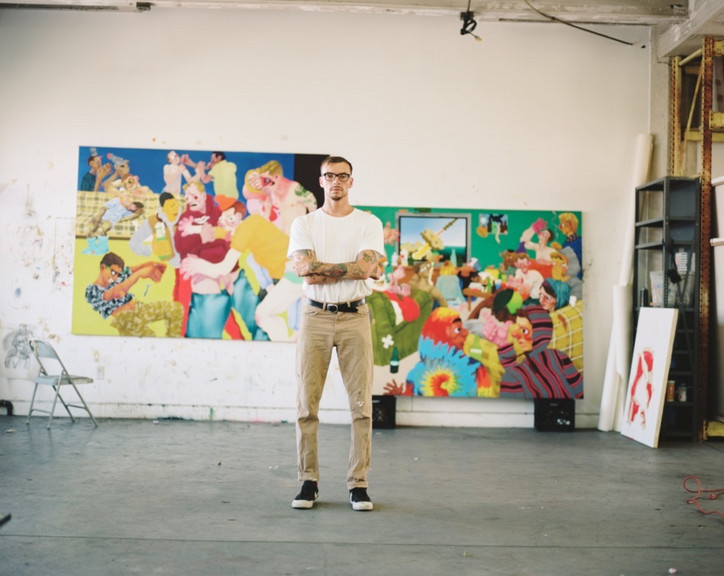 His pop-inspired paintings offer a bizarre blend of classically finessed fine art skills and a disturbingly cerebral cartoon quality, incorporating refrences from modern media, politics and an amalgamation of personal experiences. Throughout his career, Castator's triumph has truly been in the thoughtful way he has translated what is topical, warping whatever the current social climate may be, with weird and artful articulation.
When commenting on cultural phenomena or creating political work, it is often overt if an artist is approaching the subject with satire, or with sobering seriousness. Canyon's work is confounding, to that point. Pissing Match presents the "house party"— his paintings depicting "debauchery", in various scenes filled with wild vices, substance abuse, violence, harassment— the concept of such a casual get-together completed by Canyon's brash, and blatantly uncensored characters. 
Putting together Pissing Match— a deeply uncomfortable, depressing, angering, droll, and amusing exhibition— that takes someone confusingly cool. So office sat down to chat with Canyon about his first show in NYC, olives, and skating accidents. 
Your work is pretty steeped in social commentary, and there are consistently cultural references that are overall pretty current. How do you think- or I guess, do you think- that your work is able to transcend the appreciation of a younger generation, and be something that speaks to those who are older, or just be understood by anyone outside of a modernized society?
The issues that exist now, that I am referencing or that are feeding into my paintings, aren't new. There is nothing new about oppression, social injustice and herd mentality. So while I'm using new visual languages and maybe more modern, cartoon-like figures, there's an underlying theme that can be universally understood.
Do you feel like your work has a sense of humor? Have you always interpreted it the same way? ...I feel like personally I might have gone through phases where I would find it funny, and also at times it would probably be super depressing for me to see those scenes. Do you feel like the scenes are self-referential or more of a commentary on something you have observed in society?
I use humor as a way to approach or convey a very serious message and quite frankly, make it easier to look at, make it tolerable. The more serious the issue, the more cartoon-y I make the characters involved. I like to use the Blitz Wolf cartoon by Tex Avery as an example. It's propaganda, it's comedy but essentially it's taking something very dark and unbelievably horrific and making it relatable and consumable by any audience. That's what I am trying to do with these scenes that are a combination of personal experiences and societal observations. It's impossible not to include myself. I'm holding up a wonky mirror to what's happening in the world and sometimes of glimpse of myself makes it in.
How has your work changed since you began your practice? Has LA effected that?
Yes, absolutely. It has constantly been changing. The biggest change for me is since moving to Los Angeles, I'm able to work at a larger size and now create more complex scenes that I could have never approached in my tiny Bushwick studio.
What do you do in the studio while working to create an environment that you are inspired by? Music, people, technology, furniture, I don't know, really anything.
I have mini fridge full of beer, olives and canned fish and a giant bluetooth speaker from Costco.
What is something outside of fine art that you find inspiration from?
Skateboarding.
Do you watch cartoons?
I fall asleep watching cartoons every single night. I consider South Park high art.
Do you read the news?
I am a reader and supporter of the Intercept.
Also— what does this mean, like seriously. It's from a press release about you and personally I don't think this sentence is explanatory enough?
"Castator's foray into painting started after he broke his ankle while skateboarding in high school. Instead of attending art school, he moved to New York City, where he taught himself oil painting."
Haha that's an odd sentence. What it is trying to explain is that I was sponsored, on a team and was planning on pursuing skateboarding full on. Then I broke my ankle and couldn't skate for a long period of time in my senior year of high school and that's when I started painting. I always drew but I don't think I would have ever started painting if I hadn't had all that time not skateboarding. After really bad advice from college councilors who told me to pursue illustration because I wasn't "going to be the next Picasso" I decided to bail on art school and move to New York. I wish I had taken that councilor's name down, would have invited him to the show.
Pissing Match will be on view at Postmasters Gallery through February 10th.
Images courtesy of Postmasters Gallery.