The Pop Star: Chef Davide Oldani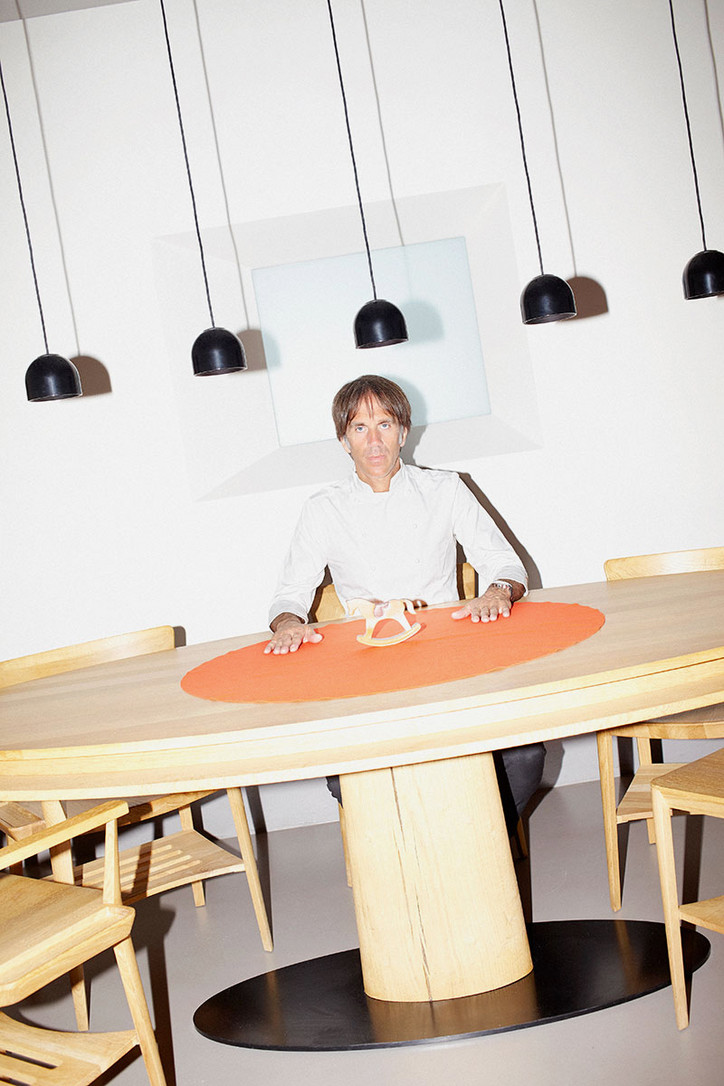 Along with his fun-loving, witty and egalitarian approach to cuisine, Oldani's commitment to productivity and service has earned D'O both a Michelin star and a case write-up from Harvard Business School. The personal and professional ethos that pervades his many endeavors in the culinary world has been the key to Oldani's success as a true superstar of Italian cooking. He calls it "la cucina pop."
I've heard so much about your philosophy of la cucina pop—I'm curious, how does it play into your everyday life? Take today, for example.
I can give you a very small example, we had a meeting this morning for this new line of herbs, they're grown very close by to where I stay, and we're going to brand it. This is just a very little touch of our philosophy of cucina pop.Now I am in the R&D section of the restaurant, and we're preparing the new menu for next season, the new vision, even the new plates. So every day there's something that reminds me, I am a very "pop" person. There was an expo in 2015 in Italy, and it was something that reminded people that food must be for everyone. Feeding the planet, and energy for life was the concept of the expo, which is very close to my philosophy of life, and of work.
That fits in with one of the founding principles of D'O, which is that it be affordable to the clientele, it's not super exclusive in terms of the prices. How does that affect a typical service in the restaurant? Do you notice a different feel, because you get a different clientele?
Everyone can come to D'O, because it is elegant—I'm looking for something elegant and nice, instead of richness. Because life has completely changed since thirty years ago, when I started to be a chef, the mentality of the people has completely changed. Everyone is social. And when you are social, you have to be "pop." So even the food must be "pop," because we feed the planet. It doesn't matter if you're white or black, poor or rich, the only thing that I need is elegance, and it can come in many forms. It all depends on how you grow up.
To that point, you've spoken so affectionately of your family, and its influence on your cooking.
In our family, our cuisine is something like a mirror of our life. My family were educated people, they taught me and my brother how to live, how to build relationships with people, this is the most important thing. I grew up with this idea, and my company grew up with this idea. We now have restaurants in five places in the world, and we are around forty people. We work with seasonal ingredients, and if you work with seasonal ingredients, ingredients from the land around you, you can make only the best quality food, you can satisfy more people, and you can build up your business.
So what was the kitchen like, in your household?
For our new restaurant, I designed the tables, I designed the chairs—if you come to the new restaurant you will understand my family's kitchen. We have a tinello, which in my house was where we would eat together with the family, and just in front is the kitchen. In Italiano it is tinello and cucina, in English it is the "chef's table." Then we have a veranda, we have a sala, we have a salotto, and then we have the ufficio and the R&D section. So we share all the same places, like a normal Italian house.
It's interesting that there have been so many case studies done on you and your process with D'O—to what do you attribute your business savvy? You've said that if you can be a good artisan, then success in business will follow, so what defines a good artisan?
It comes from my history, you know? In my family I grew up with the mentality of my mother, she was at home cooking for me, my father and my brother. Something I remember from then is the applied economy, not the theoretical. When I say applied economy, it's very simple to understand. We follow the system, because we fill up the people in the best way, we can buy the ingredients fresh, with the best flavor, and for an affordable price, and so can sell my food in an affordable way. This was the foundation of my mentality. But then I did cooking at the university, I worked with Alain Ducasse, I worked with Gualtiero Marchesi—I think, if you do the university, you have to learn something, so I just followed my origins, followed my territorio, followed my honesty, and put that together with the know-how I learned from the big chefs.
Sounds like a good equation.
Right, equazione we say in Italiano. And if you look on my website, we have the ten pillars of cucina pop. The ten points that, to me, are very important to do work that I love, and to do the business that I want. Because when I worked with the big chefs, they were artists, but they were also businessmen. I have to tell you one thing that is very important. If you have an idea, and you trust the idea, you have to do it, propose it to the people, and the people have to buy it. If the people buy the idea, you make goals. Cucina pop is an idea, because it produced the business, and it gave me the occasion to be an artist. Because we designed the dishes, the cutlery, the tables, the layout, we've written eight books, we've opened five locations around the world.
Finally I have to ask, what would be on the menu for your last meal?
I can tell you something. Gelato—and I'm talking gelato, not ice cream—stracciatella gelato with a very nice, good type of chocolate, 74% cacao. And then, probably just to keep my Italian heart and soul clean, I'm probably going to get a nice spaghetti.