Sign up for our newsletter
Premiere: Girlyboi - "Stevie Knicks"
A New Beat for Pharma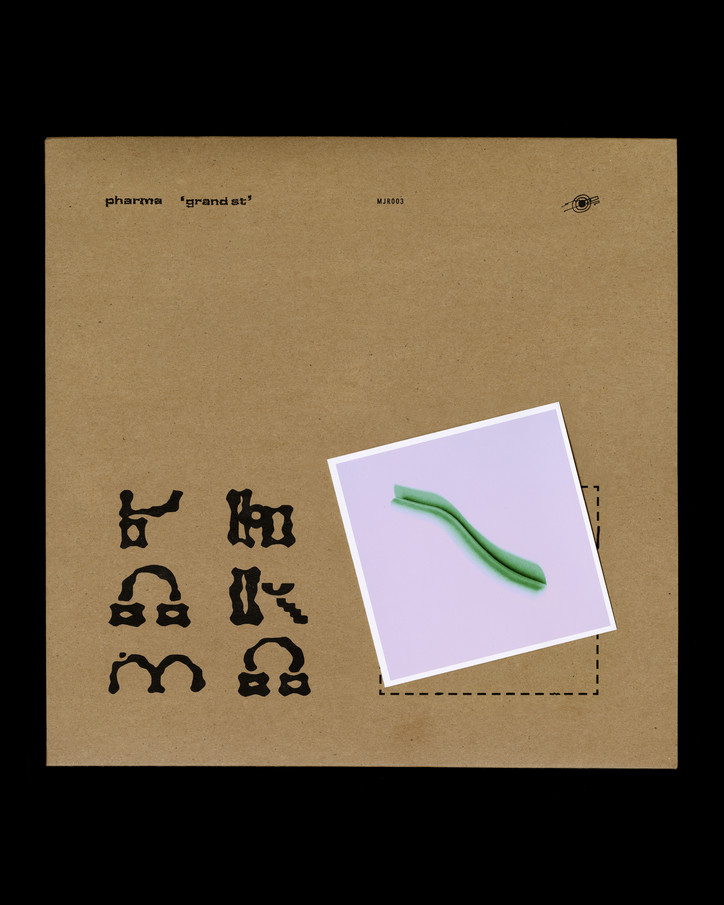 Check out Grand St. and the interview below.
Tell us about this album; what were your inspirations?
Both our musical paths started in punk bands, but as we were exposed to other genres, we began moving in more electronic directions. After touring in seperate circuits, we felt disillusioned with the narrow genre lenses we had isolated ourselves in. We came together to record Grand St. as an attempt to be more true to ourselves; what we were feeling about the world, about politics, and about society in general—not just about the club or music.
We recorded most of the album in an old church in Connecticut over the span of a week. The weather was miserable. We had a $50 microphone, an out-of-tune piano, and a Costco supply of grains. We both were feeling a sense of despair while also trying to celebrate the present and be grateful for the love that we had. Most of the recording process was improvisational as we were trying to capture moments of spontaneity. A lot of the record took shape after the initial recordings, while sharing it with friends like anaïs and Wati.
Great cover art by Phil Wong and Lucas Mascatello! Can you explain how it came to be?
They're both friends of ours, and we wanted this project to be collaborative with those close to us. Lucas' image nicely embodies the melancholic simplicity of the record. Phil did fantastic work designing the record, staying true to Maddjazz's aesthetic while also giving us a minimal vibe relevant to Pharma's sound. 
How do you feel working as a duo affects your music? And what do you feel you both bring to it independently?
We work like an atom. Sam is the electrons while Milo is the nucleus. We both appreciate the feedback and the opportunity to learn from each other. Despite some hair-pulling arguments over hi-hat placement, our friendship creates a strong artistic partnership, one where ego can be dissolved for the greater good of the project. 
Collaborating with anaïs must have been amazing. Can you give us the lowdown on your studio time together? 
Incredible. There are few artists that can walk into a vocal booth and deliver such effortless performance, never compromising integrity or vision. Beyond anaïs' unprecedented musical talent, she has such wisdom and compassion. We admire her greatly. The record wasn't truly Grand St. until her vocal was on it. 
Left — Milo McBride, photographed by Federico Reyes.
Right — Sam Katz, photographed by Almendra Isabel.
Can you each tell me a little about yourselves? How did you meet? I read that you have been friends for a while, but where have your careers led you while apart?
We met at music school in NY. We were both playing in bands and had similar tastes in music and politics. We became close friends throughout our studies, especially as we both began to explore electronic sounds. Occasionally, while on separate tours, our paths would cross, and we would get to be reunited in random cities. It was a nice way to ease the frenetic pace of our lives, take a breath, and reconnect. 
Sam WildKatz: I oscillate between playing drums and (sort of) singing in bands like LA's Young Set Club and producing/djing under the name WildKatz (Katz being my last name). After a few tours DJing for NY rap legend Cakes Da Killa, I ended up in Monterrey, Mexico, where I've been for the last few years, putting out solo stuff and collaborating with artists like Sonido Berzerk and Zairah.
Milo McBride: I was initially more focused on producing club records and touring as a DJ (Antika, Dafosse, DSCO 001, Boiler Room Paris). So my musical work led me to sound design. I composed pieces for longtime friend and visual artist Rindon Johnson, including their recent solo show, "Circumscribe" at the Julia Stoschek Collection. Alongside Maxime Robillard (aka Love Letters), I scored From There To Here, a documentary about a dance school in Kolkata, India, for victims of domestic violence and human trafficking. The film premiered at Lincoln Center in 2019, and the musical score was released in a limited edition box set on my subsidiary, Alternative Medicine, which I run in collaboration with label guru Mike Bloom.
What is your favorite aspect of this album? And do you have any advice to keep in mind while listening to it?
We both think of the album as one song and recommend listening to it as such. We never really thought about it in terms of singles or anything like that. Milo loves the intro and outro, and Sam is a big fan of "it cud b" and "bossypants." We didn't want to be recreating space. We wanted to keep with the earnestness we were feeling and reflect that by not manipulating where we were when we made the songs.
Notes:
- You can hear the Lower East Side's Grand St. on "grand st."  
- You can hear the creaking floor of the apartment where Milo recorded the piano for "it cud b". 
- You can hear the nave of the church on "water st."
Listen to the album on Bandcamp here, or check it out down below.
The Intimacy Issue: Charli XCX
This sort of vulnerability with the self is exactly what inspired our May digital cover—the Intimacy issue. In thinking about what being intimate—both with others and with yourself—means during such strange times, we of course wanted to explore dildos, orgasms, and Chaturbate culture. It is office, after all. 
But we also wanted to move beyond that. What do our current conditions mean in terms of being intimate in all facets of the word—being intimate with your thoughts? With abstraction? With objects or ideas? Do you cringe at your overgrown hair when looking in the mirror and the Snapchat camera? How has isolation played a part in your want or need to be intimate? Have you developed any new intimate relationships while in quarantine? 
We asked 13 subjects to explore these ideas in a series of remotely-shot portraits and videos. We also asked each subject to write a diary entry with this vulnerability in mind.
Come into Charli XCX's digital world.
Charli XCX has been underrated for years. At first, she was a rowdy party girl, singing about dancing on tables, fast cars, and fucking up hotel rooms over pop-punk instrumentals. But there comes a point where that gets old, and when Charli found the likes of progressive-minded producers such as London's A.G. Cook and SOPHIE, she found a way to move her sound into the future, still sing about partying, but also open up through more vulnerable lyrical topics. 
Then quarantine happened. Notoriously a workaholic, Charli took the opportunity to do what every artist strives to do during this period but only someone like her has the chops to actually follow through with. Her goal was simple: complete an entire "quarantine album" in one month's time, collaborating with fans on song titles, choosing beats, and holding weekly Zoom sessions to update her cult-like followers on the album's progress. It was both a blessing and a curse. This process allowed Charli to be ever more intimate with her fans and with herself, and she ended up producing a dynamic album that is arguably her best work yet. But it also exposed some deep-rooted issues about herself to herself re: productivity, overworking, and using these two things as excuses for not confronting her demons. As she writes in her accompanying diary entry, "I feel like I'm applying so much pressure on myself that everything is crumbling around me. I have constant anxiety in my chest on some days. I am so angry when something doesn't go the way I want it. I am consumed with stress. It's not how I want to be and I know this feeling will pass but right now, today in particular, it's really eating me alive." 
This is exactly what our Intimacy issue is about—the sometimes harsh confrontation that comes with being alone with yourself, no distractions, just you and your feelings. For her Intimacy cover, we applied a filter-y, slimy, 3D world onto Charli. 
Watch this video, as well as all the other Intimacy videos, on .show, the new interactive video camera and shoppable video marketplace.