Sign up for our newsletter
Premiere: Haich - "Conversations"
Listen to "Conversations" below.
Jakob Ogawa is On Our Mind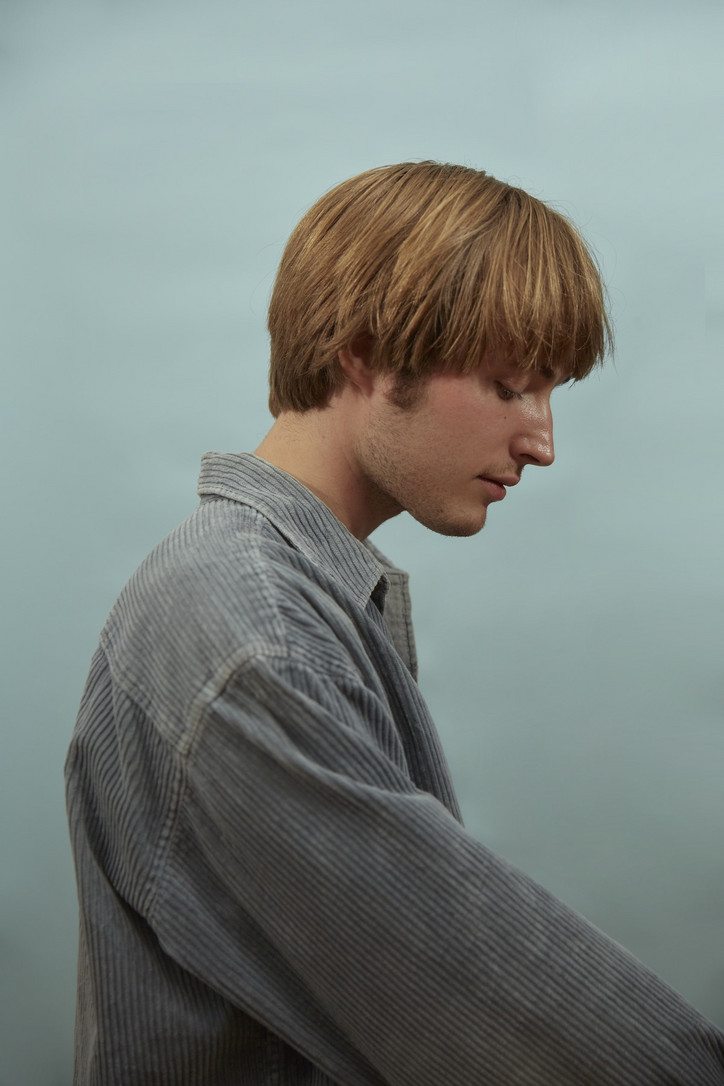 But you can breathe a sigh of relief. Whatever's happening now must be good. I just met Jakob, so I don't know if he's always like this, but he has the soft spoken ease and the starstruck look of someone in love.
Maybe it's a natural high, or maybe it's just one of those serendipitous periods where you find two dollar bills on the sidewalk and meet new people at just the right place and the right time. Jakob seems to be experiencing something close to that these days.
Do you feel like you're a spiritual person?
Ogawa: Sure. I think you attract what you want to attract. If you're in a good space, you usually attract good people. If you're in a needy space, you might attract people that are needy too. Lately I've just been feeling good. It's a nice thing. Of course there's ups and downs, life is what it is, and you can't be happy all the time, but you shouldn't be sad all the time. Balance is important, and there's a big difference between being present and not being present.
What are you up to now?
I've got some ideas about a lot of stuff. There's a lot of things going on, and I'm releasing a lot of new stuff. I have an EP coming out Friday, so that's pretty cool. Next year I'm releasing an album, and I've been trying to make things that are fresh for me.
More 'me' than your old stuff?
Yeah, sort of. I feel like I'm in a better place now from back when I made all those bedroom songs. I feel more creative, more sure of my own sound. It's just a new thing for me. I feel like I'm always outdoing myself, trying to push the boundaries of what I do as a musician. So it's coming together quite lovely.
That's an exciting place to be at. What kind of things are influencing you right now?
A lot of different stuff. I read a lot of poetry at the moment. There's that poet Nikki Giovanni that I'm really fond of, she was a Black Panther and she's written a lot of great books and poetry, so that's my inspiration lately. Also I read James Baldwin, he's a big influence in my life right now. I think poetry is probably my main interest these days. Also taking photos. I bought a Contax camera a few months ago and I've been taking a lot of photos with it. That's a great way to expand your creativity, to make another thing other than just music. Because it's nice to not only make music but to make other things.
I was going to ask you about the role that visual work plays in your music. You have great album covers and music videos.
I really enjoy watching movies. I used to watch a lot of movies before. Lately it hasn't been that much, but I'd say it's definitely affected my music. I feel like when I make music it's a lot of colors and soundscapes, so I think that's something I'll be experimenting with a lot in the future, trying to get a new color to my music.
What music are you listening to right now?
Blood Orange. Also a lot of old soul music. There's a lot of old stuff that's coming out now that hasn't been released before, a lot of unreleased beautiful stuff. I like it.
There's this album called On the Rise by the artist Barbara Howard and it's such a beautiful album, there's especially one song called "My Song" that I've been listening to a lot. Also an artist called Kelly Finnigan who has a song called "Catch Me I'm Falling," and that's also slow music that's really, really beautiful. I listen to classical, jazz, whatever makes me feel something. Also some punk.
Anything you don't listen to?
Heavy metal. But that's probably the only thing.
What's your creative process like?
I usually just make the songs and add the piano or guitar, just play around with it and experiment from then on. Put a bass line on it, write some lyrics, find a melody.
But Georg and I also play together. I can be playing the drums, he can be playing the guitar, or the bass, you know, and it's a process where we're still young, we're still trying to figure out things we're able to do. We've come here to experience new things. Coming to the states has been game changing for me. So many beautiful human beings, so much love, so much soul and ambition.
Versus, like, for example, Norway we have sort of like an unwritten law that's called janteloven, and it's this thing where you're not supposed to think highly of yourself. It's this weird thing. Here it's the total opposite, I feel like people are just, a lot of people are standing up, there's more of a drive to make something of yourself.
It's very individualistic, for sure.
It's so nice.
A lot of your music is very nostalgic.
It is definitely. I've always been very fond of the past, coming back and thinking about moments, just small fragments of experiences. So that's definitely been a big inspiration for me. Lately it's been more now, in the moment, and what's going on right now. I think it's fun to change a bit.
I used to want to live in the seventies or the sixties, that was everything I wanted was to just get back there to that time. Now I'm happy where I'm at. Now I think life is such a trip, strange but also beautiful. It's just so interesting, especially if you're doing something that you love, and it takes you places, then it's a journey. But I'd say that a lot of the new stuff that we're coming out with next year is more direct, more focused.
Do you have any advice for your younger self?
Reading, now that's a good thing to do. Get in touch with something high, that's what I've been doing lately. Make your own space, be comfortable in that space, and don't lean on others. Be more open, take more chances. Be more direct, be honest. Don't fool yourself. And love yourself.
That's the thing though. You need to experience that to get stronger. You're faced with a lot of difficulties, but be strong. Go through it, be strong, but be happy that you're alive.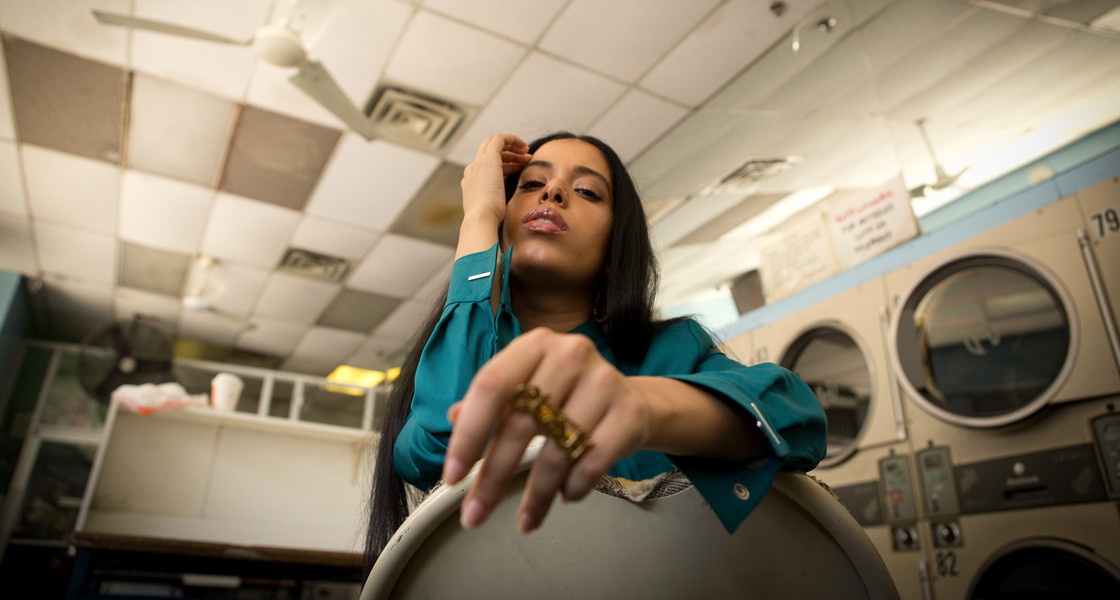 With Time
Why does New York inspire you?
New York is home and is what molded me into who I am. I love the abrasive environment, the hustle, and the diversity - you can walk down one block and it'll be a Dominican neighborhood, then turn to the left and find yourself immersed in Arab culture. It's beautiful. NYC also gave me tough skin. In New York, you see the drastic spectrums of income. Being from the hood, I grew up on food stamps, and a hard way of life—but I went to school with people with different lifestyles and incomes. It was a culture shock because, before high school, I thought everyone was living in the projects. I thought I was the majority. Then I went to my high school and became a "low-income minority." Seeing the different ways of lifestyles inspired me to work harder on whatever dream I had because my family and I are deserving of the world. If my parents came here to the US for a better life, I'm sure as hell not going to die in the hood.
What has been the hardest part of your journey as an artist?
The hardest part is standing out and having people take you seriously. The industry is oversaturated with so many talents, and all of the biggest artists are backed by major labels or have access to a plethora of money. My entire life, I've never had money, so it's been harder to get my music out there. However, I have supportive fans and peers that will go hard for me so that one day I can be positioned right next to the artists that have a backing. I mean, it's already happening. When I dropped my third project last week, I charted for the first time. I was #1 on the R&B album charts, amongst all these artists I looked up to. So that right there just shows you what you can do if you work hard.
Who inspired you growing up?
...My [mother] inspired me as a kid. She always said, no matter what your zip code is, or your financial situation, you need to go after whatever makes you happy. I knew the one thing that kept me sane and was always there for me was music. My sister also played a vital role in my life. I always loved how loved she was. She could walk into a room and everyone would just gravitate towards her. She's the most beautifully abrasive, ambitious, and confident person I know—and she taught me not to care about what anyone has to say. People will doubt you (whether in school, work, etc…) because they're projecting their fears onto you. Most haters are upset with themselves that they don't have the courage to do whatever your doing. 
How do you find confidence and motivation in a competitive and often exclusive industry?
I found confidence when I learned that I AM deserving of everything that is coming my way. No one is better than me, smarter than me, more talented than me, more creative, etc. We are all humans, just some give up, and others don't. Some work hard, and others don't. I'm from the projects, so "survival of the fittest" is naturally ingrained in me.
What's next?
I have new projects to create, more music to drop, more shows to perform at—and more people to inspire.
Shake Appeal
As soon as people heard the tracks on West's 2018 album, Shake was the name on the tip of the industry's tongue. With her refusal to be tied to any single category—both in her music and with regards to her sexuality—the 22-year-old artist, born Danielle Balbuena, presented a uniquely modern response to our collective cultural desire to define everything and everyone. But if there is a defining singularity about her, it's that she doesn't follow anyone else's rules. Even her forthcoming debut album, Modus Vivendi, which translates to "a way of living," is about allowing "conflicting parties to coexist," she tells me, "and put [their] differences to the side."
Her strength—and, perhaps, her modus vivendi—is that she doesn't care if people try to form some kind of narrative around her music and her identity, her connection with Kanye's G.O.O.D. Music, or even her relationship with her partner, Sophia Diana Lodato. And it probably helps that she still doesn't have a phone. Critics' voices aside, Shake's rejection of labels like "queer," and "rapper," is just another layer of her confidence. In an age where calling oneself an artist is as easy as typing it online, Shake's reluctance to do so only makes her more appealing,and somehow makes the conviction with which writes her lyrics even more real. That's why, when she says things like, "I'm just walking through this life, doing what I was meant to," it's easy to believe her. And when she spits, "The future's bright," we know it's true.
Left - Shake wears jacket and shirt by SAINT LAURENT by ANTHONY VACCARELLO. Sophia wears shirt by OAMC.
Right - Shake wears jacket by SUPREME, pants by ARIES, shoes by CAMPER, top stylist's own.
OFFICE—How are you? It's been a little over a year since you worked with Kanye and released your debut EP. Before that, you were really just making music at home. So, how have things been since then?
070 SHAKE—This year's really just been about working on my album and finding inspiration outside of music. I needed to learn a lot of life lessons and grow as a person in order to grow with my music. I've actually been going back to working at home and not having to do all this commercial stuff. You know, going back to my roots and kind of simplifying everything.
O—Has that been important for you? Getting away from all the noise and external parts of the industry?
0S—Definitely, because when you're in the scene too much, you're getting inspired by outside sources. So, I like to get down with my own thoughts and see how original I can be, and how original my thoughts can be. Obviously, no thought can be totally original, because someone else has thought of it before. It's just, the less noise around you, the more you can trace back your own originality.
O—Do you think that's a problem in music right now? That because we're inundated with so much stuff, it's not onlyharder to find music that's unique, but to be an individual, especially as an artist?
0S—Yeah, but part of music is not being original, you know what I'm saying? They've used every pattern, every melody, all types of drums. So, the challenge is trying to find a way to mix the past with the future, and not do what everyone else is doing in the present. I hear a lot of the same music all the time, and that's cool—you can blend in and you're going to be fine. But a lot of the artists that I admire were doing things that were ahead of their time, and mixing those things with stuff from before it. And I don't think that's something a lot of people do nowadays—they don't go back and find their inspiration. If you're a hip hop artist, you should go back to the people who started it all—you have to study the greats to see what they did so you can have the tools to do something big with your own thoughts. That's what I do.
There's this magic that lives within the greats that's passed on to younger artists. You just have to be attentive and recognize it, and you have to be willing to indulge in it, embrace it and incorporate it into your music.
Shake wears top by SANKUANZ, shoes by CAMPER. Sophia wears dress by Y/Project.
O—With who? 
0S—People like Michael Jackson. I study his music, and see what kind of melodies he used, what words he mixed with those melodies, and what kind of sounds Quincy Jones incorporated into the music. Kanye West is very important to me too—he's a big example of someone who traces their roots but still gives it his own futuristic sound. For example, Yeezus was an album that was so ahead of its time, and nobody really understood it. And 808s and Heartbreak—that album was so ahead of its time, and definitely inspired a lot of people that are making music right now. If you look into rap and hip hop at the moment, it's all 808s and autotune. All of it. In my opinion, Kanye birthed that sound and gave it life, andwe're all living off it. Another artist I really admire is Thom Yorke—you know, Radiohead and all that shit. There's this magic that lives within the greats that's passed on to younger artists. So, Michael's magic was passed down to Kanye, and Kanye's magic will be passed down to someone else. You just have to be attentive and recognize it, and you have to be willing to indulge in it, embrace it and incorporate it in your music. 
O—Being inspired by everyone from Kanye to Radiohead— how do you incorporate all of that into your sound?
0S—I don't really know how to describe it. My sound is just my sound, and I don't want to put it in a box, I don't want to put it in a category, I don't want to say what it is, because it really isn't any one thing—it's almost like its own being. Not a human being, it's just something that exists. Music is just sounds and frequencies. 
O—Do you feel like your music has been put in a box by others? Having worked with Kanye so early in your career, has it been hard for you to build an identity separate from the association with that and G.O.O.D. Music? 0S—No, I don't really think of it that way. I think of it more as a bet I took in my life that I was supposed to take. People know who I am because I know who I am, and I think people know what I'm about, because I say so. If they don't, then I'm doing it wrong, because I have a responsibility to show them.
Left - Shake wears jacket by MARTINE ROSE, denim by VERSACE, boots byTIMBERLAND, sunglasses by GENTLE MONSTER, top stylist's own.
Right - Shake wears jacket by 1017 ALYX 9SM, top by VERSACE, shoes by CAMPERLAB, pants stylist's own.
O—When it comes to "Ghost Town," did you anticipate theoverwhelming response? There are so many great artists on that album, but every review was about that feature. Was that surprising? Or was it reassuring to know that you're doing exactly what you're supposed to?
0S—I feel like I'm very fourth-dimensional, or fifth- dimensional even, because I don't get caught up in things in 3D. I just do what I have to, what I know I'm supposed to. I have tunnel vision, in that sense. My mind has to stay focused only on what I want. I can't get lost in articles, or critics and all that, because then I'm stepping off my path. I'm just walking through this life, doing what I was meant to. Things are going to happen that are meant to happen, and I can't get surprised. I can't get lost.
O—Is that why you chose to isolate yourself while recording Modus Vivendi?
0S—That process was a life lesson. I disciplined myself, I went into an extreme focus, and showed myself and the people around me that when you're focused on something, this is what you get. Like, when you want something and you actually focus, this is what's going to happen. So, I had to seclude myself. I was in a room with no windows, there was no time—I mean, there was the time on the computer, but we actually put tape over it, so we didn't know what time it was, if it was nighttime or daytime—we really just focused on the project and it was like practice for me in my life where I could just be very disciplined.
O—Do you try to approach everything with that same kind of hyper-focus? I know you don't have a cell phone, is that so you're not distracted by things like social media?
0S—I have to give a hundred percent to everything that I'm doing or I won't get the results that I want. If I'm half-assing something, it's going to sound half-assed, you know? I won't be the greatest if I'm only trying to be half-great. Michael Jackson wasn't just like, "You know, I'll do this later." Nah— it took a lot for him to become who he was. He definitely wasn't just scrolling on fucking—I don't even know what they had back then—and I don't have a phone, so I'm almost there.
O—You do have social media, though you don't use it very often. When you do, you usually share photos of you and your girlfriend, Sophia. I've also noticed you post about sustainability and the future of our planet. For someone who's pretty anti-technology, why have you chosen that as your medium to communicate that message?
0S—If you want to help the world, you have to speak to the world. And in the time we're living in, the best outlet to do that is social media. So, I find it's important to use it in a positive way, and not just be selfish, but to think about something bigger, and spread something bigger—bigger than myself, bigger than my music, bigger than what's going on in my life. I really have a drive to help people, and my girlfriend is very involved in the whole planet, earth, animal stuff—she always gets in my head about that. But I have always been into how I can help, and if you have an outlet, you should really use it and be positive, especially if you have a way to get to the world. It's important. This is our home, this is our temple, this is part of us. Even though we don't know it, we are one with this thing, and you should treat the earth like you treat your body. On a larger scale, it is our body—it's part of us. We're only alive, we're only breathing, because of the earth, because of the water and the leaves on the trees, and we're cutting down our source of oxygen. On a smaller scale, we're doing the same thing to our bodies. We're fucking this whole shit up, and our kids are going to have to pay for it if we keep doing what we're doing.
Sophia wears coat by ACNE STUDIOS, top by JEAN PAUL GAULTIER from DAVID CASAVANT ARCHIVE, skirt by ARIES, heels by SAINT LAURENT by ANTHONY VACCARELLO. Shake wears jacket by SUPREME, pants by ARIES, shoes by CAMPER, top stylist's own.
O—What about your relationship with Sophia? Do you see sharing it as a way to expand queer representation?
0S—No. I'm just posting pictures of my life, and she's a big part of it. It's music, her and a couple of close friends. So, I don't think about it like that.
O—Do you identify as queer?
0S—I don't—not at all. I'm just a very free being and I don't like anything that puts me in a box. I think there are a lot of things now that are digging people into deeper holes. You want people to treat you as people and you're separating yourself, you're calling yourself something different than a human being. So, now you're not just a human being, you're this or you're that. And all I am is a being of life—nothing else. I hardly even want to call myself a girl, or a boy. I like to think of myself as just being.
O—What's the significance behind your album title, Modus Vivendi? 0S—It's an agreement that allows conflicting parties to coexist. So, I put that idea into my music—I want every song to coexist. But it's also a message to the people, like, even though you have something that I don't agree with, or I have something that you don't agree with, we should be able to coexist and put those differences to the side. It's the same for my music. There are songs that differ a lot from the others, but they're able to all sit together to create a sound.
Sophia wears coat by ACNE STUDIOS, top by JEAN PAUL GAULTIER from DAVID CASAVANT ARCHIVE, skirt by ARIES, heels by SAINT LAURENT by ANTHONY VACCARELLO. Shake wears jacket by SUPREME, pants by ARIES, shoes by CAMPER, top stylist's own.
My sound is just my sound, and I don't want to put it in a box, I don't want to put it in a category, I don't want to say what it is, because it really isn't any one thing—it's almost like its own being. Not a human being, it's just something that exists.
Left - Shake wears top and pants by SANKUANZ, shoes by CAMPER.
Right - Shake wears jacket by 1017 ALYX 9SM, top by VERSACE, shoes by CAMPERLAB, pants stylist's own.
O—What about the name 070 Shake? I know you're from Jersey and 070 is a Jersey area code—has growing up and living there influenced your music?
0S—It obviously has an influence on my name, but music-wise I think I just am who I am, and I was always going to be that no matter how or where I grew up. So, I don't associate myself too much with where I'm from—I don't even feel like I'm from here—like Earth—in general. I'm just doing what I do, and I was going to do this regardless. But naturally, growing up here has had some sort of effect on me as a person. When I'm surrounded by certain people or in a certain environment, I start to do what they're doing, or I start to speak how they speak. And if I'm around a lot of people that tell me I can't do something, I just want to rebel. That definitely had an effect on my passion for wanting to be great, because I had the motive of not just wanting to do it, I also had to prove people wrong. Not even prove them wrong, but show them that there's a way to be great, a way out and you don't have to keep going through those revolving doors. That's what's going on here—people just going in and out, and in and out—and it's not even their fault that they think that way. They never had anyone to show them what's possible. I view myself as the model to show them [what] is.
O—Were you always this way—rebellious?
0S—I was always very defiant. You could tell me to sit down and I would stand up. I just didn't want to do something because an authority figure told me I should. And I don't like being lied to, and I felt like I was being lied to when they would tell me I needed to do this, or I needed to act like that, in order to be successful. When you're looking for the truth, you have to go off feeling, and I always follow my feelings.
Left - Boots by BALENCIAGA.
Right - Gloves by BALENCIAGA.
O—Has making music been an outlet for those emotions?
0S—Exactly! Because if I keep it in, I might lose my head. I have so much inside me that I feel like if I don't express it, I might explode. So, yeah, I need to do it.
O—What would you be doing if you weren't making music?
0S—I'd be a speaker of some sort, something where I could get people's attention.
O—Now that you have it, what do you want to say?
0S—I'd like to tell everybody to remove all the lies from their life—that's what I'm trying to practice every day. It's a hard task, but I remove the thoughts that tell me I can't, because anything negative is a lie. Any thought you might have had when you were a kid that you let grow into a tree—because it starts as a seed and grows into a tree—you have to cut that shit down in your mind. That's what I have to say: Cut all the lies from your life. —END